Kawasaki created this category for the all-new Concours 14, a category consisting of just this one model. This bike is considered Kawasakis touring model. The company does not make a luxury touring bike like the Honda Gold Wing or Yamaha Venture. The Concours 14 combines the qualities of a sportbike with amenities and creature comforts of a touring motorcycle. It is for riders who appreciate the power and handling agility of a sportbike but dont want to sacrifice that when heading out for a long distance ride. Click on image to make it bigger.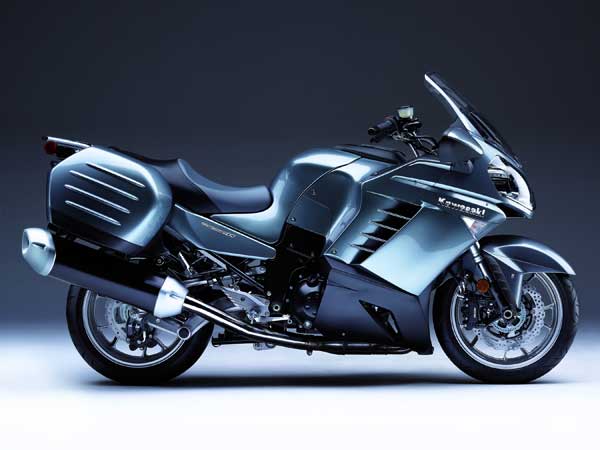 Concours 14
Specs at a Glance:
Displacement: 1,352cc
Seat Height: 32.1 inches
Fuel Capacity: 5.8 gallons
Weight: 606 pounds
Price: $12,899.
Description
New for 2008, the Concours 14 is a newly designed touring motorcycle (a major redesign from the original Concours that had been around for years). The 14 combines supersport performance with long distance touring comfort. Since this bike was introduced in early fall 2007, it has received rave reviews by finicky motorcycle test editors and won top honors in its category in motorcycle magazine bike competitions. It features a convenient shaft drive, locking hard luggage, an electrically adjustable windshield, a "smart key" ignition system, large comfortable seat for rider and passenger, a glove box mounted on the fuel tank cover and tire pressure sensors that indicates when pressure is low. The Concours 14 is also available with factory installed anti-lock brakes (ABS) as optional equipment.
Prices, specifications and features are subject to change without notice.