The 70th annual Sturgis Motorcycle Rally is now history and by all accounts the 7-day official event that ended Sunday, August 15, is shaping up to be a record attendance year with early estimates around 600,000, up from the 442,000 in 2009. The increase was expected as milestone-rally years like the 70th always attract larger crowds.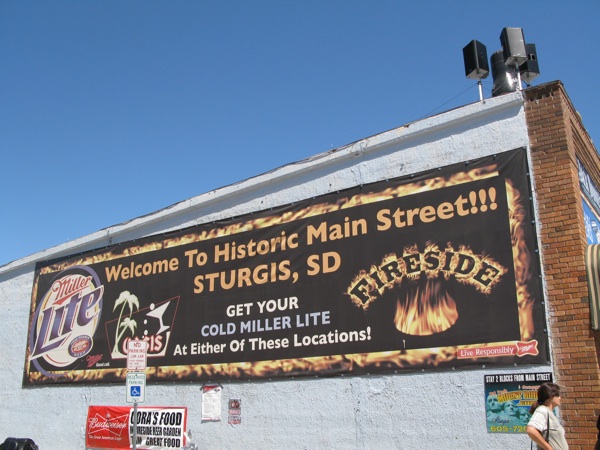 An increase in consumer confidence as many bounce back from the recession is also contributing to the surge in attendance. The official count, still being calculated, is derived from Department of Transportation traffic numbers, Mount Rushmore visits, number of vendor licenses, tons of garbage collected, and sales receipts.
Having attended 14 of the last 15 Sturgis rallies (I missed 2002), I can attest that crowds were up judging by traffic delays around the two main drags in town, Main and Lazelle, as well as outside of town on the way to The Buffalo Chip and the Broken Spoke. Available vendor spaces appeared to be full; last year there were many empty parking lots usually occupied by vendors.
| | |
| --- | --- |
| The Full Throttle Saloon bustling on a Tuesday afternoon. | The Full Throttle Saloon is a menagerie of old relics like this bridge used as an balcony. |
There were hundreds of individual events from organized rides to motorcycle industry functions, as well as three venues showcasing major musical acts. Heres a recap of Sturgis as I saw it.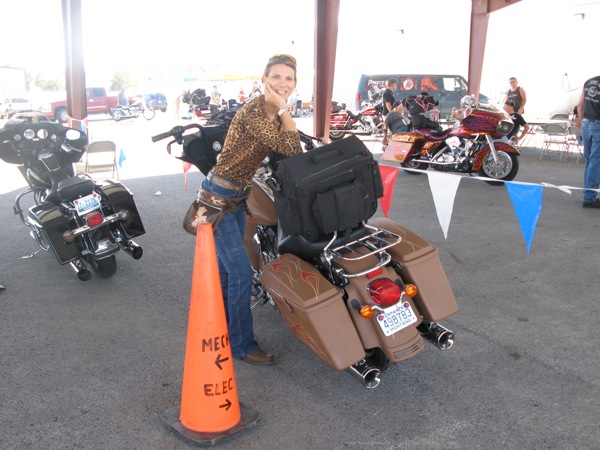 My arrival to the rally was delayed by a day because the throttle sensor on my 2008 Harley-Davidson Street Glide went out leaving me putt-puttering into the dealership in Gillette, Wyoming, to get it fixed. Im told the electronic throttle sensor—new for 2008—was a "problem" part for that years touring models. Must be since I only have 5500 miles on my Street Glide. I had to spend the night in Gillette while my motorcycle was being fixed. WRN columnist Betsy Huelskamp attended the Legends Ride, a fundraising event on Monday, in my absence.
| | |
| --- | --- |
| Celebrity guest Lorenzo Lamas led riders, who paid $150 to participate in the Legends Ride, on a scenic route through the Black Hills. | Pee-wee Herman was also a celebrity guest at the Legends Ride. He's standing with the bicycle custom built for him to be auctioned off for Legends Ride charities. |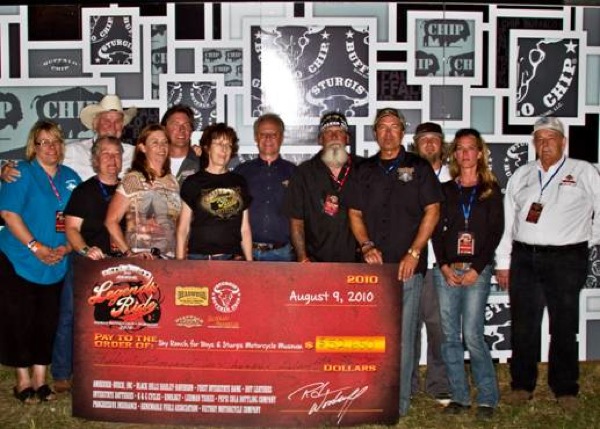 Tuesday night I attended a reception for Michael Lichters photography and motorcycle exhibition held at The Buffalo Chip. The custom bikes built especially for this exhibit were a feast for the eyes.
| | |
| --- | --- |
| Laura Klock built Memphis, a motorcycle she says is a reflection of her personality and style. "When you get to put your own personal touch on something, get in there and put it together with your own two hands, there is a sense of pride and accomplishment." | Intricate engraving done by Heather New of New Line Engraving. |
| | |
| --- | --- |
| The most striking motorcycle in the exhibit to me was by far this custom bagger created by Paul Yaffe with a paint job done by Chicano pop artist El Moises. | Most of the metal on the bike is engraved. Its done by Tay Herrera. |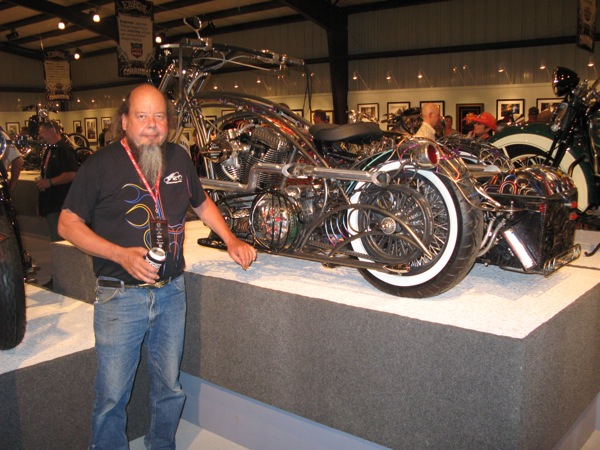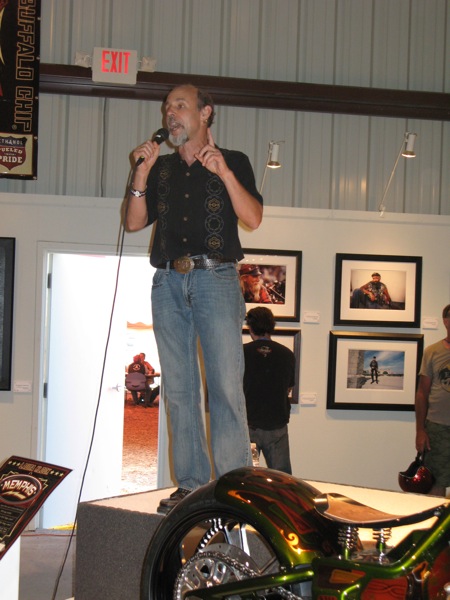 The Limpnickie Lot, a collection of bike builders and vendors that cater to the "younger" Gen-Y biker crowd, was located at the Broken Spoke out by county line (as opposed to the Spoke in downtown Sturgis.) Two talented artists caught my eye.
| | |
| --- | --- |
| Lock Baker of Eastern Fabrications built these three motorcycles. Visit EasternFabrications.com. | Jewelry and accessory designer Heyltje Rose shows off two handbag creations. Visit HeyltjeRose.com. |
Foot traffic was steady at the Harley-Davidson display of 2011 motorcycles and accessories located at the corner of Lazelle and 3rd Street in downtown Sturgis.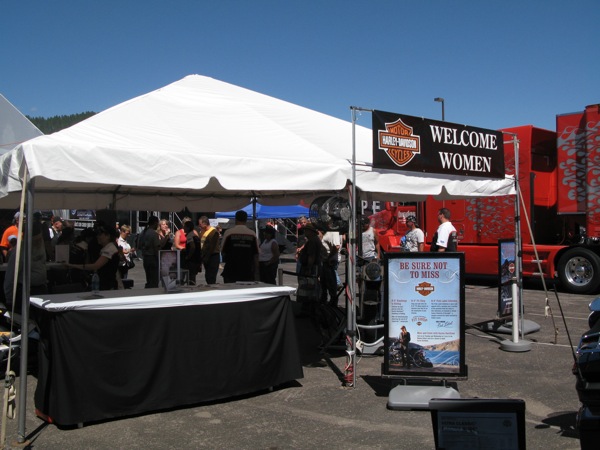 There were big name bands at three venues, The Buffalo Chip, Full Throttle Saloon, and Rock N Rev. I attended the Bob Dylan and Kid Rock concerts at The Buffalo Chip Tuesday night, which consisted of standing up in a big field elbow to elbow with other bikers.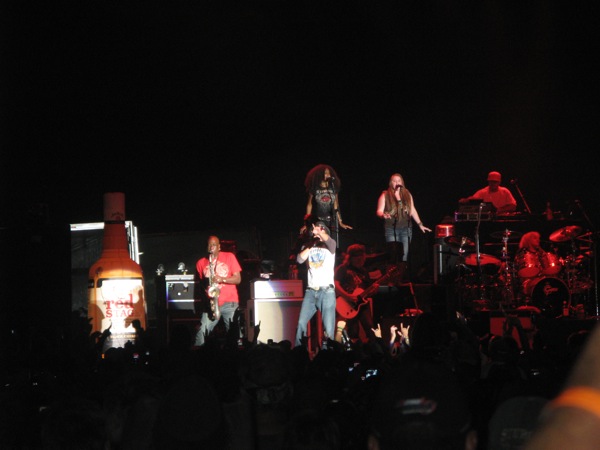 Every Wednesday during the rally, I attend the Sturgis Motorcycle Museums Hall of Fame Induction breakfast where this year seven people were inducted into the 2010 Hall of Fame. Because Women Riders Now is a site that spotlights women rider achievements, below are the two women who received induction honors this year.
| | |
| --- | --- |
| Inductee Betsy Lister, a motorcycle rights activist, got teary eyed upon accepting her honor. After viewing the video introduction of her accomplishments, she humbly remarked to the crowd, "Who was that woman?" She later said, "Because of you, I do this work." | Inductee Nancy Davidson, wife of Willie G. Davidson, thanked her children and husband saying she shares the honor with them. Her acceptance speech included a short story of the early days when she and Willie rode together. They've been married for 53 years. Lorenzo Lamas, standing in the background, emceed the induction ceremony. |
| | |
| --- | --- |
| Nancy and Willie G.s children, Karen, Michael, and Bill, look on from the audience with pride as Nancy acknowledges them from the podium. Karen and Bill work for The Motor Company. Michael is an artist whose work can be viewed at Michael-Davidson.com. | Kodak moment at induction breakfast: Three pioneering women riders, Gloria Struck, 85 years old and still riding; AMA Hall of Fame inductee and long-time rider Margaret Wilson, and Grace McKean, 75 years old and still riding. |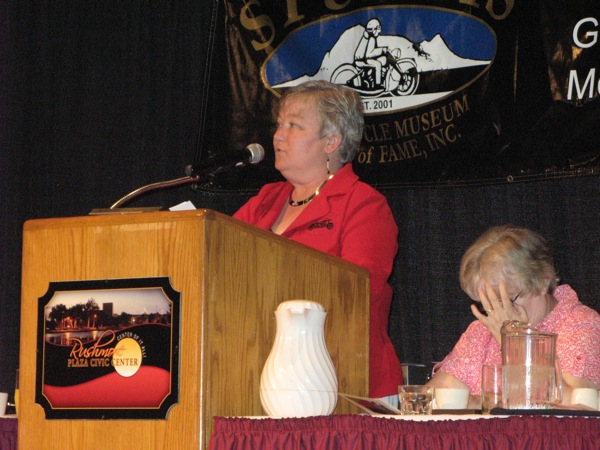 The Sturgis Motorcycle Museums greatest need right now is securing donations and long term memberships to go towards expansion of the museum as it has outgrown its small space, currently located on Main Street in downtown Sturgis.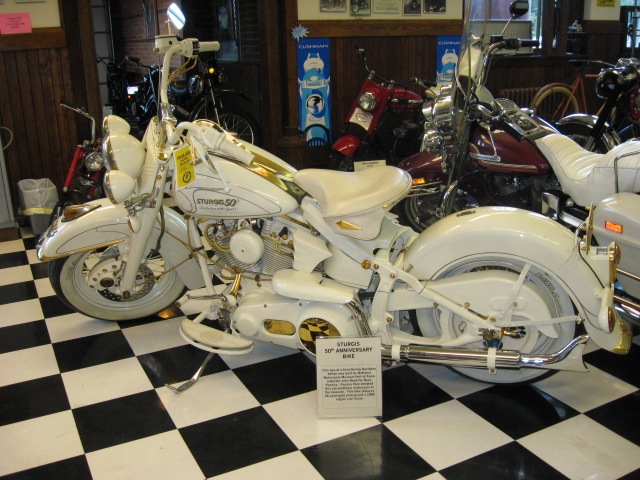 Bike builder and mechanic Athena "Chickie" Ransom of Vagabond Choppers, had a creative idea for a bike build event. She invited high school girls interested in motorcycling to submit an essay with the winners taking part in a live bike build with Athena at the Broken Spoke in downtown Sturgis. The bike is being raffled off with proceeds going to benefit high school bike building programs.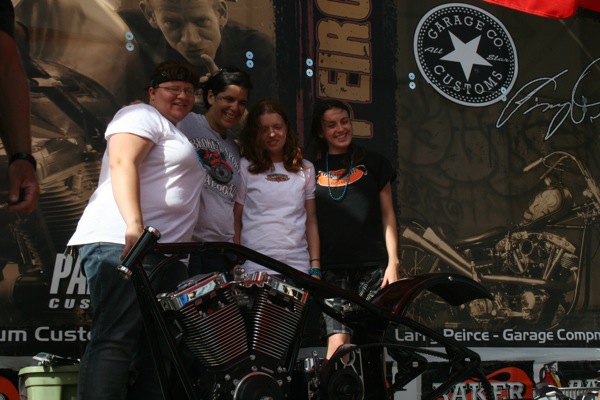 Showing up for the second year in a row to promote their burgeoning motorcycle company was Lorenzo Lamas and Chad Greulach of Lorenzo Cycles. The two made the rounds at Sturgis promoting Lorenzo Cycles, a company producing one-off custom motorcycles. Lorenzo Cycles is also formering partnerships with companies like Ariat and others to produce specific accessories. Ariat is creating a line of Lorenzo signature riding boots.
| | |
| --- | --- |
| With Lorenzo Lamas, who was in Sturgis building his motorcycle branding company, Lorenzo Cycles. Visit LorenzoCycles.com. | With Chad Greulach, CEO of Lorenzo Cycles, the man with the ideas. |
For me, the Sturgis Rally is a time to connect with motorcycle industry friends, test new products, and cover events I think you, the WRN reader, want to know about. Here are a few more photos from my time at the rally.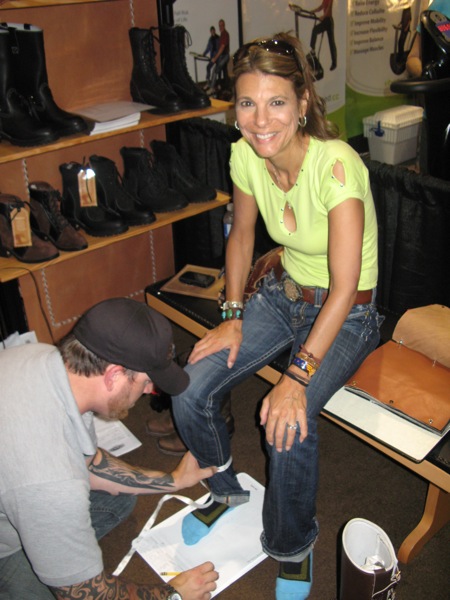 | | |
| --- | --- |
| I also visited with the folks at Helibars, who make revolutionary handlebars allowing a rider to custom fit motorcycle handlebars to his or her body size and riding comfort. Here owner Harry Eddy is talking to me about the bars. I rode a motorcycle outfitted with a set and my review will be posted in the coming weeks on WRN. Visit Helibars.com for more info. | Posing with American Iron magazine (AIM) editor (and my good friend) Chris Maida. I am the "Womens POV Editor" for the mag, contributing a monthly column and feature articles the last five years. Chris threw a party for AIM readers at the Buffalo Chip. |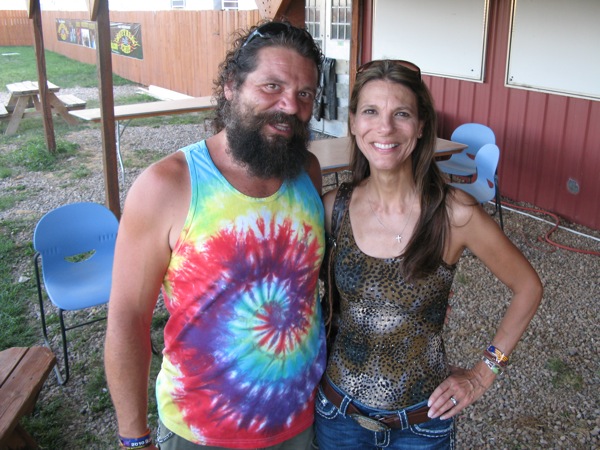 | | |
| --- | --- |
| Steven Tyler of Aerosmith who made a big showing at last year's Sturgis, was absent this year, but his motorcycle company, Dirico, had a display on Main Street. | This is a prototype bike from Dirico set to debut in 2012 that is a rubber mounted 7 speed engine. |
| | |
| --- | --- |
| Custom trikes on Main Street. | This guy kept riding up and down Main Street to show off his "tractor" bike. |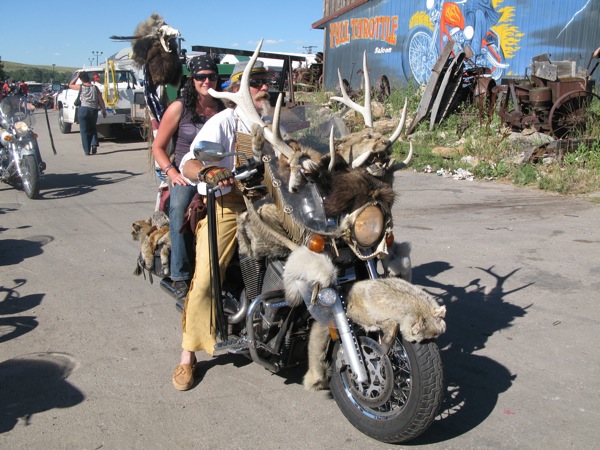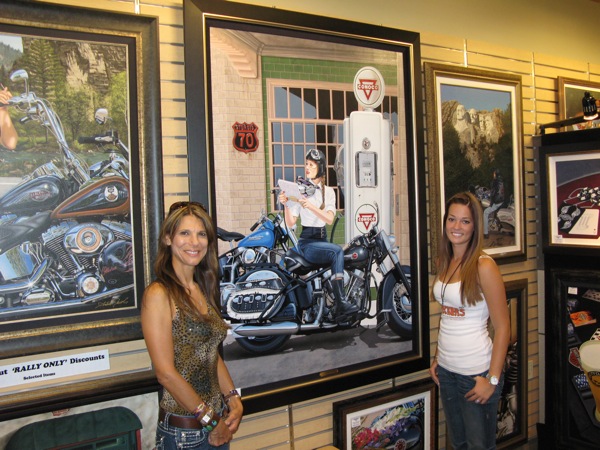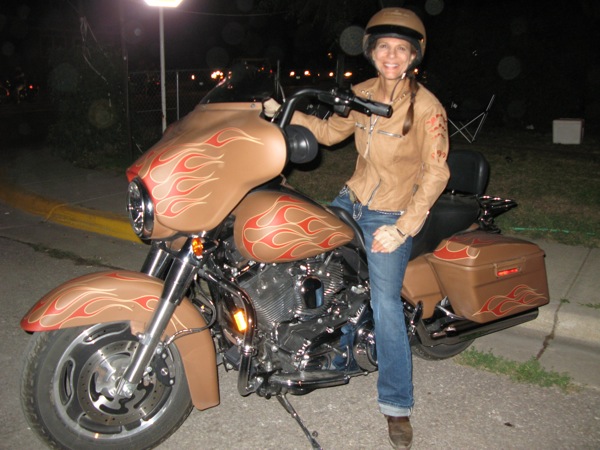 Other Sturgis News to Note:
-Hot Leathers was named the official licensee of the Sturgis Motorcycle Rally and will produce all officially licensed merchandise.
-Mikey Teutel of TV's American Chopper fame spotted buzzing down Lazelle on a scooter.
-The 2011 Harley-Davidson F-150 was unveiled during the Sturgis Rally.
-The Hamsters raised $257,000 at the group's annual Sturgis fundraising dinner for Children's Care in Rapid City, South Dakota
-The late Bruce Rossmeyer, who died in a traffic accident last year on July 30th on his way to the Sturgis Rally, was honored with the 5th annual Chrome Heart Award. Children's Care presents the Chrome Heart Award to "an individual in the motorcycle world whose philanthropic support and civic duty represents everything positive in the industry and sport of motorcycling
-Formost Insurance unveiled a custom chopper built by Darwin Motorcycles during the Sturgis Rally.