As I write this, Im packing for the 70th annual Sturgis Motorcycle Rally. Yep, 70 years! Here are some highlights of whats going on this year.
The Buffalo Chip Campground, long the bastion of sexuality, salaciousness and sin, has come clean in recent years as more and more industry-wide events, and big name concerts are held there. Sure there may be X-rated stuff going on in pockets of the Chip, but the main stage and vendor area is one of the hot spots this year for entertainment
On Monday, I will be taking part in the Legends Ride which starts in Deadwood and ends at the Buffalo Chip with a reception for the riders. Tickets are $150 and are already sold out. Proceeds go to The Black Hills Children;s Home and the Sturgis Motorcycle Museum and Hall of Fame. As the premier charity-celebrity ride during the Sturgis Rally, the 2009 Legends Ride was a success raising $61,600. This is the third year for the event where riders get to mingle and the ride with celebrities. No word on whos going to be there this year yet. Ill let you know when Im there via my page on Facebook.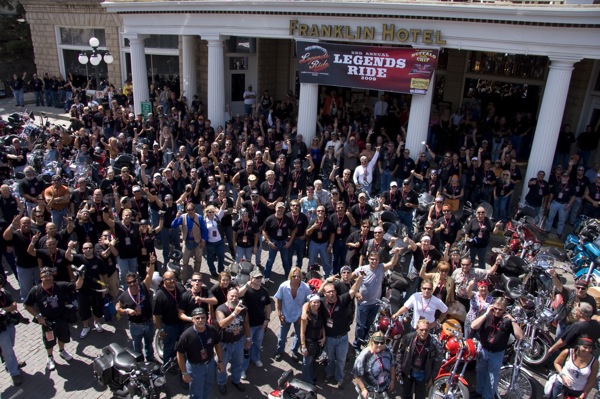 One famous face I know whos showing up is Pee-wee Herman, who is making an appearance as part of Pee-wees Big Sturgis Adventure. Nationally renowned and local South Dakota motorcycle and bicycle builders are taking part in an "extreme makeover" of Pee-wee Hermans iconic 1947 Schwinn. The bicycle company donated TRANSIT 3-Speed Electric bicycles to be redesigned and fabricated especially for Pee-wee. All entries will be presented at The Buffalo Chips Event Center on Sunday, August 8 from 5:30-7:30 pm. Pee-wee will choose his new bicycle, and then autograph all the other entries for a fundraising auction of these unique one-of-a-kind Pee-wee collectibles to benefit The Kids amp; Chrome Foundation that supports various Black Hills childrens charities and The Sturgis Motorcycle Museum amp; Hall of Fame. During the Legends Ride Pee-wee will inaugurate his "New Ride" as Captain of the Buffalo Chips Annual Legends Charity Ride that starts in Deadwood on Monday, August 9 at 3:00 p.m.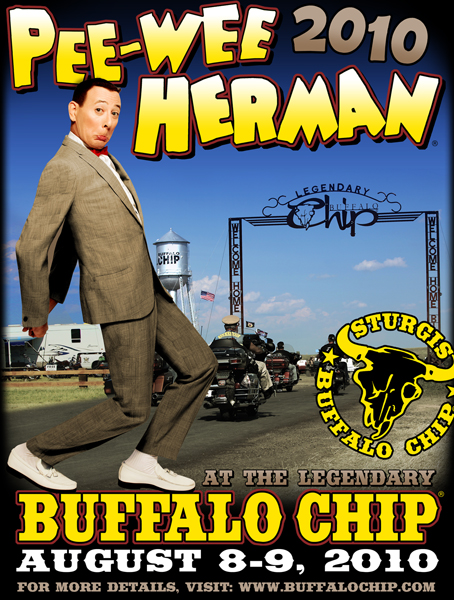 Hot Leathers is creating a unique line of merchandise to commemorate Pee-wees New Big Adventure with "one-of-a-kind" momentos. Customers can to choose from a significant selection of specialty Pee-wee merchandise including T-shirts, patches and other products for men and women. The shirts below can be found at HotLeathers.com.
| | |
| --- | --- |
| Pee-wee ladies shirt available from Hot Leathers. | Mens shirt from Hot Leathers, front and back. |
World famous motorcycle photographer Michael Lichter is once again holding his Annual Motorcycles as Art exhibition, something I look forward to each year. This 10th annual exhibit will focus on the explosion of interest and the passion for custom motorcycles seen over the last 30 years. Entitled, "Eternal Combustion-30 in the Wind,#8221; this years display poses the question, "How is this passion passed on through time?"
Thirty custom motorcycles recently built by 15 pairs of builders tied together by family, respect, friendship or apprenticeship will be on display at theLichter Exhibition Hall located on the grounds of the Buffalo Chip. Builder teams highlighted within the show include: Arlen Ness amp; Paul Yaffe, Carl amp; Matt Olsen, Dave amp; Jody Perewitz, Donnie Smith amp; Brian Klock, Eddie Trotta amp; Todd Silicato, Kevin Baas amp; his Kennedy High School Chopper Class, Gard Hollinger amp; Satya Kraus, Jerry amp; David Covington, Kirk Taylor amp; Brian Schimke, Roland Sands amp; Drake McElroy, Ron Finch amp; Gary Maurer, Sugar Bear amp; Counts Kustoms, the only female pair of Laura Klock and Athena Ransom as well as Dave Cook amp; Warren Heir, Jr. and Paul Wideman and Nichole Grodski.
The 6,500 square foot venue constructed primarily to house Lichters extraordinary exhibitions, will for the first time, be adorned with Michaels photography. To celebrate his 30th bike week in Sturgis, Lichter will have the largest show of his work ever mounted withmore than 100 prints on display from his archive of limited edition prints, some being premiered for the first time while others are more than 30 years old. Michael exhibit can be seen for free daily, from 10 a.m. to 10 p.m. at the Buffalo Chip, August 7 -13, 2010. For more information on this years exhibition, visit
BuffaloChip.com
While youre at the Chips Web site check out the incredible line-up of bands including Kid Rock, Motley Crue, Ozzy Osborne, Bob Dylan, The Doobie Brothers and so much more. Brett Michaels is playing at Full Throttle Saloon on Wednesday August 11. Check out WRN columnist Diva Amys connection to Bret by reading her latest column. And Billy Ray Cyrus will be at the Throttle on Monday as part of the band Brother Clyde.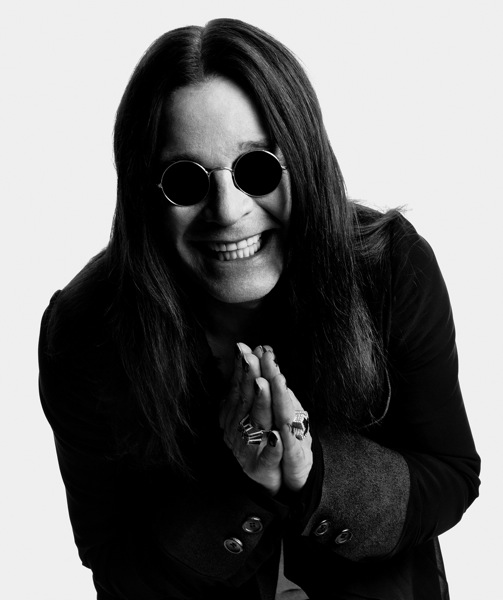 This year, it seems to be the battle of the rock festivals. In addition to the full line up of bands at the Chip and the Full Throttle, Rock #8216;N Rev hosted by the folks at Glencoe campground have a full line up of big name bands, I#8217;d say, basically competing with the Chip. Guns N#8217; Roses is the headliner on Friday August 13. Whooo, Friday the 13th. Just realized that! Other big names like Daughtry, Creed, Alice in Chains, and Stone Temple Pilots#8230;band I#8217;ve heard of over the years, but have no idea of their music. I#8217;m not a big concert goer and I don#8217;t like to be out late on my motorcycle so I won#8217;t be going to any of these, maybe Kid Rock. I will be taking some friends to see the Doobie Brothers playing in Three Forks, Montana, on Sunday, August 14, after I get home. If you see me in Sturgis, come up and introduce yourself and say hi. Would love to meet you.