Editors Note: We just got late word of another womens track day event, this one happening in Southern California. Femmewalla will take place at the Chuckwalla Valley Raceway on December 14, 2012. Onsite coaching and instruction will be provided by road-racing champion and STAR school owner Jason Pridmore. Details can be found on the Femmewalla Facebook page.
They may be a smaller piece of the overall women and motorcycling pie, but at Women Riders Now the ladies who love to ride sportbikes are no less important than cruiser riders. After all, our motto here is, "It doesnt matter what you ride, it matters that you ride."This past summer and fall several events were held for the tenacious women who know the feeling of dragging a knee on the pavement at fast speeds (or at least hope to someday). Heres our roundup of three of those events, along with information about how you can participate next year.
Women's Sportbike Rally VII
On September 7–9 the annual Women's Sportbike Rally returned to Deals Gap, N.C. For seven years women sportbike enthusiasts have been gathering in the Smoky Mountain region to connect with other women riders and take advantage of the area's beautiful scenery, miles of curvy roads, and the famous 11-mile stretch with 318 turns known as "The Dragon."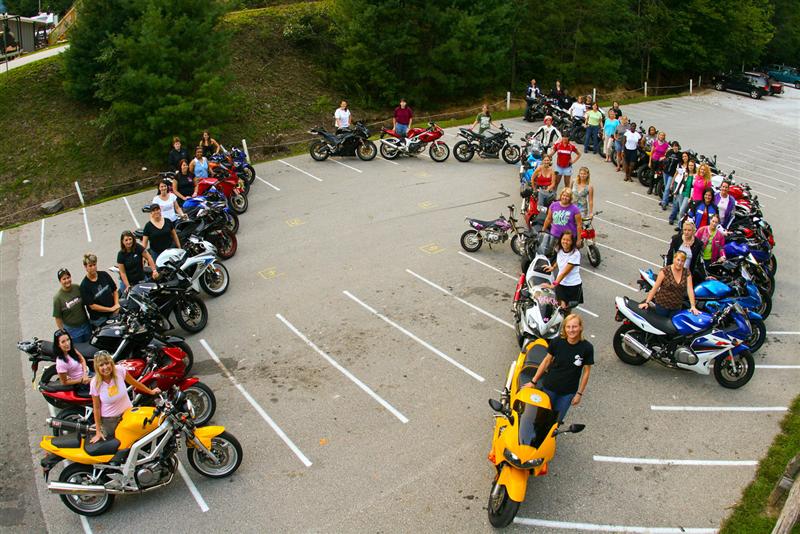 The Women's Sportbike Rally was founded in 2006 by two self-professed "sportbike junkies," Stephani McIntyre and Kiri Hunter, who were frustrated by the lack of events focusing on women sportbike riders. The rally they founded as a result has grown with the help of its dedicated volunteers and supporters, who return annually to partake in this fun and laid-back weekend. In 2007 organizers began donating a portion of proceeds from the event to organizations that support melanoma research and bring awareness to the disease.
The first night of the rally was "sportbike night," featuring food, games, giveaways, fireworks, and a bonfire. The next morning veteran riders in the area shared their knowledge of the area's best ride routes, with event riders splitting off into small groups to traverse the amazing Smoky Mountain roads.
| | |
| --- | --- |
| Bikes line up prior to the morning's ride through the Smoky Mountains. | Several vendors were at the event, including sponsor Draggin' Jeans. |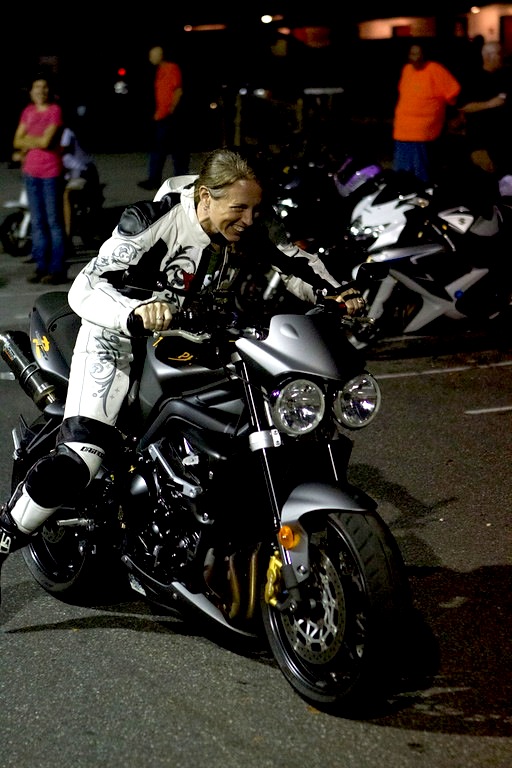 Sportbikegirl Mardis Gras, sponsored by NPR Ducati, took place on Saturday night, followed by a Fiddies4Life racing event featuring many veteran and new female participants. A farewell breakfast on Sunday morning marked the end of the fun-filled weekend—but not to worry! The 2013 Women's Sportbike Rally is already scheduled for September 6–8, 2013, in Deals Gap, N.C. VisitWomensSportbikeRally.comto learn more.

| | |
| --- | --- |
| The crowd readies to catch T-shirts at Sportbike Night. | Riders pose for a group photo near the end of the Women's Sportbike Rally. |
Yamaha Champions Women's Riding School
Ever dream of riding like a champion? In September the Yamaha Champions Riding School held a two-day womens class at Miller Motorsports Park in Salt Lake City, Utah. Female riders of all levels were welcome for the experience, which included classroom sessions and the opportunity to ride a Yamaha R6 around the track and get qualified expert feedback.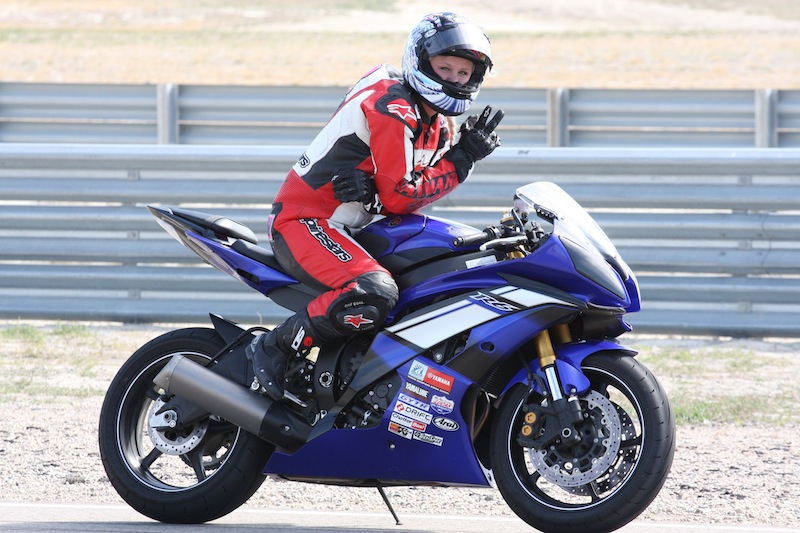 During the two-day school each student had the opportunity to work with multiple instructors, who emphasized to riders that increasing their personal skill level is the best tool for increasing safety and speed. At lunchtime riders watched Moto GP and SBK races to note the form and technique of some of the best sportbike racers in the world.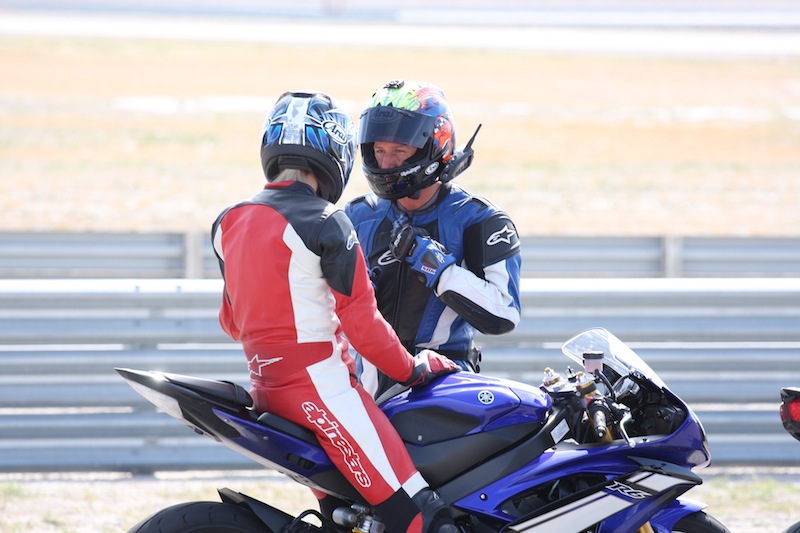 Each day instructors followed riders with a video camera to capture their laps on video. Riders then watched the videos to get feedback on their form and see the progress they'd made over the course of just two days.Another helpful learning tool involved a student riding on the bike of an instructor as a passenger. The instructor could then tailor the lap to help the student understand or see the skill she was striving for.
Women riders hit their stride on the track.
"It was an amazing experience to be able to spend two days with other women who were also focused on becoming the best riders they can be," said Jane Hamilton, a student who took the two-day course. "What made it even more interesting is that our group of women was diverse in riding experience and age. Our group had new riders and club racers, and our ages ranged from early 20s to early 60s—how cool is that? The camaraderie with the other women was amazing."
This past summer's class may be over, but there's good news for those who want to experience the full champions riding experience next yea, as the Yamaha Champions Riding School plans to hold a similar women-only event in 2013. Learn more at MillerMotorsportsPark.com.
Sportbike Track Girl
On October 1 Sportbike Track Girl (STG), the women's division of Sportbike Track Time (STT)—and formerly the group that organized the
all-womens track day event Femmoto
—held its third "Ladies First" all-female track day. Despite tricky weather conditions, the day was a great success, with women riders traveling to the iconic Barber Motorsports Park in Birmingham, Ala., from as far away as Michigan, Illinois, and Florida.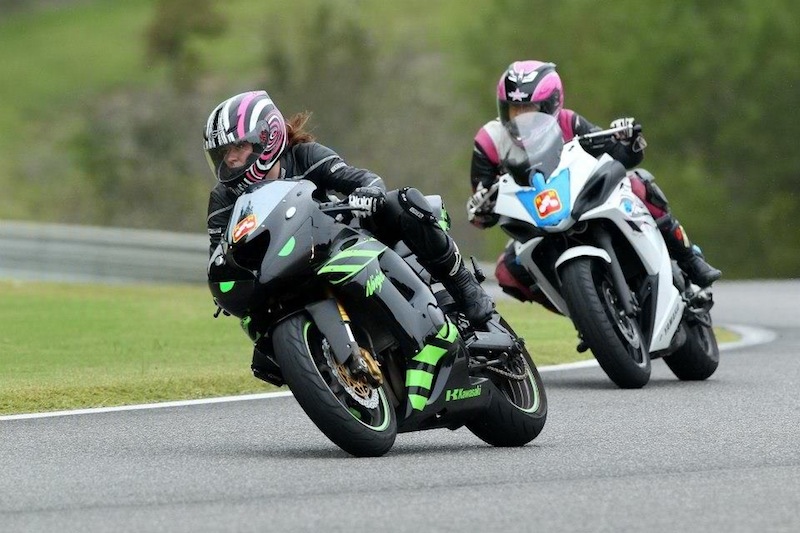 STG is the nations leading advocacy group for female sportbike riders, seeking to fill the void for women track riders looking to improve their riding skills with on-track instruction and get information, contacts, and specialty services in the sportbike industry. At their track-day events, STT and STG staff provide onsite services for riders, including prepping bikes for technical inspection, unloading and loading bikes, and assisting with tire changes.
Attendance at the October all-female track day was mixed between first-time track riders and racers, with all skill levels represented. Each rider was presented with a gift bag in the morning, which included an array of goodies, including gift certificates from Big #1 Motorsports, motorsports decals, hats, and gear. CurvyRiderz apparel donated motorcycling backpacks and T-shirts for attendees, while VaVaVroom provided decals.
| | |
| --- | --- |
| Organizers brave stormy skies to welcome riders to the event. | Riders line up to take a spin on the track. |
Despite downpours during the morning riding sessions, the ladies suited up and proceeded to the track with courage. Camaraderie came naturally and swiftly, as women of all skill levels shared their experiences, advice and friendship. Expert riders were quick to share knowledge and offer advice to soothe the apprehension of novice riders. New riders grinned ear to ear after their first session, eager to get back on the track as soon as possible.
| | |
| --- | --- |
| Rider Beth Bachman celebrates her first time dragging a knee. | A rider adds some feminine flare to the track with her pink tutu. |
Once Mother Nature realized the track was full of women only, she gracefully blanketed the track with warm sunshine. The track dried up before lunch, and in spite of the forecast the weather was perfect for the rest of the day. Once on track, STG staff provided one-on-one coaching and mentoring to improve each rider's skill set. As one first-time track rider said, "I can't believe I've been riding on the street for years yet I learned more here in one day than all of those years combined. I also can't believe I was scared to ride on the track—it's a blast!"
STG and STT instructors were at the event to provide onsite instruction to riders.

The day concluded with a raffle for the participants, and all riders left with a newfound knowledge of high-speed cornering, braking, throttle control, and body position. And best of all, says STG Director Christi Midlam, each woman was treated with respect and reverence in what's often viewed as an intimidating and predominately male sport. What could be better? To see upcoming Sportbike Track Girl track days and learn more about this great organization, visit
SportbikeTrackGirl.com
.
Related Articles