Women who want to try motorcycling on for size now have a special place to go at the countrys biggest traveling public motorcycle exhibition. The Discover Todays Motorcycling Womens Studio debuts Friday at the Cycle World International Motorcycle Show inside the Long Beach Convention and Entertainment Center. Its women only in this curtained-off area, where female riders, one-on-one and in mini-seminars, will share their tips on how to get started, what to look for in a motorcycle and more.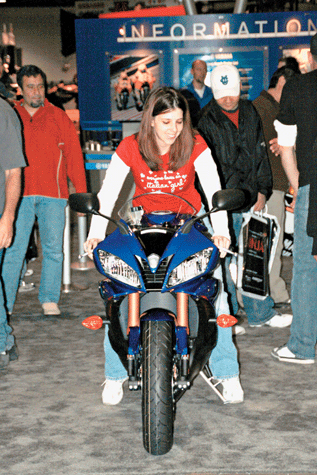 A Womens Studio visitor is welcome to swing a leg over several starter bikes on display, and can suit up with riding gear designed especially for a female figure. When properly outfitted, theres not much to see of a woman rider, so a makeup artist will be on-hand to bring out her eyes with a "Moto Makeover." And the fashion side of cycling will literally come into focus with the help of a photographer, capturing her new look on digital film.
Plus, guests can take a virtual ride on Hondas new SMART Trainer, a computer-based traffic simulator, complete with a handlebar, seat, foot-pegs and all the controls found on real motorcycles. The on-screen scene is a realistic ride through city streets and country roads. The object of the simulation is safely negotiating the ride route, while learning a series of street-savvy strategies along the way.
Then, armed with "A Girls Guide to Motorcycle Shopping," a new DTM booklet, guests can take their newfound knowledge and visit the rest of the show, featuring displays of dozens of new bikes from 19 different manufacturers, and many small and large aftermarket companies offering a wide range of gear and practically every kind of accessory.
"Its time for women riders to have their own special place at the Cycle World International Motorcycle Show," said Jessica Prokup, a DTM director. "Our studio is there to speak to the needs and dreams of women riders, introducing them to the world of motorcycling and helping to get their adventure started the right way."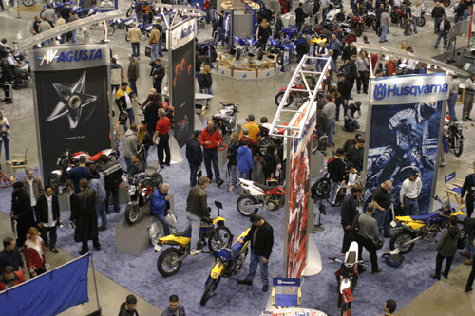 The latest Motorcycle Industry Council Owner Survey found that nearly 10 percent of bike owners in America were women, in 2003. And roughly one-third of the students in Motorcycle Safety Foundation Rider Courses are female. Some training sites are owned by women. And many riding gear manufacturers now include specially tailored lines of jackets, pants, helmets and boots, with sizes and colors all aimed at the womens market.
The DTM Womens Studio will be featured in three of the 13 Cycle World shows spanning the country over five months. The studio is scheduled for more exhibitions in Atlanta, Jan. 18-20, and Chicago, Feb. 8-10.
Show Information:
Cycle World International Motorcycle Show
Long Beach Convention Center
Dec. 7-9, 2007
300 E. Ocean Blvd.
Friday 4-9 p.m.
Saturday 9:30 a.m.-8 p.m.
Sunday 9:30 a.m.-5 p.m.
$13 adults / $6 children (Age 6-11) / Ages 5 and younger are free
800.331.5706
Long Beach Womens Studio Mini-Seminar Speakers:
-Amanda Cunningham: Owner/RiderCoach, Westside Motorcycle Academy
-Amy Holland: Editor/Publisher, Friction Zone
-Claire Maguire: Sales Representative, Helmet House
-Mercedes Natvig: 1992 "Fastest Woman in Motocross," Off-Road Coordinator, Honda Rider Education Center
-Christa Neuhauser: Publisher, RoadRunner magazine
-Sarah Schilke: G Global Category Manager, Fairchild Sports
-Alice Sexton: Director of Communications, American Historic Racing Motorcycle Association
-Bonnie Warch and Andrea Beach: Owners/Coaches, Coach2Ride
For more information on all the Cycle World IMS shows, visit MotorcycleShows.com.
Discover Todays Motorcycling, the communications service bureau of the Motorcycle Industry Council, is a source of information about motorcycling to the media and the general public. DTM is funded by the American-based operations of Honda, Kawasaki, Suzuki, and Yamaha and supported by 310 MIC member companies. Visit Motorcycles.org.