I dont know about you, but somewhere along the line, I became a creature of habit. Id like to think of myself as spontaneous and open to change, but the truth of the matter is, I know what I like, and I like what I know. I flipped out this week when one of my favorite restaurants took their delicious honey mustard dressing off the salad bar. I always have the honey mustard. I always sit in the same chair by the window, and I always have Vicky as my waitress. What a freak I am, huh?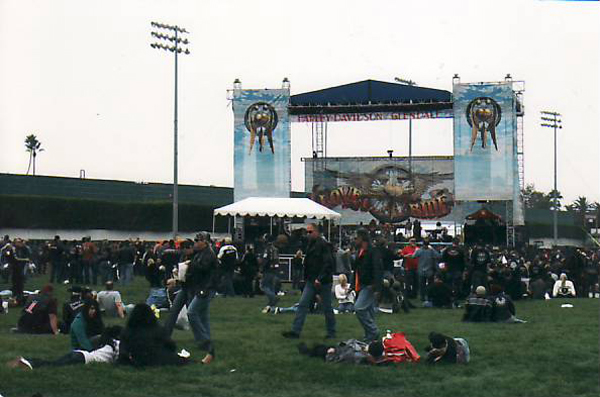 So its no surprise that I didnt like the idea of the change of the location of the infamous Love Ride from Lake Castaic just north of L.A. to Pomona, just east of L.A. Castaic Lake is such a beautiful backdrop to host 15,000 bikers on a sunny California afternoon. And the Pomona Fairplex is an asphalt parking lot. Call someplace paradise, and kiss it goodbye. But the Love Ride isnt about me, or the bikers. It about the hundreds of children less fortunate than we are, that the worlds largest one day motorcycle fundraising charity event benefits. The Muscular Dystrophy Association has been one of the Love Rides long time benefactors. Since it started 24 years ago, the Love Ride has raised more than $20 million for various organizations. That is truly amazing. This year alone the event raised $900,000.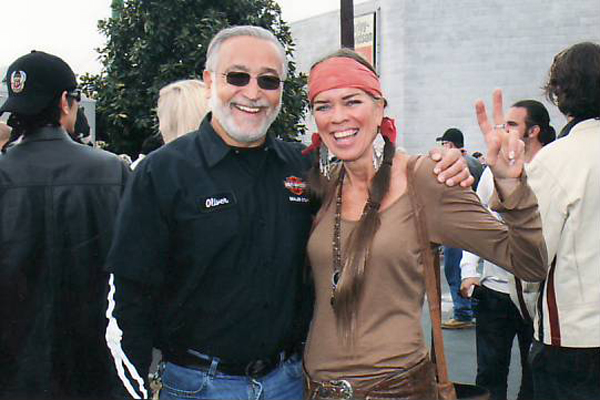 This past August, the man who started it all, Oliver Shokouh, was inducted into the Sturgis Motorcycle Museum Hall of Fame for his contributions to the world of motorcycling. Oliver, who also owns Harley Davidson of Glendale, in Glendale Calif., is doing his best to continue the growth of the little project he started back 24 years ago to keep us entertained with a venue that is ever growing, and keep the chaos under wraps so that thousands of bikers can zigzag across Southern Californias valleys, and reach their destination safely. Its a huge task to please even one feisty biker let alone 15,000. So although I miss the days of the winding roads up to Lake Piru, or the Calamigos Ranch (locations of the Love Ride in its early days), I do understand that there is a solid reason behind the changes this year.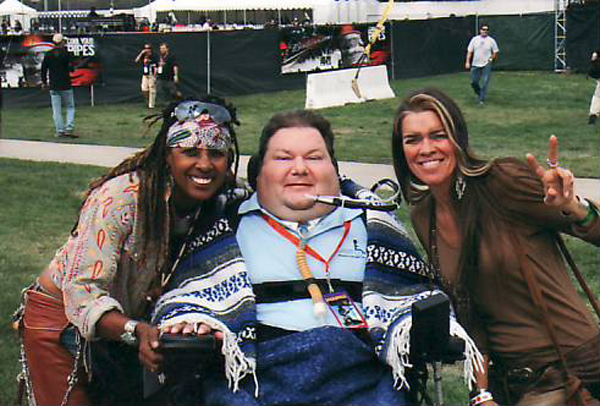 I will always continue to ride and support those who are unable to enjoy the simple freedom of the open road. There is no greater gift than that of simple good health. For those of us blessed with that gift and the luxury of riding motorcycles in the greatest country on earth, its a great way to combine what we love doing while helping those who may never get that chance. Meeting just one child with Muscular Dystrophy reminds you that it doesnt much matter where the ride begins or ends. It doesnt much matter that the sun was a no show. What matters is that the ride was a success, despite the weather and venue change. And because bikers care, the new venue has huge potential for future growth, and with that growth, good things can and will happen.
Preparing Early
I started my Love Ride preparations a week early by having my bike tuned up after a summer of heat and hard riding. I even washed it and touched up my flat black paint job. One of the chrome pieces I touched up was the top of my oil cap, and I left it a bit ajar to dry. Well, those of you who know about my short-term memory already know how this story is going to unfold. I left for Glendale Harley bright and early with everything in order. By the time I got there, my oil cap had blown away, and my heated oil was bubbling all over my engine and all over my favorite custom brown chaps, and down my pants. So much for looking good not to mention how hot oil feels down your pants!
This is almost as stupid as the time I left my disk lock on in front of the Broken Spoke and slammed my cheek into the pavement. Luckily my partner in crime for the day of the Love Ride, Gevin Fax, is good at laughing me through things. We wiped the oil off best we could, bought a new oil cap, and headed backstage to photograph the days events. Only a few dozen people complained about choking on my burning oil on the ride that day. A friend of Lorenzo Lamas said he had to call PETA on me because he saw two ducks covered in oil on the side of the road after my bike went by. I dont even kill bugs in my own house, I swear!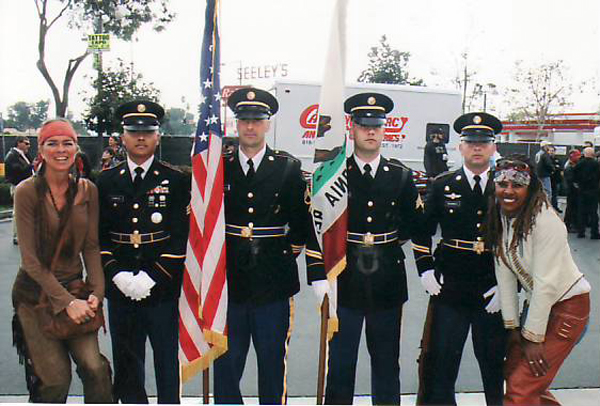 The morning in Glendale was its usual massive frenzy. Gevin and I tried to distract the soldiers on duty and make them laugh. I got yelled at and was told to respect the flag. I totally respect the flag, and said I was sorry. Minutes later I caught Grand Marshall Jay Leno trying to do the same thing. Nobody yelled at him. Jay was his normal hilarious self. When a reporter asked him what was the fastest he had ever taken a motorcycle on the open road, he replied without hesitation, "To go over the speed limit would be just wrong!" and then he laughed. "Im not stupid," he continued. "I know this could show up later in a court of law!"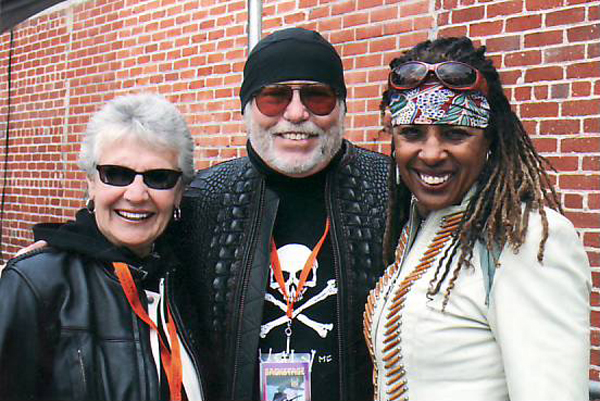 We walked a few sardine packed blocks and looked at all of the bikers and machines. Captain Cardiac amp; the Coronaries played old favorite tunes as we chatted with old friends. Showing their support bright and early was Willie G. Davidson, his wife, Nancy, and daughter, Karen. Larry Hagman of "Dallas" fame sported a handsome beard and brought his better half, his wife, Maj. The Terminators melting man Robert Patrick and his club, the Booze Fighters, were in attendance and plan to be handing out toys again at the Los Angeles, Toy Ride this year in December. My friend Robbie Knievel, who was also inducted into the Sturgis Motorcycle Museum Hall of Fame this past August, was a walking advertisement for his Custom Cycles. And the always gorgeous "Renegade," Lorenzo Lamas, got on stage and belted out the National Anthem. All those good looks, and he can sing, too!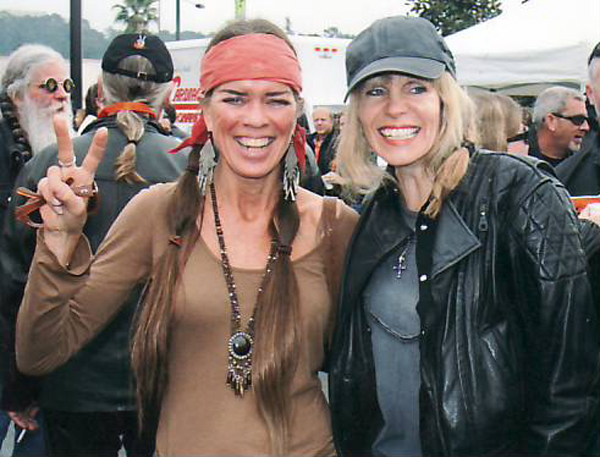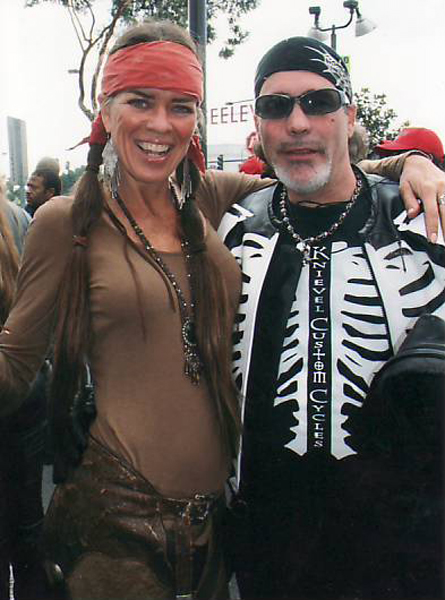 Once out at the Fairplex, it is overwhelming how much more there is going on in one day. One of my favorite events at the Love Ride is watching the Victor McLaglen Motor Corps do their stunt pyramids. And they now have a flat surface without gopher holes on which to perform. But a new outrageous stunt rider named Jason Pullen was also entertaining the crowd on his tricked out machine. Ive seen guys do stunts on sport bikes, but this guy beats anything Ive ever seen. He had the crowd mesmerized as he did things with a motorcycle that defy logic and gravity. Truly a talent, and I heard hes only been riding this way for a few years. This is an act youve got to see to believe.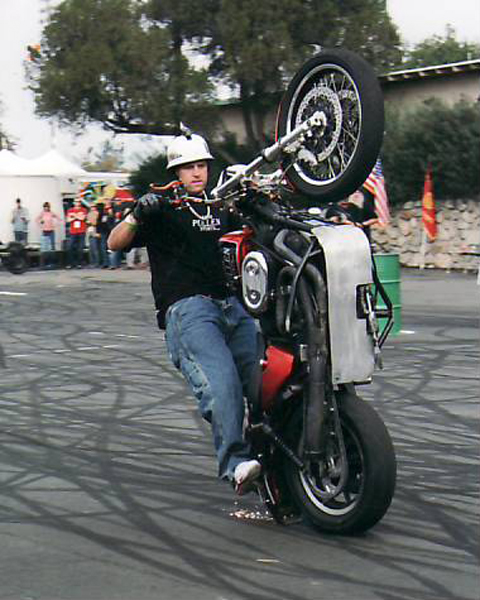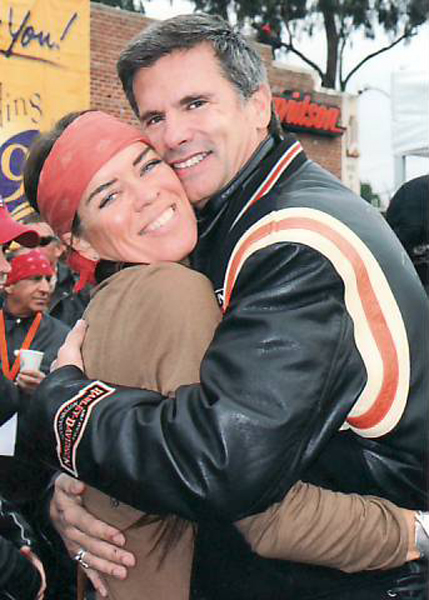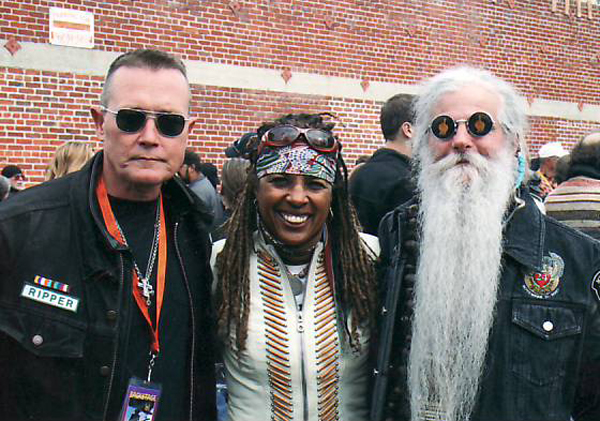 This years California Bike Week included a Pre Love party and auction at the Peterson Museum in Los Angeles, All Harley Drag Racing on Friday and Saturday night, and flat track racing on Saturday night. You could demo ride Harley-Davidsons, and there were 150 vendors set up for the trade show. I was at the ride Sunday from sun up to sun down and feel like I only covered half of the show. There were several builders with their custom bikes, and my friends from The American Motor Drome Co. had their "Wall of Death" set up. They let Gevin and I sit down on the floor inside the drome, and watch as they flew around us on the edges of the wall doing tricks and snatching dollar bills from the spectators above. It was amazing to watch from the ground level, and nearly impossible to focus your camera to capture the whole thing! These are true old bad boys defying death, and I never miss visiting the Wall at events.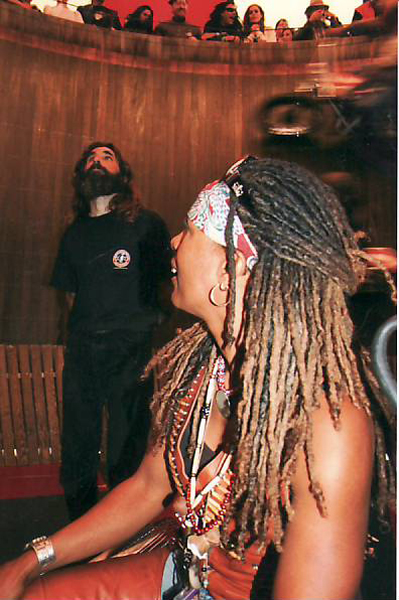 There were a few new faces backstage as Gregg Allman rocked the afternoon away. Ty Pennington of "Trading Spaces" and "Extreme Makeover – Home Edition" was so young and cute that I didnt even know who he was. Tricia Helfer of "Battlestar Galactica" was stunning without even trying to be, and left a trail of men virtually speechless. Danny Bonaduce, a.k.a. Danny Partridge, was looking healthy and buff, and always had a crowd of fans trying to talk to him. Always a favorite of mine was Dan Haggerty, a.k.a. Grizzly Adams, who I secretly wanted to marry and live my life out in the woods with him and the other bears. He, himself, is like a big teddy bear!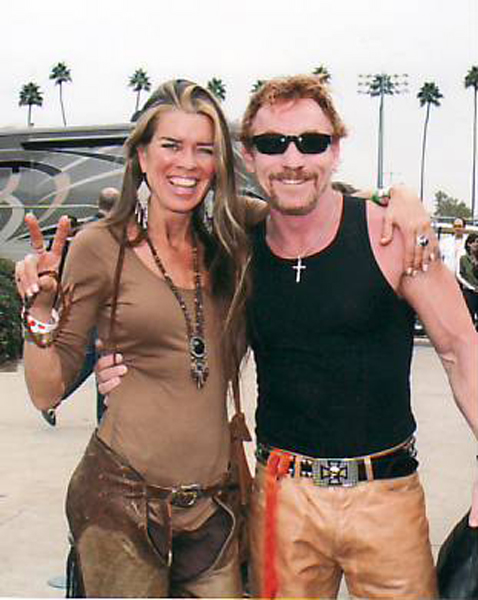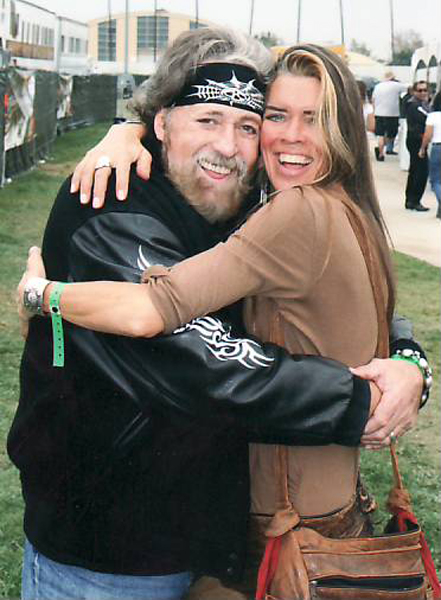 I didn't get to see the whole show, I didn't get to talk to everybody I would have liked to, and I never sat down for two minutes. I guess that means I had a great time, because I truly enjoyed just catching up with friends all day. The food was good, the music was good, and it never did rain on the parade, even though it threatened to do so all day. If you'd like to know more details about the Love Ride, go to LoveRide.org.
To read more about Betsy, visit her Web site at BetsyHuelskamp.com.