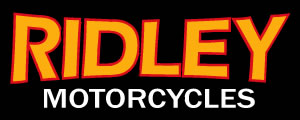 Ridley Motorcycles has joined Keith Coleman Racing as the primary sponsor of Brad Keselowski and the #23 Ridley Motorcycles Chevrolet. "We are very excited to enter the world of NASCAR with Keith Coleman Racing," said Clay Ridley, owner of Ridley Motorcycles. "As a company, we strive on excellence and performance, both of which are vital to success on the track as well as in the business world."
Ridley Motorcycles, the makers of the worlds first fully automatic motorcycle, is an Oklahoma City-based company. It was started by Ridley, a successful inventor and entrepreneur, who has a history of innovation. The popularity of motorcycling has grown exponentially, much the same as NASCAR. By listening to the motorcycle market and developing products that meet the riders needs, Ridley has grown leaps and bounds. Initially, Ridley Motorcycles could only be found in a few motorcycle dealerships. Today, there are Ridley Dealers in more than 24 states.
Next year, Ridley will introduce its motorcycles to the Canadian and Japanese markets with growth into Asia, South America and Europe in the works. As production, innovation and sales continue to surge, Ridley Motorcycles sees NASCAR as a perfect fit in the companys development. "NASCAR fans are their target audience," said Keith Coleman, team owner. "They appreciate craftsmanship and performance and that is exactly what Ridley delivers. We are very proud to have them as partners with KCR and look forward to a long association."
For more information, visit RidleyMotorcycles.com, and KeithColemanRacing.com.