Professional motocross and supercross racer Ricky Carmichael won the AMA Pro Racing SPEED Athlete of the Year award at the The 32nd Annual AMA Pro Racing Championship Banquet in Las Vegas on Sunday. The star-studded evening honors the leading riders competing in AMA Supercross, Motocross, Superbike, Flat Track, Supermoto and Hillclimb.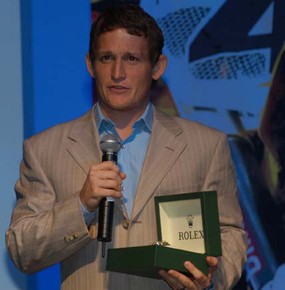 Last year, Ricky Carmichael became the first rider in AMA history to win the Athlete of the Year Award for a fourth time. Last night, he became the first to win the award for a fifth time. Carmichael and Team Makita Suzuki took six victories in the 2006 AMA Ampd Mobile Supercross Series on the way to winning the championship title. During the 2006 AMA Toyota Motocross Championship presented by FMF, Carmichael earned nine overall wins and clinched the title with two rounds remaining on the schedule. In 2006, he also set a record of 70 career AMA Motocross wins, and completed yet another record-setting, dual-championship year #8211; the sixth of his career.
Carmichael was selected from a field of nominees including: Chris Carr, seven-time AMA Ford Quality Checked Flat Track Champion and FIM World motorcycle land speed record holder; Josh Hayes, the 2006 AMA Lockhart-Phillips USA Formula Xtreme Champion; Ben Spies, the 2006 AMA Superbike presented by Parts Unlimited Champion; and Ryan Villopoto, the 2006 AMA Toyota Motocross Lites presented by FMF Champion.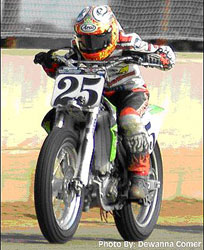 The AMA Female Athlete of the Year award went to 15-year-old dirt track racer Shayna Texter. Shayna competes in the AMA Grand National Flat Track Championship race series. Her biggest accomplishment of the year was winning the highly contested 250 4-Stroke class on the famous DuQuoin Mile. Next year, she will be turning Pro-Sport and her goal is to finish up front.
The 2006 AMA Pro Racing Rookies of the Year were recognized, including Sam Halbert, the AMA Ricky Graham Flat Track Rookie of the Year; Roger Lee Hayden, the AMA Superbike Rookie of the Year; and Ryan Villopoto, the AMA Supercross/Motocross Rookie of the Year.
The 2006 Motocross of Nations Champions – Team AMA USA members James Stewart, Ivan Tedesco, Ryan Villopoto and Ricky Carmichael – were also honored.Awards were also presented for Sportsman of the Year, Mechanical Excellence, and Advertising.
Infineon Raceway Vice President of Facilities Jere Starks was named the AMA Pro Racing Sportsman of the Year. Starks organized and promoted the 3Js benefit track days at Infineon Raceway, raising $95,000 for injured racer Vincent Haskovec, who was in attendance.
The Award for Mechanical Excellence was presented to Rick Hobbs. Hobbs has built bikes for six championship riders, including the Erion Honda ridden by 2006 AMA Formula Xtreme Champion Josh Hayes.
AMA Pro Racing Advertising Awards were presented to three recipients. One Industries won theaward for Best Ad. The Award for Best Campaign went to The Creative Works for their work with Suzuki. A special Advertising Recognition Award was presented to Dailey and Associates for their work with Honda.