Ricky Carmichael, 26, from Havana, Fla., clinched the AMA Toyota Motocross Championship Presented by FMF on Sunday, August 20, with a victory at Broome-Tioga Sports Center in rural Binghamton, N.Y. It marked one of the earliest points in the season a rider has secured the title. Two events still remain this season.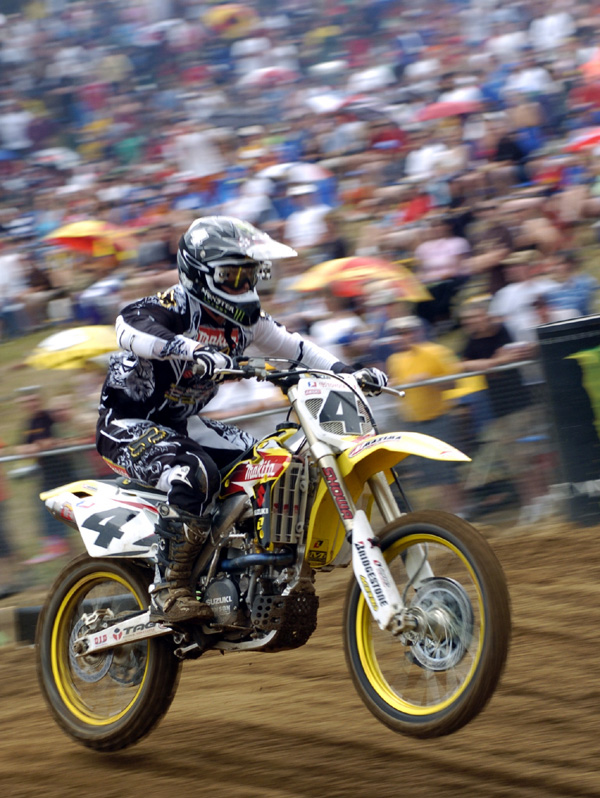 The championship was the seventh straight for Carmichael in the premier AMA Motocross class and his 15th AMA national title overall. His resume now features seven AMA 250 Motocross Championships, three AMA 125 Motocross Championships and five AMA Supercross Series titles. In addition Carmichael won an AMA 125 East Region Supercross title in 1998.
This championship may be the last for Carmichael. He announced earlier in the season that 2006 would be his final full-time season of racing AMA Supercross and Motocross. Many fans hold out hope that Carmichael will change his mind and continue to pursue titles in 2007. Often the biggest cheers at the races this year came when Carmichael announced he would return next summer to a particular venue.
Carmichael continued to rewrite the record books throughout the 2006 motocross season. With two rounds remaining Carmichael added another eight overall wins to his tally so far. The victory at Binghamton marked his 69th AMA Motocross Championship win. He is first on the all-time AMA Motocross wins list. Carmichaels numbers are simply staggering. By comparison second-ranked all-time Motocross wins leader Bob Hannah amassed 27 national wins during his Hall of Fame career. Among active riders Kevin Windham is second with eight-career Motocross class wins.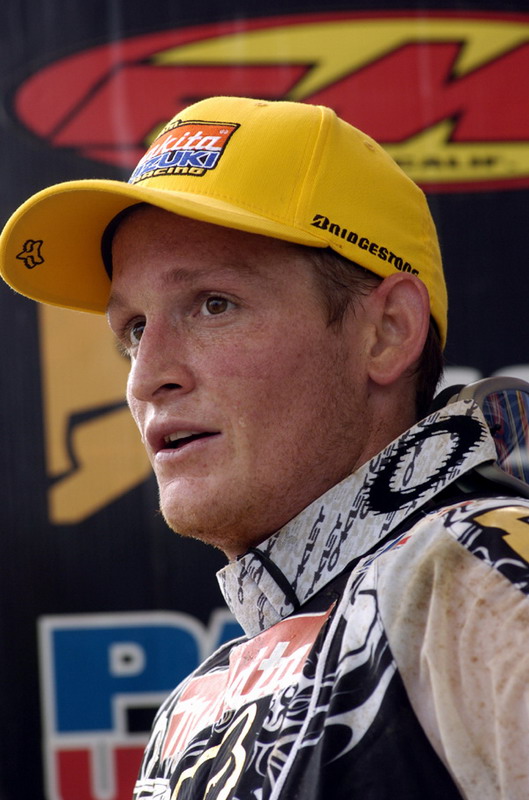 Already the owner of three undefeated seasons in AMA Motocross (2002, 2004 and 2005), Carmichael added yet another jaw-dropping accomplishment to his ledger when he lapped the entire field in the second moto at muddy Spring Creek Motocross Park in Millville, Minn., on August 13.
When I sit back and look at it, to never lose an outdoor title, thats pretty amazing. I cant believe it,#211; Carmichael said. "I feel really fortunate; its been a great career. I had the opportunity to race against some great riders like Jeremy McGrath the best supercross racer ever. The way I look at it, if I keep racing Im going to get beat. You have to know when your time is and Im happy with what Ive accomplished in my career. I have some other opportunities and look forward to seeing what they have in store for me. Im glad I could go out on top."
In his 10 years in AMA Pro Racing Carmichael has become the most dominant rider ever in American motocross. Carmichael was also the most successful amateur racer as a youth. He was named AMA Motocross Rookie of the Year in 1996 after competing in only one race. He began professional racing in earnest in 1997 and has won championships every season since then. Hes never failed to defend a title in a series in which hes competed. Hes also done it on several brands; first with Kawasaki, then Honda, now Suzuki.
Coming up at the Steel City National in Delmont, Pa., on September 3, Carmichael is going after the Monster Energy Drink Triple Crown of Motocross ? a $25,000 bonus for sweeping the High Point, Red Bud and Steel City rounds of the 2006 AMA Toyota Motocross Championship.
After the Glen Helen AMA Motocross season finale in San Bernardino, Calif., on September 10, Carmichael says he will turn his attention to the Motocross of Nations. Carmichael dominated the Olympic-like motocross competition last year in Erne, France, leading the American team to victory. This year at the 2006 Motocross of Nations, scheduled for September 23 – 24 at Matterley Basin in Winchester, Great Britain, Carmichael will be joined by James Stewart, and Ryan Villopoto on the American team. Carmichael was chosen as team captain.