Debbie Eckard and Lance Rowe are the winners of Hardbikes "Play Harder Biker" contest. They each get the opportunity to ride a new Hardbikes custom motorcycle and get paid $2,000 a week.
After reviewing more than 1,800 initial entries and then a second round of 400 responses with photos Hardbikes ended up with 11 finalists. "The decision was tough, but in the end the two winners stood out," said Bob Kay, Hardbikes V.P. Sales and Marketing. "Both Debbie Eckard and Lance Rowe clearly understood the value of the patent pending Build to Order custom fit process Hardbikes offers and each one will make outstanding ambassadors for the brand." Both will experience riding a custom fit Hardbikes motorcycle at special events in 2006.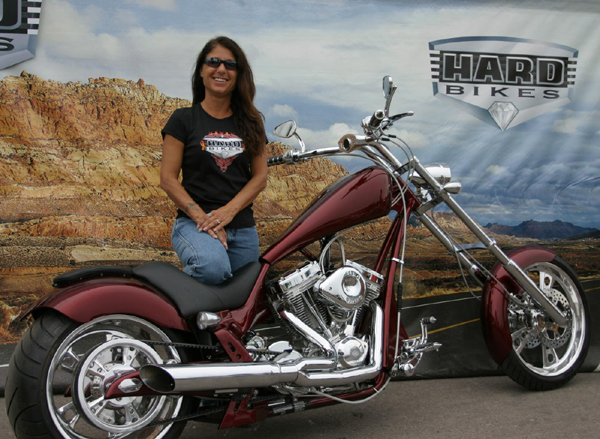 Eckard is a bartender at the State Line Bar in Brookfield, Ohio. She rides a 1981 Harley-Davidson FL lowered 2 inches to fit her petite 5-foot 2-inch frame. She joined Hardbikes at the companys booth at the Sturgis rally recently assisting in marketing bikes to the growing female marketplace. One bike getting a lot of attention from women was the RB 200 Bobber a lightweight, compact custom. Its not as beefy as the larger customs with a 200mm rear tire. With Hardbikes custom fit ordering process the 200 Bobber could make an ideal bike for an experienced woman rider looking to trade up to a custom bike.
The other winner of the contest is Lance Rowe, who is self-employed and sells motorcycle jewelry. At 6 feet 5 inches weighing 250 pounds, Lance has been frustrated with finding a motorcycle to fit him. He currently rides a 2006 Harley-Davidson Street Glide accumulating more than 70,000 miles on it so far.
New from Hardbikes: Introductory Custom Chopper
The Hardbikes RC 200 Chopper is being marketed for the enthusiast who has champagne taste on a beer pocketbook. The RC 200 Chopper is an introductory custom motorcycle with many of the high-end components one would find on a custom motorcycle including Weld Wheels, Hawg Halters with differential bore for better stopping, Tech Starters, Torian exhaust pipe by Damp;D Performance Exhaust, Primo Brute Belt Drives, Drag Specialties and Riveria High Performance Clutch. The reason Hardbikes can deliver such value is because the company builds custom bikes on a production assembly line. This reduces costs allowing Hardbikes buyer to receive significant value for his or her investment.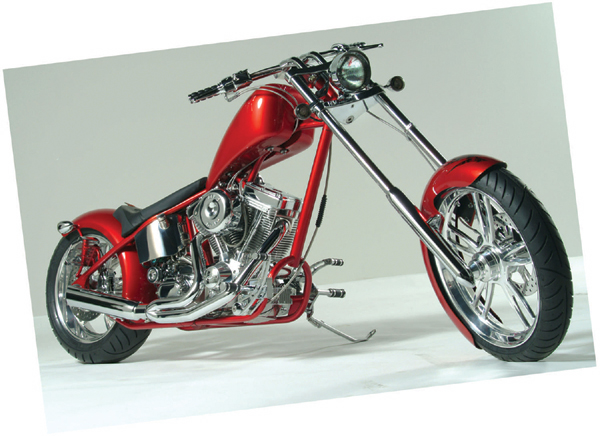 The RC 200 Chopper design harkens back to the golden age of the American Chopper. "What is intriguing about the choppers of the 60s is the sano look of the design," states Kay. "We took the sensibilities of the 60s design and infused it with 21st century technology to get a chopper that not only looks good but turns, stops and accelerates like a crusier. "Hardbikes buyers build their own custom motorcycle by logging onto the Hardbikes Web site, hardbikes.com, and build their custom-fit motorcycle from a long list of quality parts represented in the software application called the Design Wizard.
After the design is completed, owners sit down with their local dealer-designer to be fitted for the bike according to their physical dimensions and riding style. The RC 200 Chopper base unit comes with old school single down rigid frame, 4 inch backbone stretch, 6 inch downtube stretch and 38-degree of rake. The stretched chopper tank sits on a black powder coated frame. A bullet-proof 96 inch Samp;S Engine with IST ignition transfers power to a LSD 5 speed tranny that powers the 200mm tire out the back.
To learn more about Hardbikes, log on to hardbikes.com.