After reading this article, please visit Style Saver Scarf's ad in the WRN Mall.
I'm always intrigued by innovative new products created to make motorcycling better in some way. I recently was asked to test a product called Style Saver Scarf designed to save your hairstyle while wearing a helmet and to help prevent nasty helmet hair that emerges when the helmet is removed.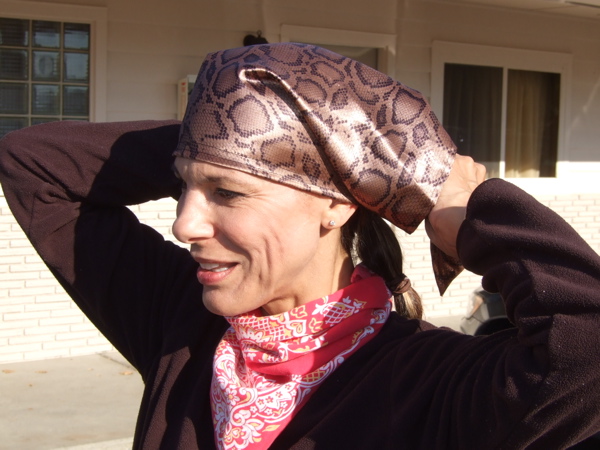 The person behind this new invention is Cindi Servante, already an entrepreneur as a hair stylist and salon owner and creator of her own hair care product line called Hair Expressions. Cindi is a motorcyclist so she's always thinking of ways to help riders with helmet hair.The scarf is a triangle piece of material made from a soft polyester satin fabric. Instead of being flat like a bandanna, the scarf is already sewn together so the corners create a head scarf. All you have to do is put it on your head and tie the ends in the back.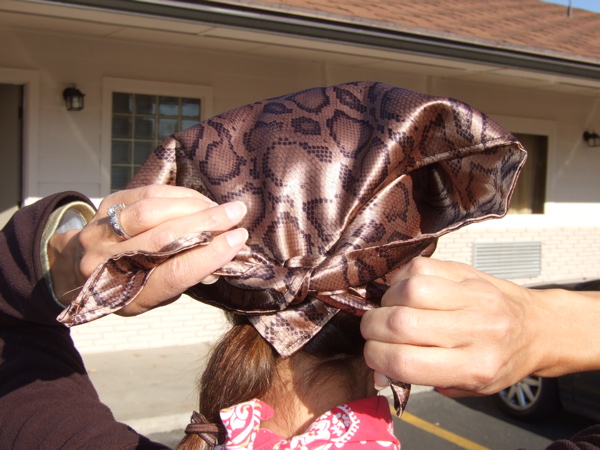 Before putting on the scarf, though, Cindi advises following the instructions that come with the scarf to ensure your hair style looks just as good after you take off the helmet. I followed the instructions first by teasing the back of my hair at the crown. I have long silky hair that tends to get flat easily. Then, instructions say to spritz a little hairspray there, which I did. I'm not a fan of hairspray so I didn't use a lot. Then it says to part your hair on the opposite side you normally do. Since I part my hair in the middle, I pushed it over to one side and then placed the scarf over my head. I tied the ends in the back in a square knot and put my helmet over it.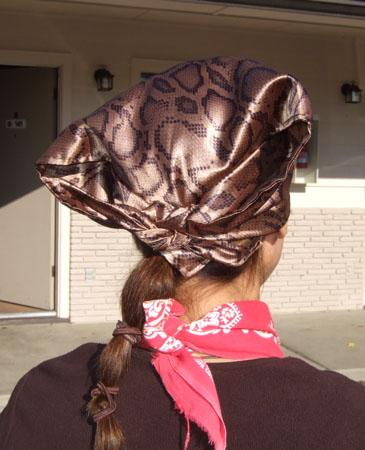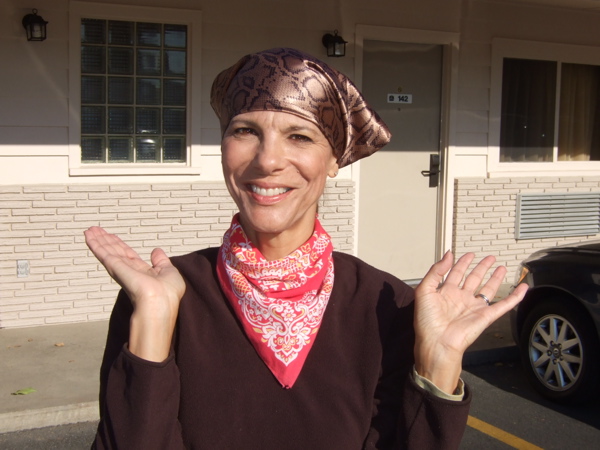 So did it work? Well, you be the judge. Here's a picture of my hair afterward.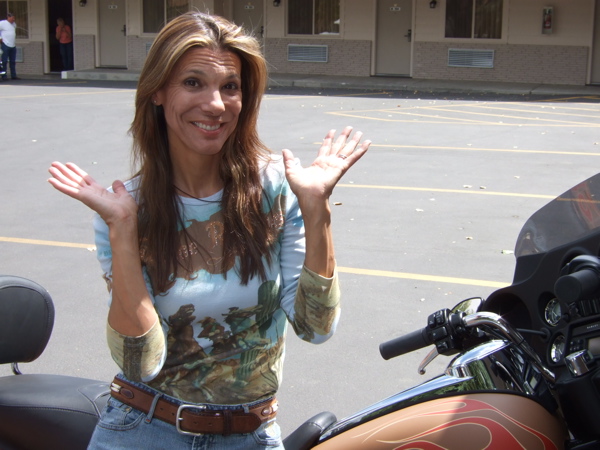 The crinkling on the length of my hair is from my hairbands, but the crown of my head looks fluffy, and the hair at the front of my part retained its style; it's not smooshed on my forehead like it normally is when I remove my helmet. I usually have to wear a baseball cap because I hate when my hair looks like that. So, I'd say the Style Saver Scarf "saved" my style.
The only thing I noticed from wearing the scarf is that the material takes up a bit of space under your helmet. It's thicker than a cotton bandanna. I was wearing Harley-Davidson's new Skyline helmet with the scarf and after a few hours noticed the helmet feeling really tight. When I took off the scarf the pressure on my forehead and ears was relieved. Just be mindful of that. If you already wear a pretty tight helmet the scarf will make it tighter. You may want to wear this with a loose fitting helmet.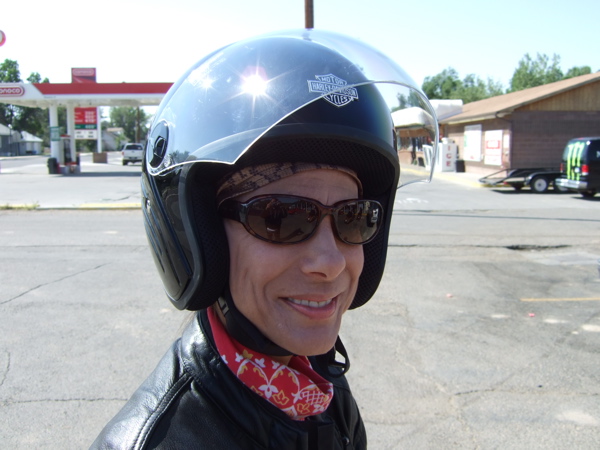 The Style Saver Scarf comes in five fun colors and print combinations and costs $14.95 plus $6 shipping and handling. Visit StyleSaverScarf.com for ordering information. You can also call 415.328.1408 and tell Cindi you read about the scarf on WRN.
Related Articles:
Product News: Hair Expressions