I'm always on the quest for the perfect tire gauge. I need one that sits firmly on the valve stem and gives me an accurate reading the first time. So many of the pen style designs are flimsy and cheap so I wonder if their read out is even accurate.
So, I was excited… yes, I get excited over good tire gauges…when I was asked to test the newest digital tire gauge in Roadgear's offerings. If you've been riding for a decade or more, you're most likely familiar with Roadgear, the company out of Colorado thats been making high end performance and technical riding gear as well as offering riding accessories like tire gauges for more than 20 years.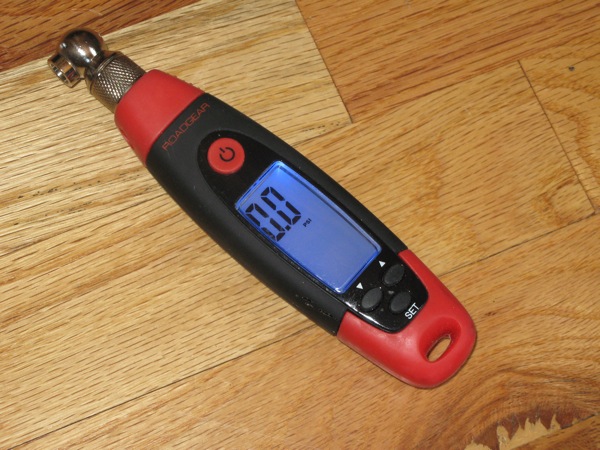 This Programmable Digital Tire Gauge is sturdy and well made. The face of it lights up when you press the "set" button to a nice blue color that's easy to read in day and night. Press the tip on the tire valve stem until the PSI displays in the large readout. The display stays on for 10 seconds. The pressure displays in .5 pound increments so you get an exact reading.
The gauge fits easily on the valve stem the first time. No fumbling to get a secure fit. In tight spaces, like in the photo below where the wide handle of the gauge was hitting the tire rim, the tip swivels to allow for the depressor to fit.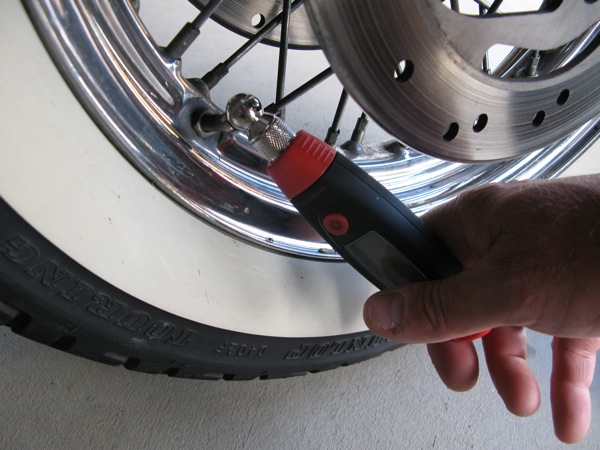 What sets this tire gauge apart from the rest is its programmable nature. You can set the smart-chip microprocessor housed inside to the recommended tire pressure for both tires. It's pretty easy to do with detailed instructions explaining how. Next time you check your tire pressure, not only will the current PSI show up, but so will the pre-programmed recommended PSI so you can compare the two to know if your tire pressure is too low…or too high. And that's really all the programmable feature allows you to do, is compare the two readings so you know how off or on target you are.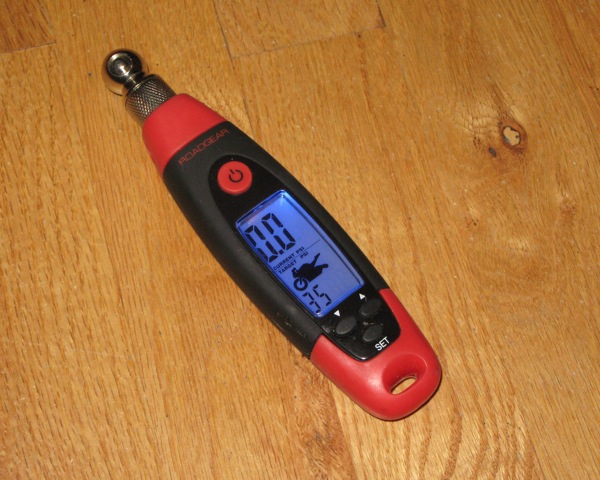 There is a small light on the unit…you press the large red button to turn it on…that shines a beam so you can find the valve stem if you're checking pressure at night or in dark places. The handle is rubberized so you get a nice firm grip on it. I like that the gauge is larger than those pen style kind as I can easily find it in my saddlebag when I need it.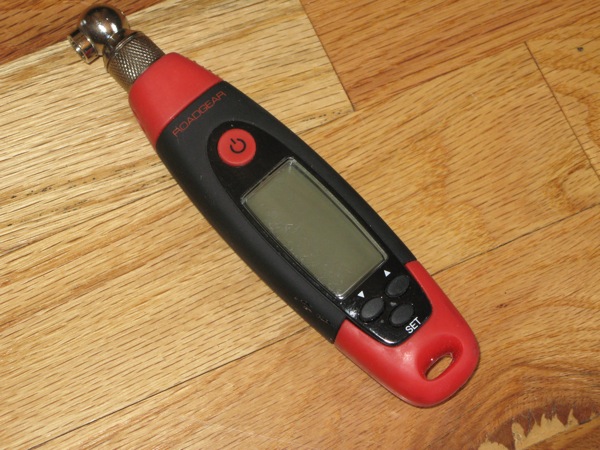 If youre the type who often forgets details like what the recommended pressure is for each of your tires, this higher end tire gauge is nice to have. Roadgear's Programmable Digital Tire Gauge sells for $32.90, a little more than you're probably used to paying for a tire gauge but this is one you'll have for a long time…a lot longer than those cheap pen style ones. I've probably been through 10 of those in 20 years of riding. I either lose them or they lose their effectiveness somehow—the measuring stick doesnt pop out properly when checking pressure.
One way to justify the expense of this programmable gauge is that you can use it on more than your motorcycle—like your car, an ATV, a trailer—any vehicle with tires where proper inflation is necessary. Visit Roadgear.com for more information and to order online.