They may be called Racer Gloves, but dont be fooled into thinking the gloves this company makes are for racers only. Racer Gloves are for any street rider—cruiser, sportbike, or sport touring—with styles available for men and women. The Austria-based company has been making higher-end street motorcycle apparel,including riding gloves,since the early 1990s.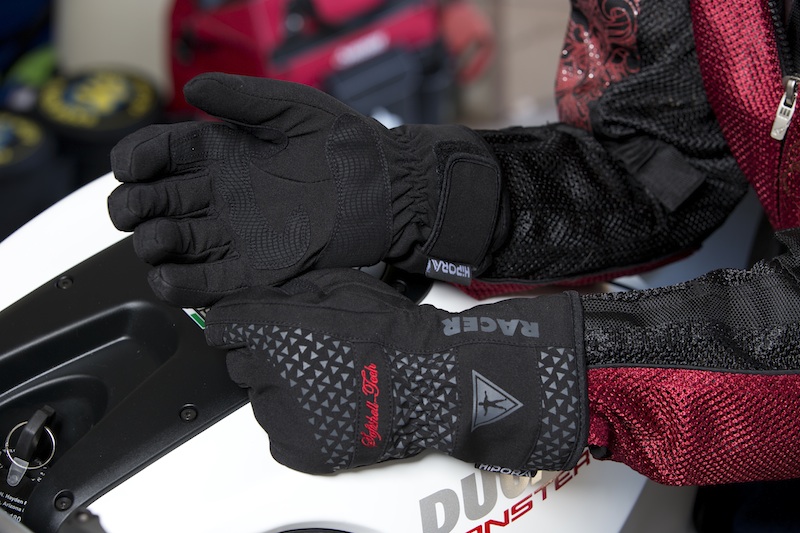 Racers line of gloves for men offers nearly every style, including shorties and gauntlets, in leather, textile, mesh, or some combination thereof. Some come with armor, some have just padding, and some have neither. The company recently started making women's gloves, and that collection now includes five options: two sport-oriented gloves with extra padding and knuckle reinforcements,two for cooler-weather riding,and one leather/textile combo summer glove. I tested the women's "Warm Up" glove, one of the two designed for cooler weather.
This is one of the most comfortable pairs of gloves I've worn in a long time. The soft fleece inside is smooth on my skin, and there are no seams that scratch, pull or bind in the wrong areas, which can often contribute to increasing hand fatigue. On the outside, the gloves are made of Softshell-brand textile fabric that allows for just the right amount of flexibility. They are not stiff at all, and they don't bunch up when you grab the handgrips.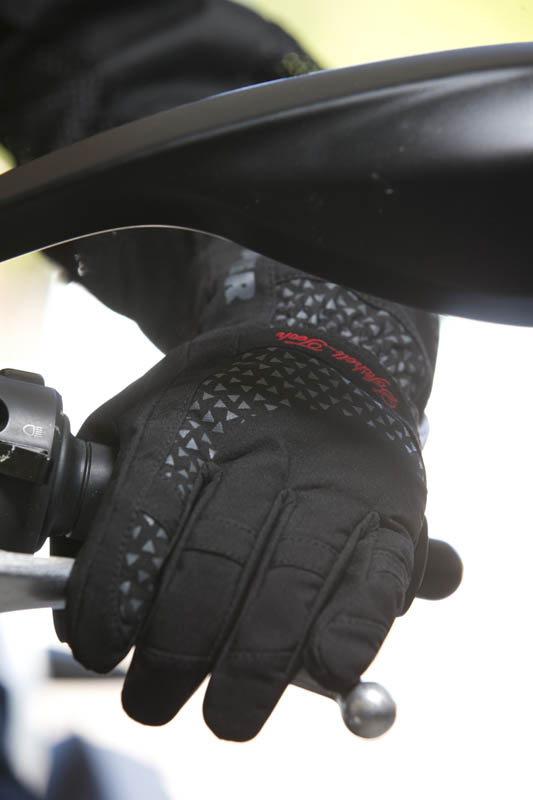 If you've ever worn thick winter gloves while riding, youve probably noticed that they tend to cause some loss of sensation in terms of grip and finger control.These gloves, however, offer just the right amount of thickness, so they do not detract from your sensory interaction with the hand controls.
Another added bonus is that these gloves are lined with a Hipora-brand waterproof membrane. Water dances right off the fabric. I havent been caught yet in any heavy rainstorms while wearing them, so I tested their waterproofing by dunking the gloves in a sink full of water. There was no leakage.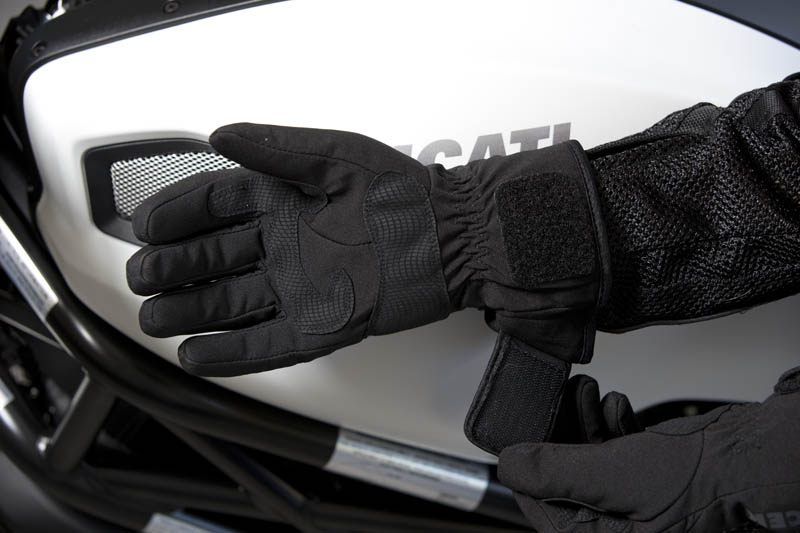 Although the Warm Up gloves are designed for cooler weather, Ive noticed the temperature at which my hands start to get chilly in my thin leather gloves is about 70 degrees. True, 70 degrees is not particularly "cool," but while riding at 75 mph, the draft is enough for me to need the extra thickness offered by these gloves. When the temperature warms up from there, the gloves are way too warm to wear, but they work just right for those cool morning and evening rides. Plus, theyll be perfect for the transitional autumn riding season.
It's worth noting that these gloves do not have the knuckle armor or extra padding offered by more sport- or race-oriented styles. And that's OK. Not everyone wants that. The Warm Up gloves are very comfortable, and the fact that they don't tire out my hands like a glove that "pulls" on my fingers all day long is a big bonus.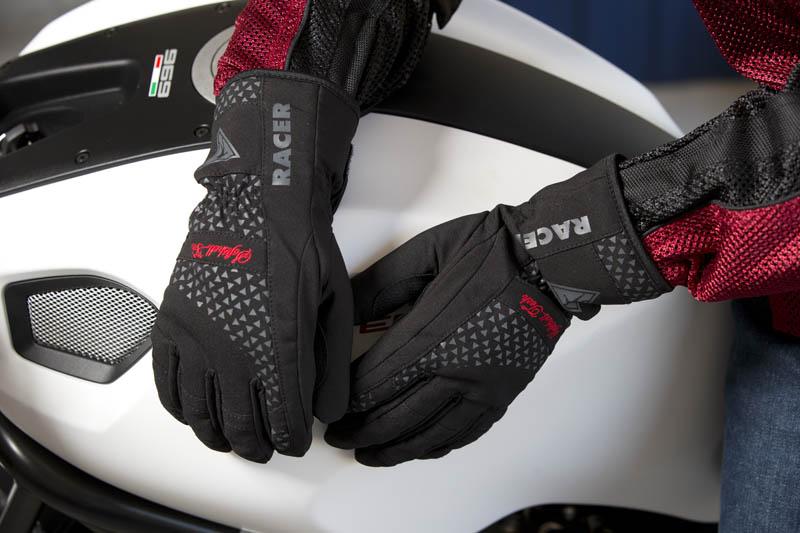 I normally wear a women's size large in gloves, and I found Racers Warm Up gloves to be true to size. I also received the company's other winter gloves, the super-duty Gore-Tex Ninas, in a size large, but those were a knuckle too long in the fingers. That sizing issue is noted on Racers website, so I would recommend using the companys sizing chart to ensure you get it right the first time.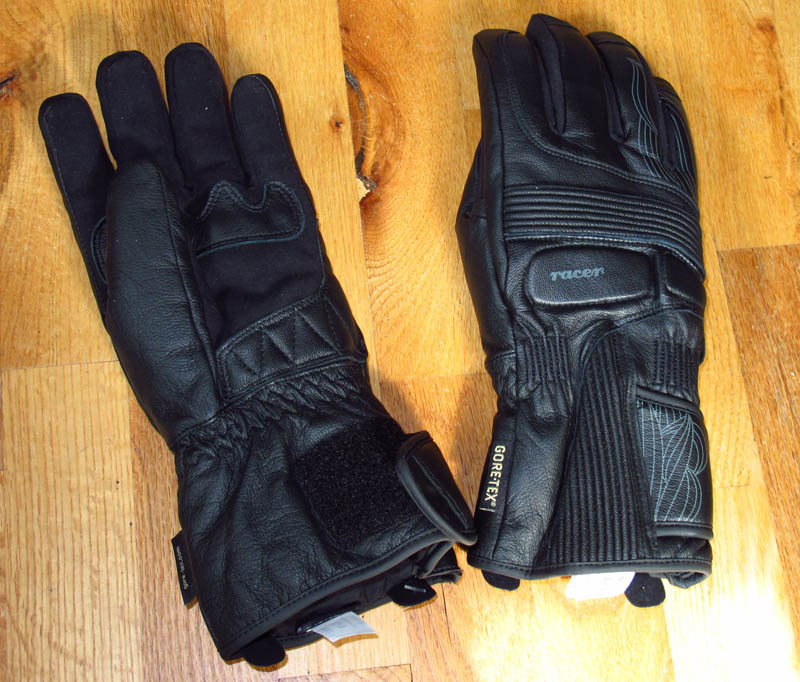 Racer's Warm Up gloves cost $69.99—a reasonable price for the quality—and can be ordered online from the US importer's website at RacerGlovesUSA.com. Our friend Lee Block, a longtime motorcycle industry leader, is the owner of Racer Gloves USA and will take good care of you if you let him know you read about the gloves on Women Riders Now (WRN).

Related Articles
Review: Alpinestars Stella Tyla Gloves
Riding Jackets that Go From Warm to Cool Temperatures
Finger Tips for Gloves for Using Cell Phone and GPS