The 2018 G 310 GS is the newest member of BMW Motorrad's famed GS line of adventure motorcycles and well suited for taller new riders and those who want to experience off-road riding without the weight and expense of a large-displacement dual-sport.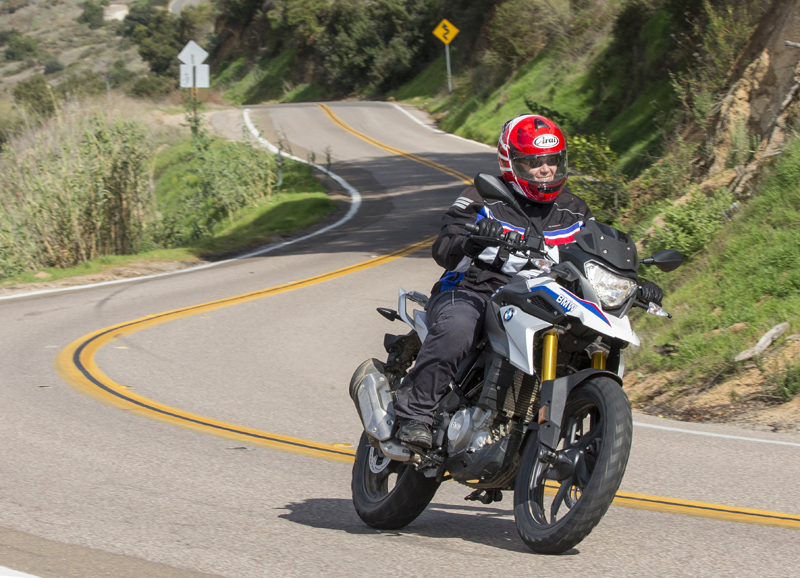 Women Riders Now E-Newsletter
Stay up-to-date on all things motorcycle! Latest gear, bikes, and product reviews. Travel ideas, great product giveaways, and more.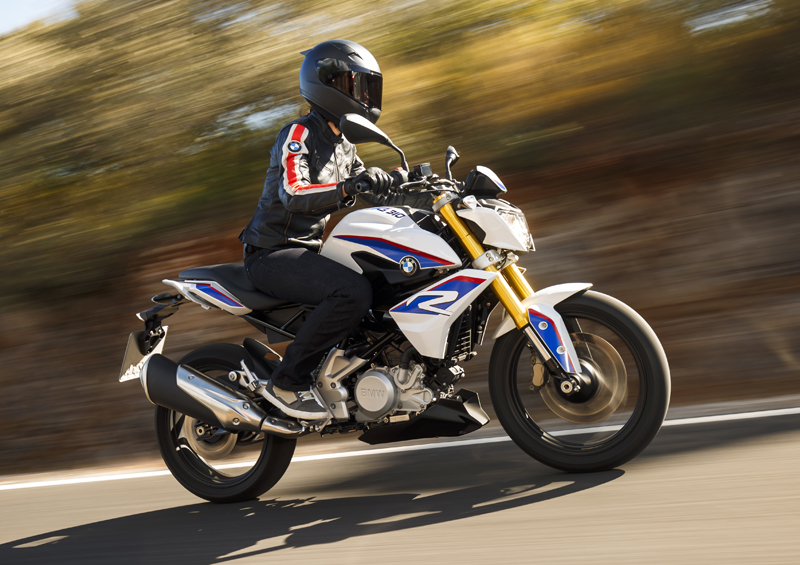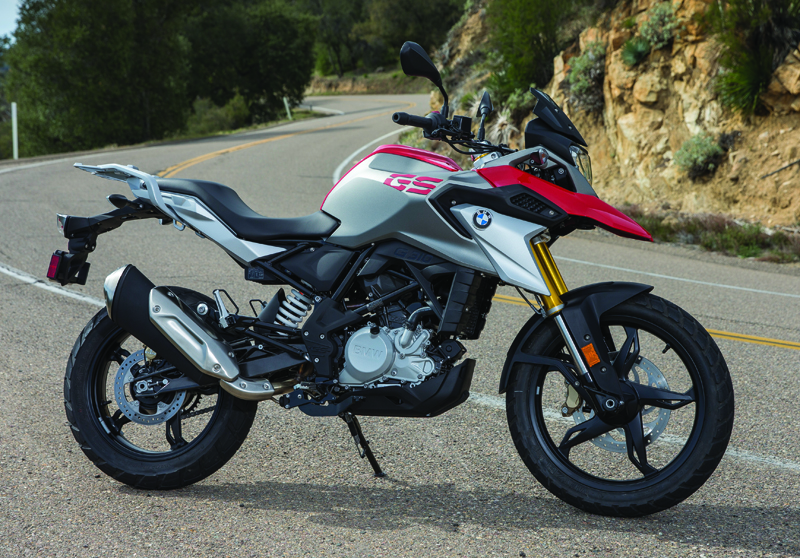 A full 2 inches taller than the street oriented G 310 R, the GS' 32.9-inch seat height feels right on a machine designed to plow over rocks and absorb tougher shocks than what you find on paved roads. A low seat is an option but reduces reach to the ground by just .6 inches. BMW doesn't have a low suspension option, so if you need more reach to the ground, you'll have to look to the aftermarket to get lower.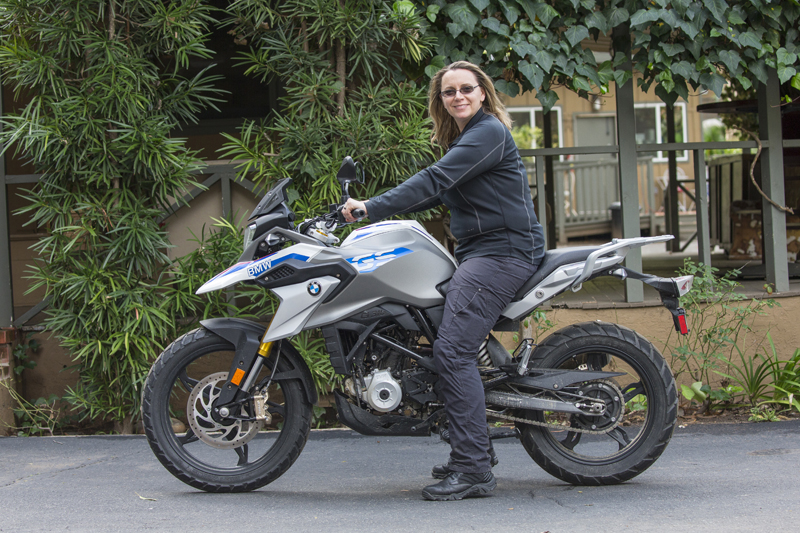 BMW Motorrad engineers incorporated a unique engine design into the 313cc GS. The cylinder head has been rotated 180 degrees tilting to the rear, bringing air induction to the front and the exhaust at the rear. This direct air combustion system is more efficient, with the design creating a balanced machine that offers more precise steering response and control. This also allows for a longer swingarm for increased stability.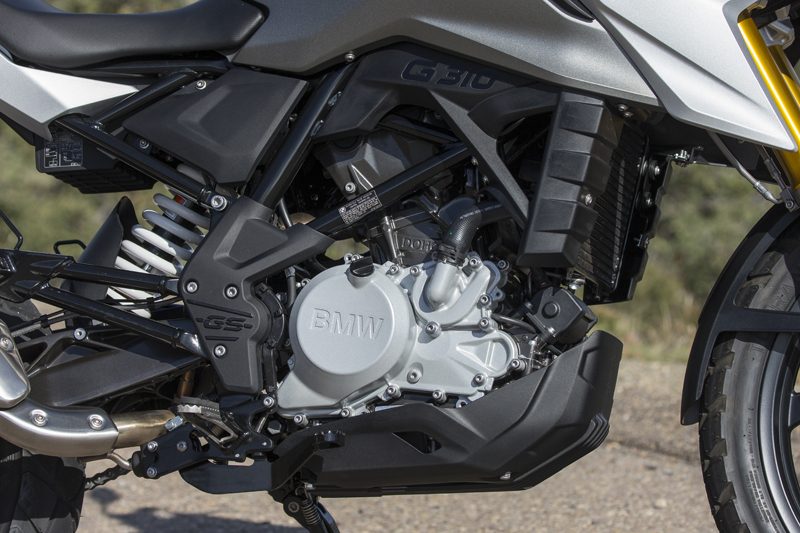 Peak horsepower is just 34 hp at 9500 rpm so the G 310 isn't going to win many races. Don't be fooled by the numbers though. Twenty-one foot pounds of torque at 7500 rpm doesn't sound like much, but the real-world test is how it rides. Give the GS a fistfull of throttle and be ready to have a well-spirited ride. The bike's light weight, slick shifting through all six gears, and quick power delivery equates to a fun jaunt on two wheels.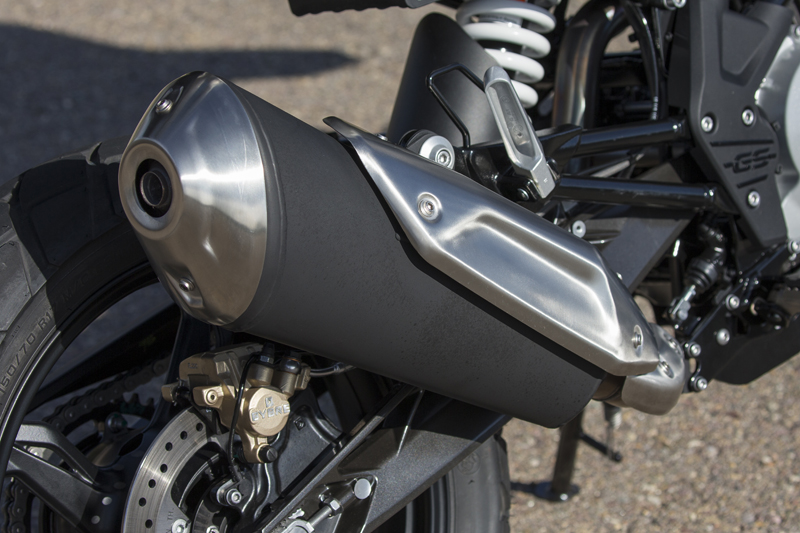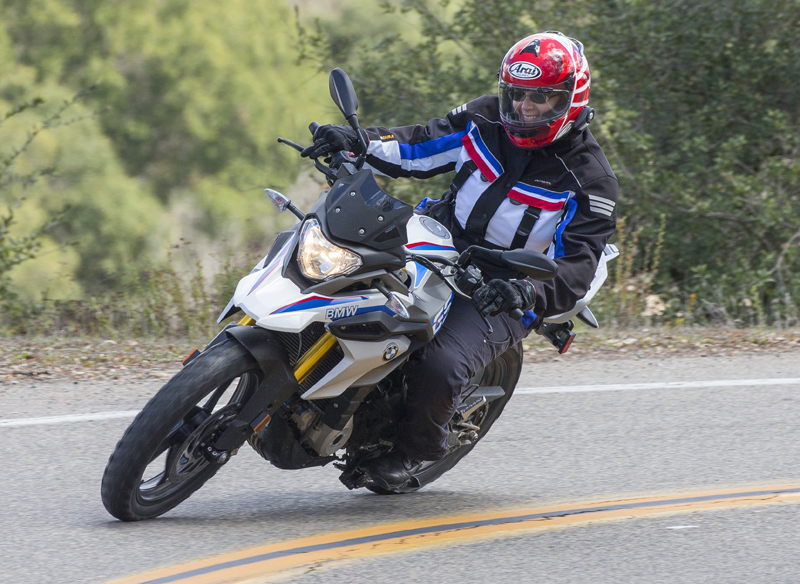 Braking on the GS is accomplished with two single discs, one front and one rear—adequate for a motorcycle of this size and weight. The bike's top speed is posted in BMW's literature as just 89 mph, so anything more powerful would just add weight and might be harder for newer riders to control.
| | |
| --- | --- |
| A 300mm diameter disc with a powerful four-piston fixed caliper provides plenty of front stopping power. | Out back, the GS is equipped with a 240mm disc with single-piston floating caliper. |
| | |
| --- | --- |
| ABS is standard on the G 310 GS and can be deactivated for when riding on light terrain with a button near the left handgrip. | Rubber inserts can be removed from the footpegs to provide more stability and grip. Those teeth on the brake lever grip the soles of your boots so your toe doesn't slip off it. |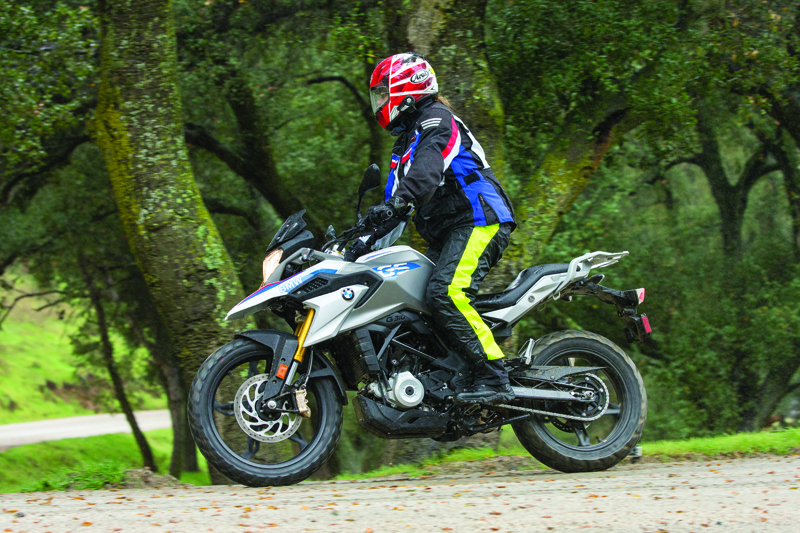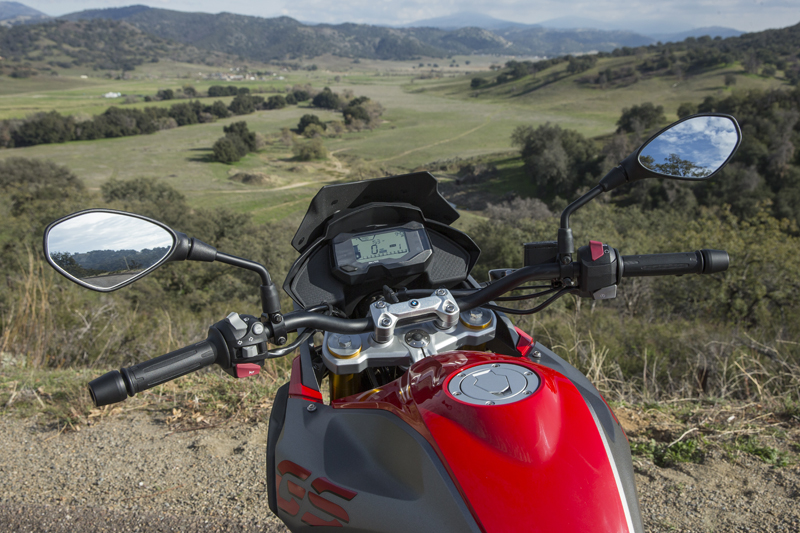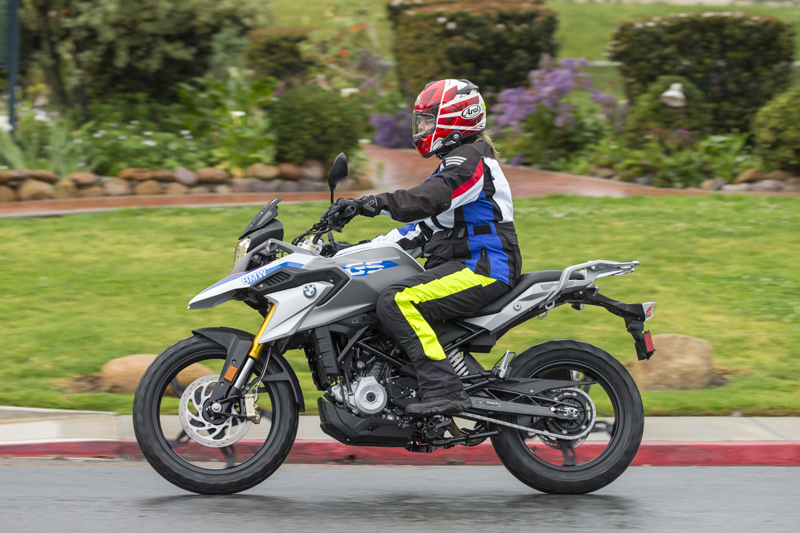 | | |
| --- | --- |
| Riding the GS for only one day is not long enough to gauge long-term comfort, but I was satisfied with the stock one-piece seat. | The ignition key unlocks the seat allowing easy access to battery terminals. A small basic tool kit is stored in the small tail compartment. |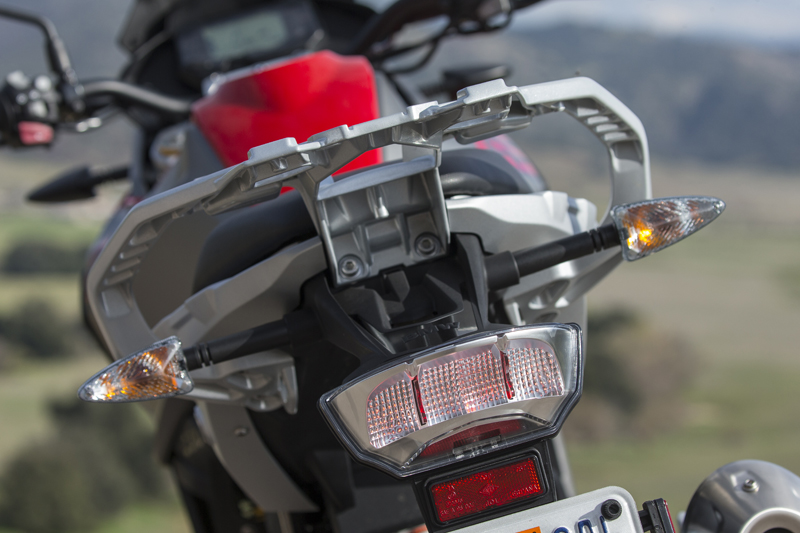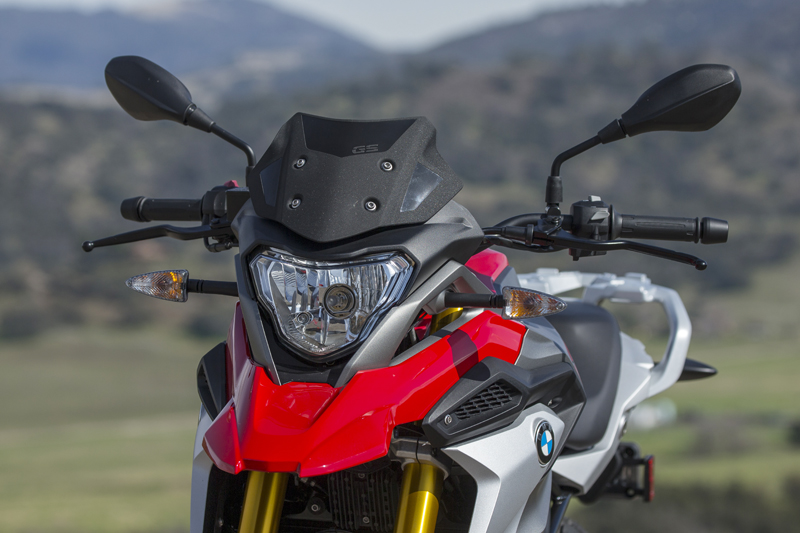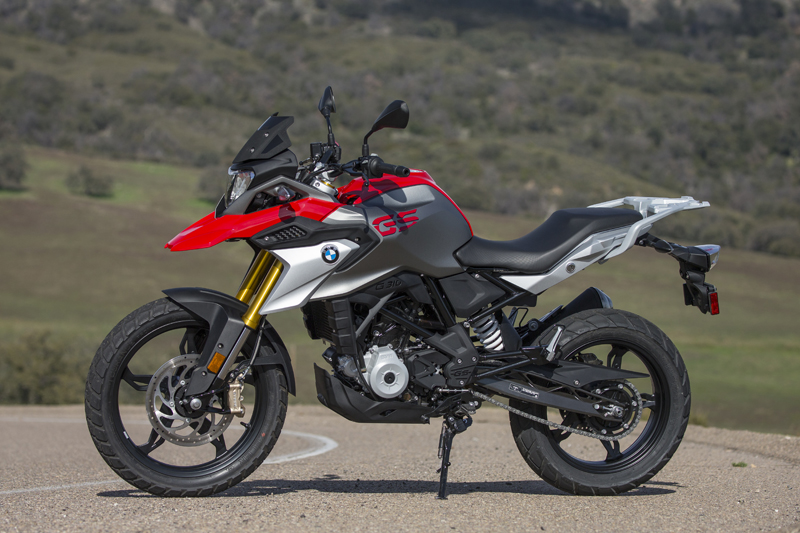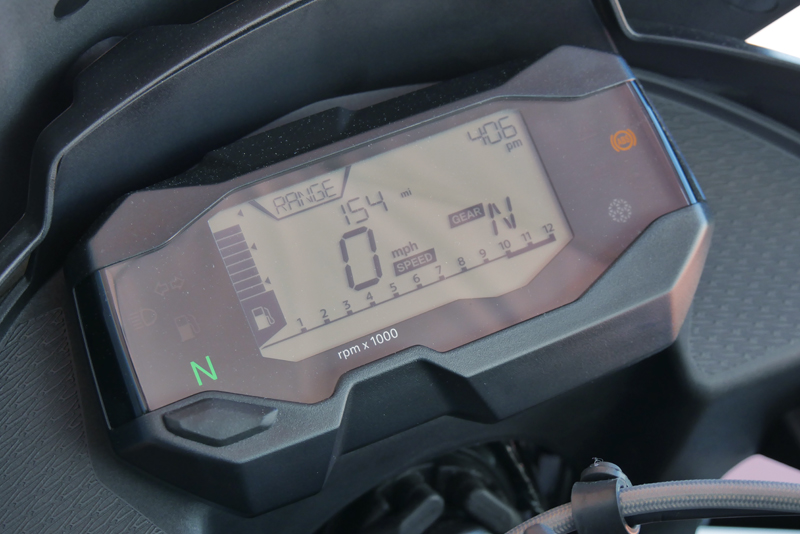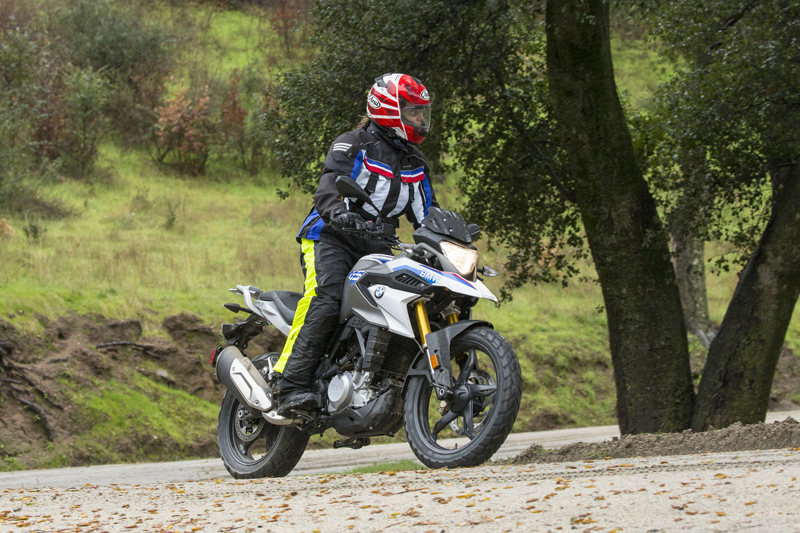 For those who've been looking for BMW's premium fit and finish in an affordable entry-level package, its G 310 models are definitely worth taking a test spin on. The sporty R model will fit women's smaller statures, but the adventure style and all-around capability of the GS has won my heart.
Specs at a Glance: 2018 BMW G 310 GS
Engine Size: 313cc
Seat height: 32.9 inches (32.3 inch low option)
Weight: 374 pounds
Fuel capacity: 2.9 gallons
Colors: Pearl White Metallic (+$100); Racing Red; Cosmic Black
Price: $5,695
Related Articles
2018 New and Updated Models to Get Excited About
Beginners Guide: Choosing Your First Motorcycle
Video Reader Review: BMW F 700 GS
Motorcycle Review: BMW G 650 GS: Versatile and Affordable
Dual Sport Motorcycle Reviews
All Motorcycle Reviews