The rise in sales of touring motorcycles — usually larger bikes equipped with luggage and windshields designed for multi-day trips — may have some smaller-sized riders feeling uninvited to the party. Often referred to as "baggers," these motorcycles are heavier and larger and that can make smaller or newer riders uncomfortable. Bikes sized "just right" for these riders often lack essential touring amenities.
The Sportster SuperLow 1200T is Harley-Davidsons way of filling the gap in its lineup for a smaller touring bike. The Motor Company increased displacement (and therefore power) of its 883 Sportster SuperLowto 1200cc and added creature comforts to make it more appealing for motorcycle touring.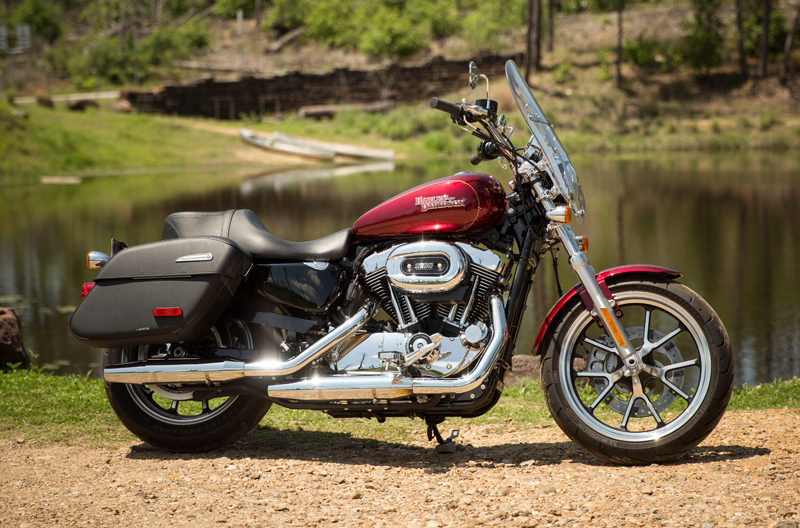 But hanging extra goodies on a "smaller" motorcycle doesn't automatically morph it into an honest-to-goodness touring machine. Power, engine performance, rider ergonomics, comfort, and other considerations factor into the touring equation, too. I took the Sportster SuperLow 1200T on a multi-day nearly 1,000-mile trip through southern California alongside my husband, Tim (who was riding a Harley-Davidson Heritage Softail Classic) to evaluate its touring capabilities.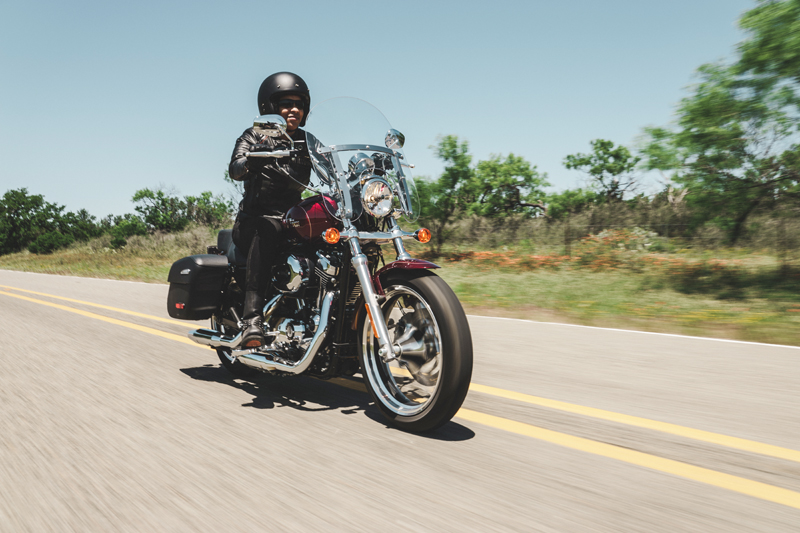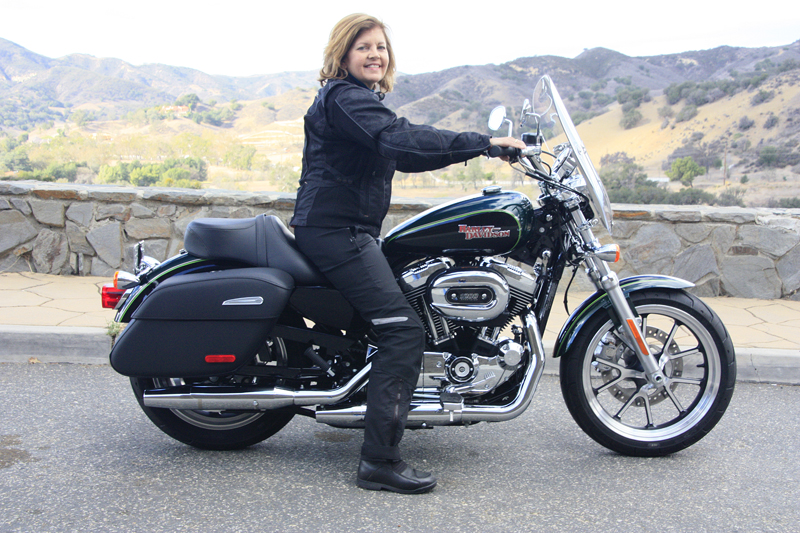 | | |
| --- | --- |
| Pam likes the mid-placed mini floorboards on the SuperLow 1200T, which are located three inches forward of other Sportster models with mid-controls (Sportster SuperLow and Iron 883), making her knee bend a little more relaxed for longer days in the saddle. | New for 2016, the 1200T features a two-up touring style reduced-reach seat with a narrow nose to make putting feet on the pavement a secure affair. Pam says despite being in the saddle for long hours the stock seat was quite capable. She didnt experience any discomfort or hot spots, however, she thinks both a rider and passenger could feel a bit cramped over time due to the smaller seating area of this touring saddle. |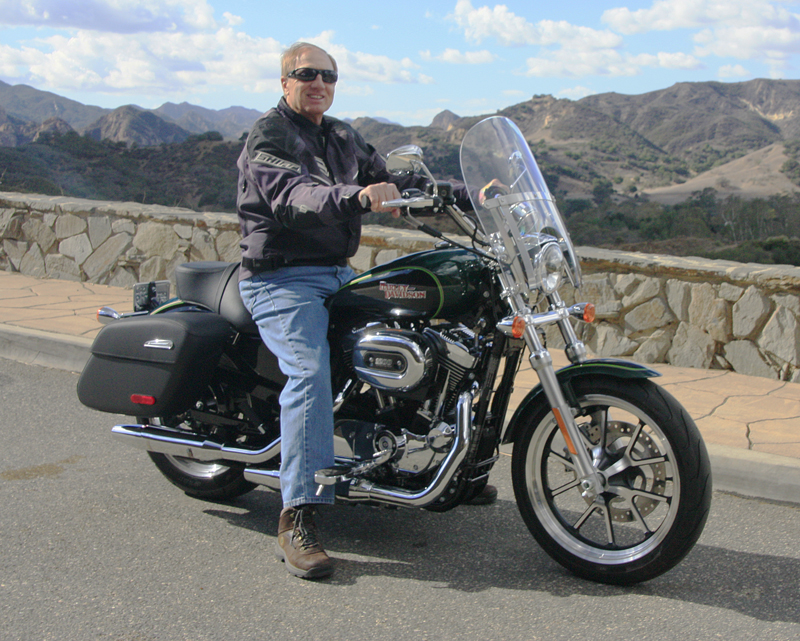 Ive ridden and owned many different Harley-Davidson motorcycles over the years going back to the 1990s, but I felt that this 1200Ts engine vibrated a lot, more than what Im used to feeling on a Harley-Davidson. I felt the vibration in the handgrips and floorboards in every gear, and found it difficult to see what was in the mirrors until I was traveling pretty fast. Only until about 60 mph in fourth gear or 70 mph in fifth (top) gear, did the vibration finally subside enough to see clearly in the mirrors. That said, "feeling" the engines vibration is part of what makes a motorcycle a Harley-Davidson motorcycle a Harley-Davidson. I highly recommend a test ride if youre considering the 1200T to make sure youre comfortable with the vibration over a long ride.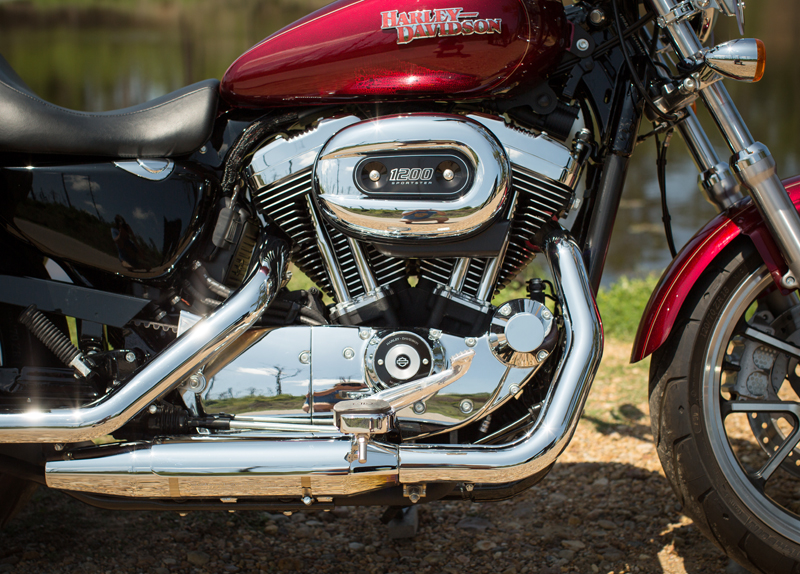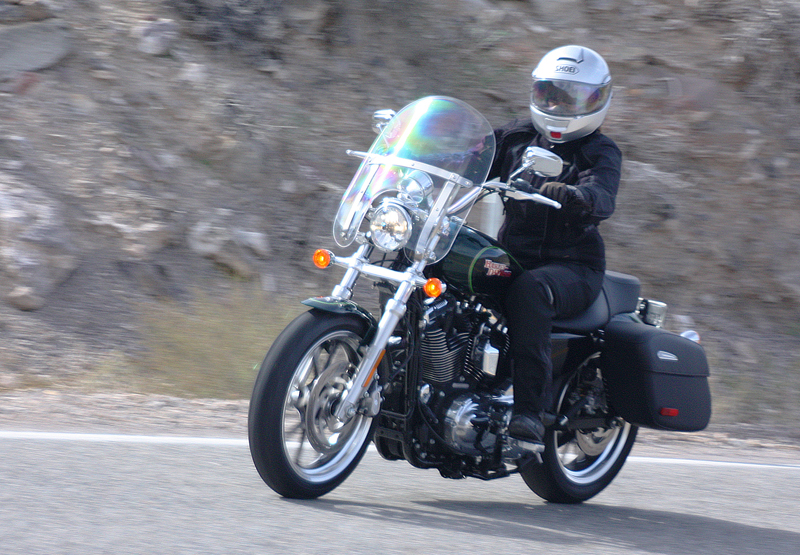 Fuel economy seems to be close to the 48 mpg Harley-Davidson estimate. The fuel tank holds 4.5 gallons, giving riders more than 200 miles per tank … an important factor for a touring motorcycle.
The grips on the SuperLow 1200T are a smaller diameter than most Harley grips — 1.3 inches compared to the usual 1.5 inches — and feel perfectly sized for my smaller hands. The clutch and brake levers are non-adjustable meaning the distance between the levers and the handgrip cannot be adjusted. (Adjustable levers are common on many Japanese cruisers.) Fortunately, the smaller diameter of the handgrip gives my shorter fingers more "reach" to the levers, and the pull to engage the levers requires no additional effort. I never experienced any discomfort holding them in for long periods of time like at stop lights or in stop-and-go traffic.
Braking is adequate on the 1200T. Single discs in front and rear each use dual-piston calipers. The optional ABS works very well and is a $795 add-on I recommend. Electronic fuel injection is spot-on with no jerking or hesitation, and acceleration is quick and responsive when rolling on the throttle.
Touring usually means bringing along "stuff," and though the rigid, lockable saddlebags look good, they don't hold much more than a couple-day's worth of gear.
| | |
| --- | --- |
| The Sportster 1200Ts leather-covered rigid saddlebags are hinged on the outside which allows them to open wide, without the lid getting caught on the seat. A pushbutton lock is on top of the lid, creating a clean contemporary look. They are watertight and Pam especially enjoys the security of having lockable bags. | Pam loves how easy the 1200T's saddlebags are to open and fill, though their hard sides don't offer any give. Docking points are pre-installed for adding an optional Harley-Davidson Genuine Accessory sissybar or luggage rack, which helps secure more bags and gear. |
| The 1200T includes a 14-inch quick-release windshield that easily converts the touring bike into an around-town cruiser without tools. Pam looks over the shield which she prefers (as opposed to through it), finds it distortion-free, enjoys its protection from wind and rain, and feels no windblasts or buffeting. | The SuperLow 1200T sports black and silver split five-spoke cast aluminum wheels and Michelin Scorcher touring tires. |
| New for 2016, all Sportster models now have an adjustable shock for 2016, but the 1200T is the only hand-adjustable one. All other Sportsters require a spanner wrench to make adjustments, which is stored under the seat. Here you can see the 1200Ts knob just in front of the saddlebag. It can be adjusted without removing the bag. | The 1200T's easy-to-use dial-adjustable rear shock, that you can see with the saddlebag removed, helps smooth the road's bumps and bounces, and helps offset the low 2.13-inch rear suspension travel, a concession to keeping the 1200T's profile low. A twist of the wrist (no special tools needed) is all it takes to tailor the 1200T to one- or two-up riding, whether traveling light or loaded with gear. |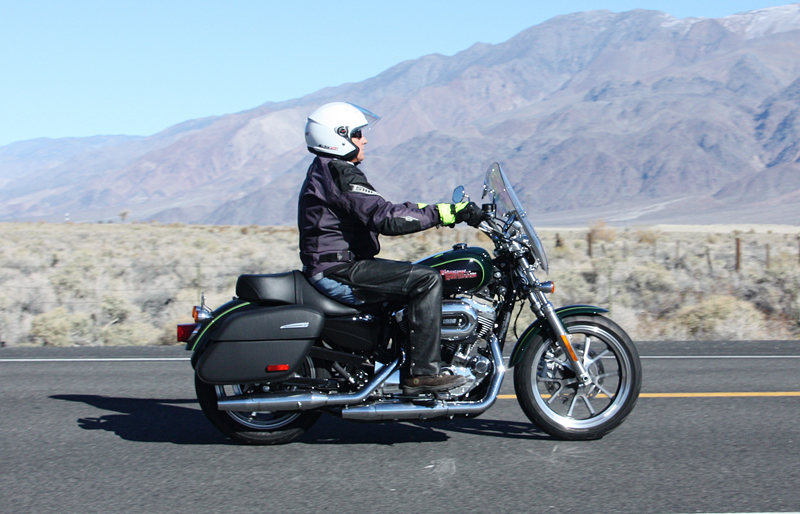 The chrome speedometer is easy to see and displays a variety of information controlled by a toggle button on the left handlebar. Without removing your hand from the grip, each push of the switch changes the information displayed, cycling through an odometer, clock, two tripmeters, gear indicator, and tachometer.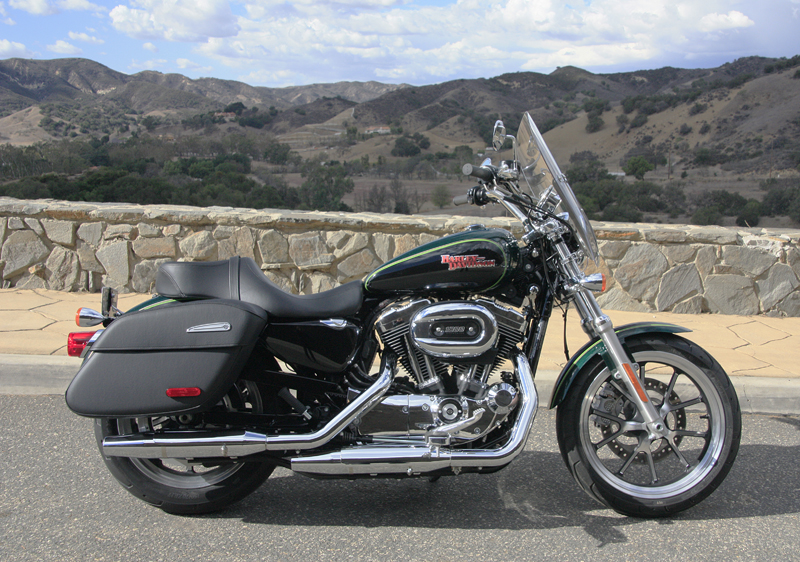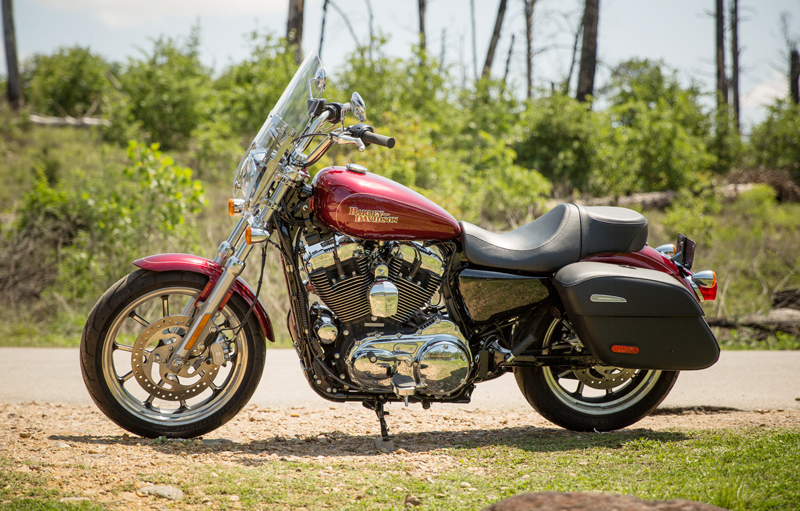 The addition of the touring accessories, along with a larger engine displacement, does indeed change the 1200T from a boulevard buddy to more of a long-haul friend as long as you don't mind a little engine vibration and limited cargo capacity. But riders of smaller stature seeking a Harley-Davidson that fits them while promising the ability to tour more comfortably would do well to consider the Sportster SuperLow 1200T.
Specs At A Glance: 2016 Harley-Davidson Sportster Superlow 1200T
Engine Size: 1202cc
Seat height: 26.1 inches
Weight: 599 pounds
Fuel capacity: 4.5 gallons
Colors: Vivid Black, Black Quartz, Velocity Red Sunglo, Billet Silver/Vivid Black, Deep Jade Pearl/Vivid Black, Purple Fire/Blackberry Smoke, Cosmic Blue Pearl
Price: Starts at $11,799 (add $795 for ABS; add $395 for security system)
WRN Recommendation
We applaud Harley-Davidson for finding a way to enable smaller-sized riders, as well as those on a budget, a way to tour comfortably and keep up to speed adequately on the highway with their friends on larger and higher-powered motorcycles. The SuperLow 1200T is a nice step up from a beginner motorcycle for riders just starting to tour overnight on their bike.

Related Articles
Harley-Davidson Sportster SuperLow 883
All Harley-Davidson Reviews
All Motorcycle Reviews