Editor's Note: As we were preparing this review, the unexpected announcement came that Victory Motorcycles is shutting down its operations. We decided to post our review of the 2017 Octane by prefacing it with a few comments from Steve Menneto, President of Polaris Motorcycles. We asked him about the value of the remaining Victory Motorcycles and the support of those bikes moving forward.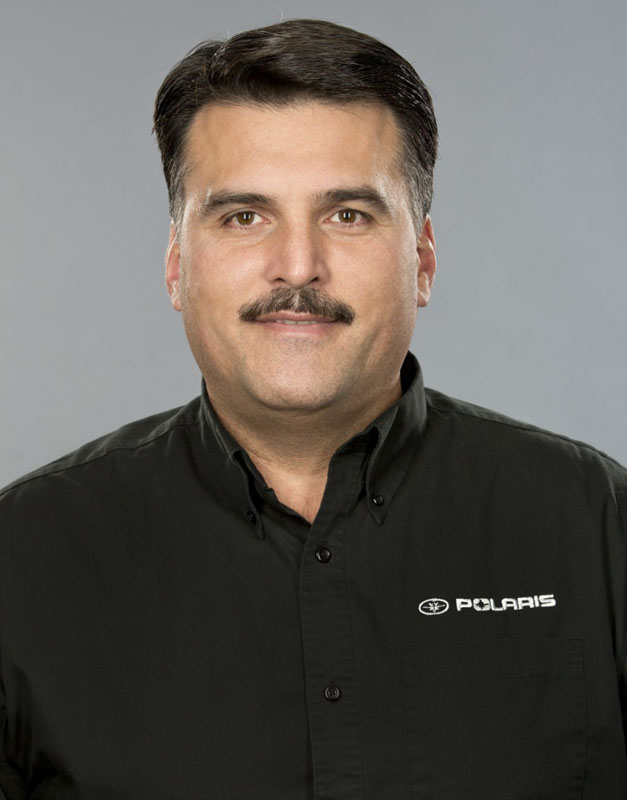 WRN:
How does the announcement effect current inventory of Victory motorcycles? For example, whats the incentive for buyers to purchase the remaining Victory bikes that are for sale?
SM:
For all the riders who are upset that we won't be making Victory bikes going forward, I'd like to point out that there is an excellent supply of new 2016 and 2017 models right now between our factory and dealer inventories nationwide. These are all bikes that are covered by a full factory warranty.
To help our dealers move their current Victory inventory, we are offering some incredible promotions right now and that will continue until inventories are gone. We are also offering discounts on apparel and accessories so owners can really make the bike their own. And keep in mind, Victory Motorcycles led the entire industry in product satisfaction in 2016 with scores that dramatically outpaced the competition, so new owners can expect a high quality, reliable bike that should last for many years of serious riding.
WRN: For current and future owners of Victory motorcycles, what can you say to assure them that the purchase of a Victory motorcycle today will be supported in the future?
SM: Please know that we at Polaris will stand behind our Victory bikes whether you bought one 10 years ago or you buy one tomorrow. We will continue to honor factory warranties, and we'll be supplying parts for 10 years, after which the aftermarket will still be making parts. And we fully expect that most Victory dealers will stay on as servicing dealers, so owners will have plenty of options for ongoing service and warranty work.
Here's our review:
While the muscle and might of the Victory Octane appeals to guys desiring a lightweight liquid-cooled 1184cc cruiser, it turns out the Minnesota-based motorcycle company built a bike with many features women riders say they want in a motorcycle: comfort, low seat height, ease of handling, and power. Yes power! Most times big power comes in big packages, and a lot of women cant handle those big bikes. The Octane, with its friendly ergos and substantial horsepower, fills that bill and so much more.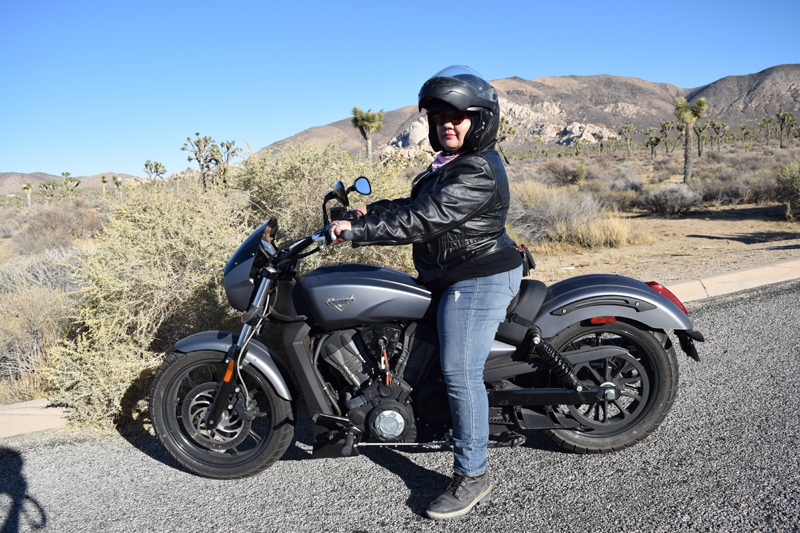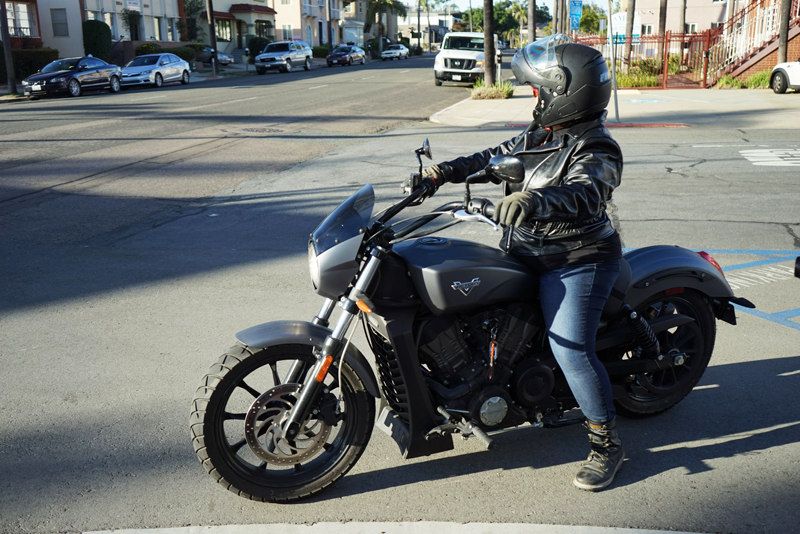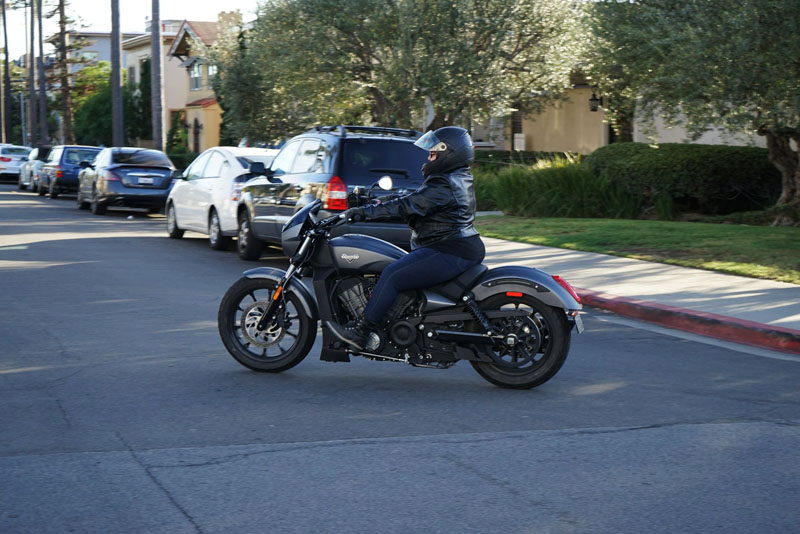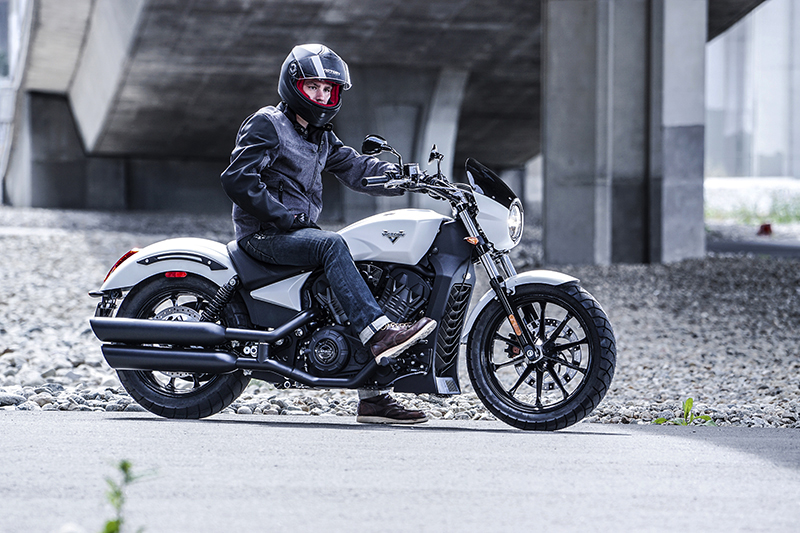 The Octanes unique combination of power, light weight, and ease of handling is what wins me over. Finding an easy bike for "small" me to ride usually means giving up power. Victory, on the other hand, found a way to take a 104 horsepower engine and make it gentle enough for confident beginners, yet remain every bit a lean, mean, thrusting machine when you want to crank the throttle.
I'll admit I was nervous releasing the clutch for the first time on the 2017 Octane I was reviewing, but I found the bike quite forgiving. After a few stop-and-gos through town, I had all of its 76 foot-pounds of torque purring like a kitty, and was ready to hit the slab for some G-force fun. Its worth noting there were no substantial changes to the bike from the 2016 model year.
Theres nothing like an on-ramp that screams "full throttle!" And dont you hate it when youre giving a motorcycle a handfull of throttle and it barely seems to be moving? The Octane, on the other hand, doesnt waste a drop of gas. I feel that thrilling combination of "whoosh!" and "grrrr!" in as many seconds as I had white knuckles on my throttle hand. By the time I merged into the fast lane I was screaming into my helmet, "Yaaaaahh!"
The romance of riding a motorcycle can be many things to many people, but one thing for me is leaving everything behind and getting out of "Dodge"—and fast. Once cruising down the freeway at speed, the Octanes reliable response and easy handling feels like an extension of my own body. Both machine and woman coming together for one common goal: paving the way to break the bonds of domestic life and set myself free—at least for an afternoon of cruising.
Reaching the downtown hustle and bustle of my hometown of San Diego is a place I specifically wanted to test the Octane. Navigating everything from rampaging cagers and darting pedestrians to bumpy construction zones seemed like the ultimate test for an urban girl like me.
At first I thought the single front disc might not be enough stopping muscle for a powerful middleweight like the Octane, but I was more than impressed with how quickly it did stop when cars turned in front of me.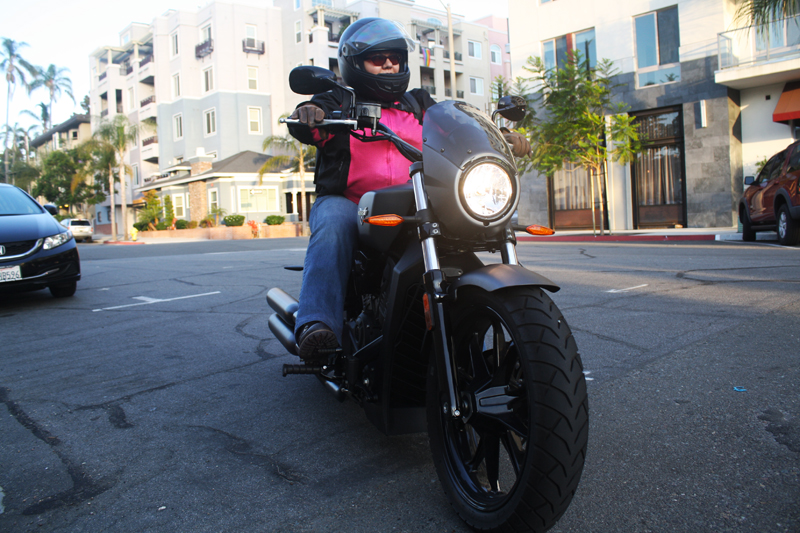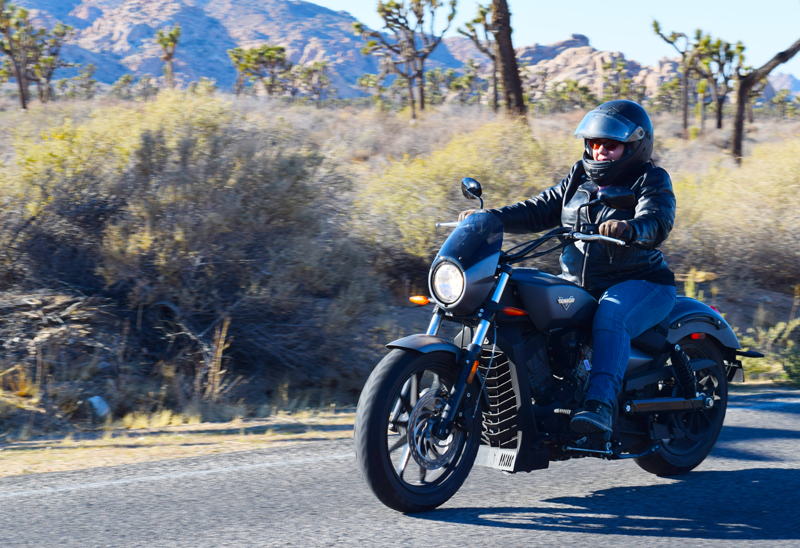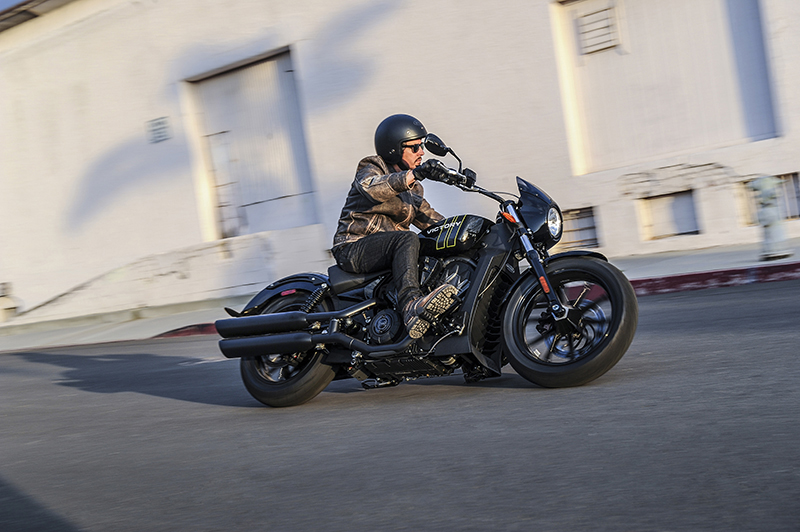 The Octane's suspension feels cushy and comfy at slower speeds, especially riding through urban and suburban areas. Speed up a little along highways and interstates and the suspension levels out even more. The bike's lighter weight, however, tends to transfer road bumps to your skeletal system, though the easy steering allows me to quickly divert away from potholes. Meanwhile, the suspension remains rock solid when rounding curves; no wobble in this little beast.
Victory has dozens of accessories to choose from for the Octane including performance accessories and parts specifically for solo or two-up touring. Saddlebags, a luggage rack, driver backrest, highway bar, adjustable highway pegs, a mid-size windshield and a 50-state-legal slip-on exhaust are just some to choose from. And modifying your bike doesn't take long because many, like the windshield, seat, backrests, and bags, are detachable—so easy to put on or take off as your ride style dictates.
In addition to the Reduced Reach package on my test model, Victory's Extended Reach package accommodates taller riders with a seat that places the rider further back, drag bars for longer arm extension, 1-inch extended reach lower controls, and a high windshield.
Back out on the twisty roads, scraping pegs has never been more fun for me, only because I feel so much more in control of this bike than others. Its almost as if the Octane makes me a better rider, or perhaps Ive been riding the wrong motorcycles. The bigger part though for me is again, the bike's feeling of being so light coupled with the nimbleness of a sportbike.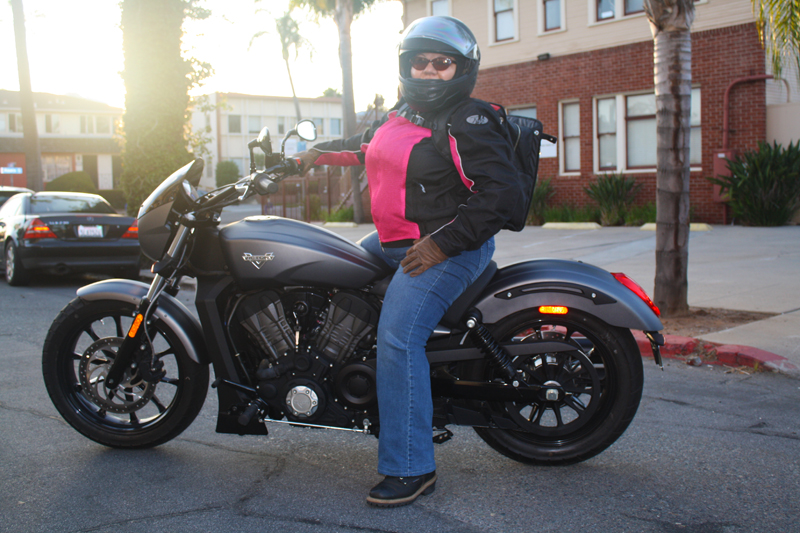 In my opinion, the Octane allows riders to make the motorcycle what they want it to be. I'm able to take an easy ride along the coast, maneuver my way on point through the stop-and-go of the city, blast off down the interstate like a rocket, and hug the asphalt through the canyons. I dont have to fight the bike into any of these conditions; its always ready for me when I decide.
I think thats the reason why I enjoyed test riding the Victory Octane so much. I get to define myself as a rider, as opposed to letting motorcycle manufacturers pigeonhole me into the type of motorcycle I should ride as a woman.
Specs At A Glance: 2017 Victory Octane
Engine Size: 1179cc
Seat Height: 25.9 inches
Weight: 548 pounds
Fuel Capacity: 3.4 gallons
2017 Colors: Gloss Black; Gloss Black with Graphics; Suede Pearl White;Matte Super Steel Gray
Super Steel Gray
Price: Starts at $9,999
WRN Recommendation
We don't ordinarily recommend a 1200cc motorcycle as a beginner motorcycle, but confident beginners who perhaps are re-entry riders or have experience on a dirt bike will find the Octane's easy handling confidence-inspiring. Comparing the Octane's price to Harley-Davidson's similarly-powered motorcycles at press time, the 1200cc Sportsters, the Octane comes in at a grand less than the 1200 Custom, and $1,300 less than the Roadster. Seems the Harley name still commands a premium here.
Photo credit for some of the photos goes to Brittany Morrow and Alicia Marie Massie Foto.
About the Author
Sash Walker is a blogger and journalist in the women's motorcycling community. She's known for her boldness and tenacity in sharing her motorcycling experience with others. Read more about her on the WRN Contributors page.

Related Articles
Review: Indian Motorcycle Scout Sixty
Review: BMW R nineT
Review: Harley-Davidson Sportster SuperLow 1200T
All Motorcycle Reviews on WRN