Six women share their passion for riding.
Loves Her Sportbikes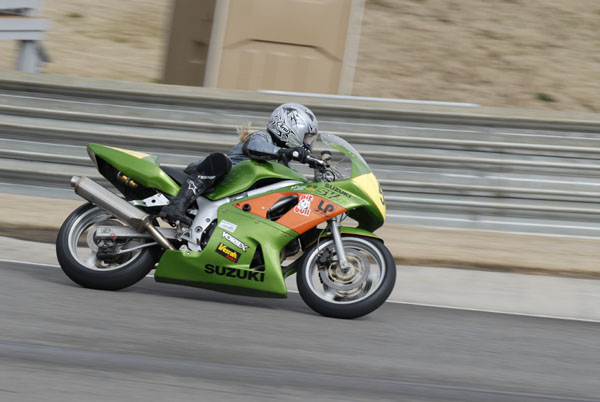 This is my 2001 Suzuki SV650 that I use on the track. I also own a 2004 Honda CBR 600RR.I have not seen any of these bikes on the site, but plenty of women ride them. Sportbikes are quite a thrill, and they give you a chance to outdo the guys.
Caroline Lyle
Chelsea, Alabama
Custom Paint Job Made Easy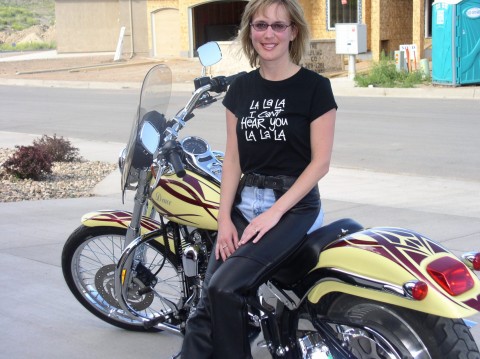 I am a 33-year-old female who owns a Harley-Davidson Deuce. I have ridden motorcycles for 16 years. I am sad to report that it is a challenge, even in todays society, to find male-dominated businesses that treat women with the same respect as men. I found just the opposite at Scott Morse Racing when I went in to get my bike painted.
When I went to Scotts office to discuss painting my Deuce, I brought examples of the color I wanted—a necklace and some seashells. Scott did not laugh at my "feminine" items, he simply said, "Oh, I believe I have some paint swatches in that exact color." When he asked me what type of design I wanted, I told him I didn't know, but I liked "curves, circles and peace signs." Again, he did not laugh. He did tell me that was the first time he had heard that request, thought for a moment, then respectfully told me that we could easily incorporate some curvy designs. In the end, I have a light-yellow bike with red patterns. Its not "girly" or "feminine." It is a bike that both men and women Harley-Davidson owners appreciate. If you're considering a custom paint job for a motorcycle, you must meet with Scott first. I guarantee that you will not be disappointed.
Carolyn Condit
Colorado Springs, CO
14-Year-Old On Her Way Up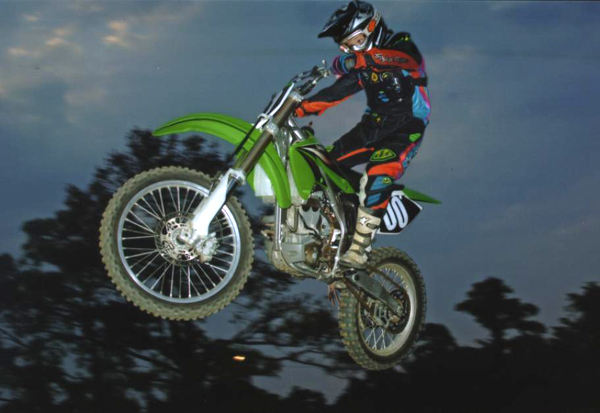 This is my 14-year-old daughter, Katie. Her dad started her riding when she was five with a Yamaha PW 50. She has since grown up and has gone through every cc available. Katie now is riding a 2006 Yamaha YZ 125. Previously, she had a 2004 Kawasaki KX 250F (shown). Katie's mechanic (her dad) prefers the two-stroke 125cc. Katie loves to ride and will ride on anything with two wheels. She joined the Women's Motocross Association last year and will be trying out for the Loretta Lynn Amateur Nationals for the first time.
Nancy Young
Santa Fe, Texas
Glad She Bought a Used Bike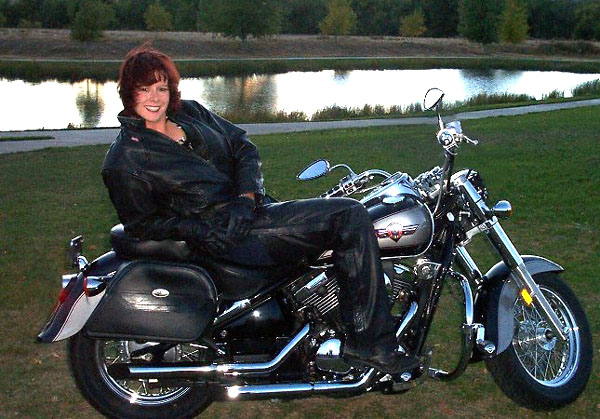 My best friend, who has been riding for years, challenged me to take the Motorcycle Safety Foundation (MSF) course back in August of 2004. "Just see if you like riding," she said. Well, I took the three-day class, passed the test and proudly showed off my new MSF card to my best pal. She took me out for a celebratory lunch that day, and as luck would have it, someone left a Sunday newspaper at our table. There, wide open, were the classifieds. "Lets look for a bike for you," she joked.
Well, it turned out to not be a joke. I found an ad for a "barely used" Kawasaki cruiser, and we made the call. My husband told me I was crazy, but four days after I passed my class, I was the proud owner of a 2000 Kawasaki Vulcan Classic 800 and I haven't stopped riding it since! I have accumulated more than 9,500 miles in a little over a year and saved enough in gas money this past summer (riding to work and back) to actually make my bike payments! I even went on a HOG-sponsored "5-in-1 Run," which involved riding motorcycles over five mountain passes that were all above 10,000 feet in altitude—in one day! It was about 500 miles of riding before it was all done, but yes, I did it! The sense of accomplishment was more than I can describe in words.
Some folks like to run out and buy a new motorcycle right off the bat. Well, I am very glad I didn't do that. My first bike was not an expensive "off-the-showroom-floor" model, and its a good thing, as I did have a few incidents the first two weeks of riding. I cant imagine tipping over on a $20,000 motorcycle. I like my inexpensive but beautiful Kawasaki. "Lucky" has treated me right, and I will never get rid of her.
I will never be able to thank my friend Karla enough. She encouraged me to try something new and different, and what a difference it has made in my self-confidence and in my life. Now I am a "37-year-young" soccer mom who rides her Vulcan to her kids games instead of driving the minivan! I am even considering a personalized license plate for my bike that says "SCRMOM." We will see about that. Ride safe, everyone!
Carolee Langer
Colorado Springs, Colorado
Loving the Twisties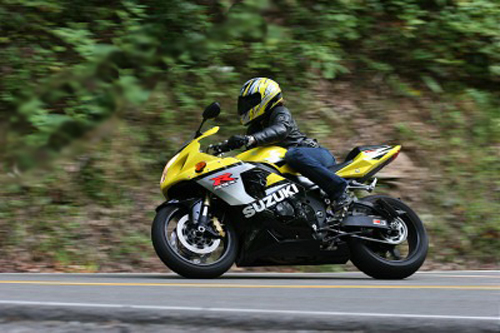 In October of last year, I made my first run at Deals Gap, and it was amazing. I rode my 2005 Suzuki GSX-R750 up and down the 318-turn run several times, and it was more aamzing every time. The 750 doesn't disappoint. The throttle response is quick, and the suspension response was just as good. I could put my complete trust in the bike. The brakes didn't show any signs of fading and were very reliable. The feel was great. I already have at least one trip to the mountains this year planned. In May Ill be meeting up with a great group from Gixxer.com for a spring dragon run, and this year I hope to start getting into track days as well.
Melissa Cartun
Wilmington, North Carolina
The Vulcan is Her Star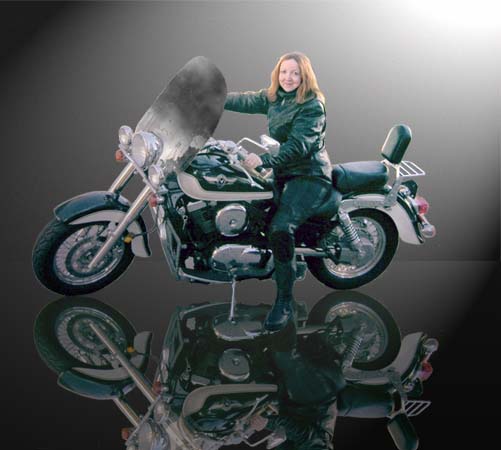 I returned to motorcycling after 20 years when I bought a Suzuki GZ250 last Mothers Day. It was exhilarating to be riding again, and after taking an experienced riders course in August, I started to look for a cruiser. I fell in love with my 1997 Vulcan 1500 Classic in October and have planned many trips this year. Its big and comfortable and has more power than I should ever need. The solid security of the weight on the highway is great, and it is nimble enough in the slow maneuvers of a morning Boston commute. At 5-foot-4, Id be fibbing if I said the weight doesn't make me think very carefully about where or how I park, but it's also given me more incentive at the gym to work out a little bit harder! I altered my photo to give the Vulcan the star treatment it deserves. It's a classic, all right.
Goldie Freeman
Dorchester, Massachusetts