There are two types of women who commandeer their own motorcycles, the pulp celluloid fantasy: buxom, cigarette wielding, bad ass babes, or the ones in reality: large and in charge, could kick my ass 10 ways to Tuesday and appear to patronize the same barber as my father. I am neither of these. I am your typical aspiring adult: urban-living, liberal arts diploma-wielding, edgy preppy-wearing, considering a dog getting-female in her early 30s. So why the heck am I scanning the Los Angeles craigslist motorcycle section sweating a red Honda Nighthawk 750? Seriously.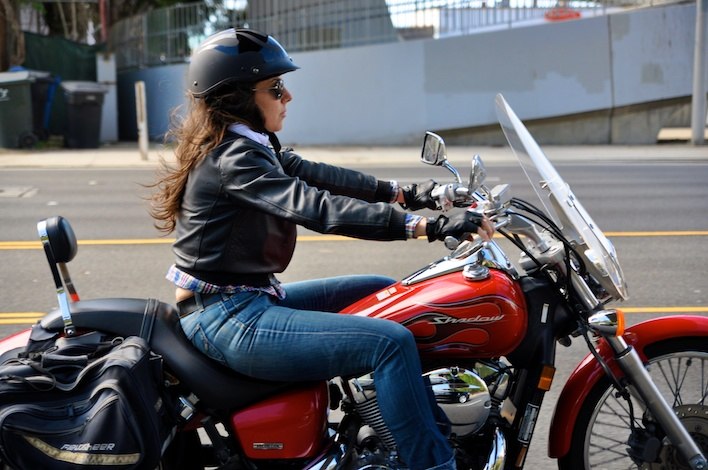 I haven't pinpointed the why, I just know the need must be realized. So I take the WMA (Westside Motorcycle Academy) course, fail the written California driver's license test twice, pass on my third attempt, and, according to the DMV, I'm ready to ride.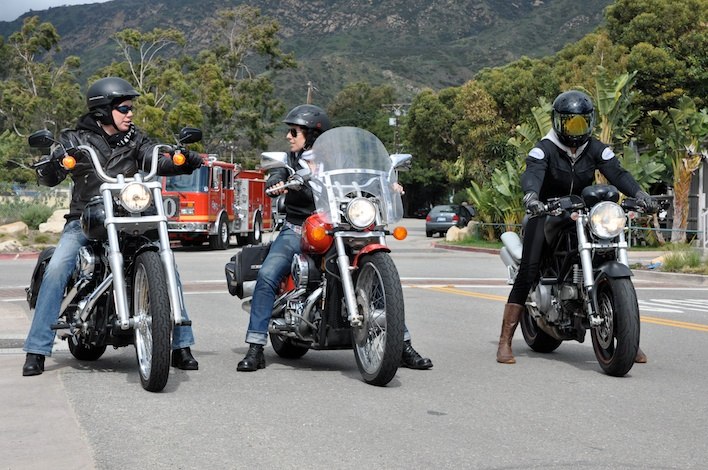 First day out, I don't notice anything but my heart beating in my throat, though everyone seems to notice me. Women coo out of car windows, men give me a double take, fellow bikers wave (left hand extended low, palm out). I brake at a stoplight, and caddy corner to me across Venice Boulevard is one of the hottest, raddest broads I have ever seen. On or off a bike. She's leather-clad, older but ageless. I think her husband might have killed someone at Altamont. And now she's looking over at me. Not in the good way. She acknowledges me–and my bike–by nodding her noggin' ever so slightly in my direction. I have a split second to decide how to respond. I'm paralyzed, but my inner-Hell's Angel compels me. So I respond with a subtle nod back. The corners of her mouth appear to turn up. Oh, joy, I am officially a biker. The light turns green, she throws her legs onto her pegs, kicks into gear and roars off. And I think, two motorcycling gals giving each other the once over, now there's something you don't see every day. Or is it?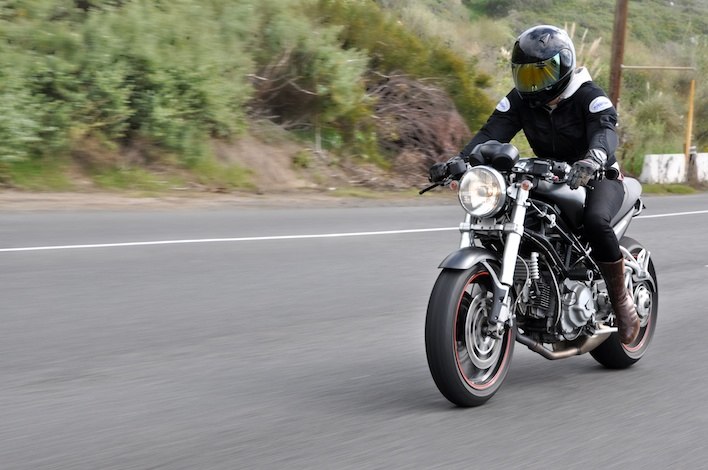 I do some research and find that from 2003 to 2008, the number of female motorcyclists increased 26 percent. In 2000, the number of women taking the training was under 10 percent. Nationally it's now at about 25 percent of all students. I talk to Amanda Cunningham, the owner of WMA and my riding instructor, who concurs explaining that in the past five years, the number of women taking her Los Angeles classes has reached up to 50 percent. Clearly, something is afoot and I'm a part of it. But what is it exactly?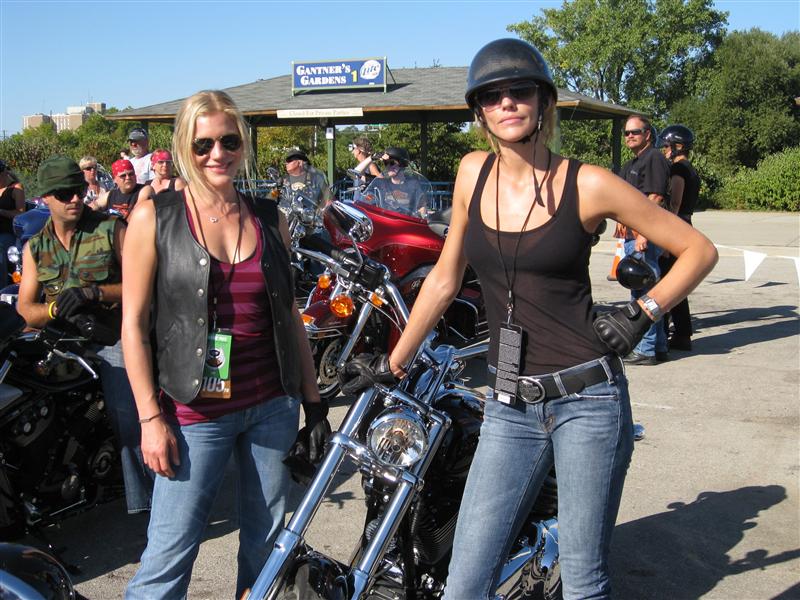 I don't know any other women who ride, so I track down some chopperettes. Everyone who responds is within a decade of 35, has taken up riding recently (other than those who work in the motorcycle business), and aren't exactly who spring to mind when you think biker chick. They're more like biker babes.
During each interview, the first question I'm asked is, "What do you ride?" I learn that it's a quick suss-up question – like a long-time Manhattanite asking in which part of town you reside. Small talk is made and then I pose the simple yet complex question, "Why do you ride?" There are a range of answers: fun, freedom, it's relaxing, like therapy, flying, I feel connected, present, I was a tomboy, my [insert male family member] rode. While all these reasons are true, for a woman to get on a two-wheeled machine when the majority of bikes and gear are marketed and designed for men and the majority of women on bikes are still seated behind a man, there is some deeper psychology at work. And for the 30-something choperettes, it has to do with gaining or taking back control.
For Tricia Helfer, a model, actress on TV's Battlestar Gallactica and owner of a Harley Dyna Low Rider, riding is the one place she finds some solitude from the ever-present handlers in her business. It's the only time "other than when a director yells, 'action' there isn't anyone telling me what to do." Katee Sackhoff, Tricia's co-star, good friend and Harley Fat Boy riding is less of an escape and more of a way "to live your life instead of watching it pass you by."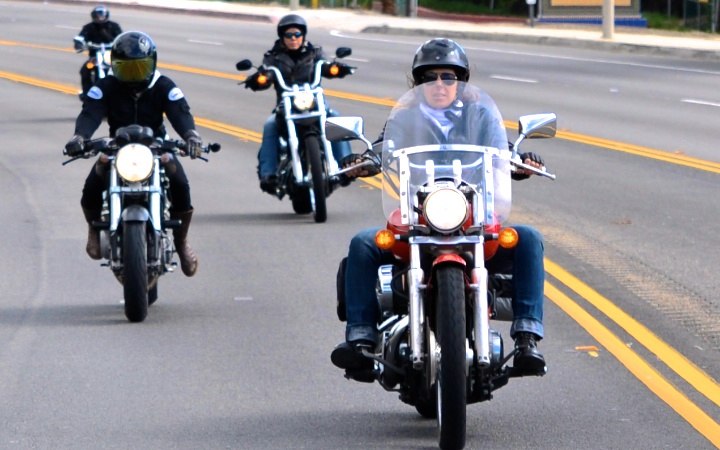 The trajectory of an artist's career and the fate of your work are entirely dependent upon the whims of others. The creative business is a risky endeavor, much like motorcycle riding. And taking hold of those handlebars is one way to gain some measure of control in a life built on taking a risk for a living. For Alexandra Grant, an artist whose paintings have been shown at the MOCA and galleries worldwide, getting on a Ninja 650 was a way she could "be out of the control of others and be in myself" while also learning how to "control the risks I'm taking in the system I have going."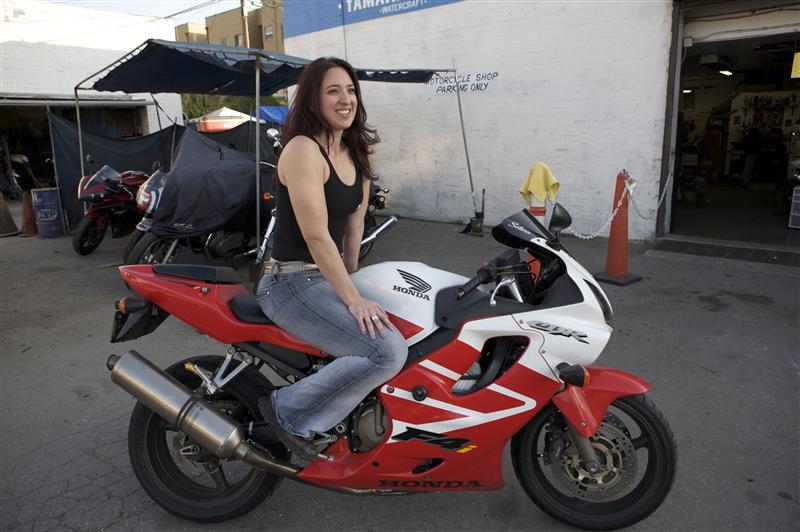 The other chopperettes I speak with work in various fields, but share a common thread. Within a year of the end of a relationship with a boyfriend or husband, they all begin to ride motorcycles in earnest. No one did this more famously than Gretchen Rossi, a desperate housewife of Orange County. Jeff, Gretchen's boyfriend, bought her a Harley-Davidson, but died shortly thereafter. But Gretchen kept riding because it makes her feel "confident and powerful, like I own the road, in total control." All this talk about power and control stems from the fact that with time and practice, every rider comes to feel a bond with their chosen machine like it's some extension of themselves. You become a stronger you. It makes it possible to stare down an uncertain future because from behind chrome handlebar with 750 cubic centimeters beneath you, anything is possible and the future feels a lot more certain.
If there's one thing that's true about the women I speak with, they're all very clear about who they are and what they want. No wilting flowers in this bunch. But I don't know if this trait stems from the fact that they're strong to begin with and choose to ride, or they choose to ride and so become strong. Either way, making the decision to sit in the saddle is to fully engage, to pro-actively participate in the choose-your-own-adventure that is life, and, in the process, become captain of your own ship.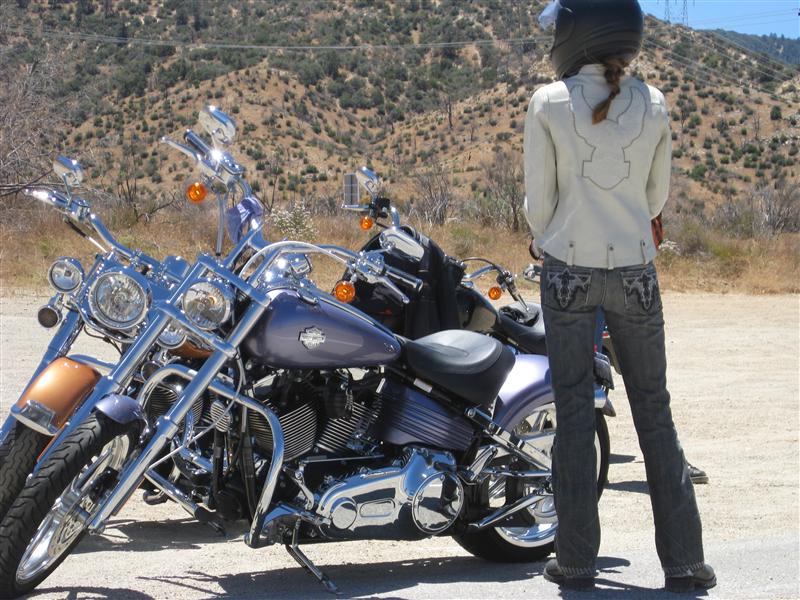 So is that it? For recent riders of the female persuasion, control is part of the explanation, but like snowflakes, there are a million reasons people ride. And I'd be writing out of my Malibu beach house right now if I got a nickel every time someone said "it's really famp;%$# fun." It's like Hunter Thompson so aptly put it, "Being shot out of a cannon will always be better than being squeezed out of a tube.That is why God made fast motorcycles, Bubba."I concur, Gonzo. But the question still remains, "Why do I ride?" Isn't this the question I've been asking all along? It's hard to articulate, but I know I love riding because, on a bike, life at an accelerated rate actually slows down. It's an anodyne–calming but not necessarily soothing. And it's a meditation in motion. Because when you're two feet from kissing asphalt, the body and mind work in unison while the past and future disappear, rendering the motorcyclist free. But I'm describing the feeling, not the reason. I haven't answered the question.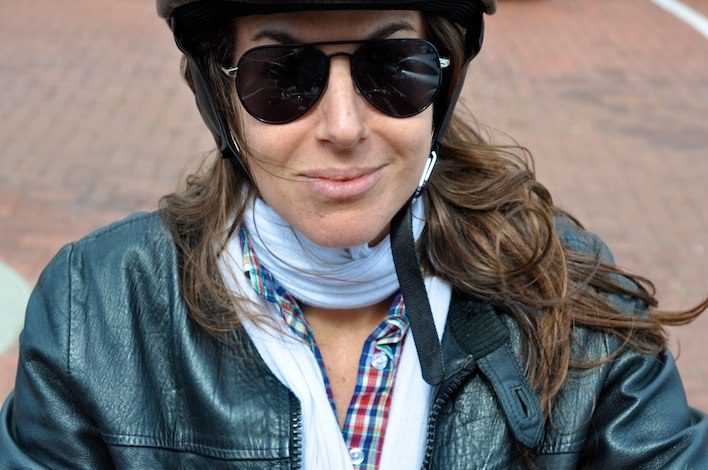 The more I ride, maybe the more I'll understand. But today as I throttle up the Pacific Coast Highway alongside the chopperettes, only three things cross my mind: going fast is far superior to going slow, the only way to face fear is to feel fear, and the only truth is the present. And so we ride.
About the Author
Emily Bracken currently lives in Venice, California, but splits her time between New York City.A writer of many disciplines and, she rides a 750 Honda Nighthawk she bought off of eBay. It is by far the best purchase she's ever made. She's been riding about a year and does not plan on stopping anytime soon.