Want to share your story? Click here to find out how.
My husband Jack and I took our first cross country trip last year. I still cant believe Im riding again. I will soon be 53 years old, and have gone through some medical problems over the past seven years, so when I look back at it all, I am amazed at the accomplishment.
In 2000 I was diagnosed with rheumatoid arthritis, lupus, and fibromyalgia. Unfortunately there wasnt a specific medication that helped with the inflammation and pain. It got to the point that Jack had to come home and do everything because I couldnt. He had to do his chores plus mine; all the housework and cooking. I became physically worse and got to the point where I wanted to die because the pain was so great and never eased up even through the nights. However, in 2002 we found a specialist who treated my problem with diet and a chemo-type of drug that has since allowed me to live a normal life.
Feeling alive again, I told my husband that I wanted to buy a Harley-Davidson motorcycle. I had ridden my first Harley-Davidso in 1972, and I needed to ride again before I physically couldnt do it anymore. However, my husband had never been a biker and didnt understand. He thought I had gone out of my mind putting myself at risk riding a motorcycle. But I had to do it again. Starting to feel alive again, I had to do it.
I bought an Anniversary Edition 2003 Sportster, and showed Jack how to ride it. It got to the point that every day when I came home from work he would have the bike out more and more. He finally said, "Ive got to get me one of these!" So in the fall of 2005 he went to Teds Motorcycle World in Alton, Illinois, and ordered a black 2006 Road King Classic. Once I rode his, I knew that I needed to get myself a cruiser. So for my 50th birthday I ordered a 2006 Softail Deluxe.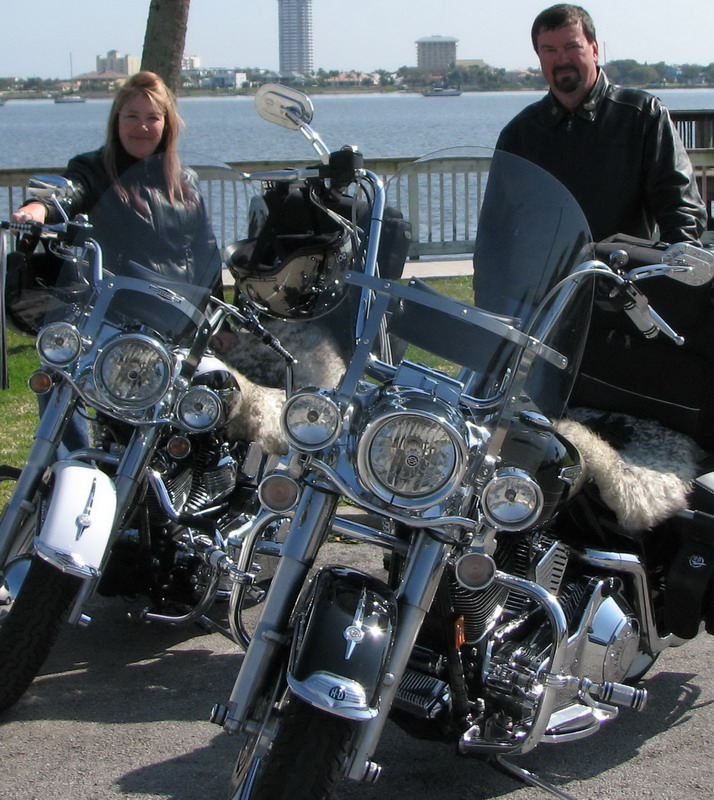 Riding in our area just wasnt enough. Little by little we took day trips, then weekend trips. But it still wasnt enough. Finally, in June 2007 we took off for North Carolina. On the way there, I hit a big pothole on I-40 going through Knoxville. The bike seemed to be okay, so we kept going. After getting to our end destination, we headed for the Tail of the Dragon at Deals Gap in North Carolina. When we got off the dragon, we pulled over on a straight-way before going any further. My handlebars were loose, moving up and down. I couldnt believe it! Riding the Tail of the Dragon with loose handlebars! God was sure keeping me safe! After tightening them up, we headed back to Pigeon Forge.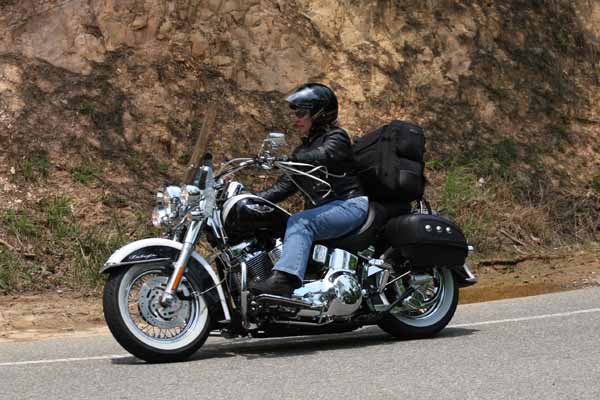 The next day around 5:00 p.m. we drove through the forest in the mountain on a one-way, one-lane road. After we reached the top of the mountain, we started heading back down, only to find that there was a long line of cars moving about one foot a minute. My husband, Jack, was in front of me a couple of bikes ahead, and he turned around with big eyes and said quietly, "Bear!" I looked over to my left and there was a baby and mama bear. Needless to say I was scared to death. Then mama nudged her baby across the lane right in front of Jack. He said the hairs on his body were standing straight up! What an exciting, but scary experience.
The following day we rode on the Blue Ridge Parkway in North Carolina, stopping at a little restaurant in Maggie Valley. Beautiful countryside!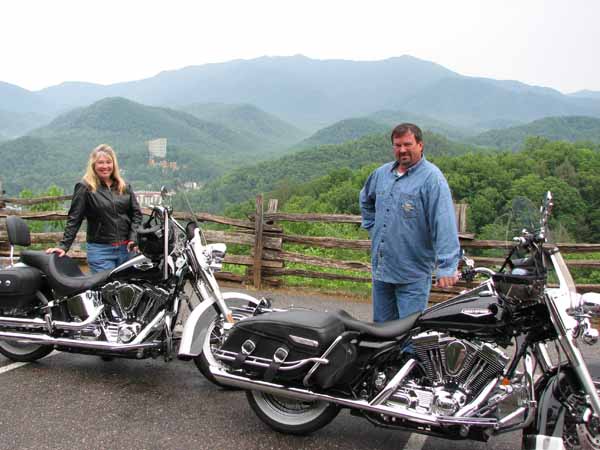 We left for home the next morning, but during the first mile, the whole front end of my bike was wobbling back and forth. I knew I couldnt head for the interstate like that, so we pulled over. Not totally knowing what the problem was, we went to a bike mechanic in the area. He put it on the rack, and saw a gash in my tire with evidence of a broken a steel belt. I had no idea my bike was in that condition, 500 miles that week, through the dragon, the forest, and the parkway. It was like God was making it clear for me NOT to get on the interstate…and He kept me safe through the whole week.
After a 5-hour delay, and a new tire from the Smoky Mountain Harley-Davidson dealership in Maryville, Tennessee, we started heading back to Illinois. We rode a new route north on 127 west of Knoxville, heading for Jamestown, Kentucky. Then we headed west on 90, and came upon a road called The John Muir Parkway. Everyone needs to ride it through this beautiful area of Kentucky. We didnt hit bad weather until we got close to Okawville, Illinois, where we encountered strong winds, rain and hail. We pulled over the side of I-64 and just took the beating!
All the amazing experiences this almost 53-year old "girl" had, even with my medical problems all because of a Harley-Davidson! I didnt have an ounce of physical problems through the whole trip!
Having our Harleys has brought Jack and I closer, allowed us to meet some truly genuine people, and enabled us to see parts of the country that we would never have seen in a car.
Its wonderful to feel alive again! There is hope for women like me who have specific diseases that cause us a daily struggle. And I thank God everyday for every breath, for my wonderful husband and family, for friends, and for the opportunity to see the world from my Harley-Davidson motorcycle.
Want to share your story? Click here to find out how.