Want to share your story? Find out how.
A few winters ago my boss bought a Vespa for the office. He referred to it as the "company vehicle." He and I were the company, and he had no intentions of riding the bright-yellow scooter himself. Basically, he bought the machine for me. By then Id already been introduced to riding in the form of a 50cc scooter that Id riddenaround Greece and Turkey for three summers. Id loved that zippylittletwo-wheeler, and my boss knew I'd been longing for another one since my return to the United States.
Of all the colors lined up outside the Vespa dealer, my boss chose bright yellow. I thought it looked ridiculous—until I started riding it around the grim, gray streets of Seattle. It was a good way to be seen in traffic. The Vespa was a 150cc, so it was slightly heavier (and noticeably nicer)than what I'd ridden in Europe. It possessed enough power to haul me up the Seattle hills. Gas consumption was minimal, and I could park it anywhere. It was fun. Still, my dream was to ride a real motorcycle around the United States. I was working my way up slowly.
Eventually I quit that job and had to turn in my Vespa keys (which was much more difficult than quitting the job). I had passed the Washington state motorcycle test required for all vehicles over 50cc, and my driver's license indicated I had a motorcycle endorsement, so I decided I needed to learn how to ride an actual motorcycle. I signed up for the Motorcycle Safety Foundation (MSF) course in early June 2010 and had purchased my first motorcycle by the end of July.
After much research, shopping and coaching from a motorcycle riding buddy Id met through work, I chose a 2009 Suzuki GS500F as my first bike. The color? White and blue—not the cool black one I'd been eyeballing on the showroom floor—because motorcycles are notoriously "invisible," and the brighter colors make it easier to be seen by other drivers on the road.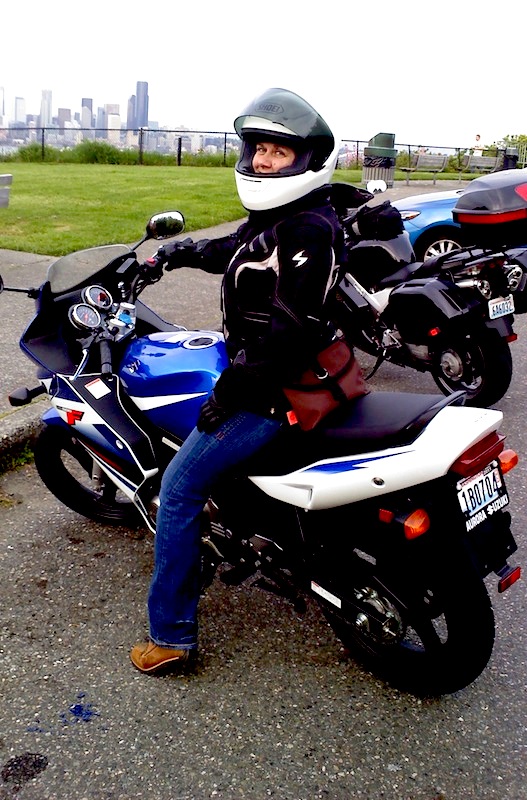 I found there are quite a few differences between riding a scooter and riding a motorcycle. On Seattle's hills the clutch is tricky, even though I can drive a manual car on those hills without a problem. Shifting constantly in traffic and managing a heavier machine require more skill and concentration. Also, although this shouldn't be the case considering both machines are dangerous, my dress code differed. On the scooterI'd zip around in busy traffic fairly exposed,wearing skirts, slip-on shoes, or even sandals (not a good idea, in hindsight!). With my motorcycle, it's now nothing less than jeans (although I usually wear motorcycle pants), riding boots, and a riding jacket with armor. I'm learning to pop a pair of cute sandals in my satchel for changing into upon arrival.
I had a bit of a rough entry into my new adventure of motorcycle riding. Fewer than 400 miles into my new sport, I took a spill. I was riding at a low speed while turning into the driveway of a Suzuki dealership when I hit a weird bump and hesitated in my reaction. Down I went. I was unharmed, but my bike, unfortunately, was not. A few people came running and helped pick up the bike. One fellow female rider tried to make me feel better by telling me she'd had trouble on that same driveway and now always parks in the front of the store, where it's flat and hazard free.
After Id spent some quality time riding with my motorcycle-riding buddy, he started looking more interesting to me. Suddenly he was cuter and sexier, not to mention always a gentleman. I couldn't resist turning up the flirt meter. For months I referred to him as "my motorcycle buddy" because I honestly didn't think he saw me as anything more. Apparently I was wrong, and after an actual first date, he became my official boyfriend. The new world of motorcycles had opened up doors I never suspected existed. While my motorcycle was in storage over the winter, my boyfriend secretly repaired the damages from my semi-dramatic spill and surprised me with the unveiling of my repaired and beautiful little bike.
There are some downsides to owning a motorcycle in Seattle. Parking is easier due to the compact size of a bike, but riders still need to be watchful of restricted areas, and the citys numerous hills make parking a bit of a challenge. Riding gear, although safe and necessary, is bulky, hot, and not that attractive when youre not on the bike. Seattles days of rain for months at a time make riding a motorcycle impossible—or at least very unpleasant—during certain times of the year.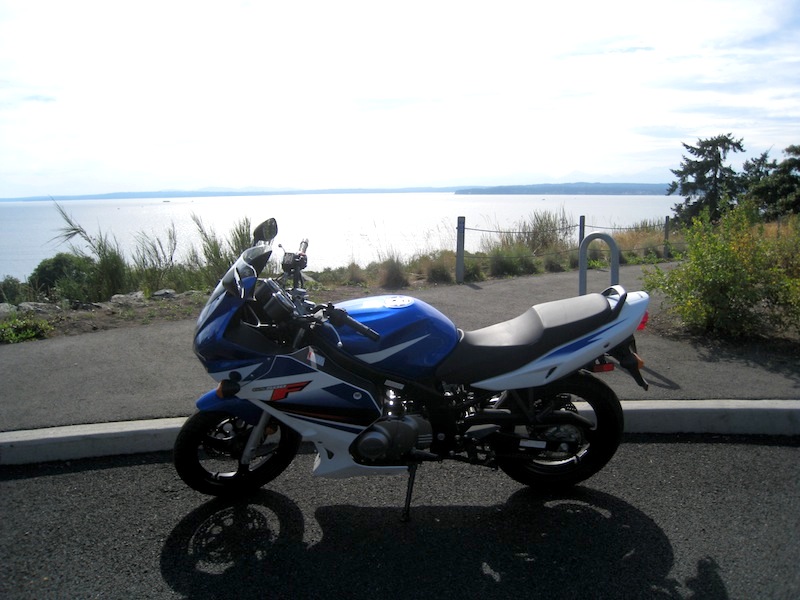 Last summer my boyfriend left my apartment building early in the morning to find my bike, along with a scooter parked next to mine, lying flat on the ground. Clearly, in an act of senseless vandalism someone had intentionally pushed both bikes over during the night. My heart sunk when my boyfriend relayed the news to me. It was one thing to see my bike damaged from my own lack of skill and experience, but when someone else caused damage in a random act of vandalism, that was quite another. During the following days I'd hear noises outside my window and pop out of bed to look outside and check my bike. It was a ridiculous way to live, especially considering my apartment is in an urban area, with people constantly walking past my building. I began researching safer places to store my bike, and when my new parts arrived, my skillful boyfriend was happily able to complete the repairs.
Recently I took my newly repaired machine out for a nice ride on one of Seattle's beautiful neighboring islands. It was a sunny, blue-skied day, and the island had incredible views of Mount Rainier and Puget Sound from along the curvy, forest-lined roads. It was a perfect way for me to get back out there and enjoy the riding I love.
Want to share your story?Find out how.
Related Articles