Do you have a story to share?

Find out how to submit yours to WRN Reader Stories

here.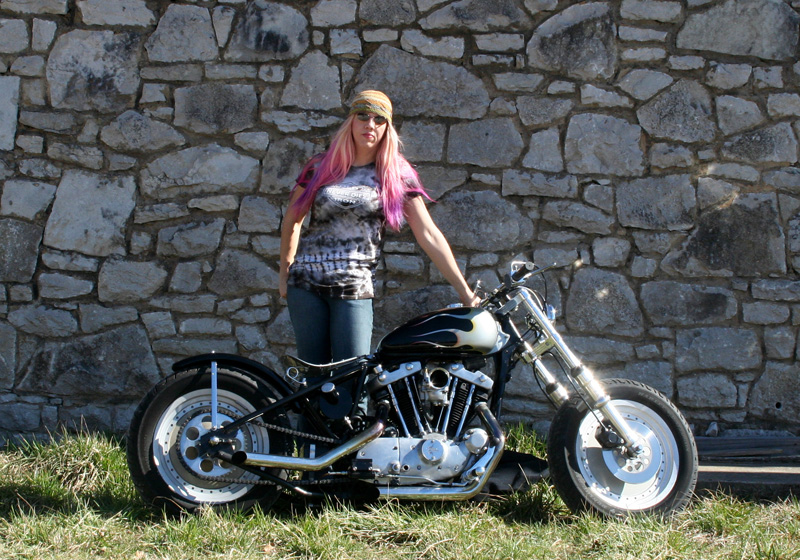 I have always been in love with cars and motorcycles—even as a child—I loved old hot rods and vintage iron. I began riding motorcycleswhen I was 16, learning to ride my brothersYamaha 125 Exciter before I learned how to drive a car. When I was in college I bought my first bike, a Yamaha DT Enduro.
After college, I married a man who didnt quite understand my love of the machine. He asked me to sell my first motorcycle in order to buy him an expensive birthday present. Later, without my knowledge, he sold my Yamaha 250 Exciter. The final straw came when he was pressuring me to have children, even though he knew I did not intend to have children. As a result, he "forbid" me to buy another car after I bought my first Corvette and was already planning my next car purchase. Over the course of our marriage, there were many "forbidden" things for me—having tattoos, learning to shoot and purchasing guns, to name a few. Before our divorce was final, I started working on completing my "forbidden list": I had my tubes tied, bought and learned to drive my 4-speed Corvette, learned to shoot, bought a few guns, built the motor for my race car myself and even got a couple of tattoos.
Fast forward a few years, and I am with my current husband and soul mate, Gabe. I had decided that I would never again be with a man who would, or would attempt to, force me to do anything. Gabe is a man who understands my need to live and breathe for the machine. At first, we bought a pair of Yamaha Enduros to ride. As our love of riding increased, Gabe eventually purchased a couple of Harley-Davidsons and I bought a Yamaha 250 Virago. But after riding smaller bikes for so long, I finally decided it was time to move up to the larger Harley-Davidson.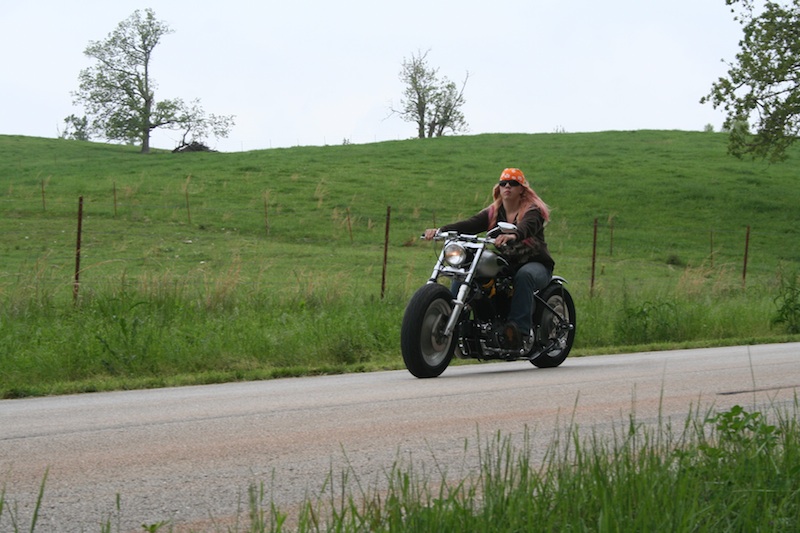 I was apprehensive about moving to a larger bike. As chance would have it, I met a wonderful woman named Kim who came from Texas to purchase one of the hedgehogs I breed. When I told her I was saving up for my first Harley she brought me a bag of parts and told me her story of "moving up" to a Harley. My first Harley was a 1970 Ironhead with a right-hand shift [Editors note: Harley-Davidsons with Ironhead engines were produced from 1957 to 1985.] I rode that bike while my husband and I built a 1981 Ironhead, which is the bike I currently ride. While I loved riding the Virago—and I am thankful that I learned the mechanics and logistics of operating smaller bikes—I now appreciate the power of the Harley-Davidson motorcycle. The encouragement from people in my life, such as Kim and Gabe, helped propel me to ride the larger bikes.
Riding provides me with such an amazing sense of power and boosts my self-esteem. I love the fact that when I am in a bad mood, depressed or just having a bad day, I can go out on my bike with $5 for gas, a bandana tied around my head and go where the wind takes me. I am not thinking about bills, the laundry or the drama of life—I am just thinking about how much I love riding my bike. Goals are an important part of my life and I keep a list of current and accomplished goals. I also live a very frugal life, having never made more than minimum wage. Currently, I am building a 1956 Harley-Davidson Panhead in my living room. This bike is going to be only kick-start, therefore, it is one of my goals to learn how to kick-start a big twin engine. What is important to me, both financially and personally, are my goals to live and breathe for the machine.
| | |
| --- | --- |
| Chris, enjoying life as a gearhead. | In 2010, Chris won six of seven shows she entered. |
Life has taught me to never let another person, or a lack of money, stop you from getting what you want and what makes you happy. I have the opportunity to be married to a man who is also a gearhead, be encouraged to pursue what I love by others and to save my money for the things that bring me happiness and freedom. For me, there is no limit to being a gearhead. Everything I do is for the love of the machine.
Do you have a story to share? Find out how to submit yours to WRN Reader Stories here.
Related Articles
Reader Story: Pushing Through Negative Motorcycling Comments