Want to share your story? Click here to find out how.
My best friend, Ron, who is also my fella, has been riding Harley-Davidsons and Gold Wings for years. He encouraged me to take the Motorcycle Safety Foundation Class in November of 2004. I thought, "Just do something you have wanted to do all your life… ride!" I wouldn't have to buy a bike, just use the bikes provided by the Mississippi MSF.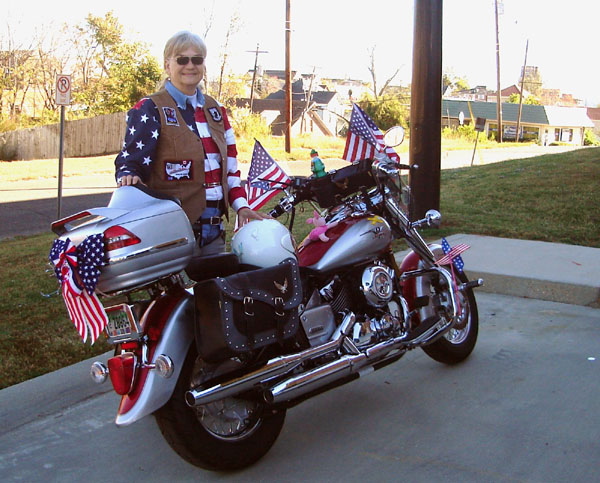 I took the three-day class, passed the tests, then a week later I took my MSF card to the folks at the DMV, passed that test and had my first motorcycle license by my 58th birthday. Amazing! Another thing on my "Life's List of Things to Do" check marked.
Ron didn't stop there. He kept hinting we should look at different bikes I might like. Im thinking there is no way I could get one for myself, but I didnt say anything because I enjoyed looking at all sorts of bikes. We goofed around checking out bikes at Honda of Tupelo. Then after we made a delightful two-up trip to Arkansas visiting friends, on our way back we stopped at Lake Hills Motors in Corinth, Miss. to "check out the bikes" there. I fell in love with the Yamaha V Star Classic and mentioned I thought it was one of the prettiest bikes "my size" I had ever seen. We sat on a bunch more, but I kept coming back to the V Star.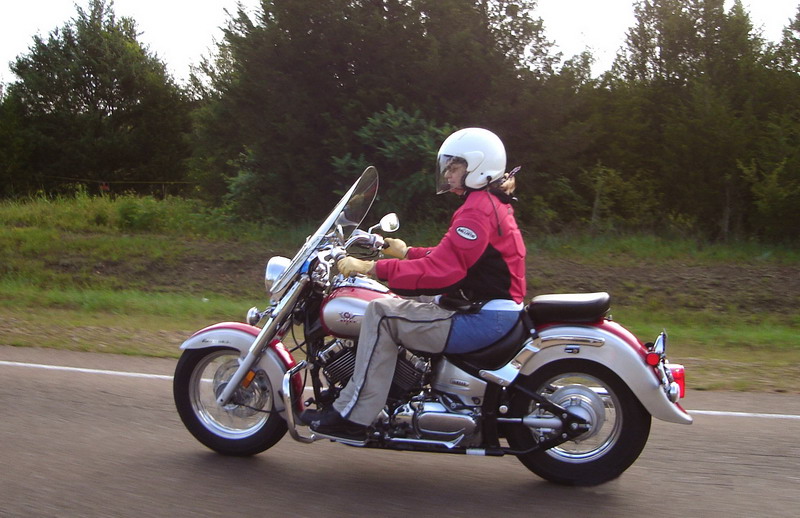 The next week Ron decided to take me to Yamaha of Laurel and there "she" was! I sat on two or three other bikes to make sure, but this red and silver bike caught my eye and I was hooked. Ron just grinned and asked me if I thought I could ride that one. I told him I felt sure I could with practice, but lets go home and think about it. I decided I really couldn't afford it and I would just be content riding behind him. It was silly to worry about a bike of my own. It was a nice daydream, but not practical at all. I needed to keep saving up for retirement in a few years, not a bike for heaven sake!
Next day, it was back to the routine of going to work then home. I pushed thoughts about the bike out of my mind thinking we would just kick around the next week looking at bikes and enjoying them in the shops. I was happy with that. It was fun and I could just pretend.
Ron called me at work at lunch and told me to meet him at the church parking lot after I got off from work. He said there were some things he wanted to do for "parking lot" bike practice.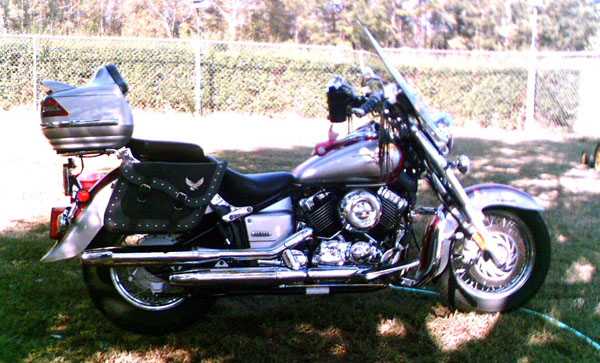 Well, you could have bowled me over with a feather when I got there! There he was with, not his Wing but that sweet lil V Star I enjoyed at Yamaha of Laurel bike shop! I had a lot of parking lot practice on her for three days before I got to take her out on the streets. Then I rode around the neighborhood for about two weeks. I have been riding all over Mississippi and parts of Alabama ever since. As it turned out, getting this bike ended up being very practical. After Hurricane Katrina the gas situation was ridiculous and crazy, but my bike only needed $8 worth, and I was good to go. I love riding!
Want to share your story? Click here to find out how.