Perhaps it was the pent-up wanderlust we'd accumulated during too many months of pandemic lockdown. Or maybe it was having seen one too many inspiring travel photos on social media. The proverbial last straw. Somehow, I find myself on a flight with three other American women heading for a motorcycle tour of Pakistan. And five more will be joining us in Qatar for our connecting flight to Islamabad.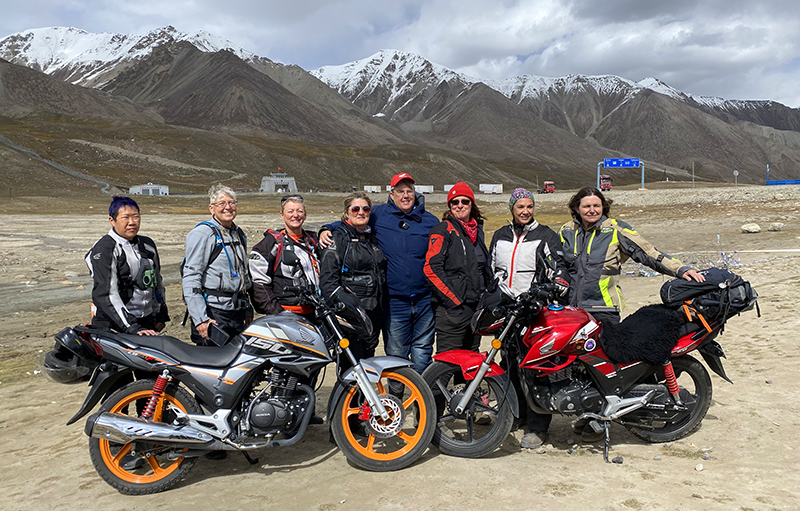 Liza Miller, founder of the Re-Cycle Garage in Santa Cruz and the "Motorcycles and Misfits" podcast, invited us to join in the adventure which she has made twice before. Her longtime friend, Moin Khan, owns and operates ADifferentAgenda.com, a motorcycle tour company based in Lahore, Pakistan. One of the tours it offers, called Chickistan, is a two-week, women-only tour of the northeastern corner of the country in the Karakoram, Hindu Kush, and Himalayan Mountains.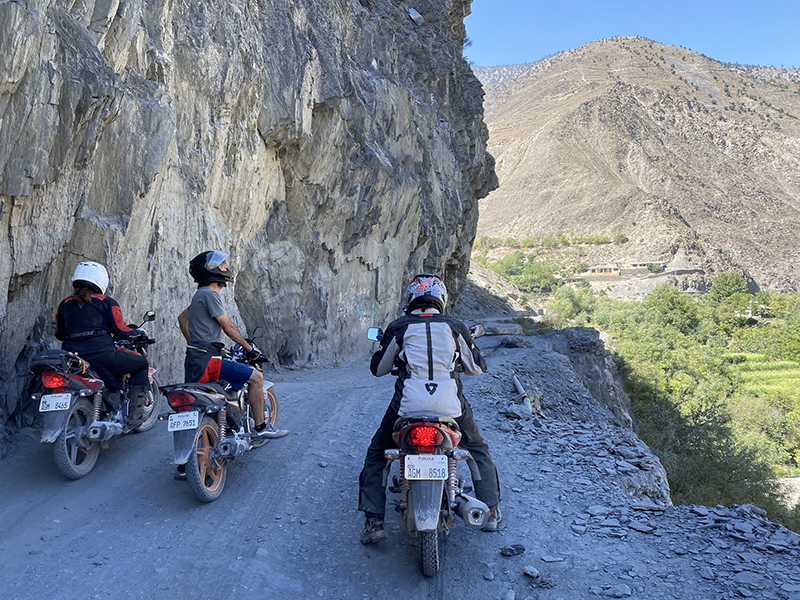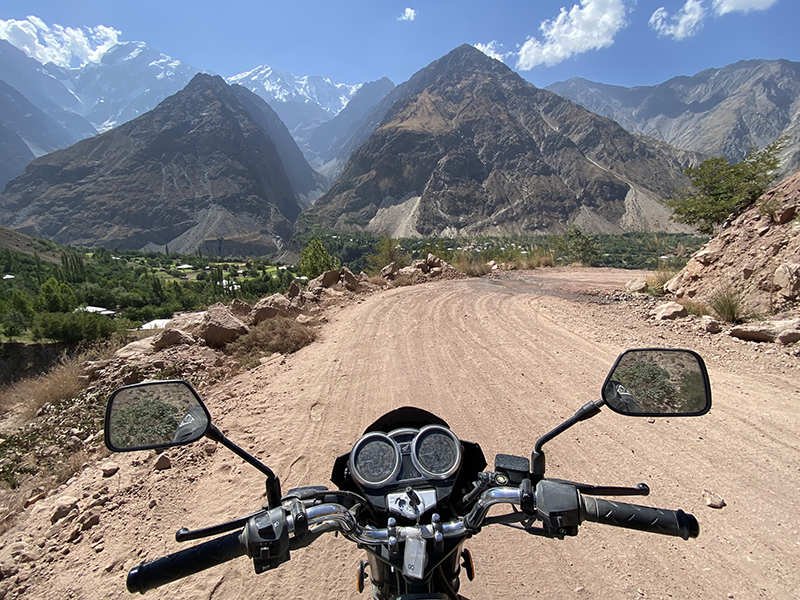 Our journey begins in Islamabad where we pick up our Atlas Honda CB150F motorcycles and pack them for the ride ahead. Our small group of women riders ranges in age from 40 to 66 and includes small business owners, web developers, a teacher, a sales manager, a contractor, and a few retirees. We come from all over the United States, from the Bay Area in California to Boston, the Midwest, the Southwest, and upstate New York. We are all friendly and very excited for our motorcycle tour of Pakistan.
On the evening of our arrival we gather our groggy, jet-lagged selves for dinner in our hotel dining room. Liza has arranged for Zenith Irfan to join us and we listen to her stories and then share our fears and concerns about coming to Pakistan. Due to the very recent conflict in Afghanistan, our visit to this neighboring country has caused some worry, but Zenith and Moin work to dispel our fears.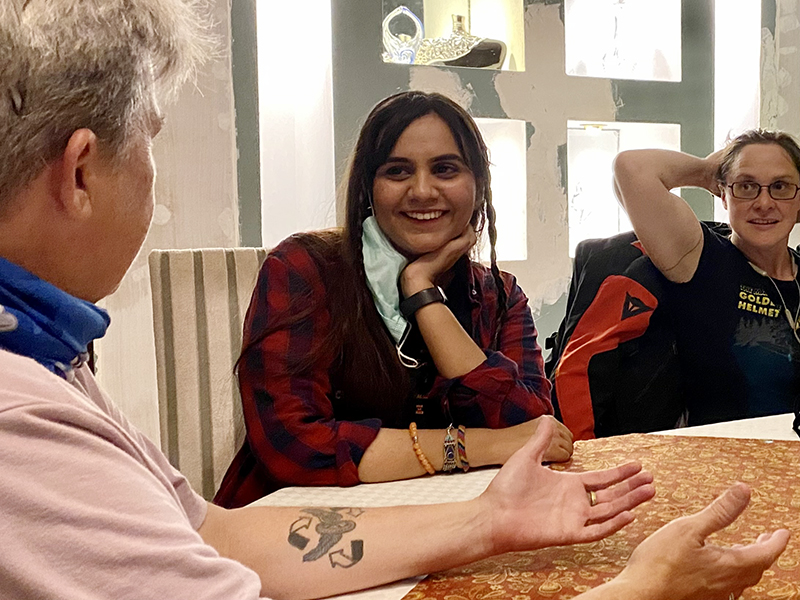 The morning after our arrival we leave the city behind and make our way up into the Murree Hills, through Abbottabad, and into the foothills of the Himalayas. We spend the next week on the Hondas, climbing and descending mountains. Between each ridgeline is a lush river valley that we traverse and follow before tracing switchbacks to the top of the next range.
Early on we cross Babusar Pass and stop to take in the view of the descent road, the valley below and the next line of mountains in the distance. We repeat the sequence for days before finally making the high climb to Khunjerab and the Chinese border. It's a long dead-end journey for a photo, but worth it. We enjoy a short rest between cold squalls of wind and rain and then retrace our steps down the mountain.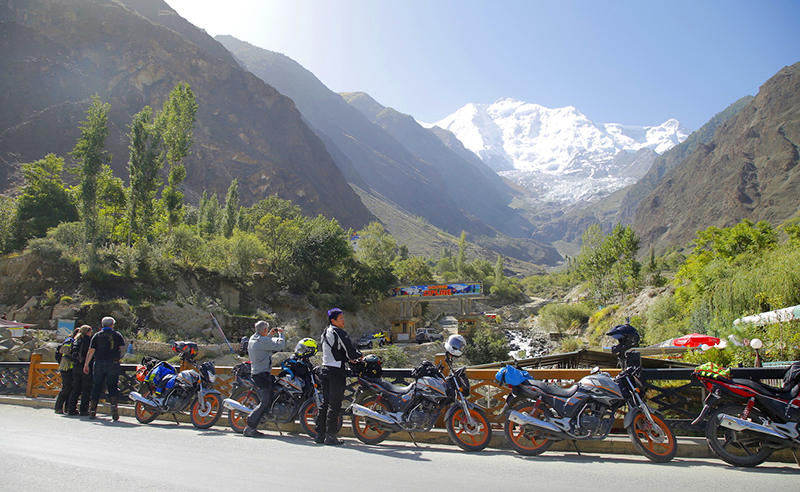 Moin has graciously taken requests from our group and arranged stops at two local schools and tours of a handful of local women-owned and operated businesses. In Karimabad we visit the Shimshal Girls Hostel which provides housing for young women from rural villages while they work on their university studies.
The Director, Hussn Bibi, grew up in the Shimshal Valley, a remote area near the Chinese border. As a young woman she walked 40 days to reach the nearest school so she could take her exams and earn her diploma. As she gives us a tour of the facility we have the chance to meet some of the students. Each young woman is dressed similarly to their American counterparts, in jeans and sweatshirts with stylish hair and makeup. Many of them share their dreams of succeeding in medicine, tourism, or engineering. It's a gift to have the opportunity to glimpse life through the eyes of locals.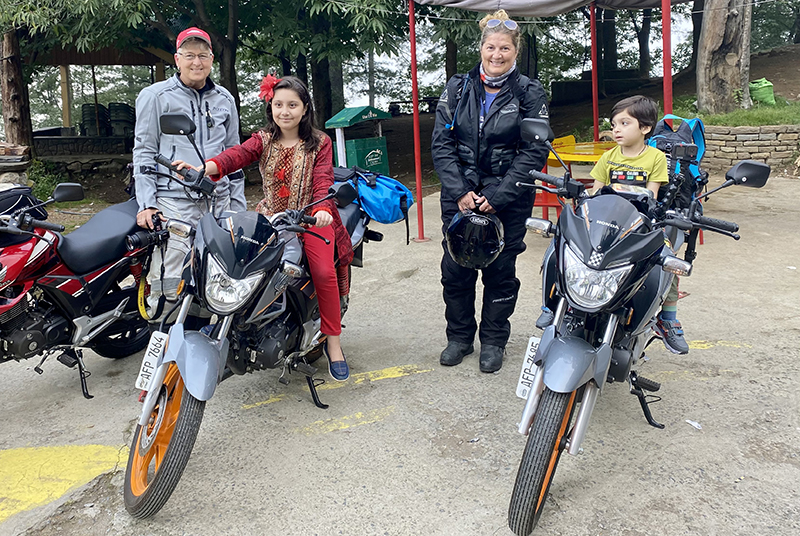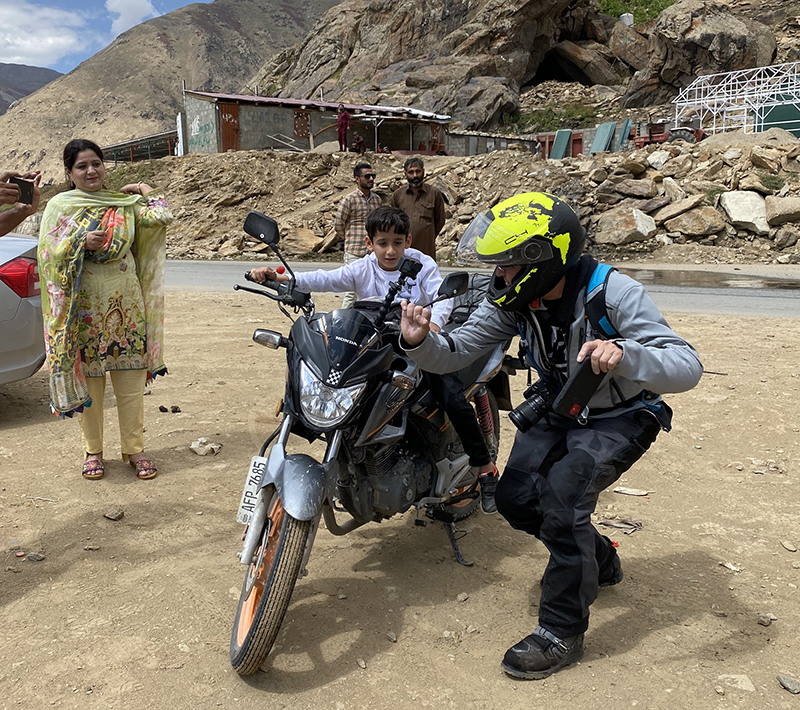 From the Gilgit-Baltistan region we ride west toward the Phander Valley. Three days riding rugged dirt and broken roads carries us alongside rivers and through rural villages. In the widest valleys where fields can be planted men harvest wheat by hand. I stop to watch a woman with a bright blue headscarf draped over her head as she beats sheaves against a groundcloth to work the grain loose from the stalks. I can see the strain on her face as she works. As she sees me watching her, she stops to smile.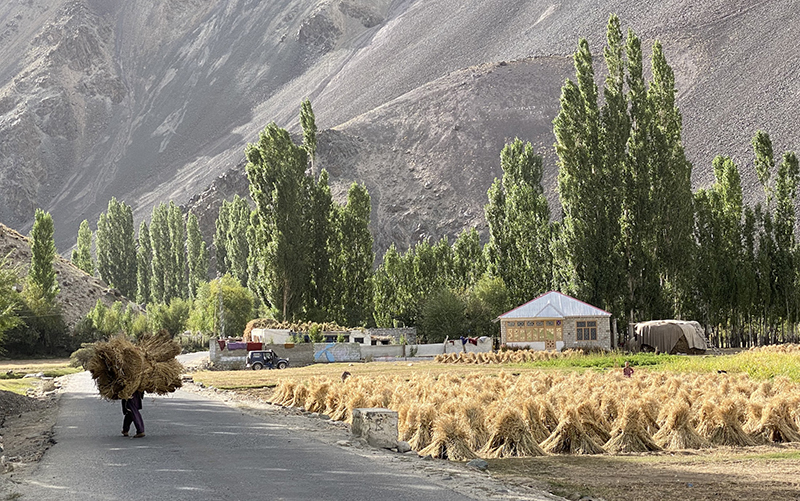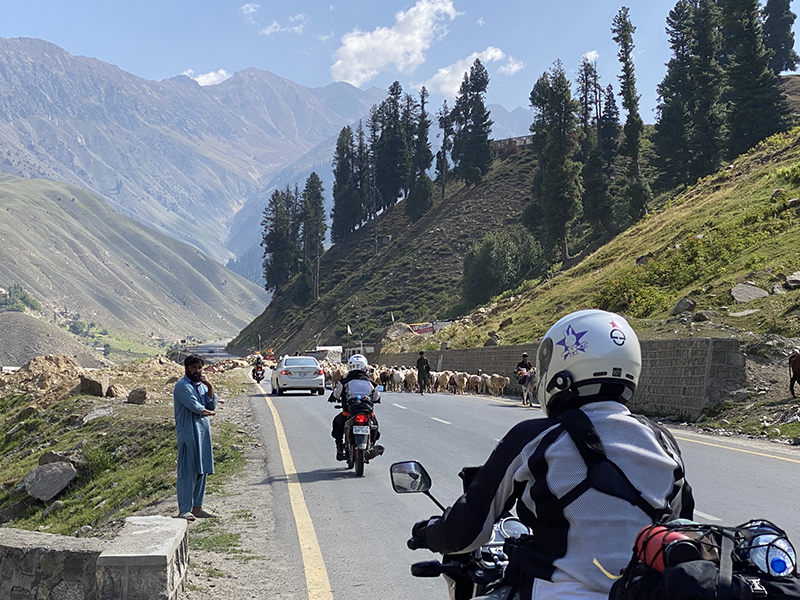 One afternoon a local rider waves at Moin and they later say hello at a police checkpoint on the road. Arif invites our group to his family's small farm for a picnic of freshly baked breads, homemade butter and cheese, and chai. We share stories of our respective lives and countries. In this part of Pakistan life is focused on families and farming. Hard work here is balanced with happiness and good health. Locals always help their neighbors and welcome strangers.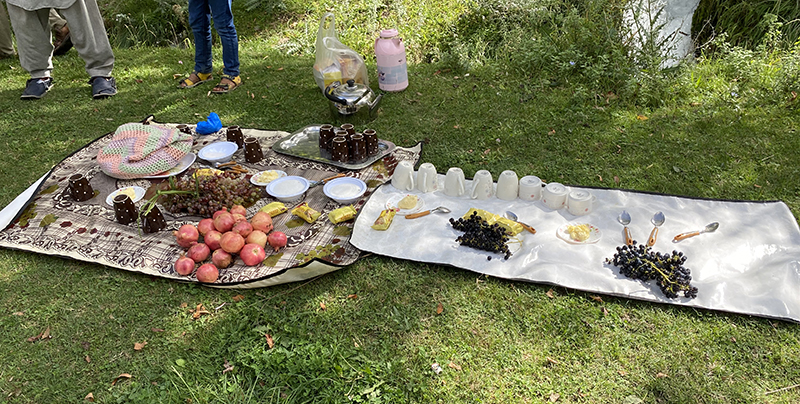 The road ahead leads us up through barren rock-strewn mountains to Shandur Pass, home of the highest polo field in the world. We stop for photos and impromptu games of cricket and soccer with our support crew. On the other side of the high plains of Shandur National Park we ride tight switchbacks down into a valley carved by the Mastuj River.

Spending two nights in a mountaintop lodge near Chitral, we enjoy the nearby 16-mile section of spectacular, technical cliff roads to a Kalash village. Although the majority of our route in Pakistan is within 60 miles of Afghanistan, at the Kalash village we are as close as six miles from the border. Before the trip I wondered if we might be impacted by the refugee crisis and unrest in Afghanistan, but my worries were unfounded. Life seemed to be going on as normal in all of the parts of Pakistan that we visited.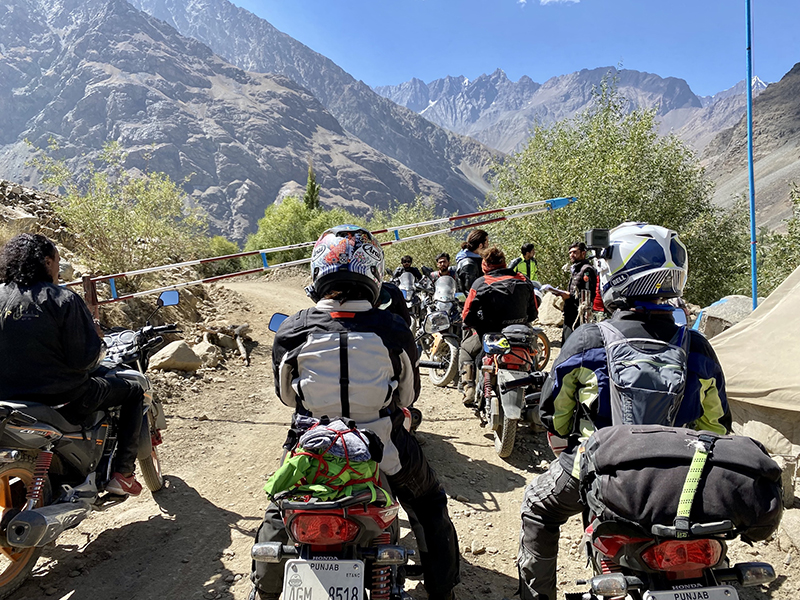 After 12 days on the road, we turn toward Islamabad for the last long stretch. Traffic intensifies along the way. We find ourselves filtering for hours between local bikes, small tractors, and colorfully decorated trucks. At last, we reach the city, with every motorcycle and rider unscathed.
Spending the last day sorting and packing for the long trip home, I reflect on the fabulous time spent experiencing the culture, music, food, and sites of this incredible country. I smile while listening to the murmuring chatter of the excited women, "...the next time I ride in Pakistan..."