Want to share your story? Click here to find out how.
My heart was pounding as I pulled on my riding boots. My fingers were sweating as I donned my Harley-Davidson vest. I went to the key rack and went through all the keys that we have had hanging for so many years, some that wed long since forgotten what they were for. I saw the Harley-Davidson key first and ran my trembling fingers across those black letters … the key to my new life. I then fumbled through the many keys to find the one to our shop across the yard. No, not this one, not this one either, gosh … what is this one for? Ah-ha! There is the key.
I swallowed hard, knowing that my next steps would be out the door to the shop that housed my 2008 Harley-Davidson Sportster 1200 Low 105th Anniversary Edition. I bought this bike back in November and have put 415 miles on it. OK, so my husband put on about half of those. OK, I said it. I had been waiting for the times my husband would come home from work to ride with him on his Heritage Softail Classic. Only thing is, my husband works out of town and does not come home but every other weekend. This made for some long times between riding, as on some of those weekends we had other commitments and could not ride. It had just dawned on me that if I was ever going to be a serious rider and get experience, then I was going to have to ride it by myself much of the time. Besides, the thought of riding on my own, not worrying about someone watching me or keeping up with their speed, going down roads that I chose to ride on, sounded very appealing.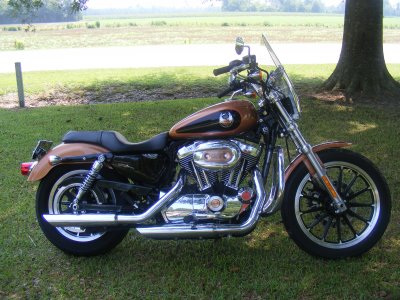 I stuffed my drivers license, my credit card, my cell phone and my house keys in my pocket. Dang, I am going to have to find another way to tote these things, I thought to myself. Then out the house I went.
With each step toward the shop, my heart beat faster and faster until I thought it would jump from my chest. Oh, gosh, I cant do this! What am I thinking? What if something happens? OK, well, Ill just at least go crank it up and see how that feels.
There she sat, all beautiful 1200ccs of her black and copper glory, sitting there as if to say, "What the heck you waiting for? This is why you bought me, isnt it?" How could I argue?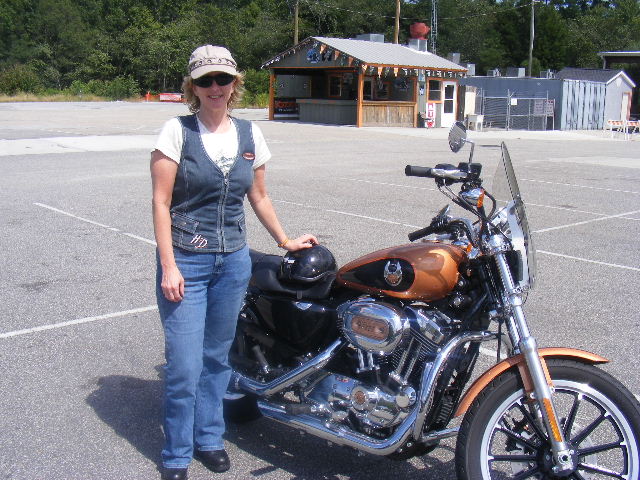 So I unhooked the battery tender—nice thing to remember, dont you think? I put the key in and unlocked the forks, then put it in the ignition. Then I sat down. Yeah, it still felt good just like all the other times I sat on her. OK, Ill crank it up. Varroooommmm babooomm babooooommmmmmm—oh, yeah, she still sounded good with slash cut mufflers and the Power Commander I had installed. I put it in neutral and pondered how I would make the sharp turn and hump over the exit of the shop to get the heck outta there. Hmm. I sat there, and sat there, and sat there, my heart pounding again and the smell of gas fumes getting the best of me. So I cut her off. I tried to walk it out of there, but the hump was too big, so I cut it on, swallowed hard, eased the throttle and eased out the clutch, and I was outta there! Stopped and got off and put the garage door back down.
Now you might wonder, what is special about all this? Well, Im ashamed to say that every time I rode with my husband, he got the bike out of the shop and brought it to our driveway all ready to ride. And I let him spoil me this way. Only thing was, I was doing myself a great disservice with this. So now Id already reached a milestone before even getting out of my drive.
I eased up to the edge of the road and off I went. So far so good. I rode down a road that has very little traffic. Oh, man, there I was alone on the highway with my bike. The feeling of exhilaration that overcame me is indescribable. I was free, blasting off on my bike all alone, shifting gears ever so smoothly and feeling the power beneath me. Then onto the main highway I went. I felt so comfortable pulling up to stop signs and taking off, even more so than that I was on my own. I dont know, I just felt like no one was watching me and I was free.
I rode on the two-lane road, turned off, went down many, many back roads, then my gas light came on. Oh, Id never gotten gas by myself before with my bike. I went into our little bitty town and drove up to the gas pump at a very busy store. I got lots of smiles, surprised looks and so on. Id never pumped the gas in my bike by myself, and of course I overflowed it. I walked to the other pumps trying to find a paper towel dispenser with no luck. A man asked, "What are you looking for?" I told him, and he tried unsuccessfully to find one for me. So I said it was OK—Id just smell like gas. I thanked him anyway.
I cranked her up again, realizing I had not cut the bike off completely and the lights had been on the whole time. Oh, well, a lesson for the future. A car was in front of me, and I didnt want to back out, so I waited and waited. Seeing that it might be a while, I decided I would go around to the other side, which was a small space. But I did it and did it well, I thought, and I was off again. I rode down some more back roads and got onto the busy four-lane, which I had ridden many times before. After a while I got bored with the straight ahead driving and turned down a county road and made the way, with lots of turns, back to my home.
I turned into the drive, got off, opened the garage and drove that puppy in there over the hump and all without any problem. I cut her off and backed her back into the space beside our Heritage where I got her from. I put the battery tender back on, patted her and made my way back into my house—except the person who walked back to the house is not the same person that walked out of the house to the shop that morning. Shed changed. She became a woman who knows she can ride her own ride, live her own life, dream her own dreams with or without someone riding right beside her. I was liberated.
I had ridden 58 miles alone that day—the most important 58 miles of my life!
Want to share your story? Click here to find out how.
Related Stories
REVIEW: Harley-Davidson Sportster 1200L