"For My People"
by Gidget Reedy
This is for my people;
Motorcycle enthusiasts and owners everywhere,
Living to ride and riding to live, learning what brotherhood really is;
Learning the terrain from choices made at forks in the road,
United whether they are riding solo or packing a load.
This is for my people;
Dressed in chaps and gloves, and boots and vests, with helmets and rain gear,
Who wear bandannas on their face like robbers in the night;
All clad in leather riding against the wind and rain,
And cold and fog, and did I mention rain?
This is for my people;
Ladies of Harley everywhere, knees in the breeze and wind in their hair,
Women riding independently but united by a passion for our bikes,
A motorcycle convoy of women riders feeling empowered by numbers,
Riding for tranquility; surrounded by friends that become family.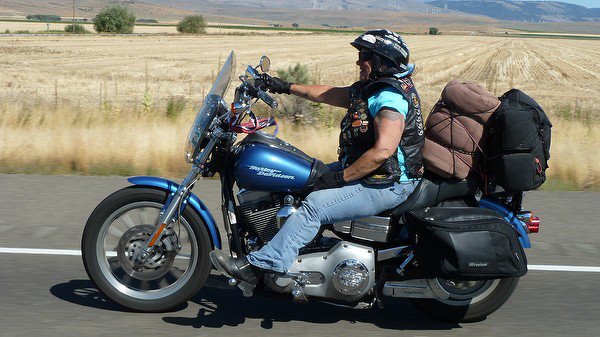 This is for my people;
The warm sunlight on your face, and long windy roads of scenic beauty,
Feeling nothing but freedom; freedom from work, and from spouses, freedom from family;
And from the children's daily demands, letting each bend in the road take you farther away,
And yet closer to nature and yes, Freedom.
This is for my people;
Who volunteer before being asked; to be escorts in parades, compiling and delivering toys for tots, taking the kids at the MDA camp for rides on the trikes, high school athletes that hitch a ride into stadiums when they win the state championship, and retirement homes that enjoy our company, hosting poker runs and fundraising for nonprofit groups and charities.
This is for my people;
That are security at local motorcycle events; who wear our chapter patch with pride, and collect pins from runs and state events like grown up girl scouts, and fly the flags on their motorcycles,
As we parade through the countryside smoothly, like an orchestrated symphony, and people turn to watch the noisy rumbling as we confidently ride our iron horses to our destiny.
This is for my people;
Who don't realize what they mean to me, always ready to help a fellow rider in need,
Searching maps for the most scenic and untraveled route, because they know that four wheels move the body, but two wheels move the soul, and my fellow HOG members physically here or not; who most definitely touch my heart and my soul. I love you all dearly and I will always,
Ride with you, in front of you, behind you, next to you, and for you!
–
Want to share your story? Find out how.

Related Articles