Want to share your motorcycle or product review? Click here to find out how.
A few months ago, I wrote about a pair of winter gloves I bought from Hugger, which were cut for smaller women's hands, and I just loved them. Looking around the company's Web site, I came upon their single-leg chaps and ordered a pair. I wasn't disappointed with those either. They're the best chaps I've owned or tried on.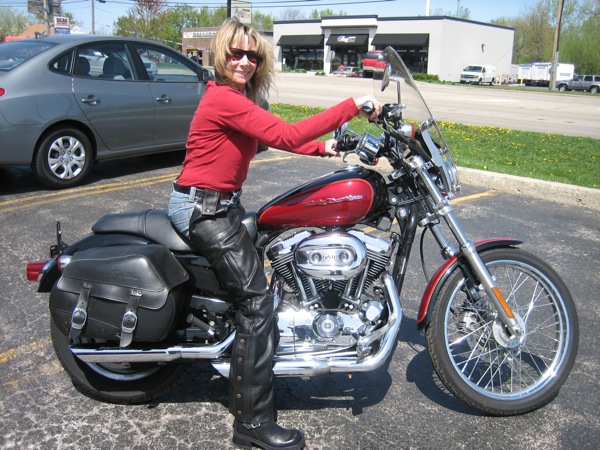 What makes them different is that each leg is separate and not bound to the other with a belt.There are several benefits to that. First, they're the easiest chaps to put on because you're only holding one leg at a time. You just unzip the side zipper, unsnap the lower leg snaps, and then, even with boots on, step into the leg. The chaps are very nicely lined from the hip to the bottom of the zipper. They attach to your riding jeans by snapping the loop on the chaps around the jeans belt at the hip. That loop has Velcro in addition to a three-position sturdy snap.Then you just do the same to the other leg. The whole process takes about 30 seconds per leg.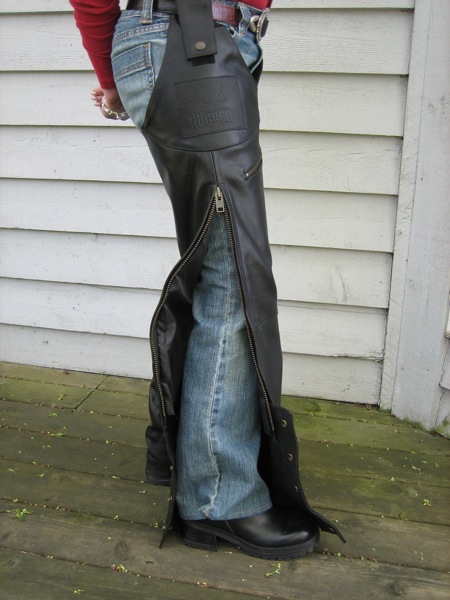 In addition to being so easy to put on, attaching the chaps to your own belt means they're always in the right position on your leg, whether you're wearing low-slung, hip-hugging jeans or higher-waisted jeans. And with these chaps, you won't have another bulky, annoying buckle that sits either above or below the buckle of your jeans.That extra buckle from other chaps can scratch your own belt buckle, and can also scratch and damage your bikes gas tank. Not so with Hugger chaps.And if you have a nice decorative belt buckle, with these chaps you can actually show it off.
But the best thing about single-leg chaps is that they make it so much easier every time you have to go to the bathroom. With just the one belt buckle on your jeans to undo, the chaps slide down with your jeans when you sit.And when you pull your jeans back up, the chaps are right where they need to be without having to spend five minutes rearranging everything.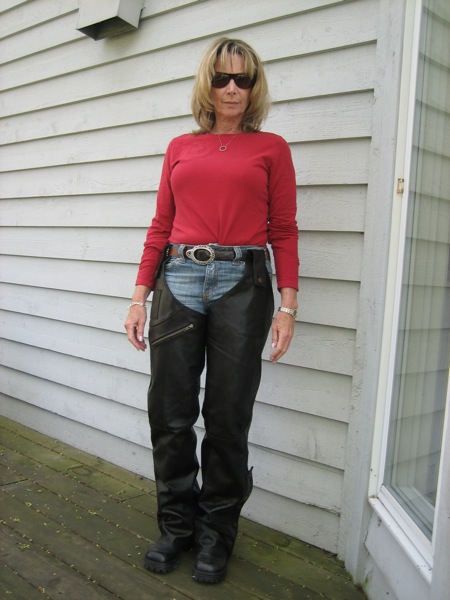 Like their gloves, Hugger chaps are made with heavy duty, yet butter soft, Technaline leather, meaning they are waterproof. Obviously the nature of chaps means you're not going to want to wear them in the pouring rain, but they're easy to remove by the side of the road when you need to pull out your rain suit. I've had them on while riding after the rainstorm passed, and they did a fine job of repelling the road spray and protecting the shins of my jeans.
The chaps are cut long so you can trim them to your desired length. The zippers are heavy duty and easy to operate, and they come with five snaps at the bottom to fit easily around your boots. There is also a double-weave Spandex panel on the inside of the upper thigh for a snug yet comfortable fit. The right leg has a convenient zippered pocket for change and small items.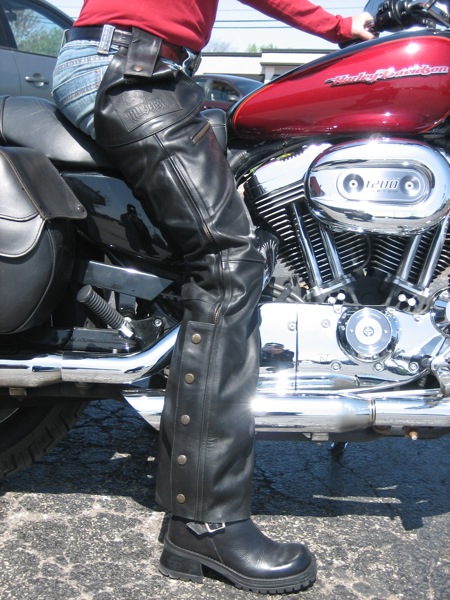 The sizing chart on the Huggers Web site was helpful in getting the right size. You just measure the thickest part of your thigh to see what size is right for you. I got an extra small (I wear a size 4), and the chaps fit like a glove. Huggers customer service people are great in case you need or want to call them with questions.
The Hugger chaps are just great. They always stay put because my jeans underneath them always stay put. I recommend them to anyone who wants the most comfortable and easiest to use chaps available. They cost me $225, but they're worth it. To order, visit HuggerGloves.com.
Want to share your motorcycle or product review? Click here to find out how.
Related Articles