Want to share your motorcycle or product review? Click here to find out how.
Two years ago I bought the new Firstgear TPG Monarch jacket. Here are some things that real women riders need to know about the jacket. I am not a fair weather rider. I ride a BMW K 1200 GT and ride between 10,000 to 15,000 miles a year (wish I could ride more). I'm not a big women, but I am no skinny minny size 2 model either. I am 5-feet-5 and weara size 10 or 12 depending on the style.I have a hard time finding a jacket that fits my shoulders and my arms (diameter around the biceps).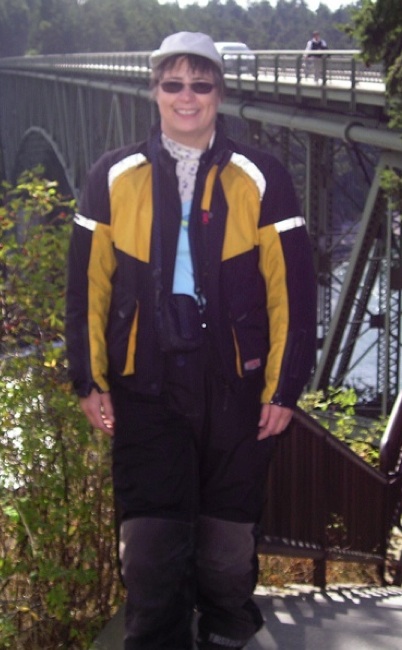 With that said, I love the TPG Monarch jacket. This is a really comfortable jacket; the liner is nice enough to wear as a jacket when you get to your destination. No need to pack an extra jacket. That's a plus. This jacket has tons of pockets. The ones I like the best are the phone pocket, which is inside the main jacket as well as the liner, good thinking there. The little pockets on the lapel are perfect for my iPod. And the most priceless one is the little zippered pocket on the left sleeve down by the wrist for your credit card. You don't have to get into your tank bag to get it out. What a time saver!
This February we rode (yes rode) from Washington state to Daytona Beach, Florida, for Bike Week. I would not have traded that jacket for any other. With my Gerbings heated gear and my Under Amour brand long underwear we rode in temps as cold as 23 degrees, snow, rain, and sleet and I never got wet.
When I bought this jacket I was looking for a few things, durability, practicality, fit, and one that made me look like a women not a marshmallow on my bike. I don't go for the fashion show thing but I do like to look like a women and feel like a women when I'm riding. This jacket is a great one for those who want the protection, comfort and style, although I would like to see some nicer colors.
Want to share your motorcycle or product review? Click here to find out how.