Want to share your story?Find out how.

I learned to ride at 38, and now, at 50 years old, I am racing vintage BMW motorcycles on the Bonneville Salt Flats. I am one of very few women motorcycle riders racing on the salt at Speed Week, and I'm very proud to hold two land speed records. I hold the current Pushrod Production Vintage 500cc record at 100.33 mph, and the Pushrod Production Vintage 650cc record at 103.046 mph. My husband, Kevin, built and restored our bikes from rusty parts and engineered valve-train modifications to enhance performance. This allows me to get into a better tuck position, so I get the privilege and fun of riding for the record. I faced many fears and the loud voice of my mother in my head in order to do this, and I feel it is quite an accomplishment! This is the story of my first run out on the salt flats.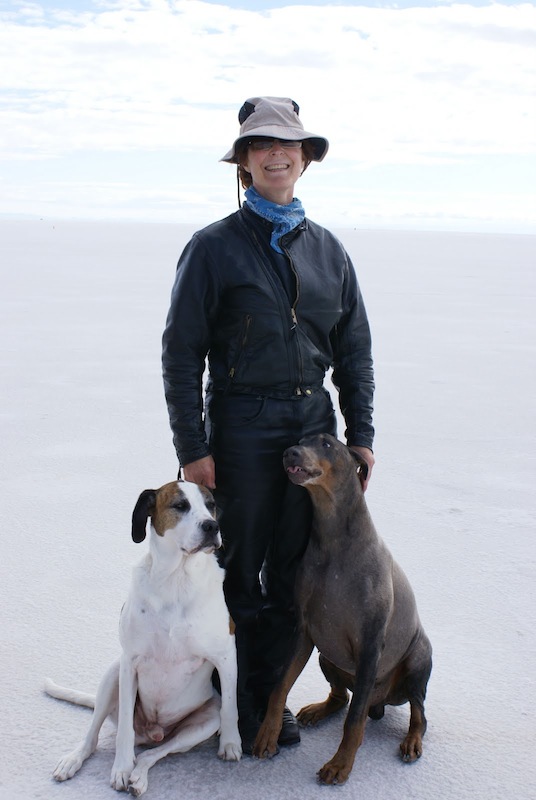 First we watched Anthony Hopkins roar down the beach on his Indian in the 2005 feature film "The Worlds Fastest Indian." Then the guys couldn't stop talking about Bonneville and breaking a few records with the Beamers. So they went, and they did. And I thought, "What the heck—where are the gals in all of this?" So I began a serious whine campaign. Kevin couldn't tear his hair out (he doesnt have enough left), so he suggested I go get qualified at El Mirage,another dry lake bed used for land racing,and then look into racing at Bonneville. "That's great," I thought. I'd been to El Mirage as support two times already and knew the ropes.
The first item of importance was getting a set of leathers. The racing rules for the vintage class call for leather gear that is stitched together—no vents, holes, etc. So I order some leather pants, as we have lots of jackets lying around the house. They come. I try them on. I look like a very large black creature from the lagoon, somewhat bottom heavy. Kevin says, "Oh, those look fine, dear." I say, "I am not racing with a fat ass. I need a smaller pair."
I order a smaller pair. They come. I rub myself with Vaseline and writhe like a dying bug upside down on the bed, trying to get them up past my knees. I finally get them on. I walk with mincing Geisha steps into the study, because the pants are so tight and inflexible that the constriction prevents movement. I say to Kevin, "Do I look fat in these?" He says, "Honey, you may want a bigger pair—you need to be comfortable and flexible. It's about racing, not how you look in your leathers." I wince out of the room. In secret, I try to bend over. The sensation at my waist is knife-like. I decide I shall keep these leathers, mostly because they are a size smaller than the other pair. And of course I can lose weight before El Mirage.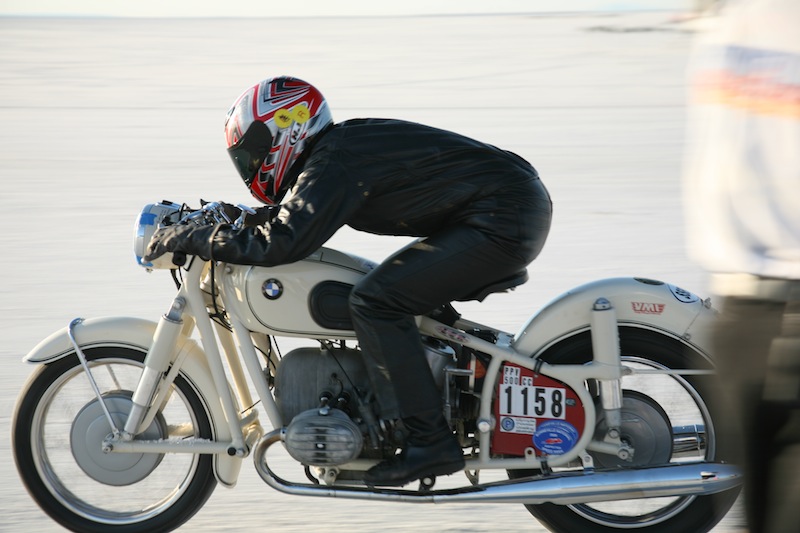 So now it is May and we are packing. I bring slippery nylon tights to get my not-one-ounce-thinner body into my leathers. We roar down to El Mirage in California and get there late Friday night. Saturday morning we find we missed the rookie talk, which Ill need to attend in order to be able to race. Our friends Tom and Carol, who make up our support team, have not arrived, so Kevin and I get our two motorcycles, two helmets, a gear box, and two full sets of leathers and boots into the long line for tech inspection. We stumble and shuffle and lug the stuff along and at last get through.
It is very hot. The wind is kicking up dust. You cannot ride around and test things out at El Mirage—you'll be disqualified from racing if you do a run and then ride partway back instead of waiting for your pickup vehicle—so all Kevin can do is start the bike and check things out. But in the end, we get dusted out, meaning the wind picked up and they closed racing for the day because of bad visibility. So our friends come with us to the rookie talk, where the tech guy carefully explains the racing procedure and allows us to drive the course exactly where the bikes will run. He explains the first and second sets of cones and also points out where on the course we should shut off the bike and move over.
We get up very early on Sunday. Kevin wants me in the rookie line fast so that I can get my run in and do a real pass. I worm my way into my leathers and am quickly at the front of the line. The starter makes jokes, trying to get me to look over at him, but I am intent in my crouch, thinking my way through the gear changes. I gaze down the runway, realizing I am looking into a dust cloud and can see only three of the orange cones. The starter waves, I rev it up and hurtle down the track, taking it up through each gear exactly as the boss explained.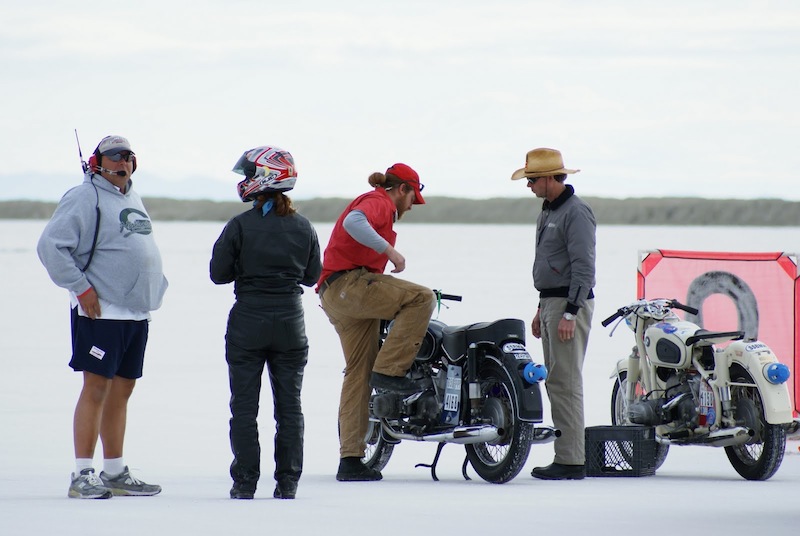 I feel positively schizophrenic—there is zero visibility, and for years Kevin has conditioned me to pay attention and look way down the road for obstacles. So here I am, trying to make the bike go as fast as it can in a dust fog, able to tell I'm going straight only by the cones at my side! I keep thinking, "Go! Go! Go! There are no Washington deer on this dustbowl raceway!" I go through one set of traps. My menopausal brain thinks, "Shit! Is that the first set or the second? Go! Go! Go!" and I am tapped all the way out in third and want to see if it pulls fourth, so into fourth I go, but it isn't pulling so I go back into third. Suddenly I am through the second set of lights and I think the end of the track is still way down there so let's see if it pulls fourth now. Into fourth I go and it still isn't pulling, so I slow way down and go left off the track. I turn an about-face and stall—which is great, because I'd forgotten that I would have disqualified myself if I had gone at all in that direction.
Suddenly I see a truck coming. It has an official look about it. And I think, "Hmm, a racing official has come to discipline me." He is very kind and explains that I should have immediately turned off the raceway just after the second trap cones. I am humbled and think to myself, "With these guys I'm with, I bet I get to hear about this all day long!" But other than our friends joking to Kevin about how his wife needs to be "controlled better," everyone is kind and supportive. I go back and tell Kevin about the lack of visibility, and I can see by his narrow little eyes that he thinks I am having a girly moment of whining. Then he does his run, and boy, I get to hear all about the incredible lack of visibility.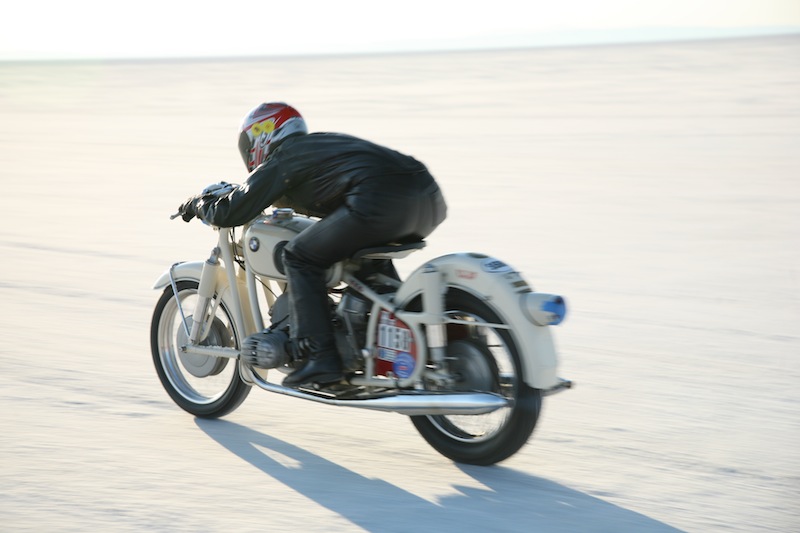 But I am elated—I have done it! I have raced a bike across the mud, not fallen over, done a respectable run, and you know what? I am ready for Bonneville. So come out of the woodwork, gals. Dust yourself off and join me. If I can get into a pair of leathers, so can you!
Want to share your story?Find out how.
Related Stories