The opportunity to bid on a rare 1918 Harley-Davidson bicycle is coming up on May 3. Six motorcycles and a bicycle from the museum collection of the Santa Cruz Harley-Davidson dealership in California have been consigned to the fast approaching auction at Legend of the Motorcycle.
The Harley motorbikes, which have been on view at the dealerships museum, include: 1929 JDH – at the time, the fastest road bike Harley offered to the public; 1930 VL with sidecar – found in Chile and now beautifully restored; 1941 EL; 1947 WL; 1967 FLH; and 1978 XLH.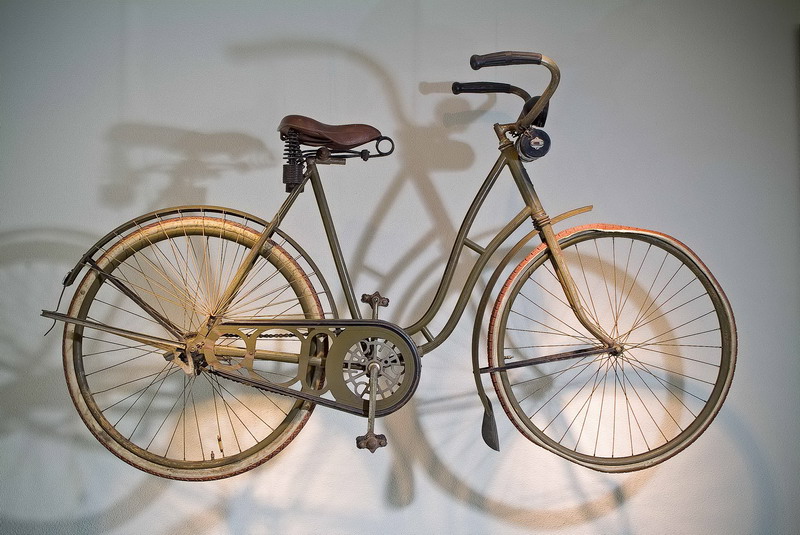 Bicycles, an anomaly in the Harley line, were primarily marketed to women and children. One cant help but think the bicycle was created in reaction to the success of Schwinn, the bicycle company whose proprietor also owned the Henderson and Excelsior motorcycle companies. Although the bicycles were well-made and painted and pin-striped in the same colors as their motorcycle brethren, they were seemingly out of place in most Harley-Davidson dealerships and sales did not meet expectations
This ladys bicycle, with its wooden rims, was purchased from its original owner in 1975. The owner was born in 1899 and entered college in 1918. To pay for tuition she hired on with the US Postal Service as a rural route carrier and bought the pedal bike as her source of transportation. It was accessorized with a battery-powered front lamp, and unique to the girls model included a front chain guard and web of string covering the rear wheel spokes. This web of string, which is original, kept long skirts from getting caught in the wheel. After finishing college, the owner retired the bicycle to her basement where it was stored for over 50 years.
Auctioneers Bonhams amp; Butterfields will host their second annual auction of collector motorcycles and memorabilia in conjunction with the upcoming Legend of the Motorcycle Concours dElegance on Saturday, May 3rd at the ocean-side Ritz-Carlton in Half Moon Bay, California (just south of San Francisco).
The auction will feature 100 motorcycles, including the Michael Corbin Collection, bikes previously owned by Steve McQueen and Evel Knievel, and a line-up as diverse as a 1913 Excelsior to a 2007 Ducati "New Blue." A preview takes place throughout the day from 9:00 a.m. – 4:30 p.m., and the auction starts at 4:30 in the hotels ballroom.
You can register to bid – in person or remote – or purchase a catalog by calling 415.861.7500. For more information on the auction, visit Bonhams.com/Legend.
For more information about Legend of the Motorcycle, visit LegendoftheMotorcycle.com.