Scorpion rides the line between being slightly edgy to appeal to young hipsters and having just enough sophisticated style and protection to appeal to tried and true riders looking for gear that's fun to wear but not outrageous. I recently tested a lightweight leather jacket that looks smart on both cruiser and sportbike riders. It's the Scorpion Dynasty, part of the company's EXOWear collection.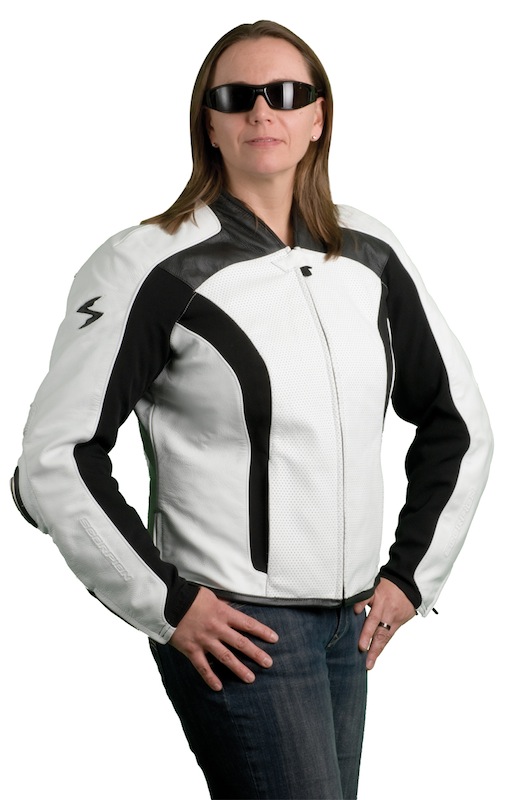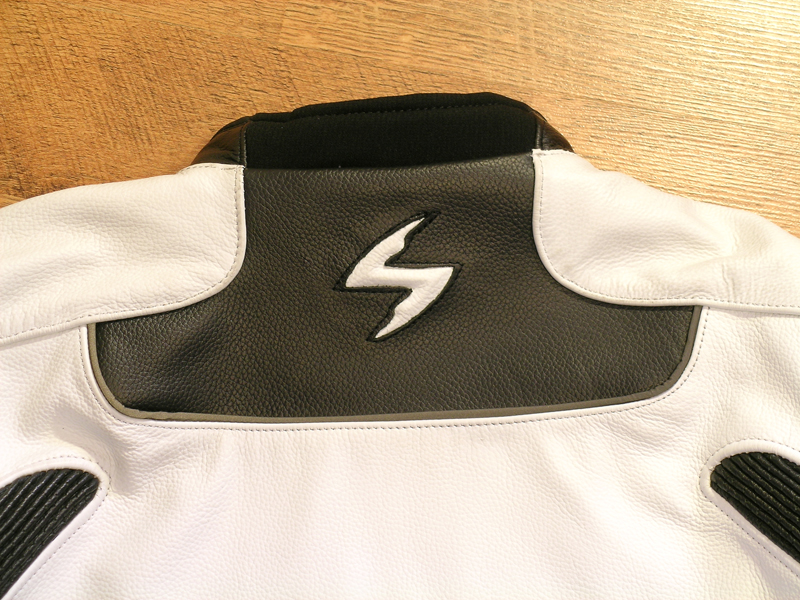 The jacket is offered in perforated white or non-perforated black, and I opted to test the white version in a size big enough to allow several layers underneath if I needed them. The jacket comes with a full-sleeved zip-out quilted polyester/nylon lining, but my past experience with jacket liners made me skeptical about their effectiveness in holding in body heat. The Dynasty's liner is lightweight and adds very little extra warmth.
| | |
| --- | --- |
| The Dynasty's liner isn't functional as a second jacket. Its seams and snaps are exposed, there are no pockets, and the zipper's only function is to attach the liner to the leather jacket. | Behind the full-sleeved liner is a breathable mesh lining. |
Made of durable 1.2-1.4mm top-grain leather, the Dynasty provides excellent abrasion protection without weighing the rider down. Kevlar stretch panels run the full length of the inside of the sleeve and down the chest, creating a super comfortable, flexible fit. Ribbed flex panels on the shoulders and elbows allow for flexibility when reaching for the handlebars.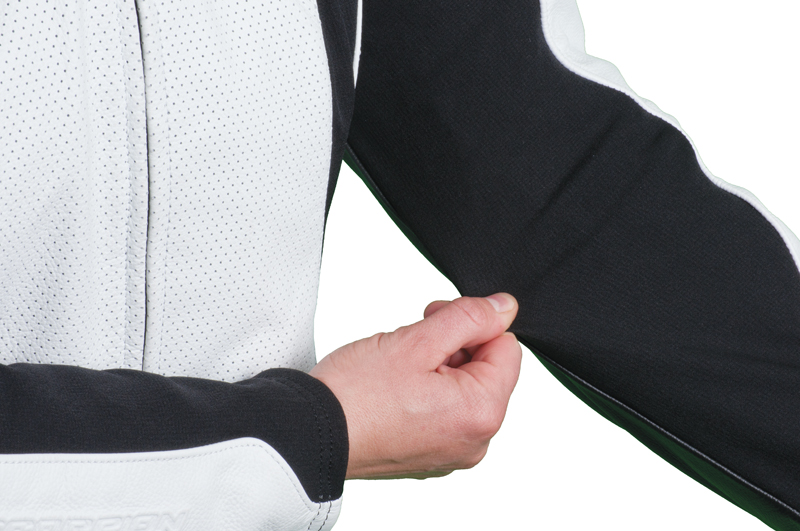 The YKK zipper closure is easy to use with gloves on thanks to the stiff, ergonomically shaped pull tab. Because the jacket I ordered is a little too big, the belly area bunched up when I was in a sitting position. Opening the waist adjustment zippers on each side helped with that somewhat, but not as much as I would have liked. The jacket's front zipper does not open from the bottom, which is unfortunate, as that feature would help let out some of the extra material that gathers in the belly area.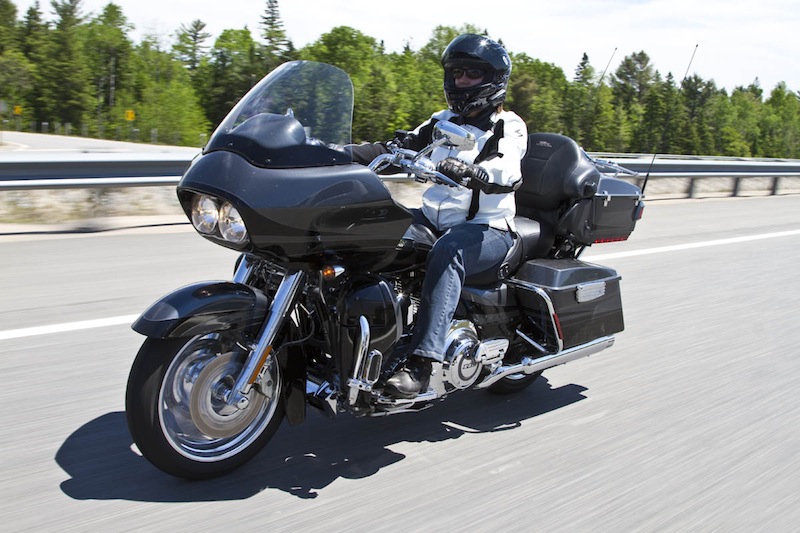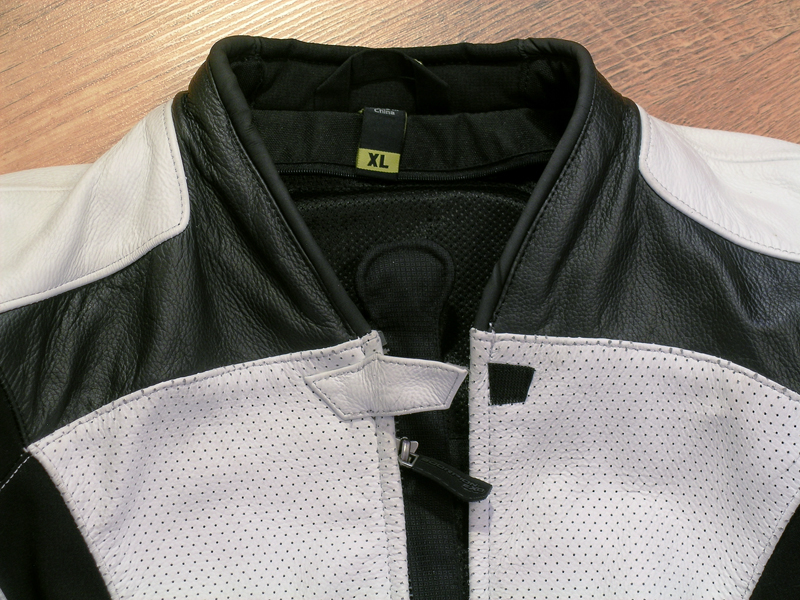 The vented, CE-approved armor at the elbows and shoulders is pliable and removable. A generously sized P.E. foam pad sits in a zippered back protector compartment in the inner liner.
| | |
| --- | --- |
| External sliders on the elbows add a touch of "hooligan" in case you need to elbow your way into a crowded restaurant (or in case you go down). | Two vertical zippered vents in the back allow a small amount of air movement. |
Even though the white version is perforated, the Dynasty's leather is a little too thick for the jacket to be called a hot-weather jacket. The vents give you only a little relief if you're caught out without a true vented jacket when the sun starts to cook you.
Pockets on the Dynasty are minimal. The two hand warmers aren't big enough for hands, but they do fit keys, lipstick or lip balm. They zipper closed and do a decent job of keeping your stuff dry.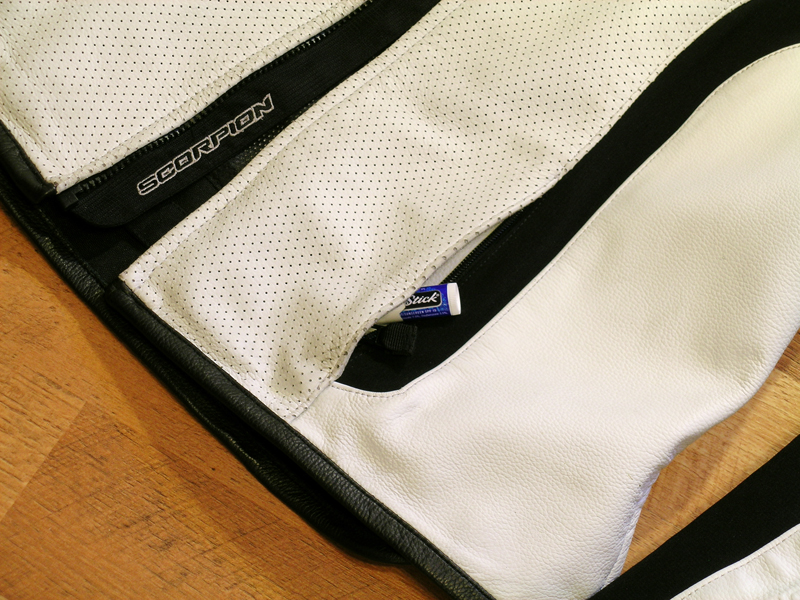 A single internal storage pocket in the left front panel is generously sized and fits all kinds of paraphernalia. But keep in mind that whatever you put in there will bulk you up in the left breast area. Some women may welcome the extra girth, but I don't need any extra bulk in that department.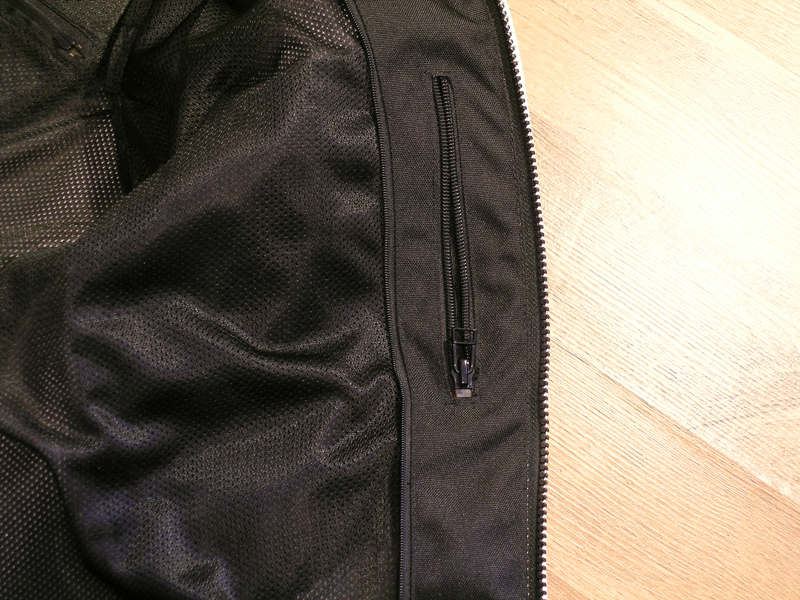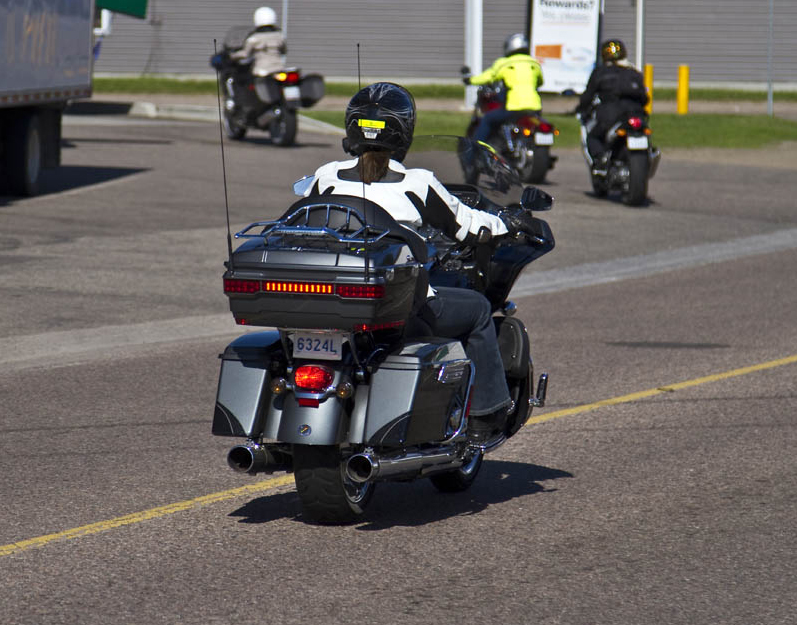 While you may be more of a black leather kind of girl, the white Dynasty really stands out, both on the street and in a typical black-leather biker crowd. A single strip of reflective trim on the back helps with nighttime visibility. Consider, too, that the sun will reflect off the white, while it will bake into the black. True, white does get dirty, but using just a little leather cleaner makes it sparkle again.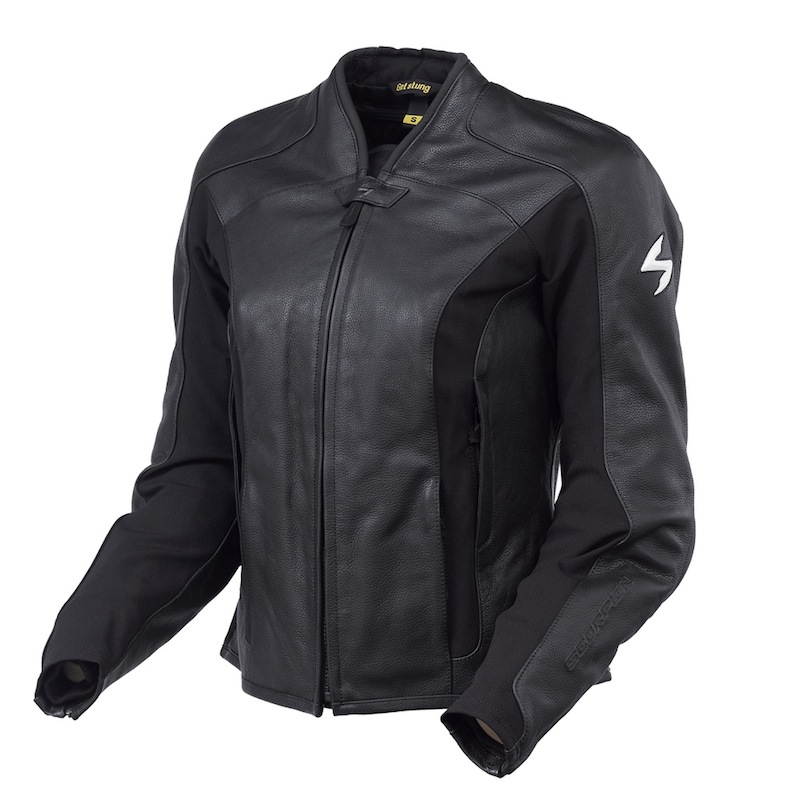 The Scorpion Dynasty retails for $309.95. Sizes range from small (4) to 2XL (16). You'll pay $20 more for the 2XL. The Dynasty comes with a five-year warranty against defects in materials and workmanship. For more information, visit ScorpionUSA.com.
About the Author
Tricia Szulewski has maintained the woman rider's perspective in RoadBike magazine since 1999. As the magazine's art director and staff writer, Tricia feels incredibly fortunate to have a career combining both her passions—art and motorcycles. She is an MSF instructor and logs thousands of miles each year on anything that shows up in the company stable. You can find some of Tricia's bike reviews, adventures, product evaluations and more at RoadBikeMag.com.

Related Articles
PRODUCT REVIEW: Triumph Sympatex Explorer Jacket