The F3 Adrenaline is worlds first production performance three wheel motorcycle, and is manufactured by TriRod Motorcycles. The company developed this groundbreaking three wheel motorcycle by combining advanced technologies from Formula 1 racing, aerospace, and motorcycles.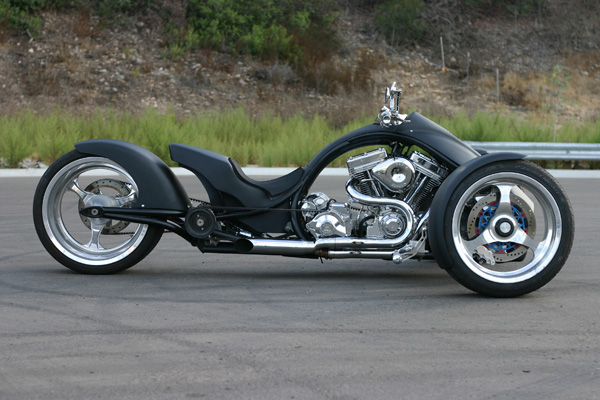 With a low center of gravity and a wide track, the F3 Adrenaline is stable and corners aggressively. TriRod engineers chose the 2-1 layout (2 wheels in front, 1 in back) over the traditional 1-2 trike configuration for its superior handling, stability, and rollover resistance.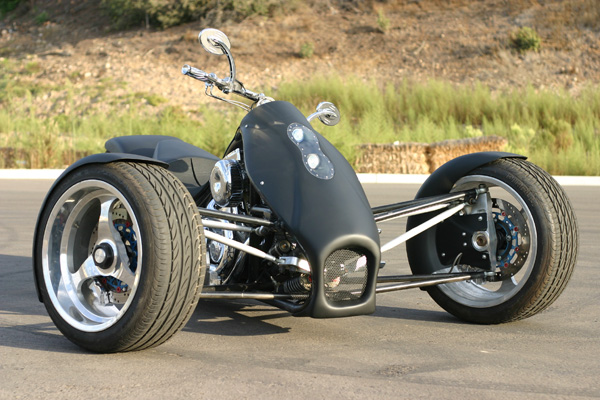 The F3 Adrenalines styling is raw and minimalistic, flowing from its mechanical underpinnings. carbon fiber body panels, fully adjustable racing shocks, and exposed suspension components reinforce the aggressive nature of the product.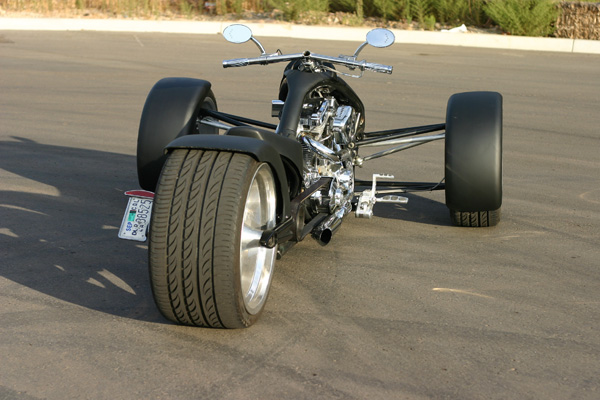 Robert Miller, TriRod Motorcycles Co-founder and Chairman, states, "TriRods platform offers increased safety and stability over traditional motorcycles while adding a whole new level of thrilling performance."
"We believe motorcycle and car enthusiasts are looking for something new and exciting," says Paul Seiter, CEO of TriRod Motorcycles. "The F3 Adrenaline offers people a whole new way to enjoy motorcycling."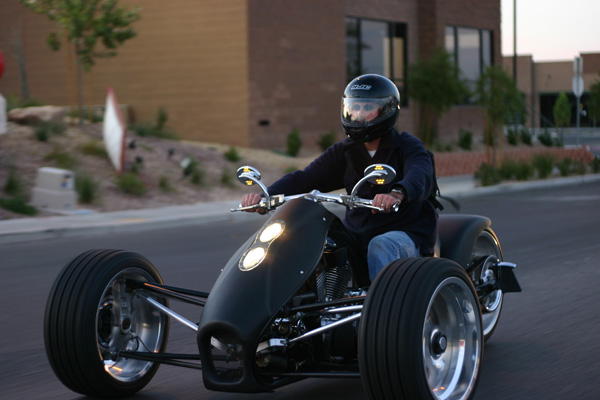 Seiter told WRN this base model costs $55,000. A touring model, set to debut in the third or fourth quarter 2008, will cost $35,000. It will have saddlebags, a windshield, and floorboards, more clearance and higher suspension, and of course, a bigger passenger seat.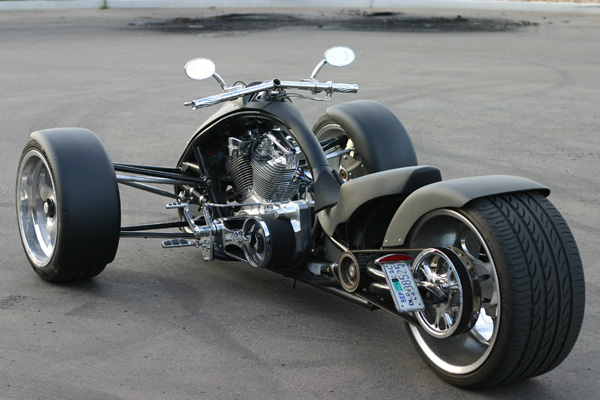 Keith Berryman, owner of Big Bike Motorcycles of Jacksonville, Florida, TriRods first dealer, states, "This is the most exciting product to come along in years. We cater to a segment of the motorcycle market that embraces forward thinking and exotic products like the F3 Adrenaline. We estimate this platform will start an entirely new industry and we want to be a part of that."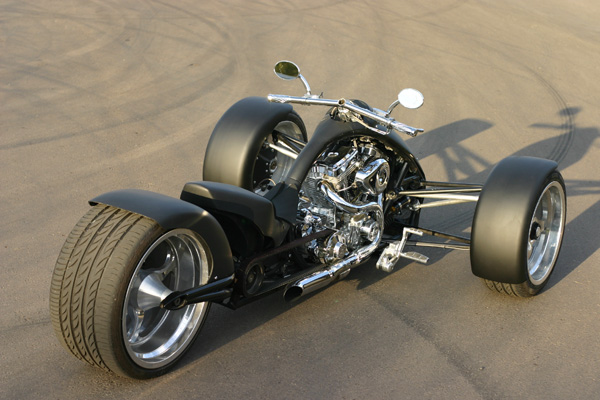 TriRod Motorcycles is currently setting up its dealer network and is taking orders now for the 2008 F3 Adrenaline scheduled to start shipping during the second quarter of 2008. Visit TriRodMotorcycles.com.
F3 Andrenaline Specifications
Wheelbase: 76 in
Track: 60 in
Ground Clearance: 4 in
Seat Height: 19.5 in
Dry Weight: 750 lbs
GVWR: 1100 lbs
CHASSIS
Main Frame: TriRod 2-1 Straddle Mount, Steel Tubular Frame
Seat: 2 Up
Fuel Tank: 4.5 gallons
Front Fenders: Carbon Fiber – Upright Mount
Rear Fender: Carbon Fiber Swing Arm Mount
Body Panels: Carbon Fiber
Saddle Bags: Optional – Frame Mount, Hard Bags
Windscreen: Sport/Half Windscreen – Body Panel/Frame Mount
Foot Controls: Forward Controls – Billet Aluminum
Hand Controls: Performance Machine Billet Aluminum
SUSPENSION/STEERING
Front Suspension: Double, Unequal, Non-Parallel A-Arm, Rocker with Pull Rod, Inboard Shocks (Penske Racing Shocks)
Front Hub: Heat Treated Chrome-Moly, Tapered Bearings
Front Uprights: Billet Aluminum
Rear Suspension: Mono-Shock, Rocker amp; Linkage
Steering: Handle Bars, Electronic Power Steering Assist
DRIVETRAIN
Engine: JIMS Twin Cam B, 120 Cubic Inch – Natural Finish/Chrome
Exhaust: 2 into 1
Transmission: 6-Speed, Overdrive, Right Side Drive, Natural Finish/Chrome
Primary Drive: Double Row Chain, Closed Primary, Oil Bath, Chrome Inner Cover, Chrome Outer Cover
Secondary Drive: 125 Tooth Belt, Kevlar Reinforced
Final Drive: 125 Tooth Belt, Kevlar Reinforced
Clutch: Wet, 9 Plate
Reverse Drive: Optional – Electric
WHEELS/TIRES
Front Rims: 18 x 9, Billet Aluminum, Speed Nut
Front Tires: 235/40-18, Pirelli P Zero Nero
Rear Rim: 20 x 12, Billet Aluminum
Rear Tire: 325/25-20, Pirelli P Zero Nero
BRAKES
Calipers: Rear – Billet Aluminum, 2 Piston; Front – Billet Aluminum, 4 Piston
Rotors: Motorcycle Type, Stainless Steel, 10 inch Rear, 13 inch Front (Floating Rotors)
ELECTRICAL
Charging System: 32 amp
Gauges: Analog Speedometer with Digital Odometer and Tripmeter, LED Indicator Lights, Fuel Gauge
Optional Electronics: Power Port – Gauge Area
Lighting: Halogen Headlight ? Flush Mount with Bodywork, Tailight/Turn Signals – LE