"Evelyn" is artist David Uhls newest "Women of Harley" painting. It was unveiled recently at a VIP/media event at a Florida Harley-Davidson dealership. She received a very warm reception. Two new collectors at the event bought their prints sight unseen.
Like Ruby, Betty, Pearl, Rose and Ruth before her, Evelyn is destined to become a much sought after collectors piece, part of Davids renowned "Women of Harley" series. David is one of a handful artists licensed to paint Harley-Davidson images.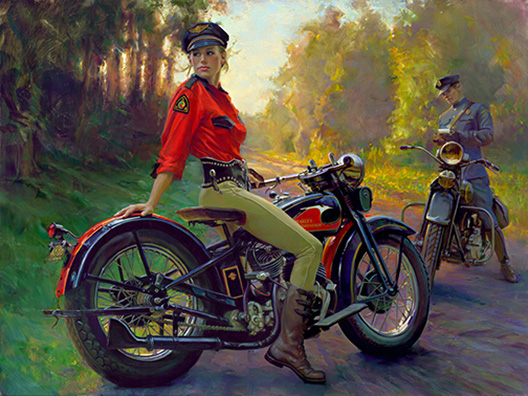 David says, "Miss Evelyn was briskly on her way to the local hillclimb and got tangled up in a high speed pursuit with a young mesmerized officer who could find no other way to introduce himself. Its obvious that hes the only one looking forward to the court date. I am certain this is my favorite piece of work to date. Its design is simple, yet strong and well connected. It came together without having to paint anything twice. It has a full variety of textures from thin transparent shadows to thick impasto lights."
Specifics for this hand-signed and numbered canvas giclee edition :
"Large" – image size 34×26 – framed price $1,895 plus shipping
"Oversize" – image size 42×30 – framed price $3,850 plus shipping
"Jumbo" – image size 48×36 – framed price $4,850 plus shipping (5 total).
To order a print or learn more, visit UhlStudios.com, or call 303.948.1088.