The Peavey-themed OCC chopper and Custom Shop guitar made famous on "American Chopper," "The Late Show With David Letterman" and "Fox amp; Friends" will burn up the asphalt on a U.S. tour this summer.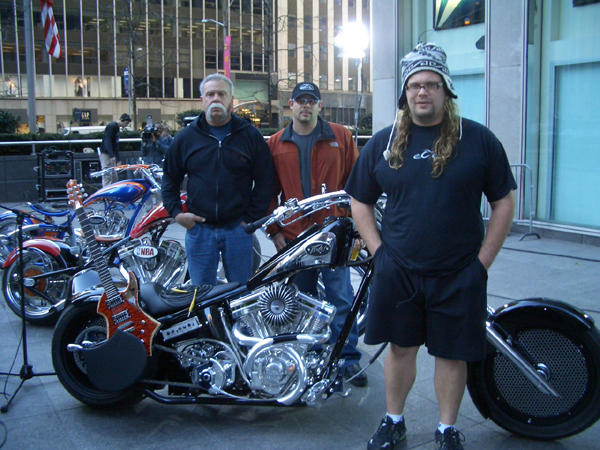 Music-products maker Peavey Electronics designed a custom guitar with Orange County Choppers during two episodes of "American Chopper" that aired in April, while the OCC crew built a Peavey-themed chopper complete with an amplifier that really cranks. Peavey plans to have the guitar available when the pair hit the road in June on the "Custom Shop Meets Custom Shop" tour.
"Rock amp; roll and motorcycle culture have always drawn from the same primal power," said Hartley Peavey, founder and CEO of Peavey Electronics, "so we had a lot of common ground to draw from when we designed the Peavey Custom Shop OCC guitar. I think that riders and players alike will appreciate the attitude and expertise that Peavey and OCC brought to this project."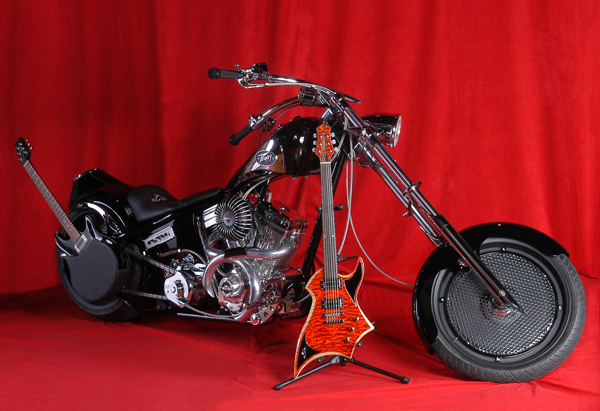 Dates and information for the "Custom Shop Meets Custom Shop" tour, featuring the Peavey-themed chopper and Peavey Custom Shop OCC guitar, will be announced soon at Peavey.com.
"I cant wait to walk into a guitar shop and see that hanging on the wall," said Paul Teutul Sr. "After working with Hartley and his team, I can see why musicians have stuck with Peavey for 42 years. Im proud to have the Orange County Choppers name on a custom Peavey guitar."
Beginning with the second Peavey-themed episode of the highly rated TLC series on April 19, Mikey, Paul Jr. and Paul Teutul Sr. of Orange County Choppers rolled the Peavey chopper and guitar onto international television three times in just 10 hours.
On "The Late Show With David Letterman," Mikey and "Late Show" guitarist Felicia Michele Collins took turns cranking the guitar through the choppers built-in Peavey amplifier while the band joined in behind them. The following morning, the Teutuls cranked the Peavey chopper and guitar on the Fox News Channels "Fox amp; Friends" to illustrate the partnership between OCC and Peavey, and to show off the specially designed guitar.
With the "Custom Shop Meets Custom Shop" tour, Peavey is celebrating the launch of its new online guitar custom shop, PeaveyCustomShop.com, where musicians can choose the features on their Peavey HP Special guitar and then dial in their favorite colors from more than 16 million options.
Peavey revolutionized guitar making in the 1970s with the Peavey T-60, the first guitar made using CNC computer-controlled machinery a move that bridged the gap between the vintage and modern eras in guitar making.