KYMCO USA has an aggressive travel schedule that will put the OEM at the motorsports industrys premier events for 2007. The scooter and motorcycle manufacturer hit the road starting with Daytona Bike Week in March. The distinctive KYMCO hauler was on hand at The Metric Experience offering demo rides on its scooter line as well as the Venox 250 motorcycle.

From there it was on to Salt Lake City for the Advanstar Off-Road Expo, the largest off-road consumer show series in the country. KYMCO ATVs, scooters and motorcycles were on display and ATV demo rides were available.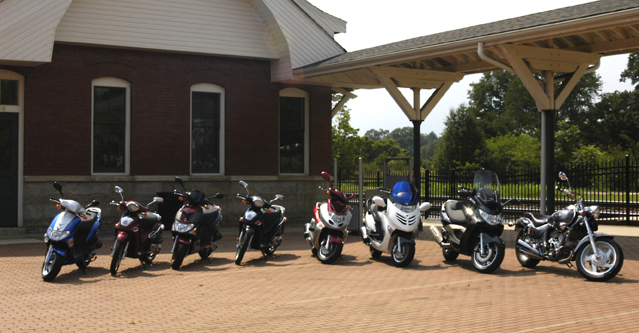 The second half of the 2007 tour season shapes up like this:
#8226; June 4-9: Americade, Lake George, NY
#8226; July 12-15: Amerivespa 2007, Seattle, WA
#8226; July 20-22: Red Bull US Grand Prix, Laguna Seca Monterey, CA
#8226; July 27-29: AMA Mid-Ohio Vintage Days, Lexington, OH
#8226; August 1-5: Oregon Dune Fest, Winchester Bay, OR
#8226; August 24-26: Ducks Unlimited Outdoor Festival, Oshkosh, WI
#8226; September 12-16: Golden Aspen Motorcycle Rally, Ruidoso, NM
#8226; October 6-7: Advanstar Off-Road Expo, Pomona, CA
#8226; October 6-7: Femmoto, Las Vegas, NV
#8226; October 25-27: The International Lawn, Garden amp; Power Equipment Expo, Louisville, KY
#8226; November 1-4: The Lone Star Rally, Galveston, TX
#8226; November 9-11: IMS Cycle World Show Demo Rides, Houston, TX
#8226; December 7-9: IMS Cycle World Show Demo Rides, Long Beach, CA
#8226; December 14-16: IMS Cycle World Show Demo Rides, San Mateo, CA
"With our mobile marketing vehicle fully loaded with two and four-wheel products, we can really offer visitors a chance to experience the whole KYMCO line," said Bruce Ramsey, KYMCO USA Vice President for Sales and Marketing. "Being a part of these events, and in many cases participating as a sponsor, continues to raise our profile in the marketplace." For more information, go to kymcousa.com/events/index.html.