Sometimes little things can mean a lot, like a motorcycle mount that can adjust to fit a range of electronic device sizes and be positioned just the way a rider likes it.
The Slide Mount is one such universal mount, produced by woman-owned Leader Motorcycle Accessories. The Slide Mount can hold a range of electronic devices, such as cell phones, route trackers, and cameras, with or without their covers or cases. The mount swivels left/right or up/down to where a rider can see a device easily, and then locks the device securely into place.
The Slide Mount now offers a "Plus" option, which is a cut-out on the bottom rail that can accommodate a power cord (if your bike is equipped with one) so you can recharge while riding. Slide Mounts come in several sizes, styles and materials to match your bike.
Women Riders Now E-Newsletter
Stay up-to-date on all things motorcycle! Latest gear, bikes and products reviews. Travel ideas, great product giveaways, and more.
The website has good instructions on how to find the right one for you.
[photo 18300]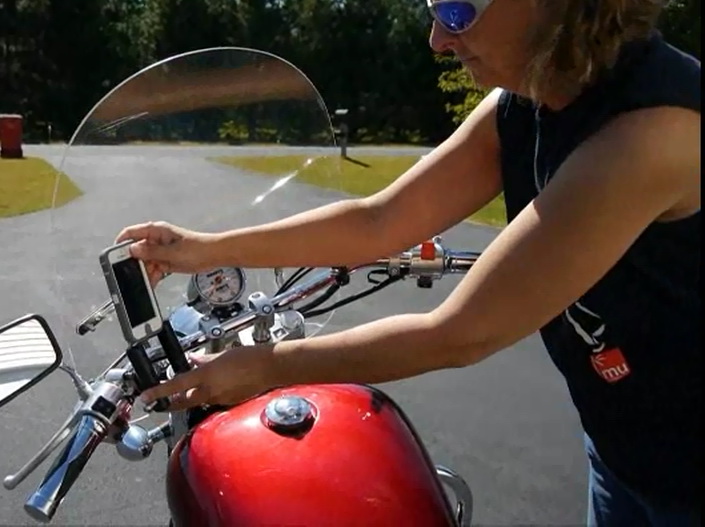 The Slide "Plus" can be mounted on the handlebars, windshield, and other locations, wherever the rider finds it easiest and safest to use.
Watch Tracey use the Slide Mount in this video:
Slide Mounts start at $60. Leader Motorcycle Accessories produces motorcycle device mounts, drink holders, rain deflectors, and other accessories to make rides more enjoyable and safer. For more information about the Slide "Plus" mount, visit Leadermotorcycle.com.
Related Articles
Gadgets for Motorcycles Riders
Anti Vibration Mounts from Leader
Motorcycle Accessories Reviews