Understanding the fact the more and more women are riding today, and even more want to ride, Big Bear Choppers has designed a womens specific motorcycle to add to its extensive dozen model fleet, dubbed Miss Behavin.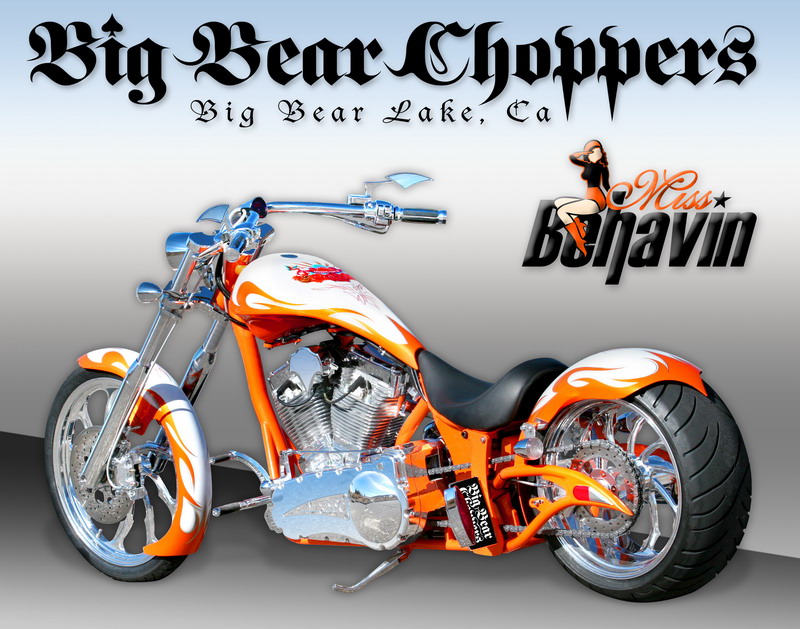 "A female designed specific motorcycle is a long time coming not only for us, but for the American V-twin industry," says Mona Alsop, V.P. of Big Bear Choppers and wife to founder Kevin Alsop. "The name Miss Behavin comes from a World War Two bomber plane nose art. Its a part of our American history and has a Big Bear Choppers attitude about it. Our Miss Behavin will be desired by women who want to ride a reliable motorcycle with a high comfort level while lookin good and being in style, all at the same time."
"After taking into consideration the critiques and desires from its current female customers with interviews and articles, BBC is very confident this motorcycle will be well accepted with female riders. While it shares the same components as the famous Venom ProStreet with the polished proprietary 100 SMOOTH low vibration engine, a Baker 6-speed overdrive tranny, an exclusive primary, chrome front end and controls with a digital gauge, the chassis is built around a smaller framed rider.
Chassis configurations include a drop seat of 19 inches off the ground, shortened wheelbase with a conservative 34-degree neck rake, radius flowing single downtube, foot and hand controls reaching towards the rider for a comfortable position, patented unique fuel tank design borrowed from the popular Sled ProStreet, patented oil tank design holding 5 quarts, 250mm rear tire with a left side final drive.
"Bottom line, Miss Behavin feels and handles very nimble and balanced, promoting rider confidence in the parking lots and on the highways. The 100 SMOOTH low vibration powerplant adds to the reliability of the motorcycle with a high comfort level of the rider without sacrificing power and price," adds Andy Meadors, Director of Image and Marketing.
"While this new motorcycle is designed for the comfort and confidence of women, its reliability, and even the style points are not sacrificed. The last place any female rider wants to be is on the side of the road," explains Kevin Alsop, Founder and President of Big Bear Choppers. Customize and order the unassembled motorcycle and build it in your garage, or find a Ready-to-Ride Miss Behavin at your local Big Bear Choppers authorized dealer. Visit BigBearChoppers.com.
Related Articles
Review: Big Bear Choppers Miss Behavin