If youre a woman rider, a new rider, or a rider just plain uninterested in big touring bikes, here are three new motorcycles unveiled last week that you can get excited about! The Bolt from Star Motorcycles by Yamaha, the Breakout from Harley-Davidson, and the Bonneville SE from Triumph are three exciting new bikes for those who arent looking to manhandle a big bagger.
| | | |
| --- | --- | --- |
| 2014 Star Motorcycles Bolt | 2013 Harley-Davidson Breakout | 2013 Bonneville SE |
"It's a nice change of pace to see the manufacturers introducing motorcycles that don't fall into the touring bike category," says Genevieve Schmitt, editor of Women Riders Now (WRN). "For the last few years we've been watching as one manufacturer tries to outdo the other with yet another version of a bagger bike. The Bolt, Breakout, and Bonneville SE will appeal to a wide variety of existing riders and might just attract a crop of newly minted riders, as each bike brings something interesting to the table."
2014 Star Motorcycles Bolt
Star Motorcycles is putting on some major attitude with the all-new Bolt, a stripped down, chrome-free, bobber-style bike with urban performance written all over it.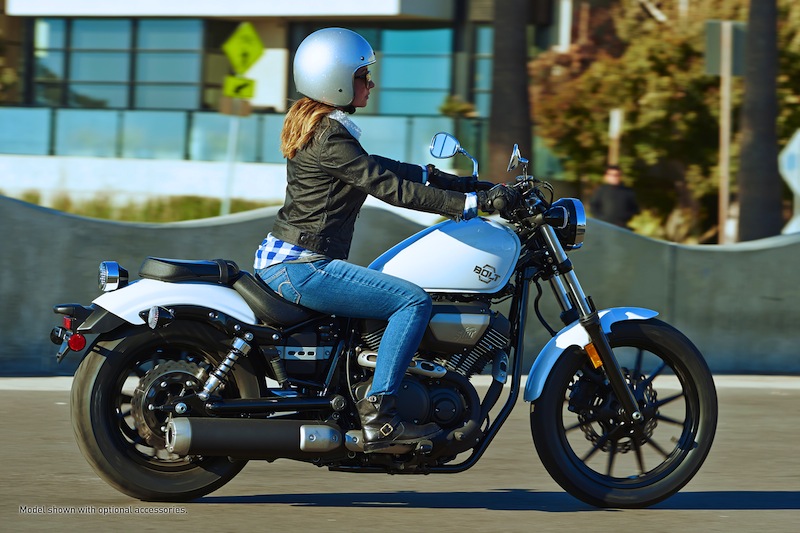 | | | |
| --- | --- | --- |
| With a low seat height of 27.2 inches and a relatively light weight of 540 pounds, the Bolt is manageable for a wide range of riders. The 2014 model is available in white (shown here) or black. | The Bolt has 5 speeds and a 3.2-gallon fuel tank. The bike comes stock with a solo seat (the pillion shown here is an optional accessory). | Look what you can do with the Bolt! Accessories can turn it into an old-school bobber. We love the red bags! |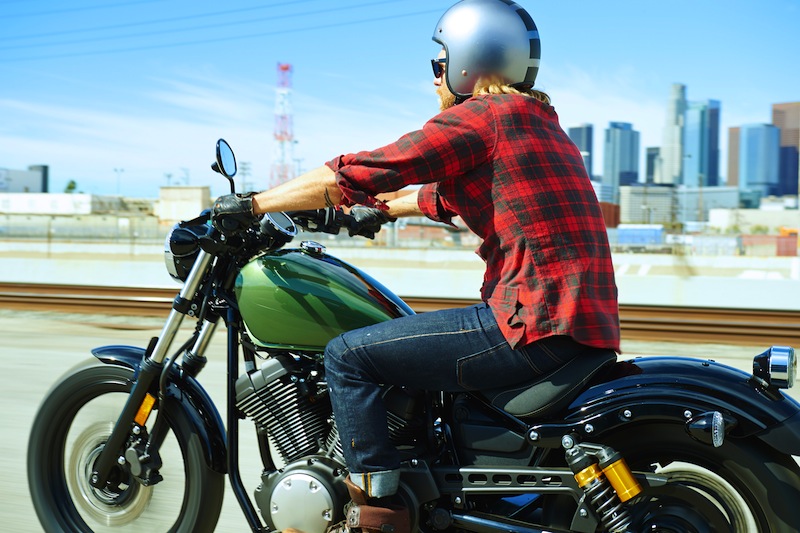 The 2014 Star Motorcycles Bolt retails for $7,990 and will be in dealerships in April. The Bolt R-Spec sells for $8,290 and is expected to roll into shops this summer.
2013 Harley-Davidson Breakout
Wait, didn't the Breakout
break out last summer
? It did—but only as a CVO model, Harley-Davidson's custom division. This midyear-release Breakout is still designed to make a statement, but its way easier on the wallet than its custom counterpart. With its distinctive finishes and specific components not available on other Harley-Davidson bikes, the new 2013 Breakout is considered a premium model in the Softail lineup.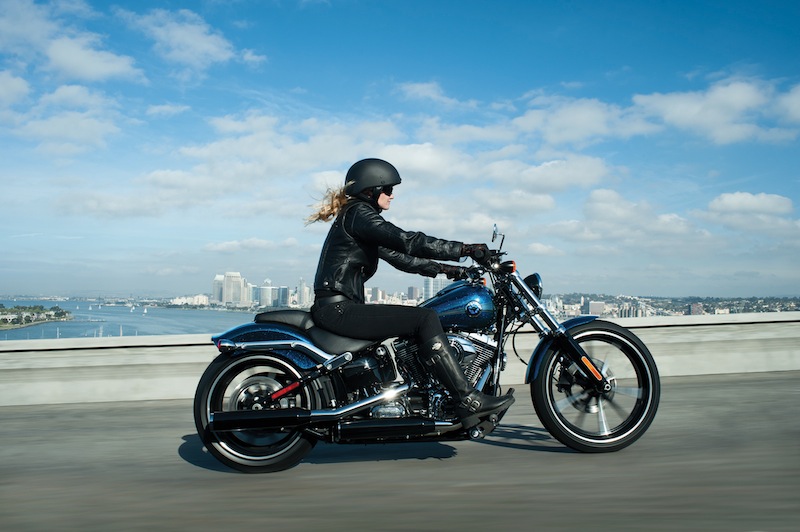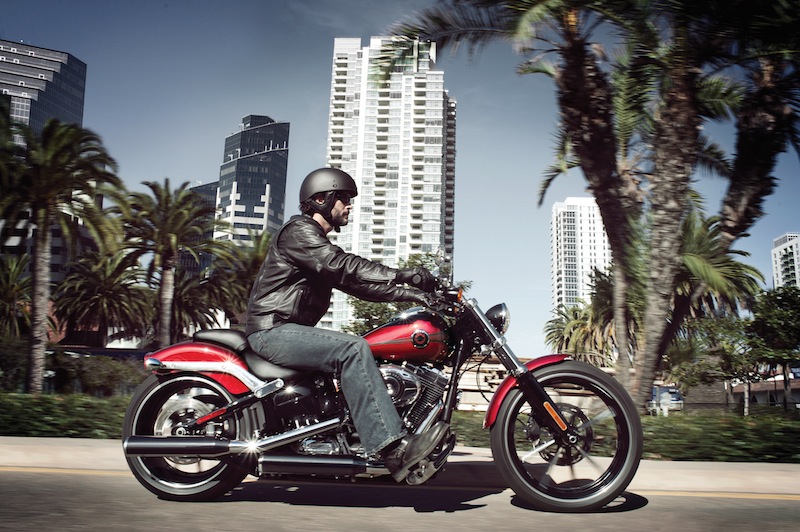 The 2013 Harley-Davidson Breakout starts at $17, 899 and is available in Vivid Black, Big Blue Pearl, and Ember Red Sunglo.
2013 Triumph Bonneville SE
The Bonneville has long been a favorite among women riders thanks to its narrow profile and fun and nimble ride, not to mention its classic design. For midyear model excitement, Triumph has unveiled a special edition of "the Bonnie" thats all dressed up in new colors and sports other new and fashionable accents.
| | |
| --- | --- |
| Most eye-catching on the Special Edition Bonneville are the bold red frame and Matte Black and Cranberry Red color scheme. The new headlight, front turn signals, and black mirrors complete the look. | Rounding out the enhancements are a black pillion grab rail and a unique seat design, complete with new stitching and vinyl covering. |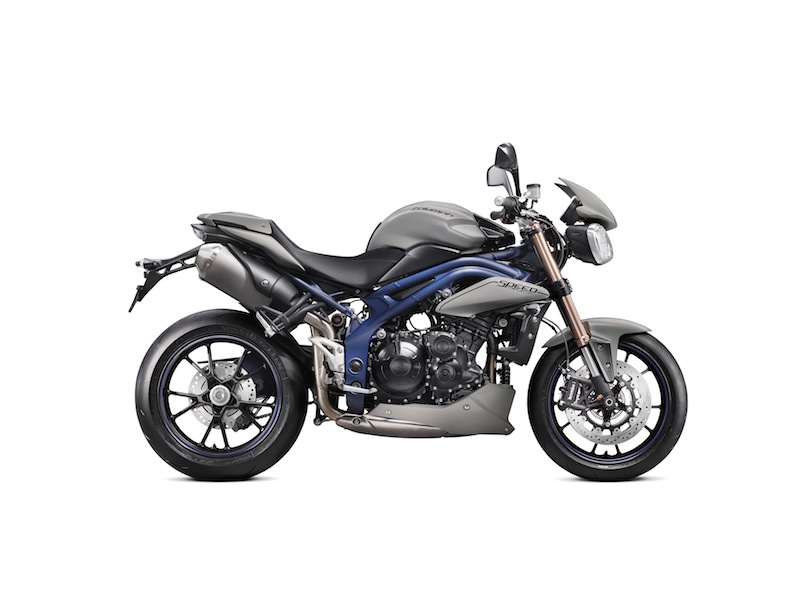 The Bonneville SE is priced at $7,999, while the Speed Triple SE will retail for $13,399. Both will be available in dealerships in May.