The Motorcycle Hall of Fame Museum, one of the countrys premier showcase of motorcycling heritage and history, will spotlight more than 100 of the worlds most recognizable enthusiasts in its new exhibit, "MotoStars: Celebrities + Motorcycles." Scheduled to open in late March 2008, the 8,000-square-foot exhibit will feature many priceless machines, exclusive memorabilia and tales from celebrities favorite two-wheel adventures.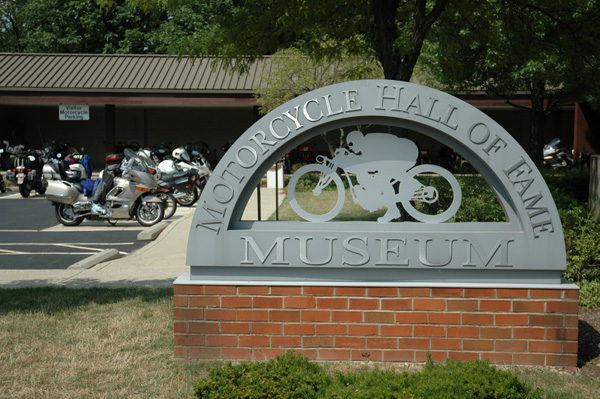 A dedication ceremony for "MotoStars: Celebrities + Motorcycles" will be held June 28, 2008, on the grounds of the Motorcycle Hall of Fame Museum in Pickerington, Ohio. The dedication ceremony will gather featured MotoStars, Motorcycle Hall of Famers, industry leaders and enthusiasts for a momentous ribbon-cutting.
Notable celebrities offering personal motorcycles and memorabilia to the exhibit are auto racing legend and Alligator motorcycle inventor and manufacturer, Dan Gurney; General Motors Vice Chairman Bob Lutz; "King of the Kustomizers" George Barris; and rock legend, "Rush" drummer and lyricist, Neil Peart.
Famous movie bikes include the 2004 MV Agusta F4-SPR ridden by Will Smith in "I, Robot." Exotic custom motorcycles designed and built by Austin Weiss for entertainers such as will.i.am, frontman for hip-hop group "The Black Eyed Peas," and Carlos Mencia, critically-acclaimed comic and star of Comedy Centrals "Mind of Mencia," will also be featured. The Motorcycle Hall of Fame Museum will announce additional contributors in the months leading to the exhibit opening.
"The Museum extends its thanks to those who have already agreed to play a role in this significant exhibit," says Mark Mederski, Executive Director of the Motorcycle Hall of Fame Museum. "To make MotoStars as diverse and comprehensive as possible, the Museum welcomes further support and assistance from industry colleagues, collectors and celebrities in gathering pedigreed machines and memorabilia."
Throughout history, motorcycles have played a starring role in the public and private lives of a significant number of celebrities and personalities. Whether they are adventure tourers, collectors, builders or ambassadors of the sport, each MotoStar has a unique story to tell about what fueled their interest and love for riding. Museum visitors will find these private glimpses into the community of motorcycling especially compelling.
"Motorcycling, whether an occasional hobby or lifelong obsession, has always connected individuals from very different walks of life," says Mederski. "Whether you work in a factory, the corporate suite, or on a Hollywood set, youll always have a shared bond and make new friends if you spend time on two wheels. For that reason alone, we expect this to be our most popular exhibit ever."
"MotoStars: Celebrities + Motorcycles" is the latest in a series of award-winning exhibits at the Motorcycle Hall of Fame Museum. The current "Motocross America" chronicles the history of the countrys original action sport and has drawn record crowds. Past exhibits, including "Heroes of Harley-Davidson" and "A Century of Indian," have brought motorcycling to life and introduced the industrys history to a new generation of riders.
For an online tour of current Motorcycle Hall of Fame Museum exhibits and a schedule of upcoming events and special activities, visit MotorcycleMuseum.org.