Women Riders Now is launching a new online classifieds section specifically for women riders. The WRN Classifieds are the newest user-focused feature to be added to the site following the launch of the WRN Forum earlier this year. The two new features are part of our push to connect female motorcyclists in their individual communities and across the world.
The
WRN Classifieds
are the first of their kind, allowing women to purchase and sell a wide variety of powersports gear and equipment, including motorcycles, scooters and riding apparel, from and to thousands of other Internet users. The categories specifically for women, such as #8220;Popular Bikes for Women,#8221; make these the first women-rider-focused classifieds on the Web.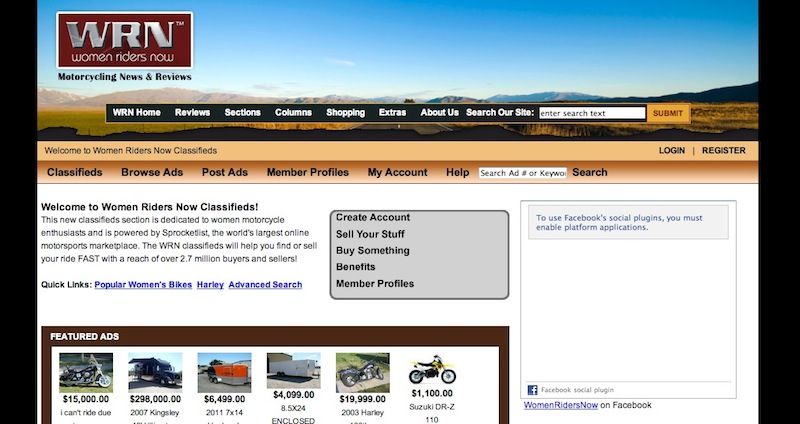 The WRN Forum, an offshoot of WRN#8217;s popular reader comments section, is also designed to fill a gap in the riding community: a place for female riders to connect. Many women experience aspects of motorcycling differently than men, whether it#8217;s the difficulty of finding the right-sized motorcycle or the struggle to balance family life with riding. The WRN Forum provides women with a place to relate those experiences, share ideas and network. Users can discuss the pros and cons of specific motorcycles and riding apparel, form female riding groups in their communities, and seek and give advice on topics like wrenching, solo road trips and dual-sport riding.
As with anything related to Women Riders Now, the WRN Forum and WRN Classifieds are not just for women. Men are also welcome to post comments in the forum or list items in the classifieds. And while the new features undoubtedly provide a valuable resource for riders, they also stand to benefit the motorcycling industry at large by forming one central place for manufacturers to get the female perspective on riding products and trends.
The WRN Forum and WRN Classifieds are now live. Click
here
to check out the WRN Classifieds, and click
here
to visit the WRN Forum.
Related Articles