A large displacement motorcycle sized for smaller riders…thats the latest hand dealt by Victory Motorcycles.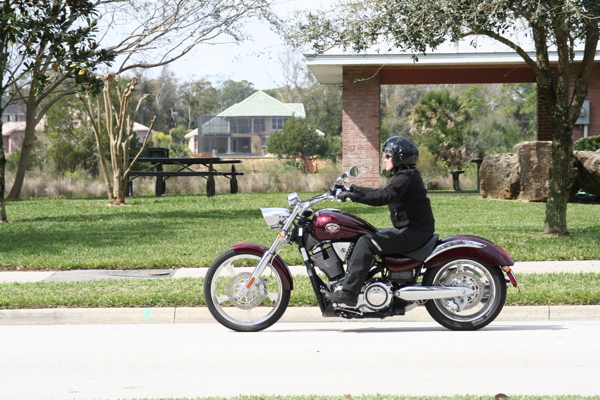 Though cruiser seat heights usually fit vertically challenged folks pretty well, their laid-back cruiser profile means handlebars or footpegs often hover just out of comfortable reach for shorter riders. If youve ever rolled on the throttle only to slide back in the seat, or found yourself practically sitting on the gas tank to ride, you will appreciate Victorys Vegas Low.
However, while offering more compact ergonomics it still provides big performance, sporting Victorys improved for 2008 Freedom 100/6 V-Twin engine. According to Victory, this powerplant, churning 85 horsepower and 106 foot pounds of torque, delivers more power than its predecessor while reducing noise and vibration.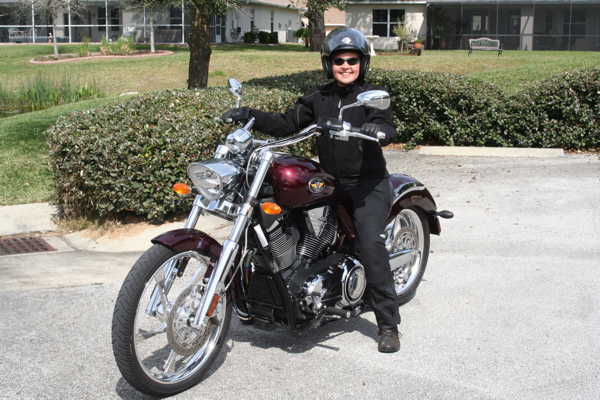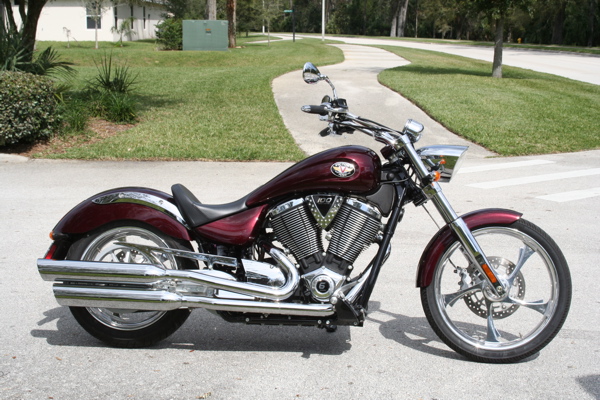 Now throw a leg over the Vegas Low and the differences become apparent. In fact, Victory literature states the Lows seat, at 25.2 inches, more than 1 inch lower than the standard Vegas. For comparison, Harleys lowest models are the Softail Deluxe at 24.5 inches and the Rocker at 24.5 inches.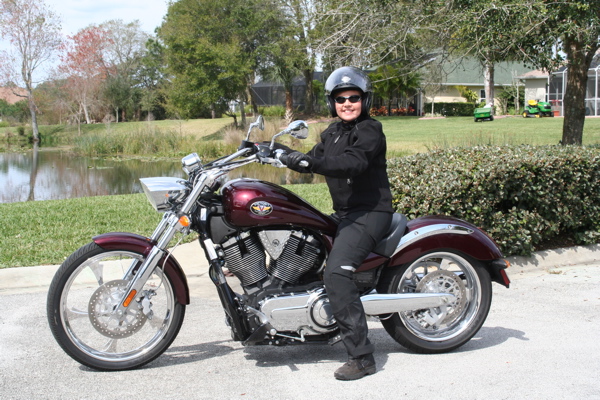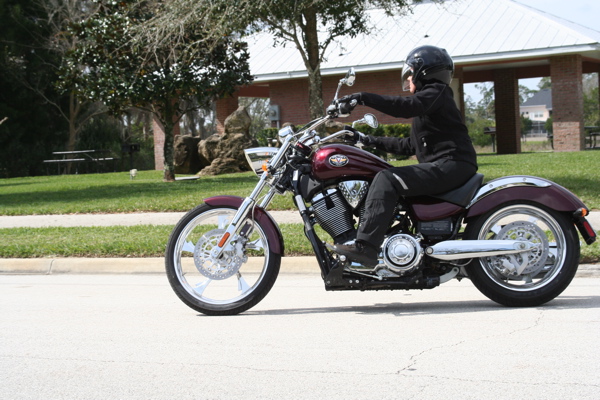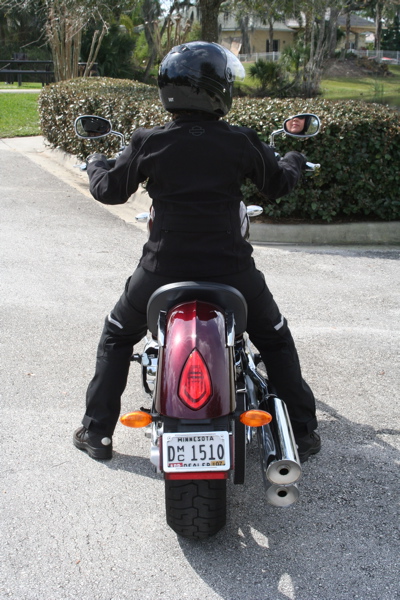 The Vegas Low is not a lightweight cruiser, tipping the scales at 651 pounds. However, its weightlessness surprised me when bringing it off the kickstand as the big 21-inch front tire didnt fight my efforts to right the bike. Massive torque makes running through the gears a fast and fun proposition, while the front 300 mm floating rotor with four piston caliper and rear 300mm rotor with two piston caliper brakes nicely lasso all that speed.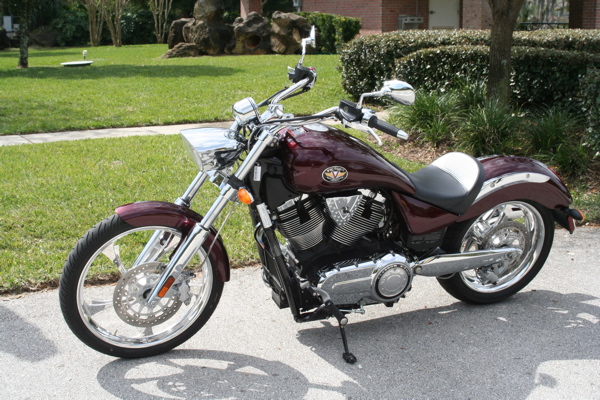 Electronic fuel injection makes quick work of firing up the Vegas and it brings on a sweet rumbling symphony from the slash cut dual exhausts. Standard sized handgrips, reach to the clutch lever and standard clutch pull mean smaller hands have a more difficult time working the controls than youd expect on a motorcycle aimed at the smaller riders market. Maybe Victorys leaving room for upgrades on this bike in the future.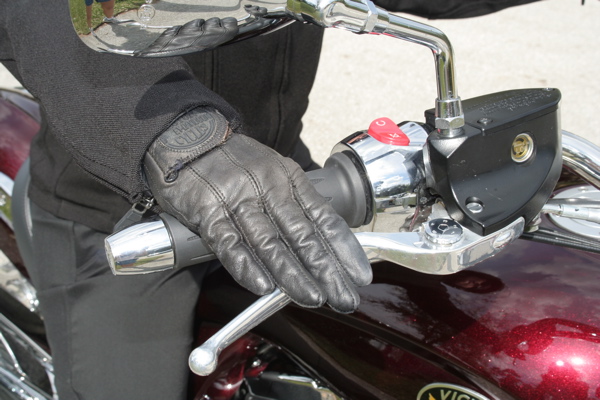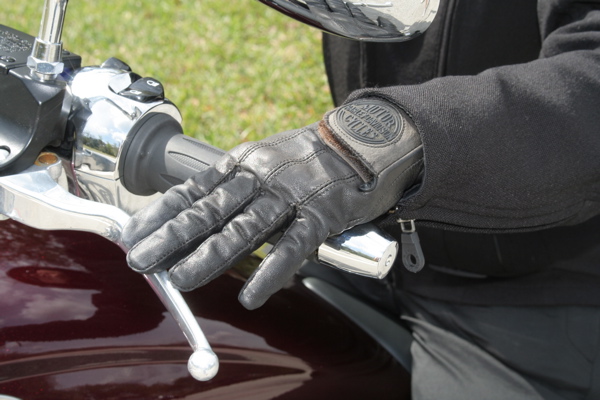 Shifting requires minimal effort from the toes and a clunk lets you know you landed into the next gear. The Vegas Low features a six-speed transmission with a new lower-ratio first gear for better low-speed drivability and acceleration, as well as a quieter, higher-ratio sixth gear for highway cruising. The revised Freedom V-Twin engine also features a laundry list of other improvements (visit Victorys Web site, link below, for details).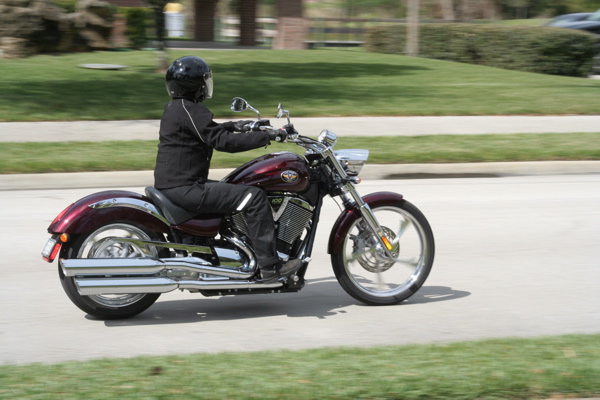 The solo seat still felt comfortable after a couple hours in the saddle. No hot spots here. The Vegas Low wears a conventional 43mm telescopic fork with 5.1 inches of travel up front, while in the rear wears a single, mono-tube gas shock with a pre-load adjustable spring offering 3 inches of travel (the standard Vegas offers 3.9 inches of travel). Despite the reduction in travel, the Lows shocks capably dampened any road harshness, never jarring me out of the saddle.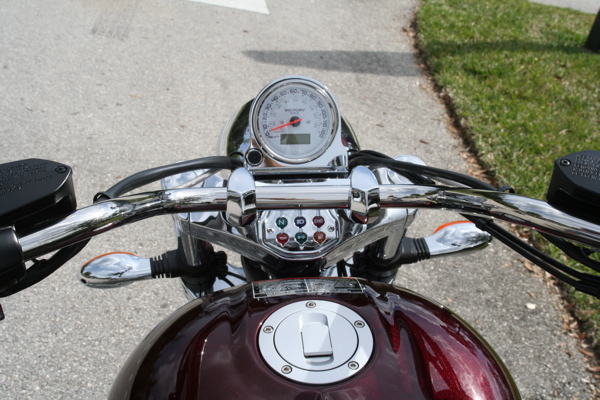 Smaller-framed riders will surely appreciate the ergonomic comfort of this scaled-down size Vegas while also enjoying its powerful and entertaining engine. However I, with my smallish 6-inch long hands, found the non-adjustable clutch reach and clutch pull difficult making my hand tire easily.
For riders seeking a great, sexy-looking full-sized cruiser cleverly scaled down to suit their stature, Victorys Vegas Low could be the equivalent of hitting the motorcycle jackpot. For more information about the Victory Vegas Low, visit VictoryMotorcycles.com.
The Specs at a Glance: 2008 Victory Vegas Low
Displacement: Freedom 100/6 V Twin
Seat Height: 25.2 inches
Fuel Capacity: 4.5
Dry Weight: 651 pounds
Colors: Solid Black, Solid Midnight Cherry, Solid Boardwalk Blue
Price: $15,999
WRN Recommendation
The Vegas Low makes it possible for experienced riders who don't have the body size to muscle the more powerful cruisers, to enjoy the benefits a heavyweight motorcycle offers. No need to sacrifice power or the actual size of the motorcycle just because your body is smaller, shorter, or petite.