You may have heard of a company making motorcycles without a clutch. Its Ridley Motorcycles. Its no secret that the Oklahoma-based manufacturer has been producing clutch-free motorcycles for more than 10 years, but for those who ride a Ridley well, they know the secret. Theyre riding a motorcycle that looks, sounds and feels just like cruiser, but theres no clutch to master. Just twist the throttle and go.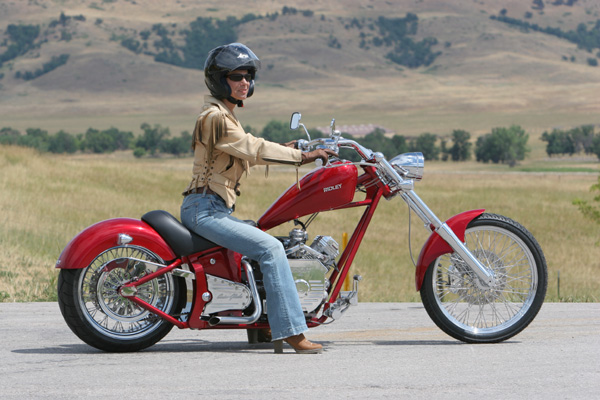 I test rode Ridleys most aggressively styled motorcycle to date, the Auto-Glide Chopper, to get a taste of what its like to ride a motorcycle without a clutch. The throttle action is just like a scooter, but any other similarities to a scooter end there. I point this out because some people think riding a motorcycle without a clutch is somehow riding less of a motorcycle, that you might as well be riding a scooter. Untrue. Erase that notion from your brain. Ridleys Auto-Glide Chopper and its four other cruiser models the Auto-Glide Sport, Auto-Glide Classic, Auto-Glide TT, and the Auto-Glide Old School are pure cruiser. No one will know youre riding a clutch-less bike, except you. Thats the beauty of a Ridley. The styling, fit and finish on all of Ridleys bikes are top-notch with custom paint, plenty of chrome, LED turn signals, a custom seat, spoke wheels, and big, beefy tires.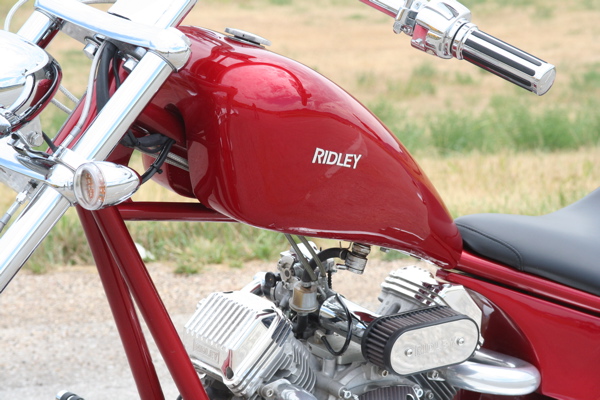 Aside from their good looks, the main appeal is that clutch-free action. Some people want that feeling of the wind in their face but are skittish about mastering the clutch/throttle action. People with joint issues are also interested in a Ridley because theres no clutch lever to squeeze. Ridley executives say, surprisingly, many of their customers are riders who want a fun, easy-to-ride and maintain motorcycle.
Nice and Low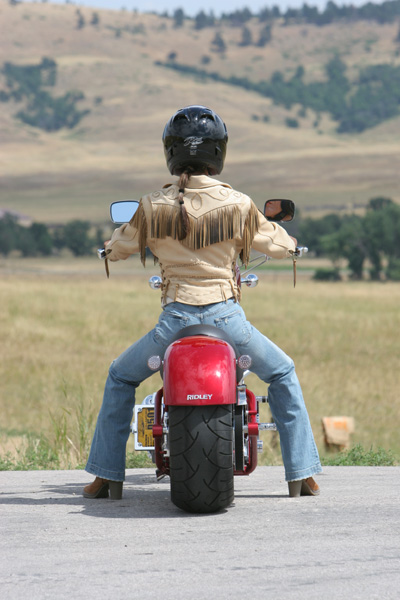 Ever ride a bike with a 24.5-inch seat height? Even the most diminutive-framed folks can reach the ground on a Ridley. You sit very low in the saddle with your knees almost at a 90-degree angle (see Genevieve in above photo). Theres plenty of extra length in your legs for maneuvering the motorcycle in parking lots. All the bikes boast this low seat, but before you think this rules you out because youre tall, dont. Seat height and fit are relative to where you place your hands and feet.
On the longest of them all, the 77-inch wheelbase Chopper, my long legs met the forward controls and footpegs just perfectly, and my arms extended to the handlebar grips comfortably and Im 5 feet 6.5 inches. Everything felt just right on this bike. Not too big, not too small. The other three Auto-Glide models have a 66-inch wheelbase with floorboards mounted forward just slightly, handlebars angled back towards the rider.
The bikes are extremely light with none weighing more than 460 pounds. The saddle on the Chopper was quite comfortable and positioned just right for me. Specs say its made from memory foam, the same material those expensive mattresses are made of.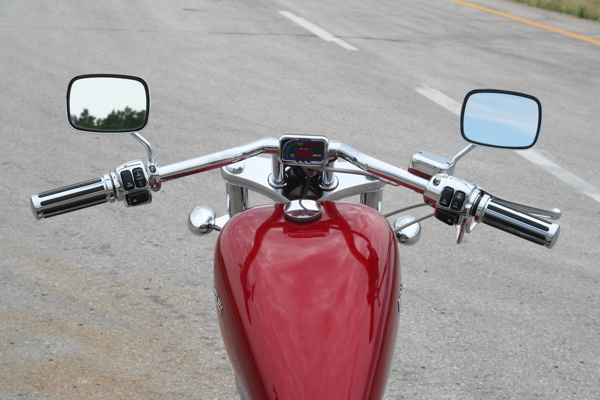 The controls on the Ridleys are standard Harley-style with the turn signals, horn, lights and engine switches all in familiar places. The bikes are powered by a 750cc V-twin engine with a proprietary Ridley CVT transmission (Constant Velocity Transmission) pushing it forward. There is no gearbox. CVTs use a pulley system allowing for infinite variability between highest and lowest gears.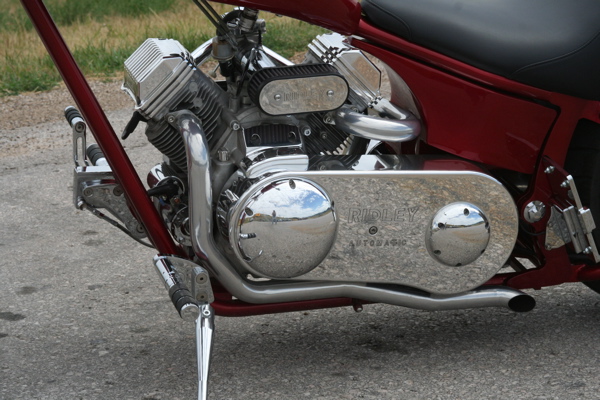 No shifting means you just twist the throttle and go. To get into neutral, simply take your hand off the throttle. When you start the engine you dont want your hand on the throttle "giving it gas" because youll be propelled forward.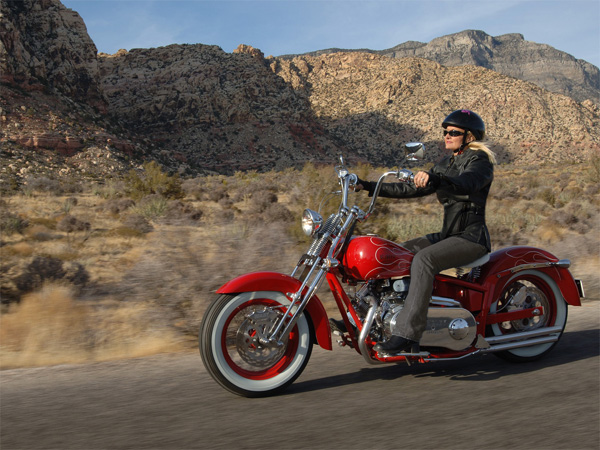 How a Ridley Rides
When you crank the throttle from a stop, the bike propels forward smoothly and evenly. It takes some time to orient yourself to this clutch-free way of riding, but I soon got my hands in sync with my brain and was rolling along just fine. Dont expect a jolt when you crank the throttle hard expecting more speed. CVT doesnt work that way. Twisting the throttle more, simply moves you forward faster. Youll most likely get passed while getting up to speed as other riders snick through their gears. But once youre at speed, youll keep up just fine.
When you let off the throttle, the motorcycles otherwise throaty exhaust gets stone quiet. The bike is now coasting along. I noticed this when I was going downhill on a twisty road. Normally, youd downshift to slow down and then brake. On the Ridley, you brake to slow down and thats done the normal way by pulling in the right hand lever to actuate the front brake, and the right foot pedal for the rear brake. Theres no downshifting because there are no gears. Its kind of weird at first to hear a running motorcycle sound so quiet upon letting up on the throttle, but I got used to it. Just another quality that makes the Ridley a unique motorcycle.
As I rode the Chopper through some twisties, I found it carves like a charm going exactly where I point it. Even with the fat 240mm rear tire (the only model with that big of a rear tire), I managed to lean the bike into the turns without the bike pulling me upwards. Ive found tire size becomes an issue when its larger than 250mm.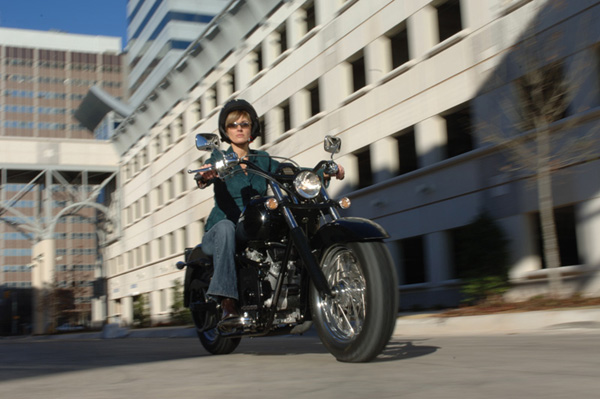 When up to speed this bike feels like a 750cc motorcycle, not overly powerful, but not a dog either. The suspension is your standard Softail style setup, but with two rear shocks. It glides over imperfections in the pavement, despite being so low to the ground. I was never once jolted out of the saddle.
Braking is superb thanks to the 4 piston high performance Ferodo brakes in the front and in the rear. I only needed the front brake most the time to slow me down, until I came to a complete stop and used both brakes.
The Chopper is Ridleys priciest model starting at $18,775. Ridley didnt skimp on anything with this bike though: chrome LED turn signals, spoke wheels, custom handgrips and footpegs, chrome belt cover, headlight housing and forks, LED speedometer, and custom paint job É and thats just the stock version. My test bike had the optional metallic paint and powder-coated frame, about a $500 upgrade. This is a custom motorcycle through and through.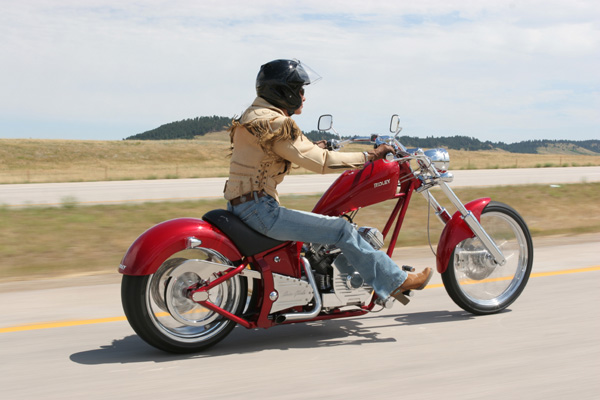 In terms of maintenance, the only major item to be aware of is the belt will need to be changed every 10,000 to 15,000 miles; every 5,000 miles if all you do is in-town riding. With a CVT transmission, wear and tear on the belt drive happens on take-off. The narrower the belt the less gear range it has. Riders will notice the bike wont go as fast as it used it to, so Ridley recommends replacing the belt, an $80 part, at certain intervals depending on your style of riding. Jay Ridley says it beats having to replace clutch plates and fluids.
With nearly 50 dealers nationwide, five in Canada, expansion into Japan and Puerto Rico, and a NASCAR sponsorship in the works, Ridley is a force to be reckoned with. If you have a chance to ride an Auto-Glide Chopper or any of the Auto-Glide models, youll be pleasantly surprised to feel how the bikes compete in the big leagues, but in such a user-friendly package. No one needs to know the clutch-free secret but you.
Specs at a Glance: 2006 Ridley Auto-Glide Chopper
Displacement: 738cc
Seat Height: 24.5 inches
Fuel Capacity: 3 gallons
Dry Weight: 460 pounds
MSRP: $18,775
WRN Recommendation
Ridley is no newcomer to the market and it shows in the fit and ride of its motorcycles. These are well-made, solid bikes that deserve a second look if youve been considering a clutch-free motorcycle, or looking for an easy-to-ride bike. Ridley offers demo rides at all the major rallies. Go ahead and test ride one. Then you'll know what the secret is all about.
Visit RidleyMotorcycles.com.