My ride around my former home state of New Jersey this year was all the more memorable because of the motorcycle I was using, Moto Guzzis new Norge 1200. The 2007 model comes in a vibrant Italian red or silver. I was loaned the red version. With its sleek modern Italian styling, it is a real head-turner. As one male reviewer said, if bikes have a sex, the Norge is definitely a "she" because of its streamlined beauty.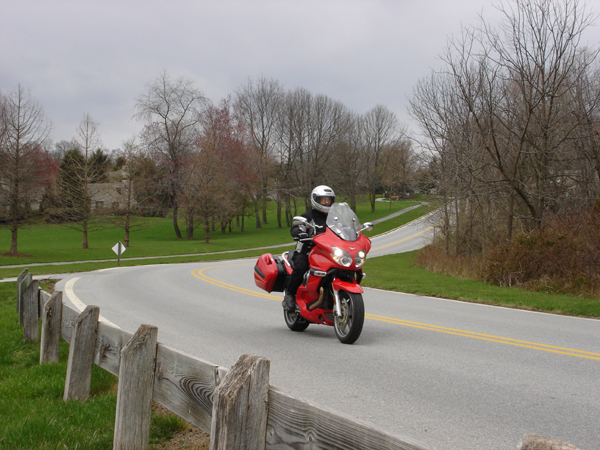 Moto Guzzi developed the Norge to compete with the likes of BMWs large sport tourers such as the K 1200 GT or the R 1200 RT. With such impressive competition, the Norge needed to be something special, which it is. My husband, Lynn, and I took turns riding it, and we both thought it offered power to spare and effortless steering. Passing cars was a breeze and it held its line solidly in corners. I wouldnt recommend it to a beginning rider because of its relatively large size and high power output, but an experienced motorcyclist who wants a comfortable long-distance tourer should give it a spin.
For my part, while the Norge is among the largest bikes Ive ridden in terms of size, it didnt seem that big. The Norge has a relatively high seat height of 31.5 inches, but I could stand on the balls of my feet when stopped and Im 5 feet 6 inches. A lower seat is available for $259.95. Being able to securely hold up the bike was important to me because it was quite heavy at 610 pounds with a full gas tank.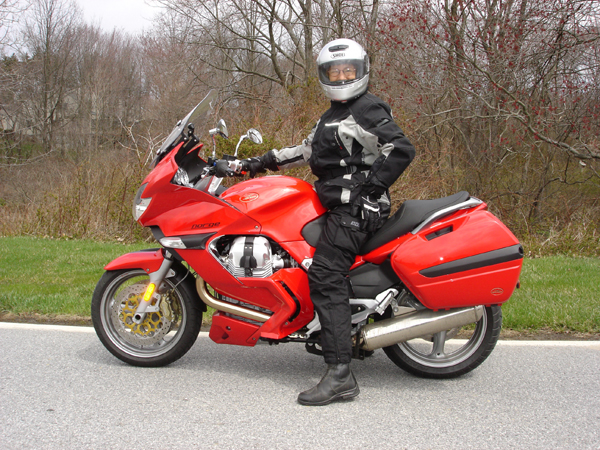 Going down the road, the Norge zipped around with the ease of much smaller motorcycle. Its well balanced and very responsive leaning into the corners on back roads. With its fuel-injected 1151cc opposed V-twin engine and claimed 95 horsepower, the bike had more than enough power for my needs. New Jerseys Garden State Speedway, I mean, Parkway, is not for the faint-of-heart. Despite a 65 mph speed limit, vehicles typically travel at 80 to 90 mph with very few car lengths between them. The fact that its often just two lanes each way makes it all the more terrifying.
But with a slight twist of the throttle, I easily kept pace with or passed traffic on this asphalt runway. The Norge has six speeds, but once in high gear, I didnt need to downshift for extra power when passing. I actually was surprised by how quickly the Norge got up to more than 90 mph without surging forward when I accelerated quickly. On less busy back roads or when traveling through small towns, the engine was smooth and didnÍt stutter when I accidentally found myself in too high of a gear.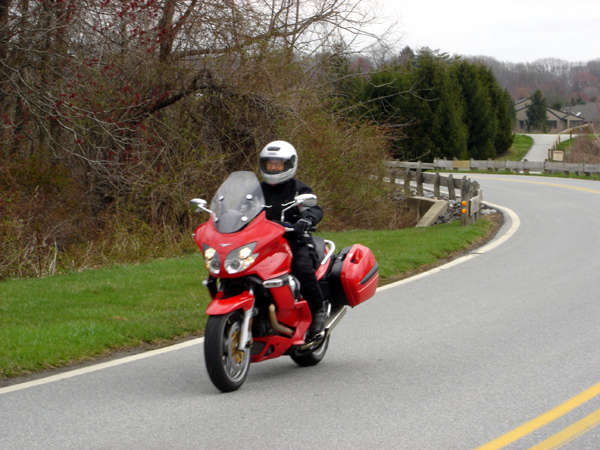 Why call it Norge?
The name has actually been in the Guzzi family since its early days. In 1928, Guiseppe Guzzi rode 4,000 miles from Italy to Lapland in northern Norway to test the companys new motorcycle suspension system. The journey took only four weeks, remarkable for that era because of the bad roads. The new suspension became part of Guzzis production bikes and its first G.T. (Gran Turismo or grand touring) model was called the Norge. As the companys first large tourer of the new century, this 1200 is named after that ride as well.
The Norge has plenty of bells and whistles, which I appreciated on a long journey and which come standard by the way. It was about 40 degrees during our New Jersey tour, so I indulged in the bikes three-setting heated handgrips, which I mostly kept on high. I also liked the wide tall fairing and windshield, which shielded my upper and lower body from the wind. The windshield is electronically operated, so it can be adjusted up or down with a press of a button.
The placement of the handlebars allowed me to stay in a comfortable upright position. The bikes foot pegs require a rider to keep her knees bent, but there are no forward pegs for stretching your legs. I like sitting upright, but my arthritic right knee gives me problems if I have to keep my legs tightly bent for long periods.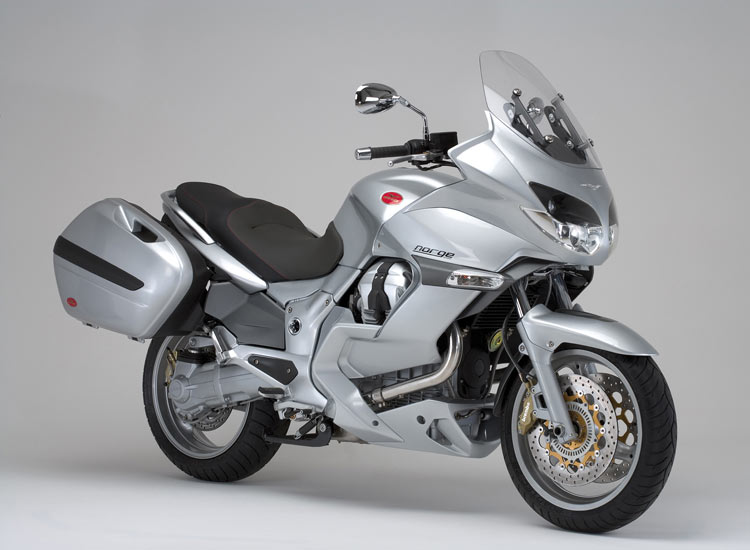 Great attention is taken with the bikes design, with the body styling and seat flowing together in a sexy swoop. I also should mention the distinctive cat-eye headlights, which include four bulbs two for low beam and four for high beam casting plenty of light at night.
The Norge has disc brakes in front and back and comes standard with an anti-lock braking system (ABS), a real bonus on new motorcycles these days. ABS means the brakes wont lock up if a rider impulsively squeezes on the brakes in a tense situation, like when skidding through gravel. Instead the brakes pulsate, easing the bike to a stop. This gives the rider more control over the motorcycle.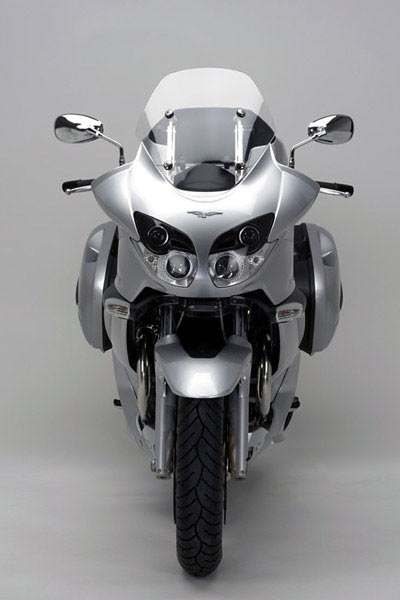 Shifting through the gears was smooth and I could easily find neutral. The bike rocked a bit from side to side when I started to accelerate from a stop, a characteristic of a motorcycle with a longitudinal crankshaft.
Gas consumption is higher on these more powerful, bigger bikes because the larger engine consumes more fuel. Luckily theres a generous 6-gallon fuel tank on the Norge that needed a fill every 200 or so miles.
I liked the standard side bags, even though I always find that bags opening outward toward me when Im standing in front of them tend to cause my belongings to fall forward and then get wet if its raining. Still, the Norges removable luggage seems to work fine if you like that style. The open-close-lock mechanism takes a bit of finessing since you need to press and turn in a certain way to close, lock and then remove the key. After a day, I had the hang of it.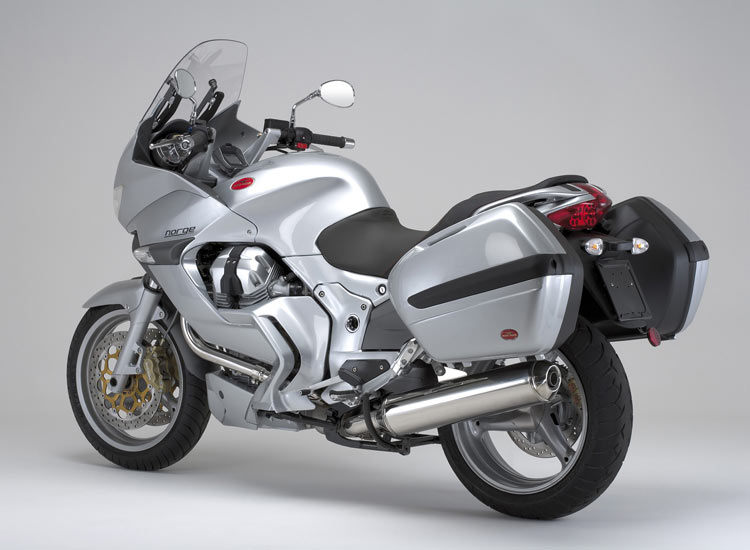 My one complaint was difficulty in daylight reading the bikes digital display showing miles traveled and time. Seeing the analog needle dials showing MPH, RPMs and gas usage was no problem, though.
Our ride around New Jersey lasted only three days, and with Lynn and I sharing the Norge, I didnt have enough time to fully appreciate its features. My sense is that to fully appreciate this bike it must be taken on long trips with lots of wide open highways, although it performed adequately in the Garden States small towns and crowded roads. Perhaps the folks at Moto Guzzi will let me try it again sometime, or maybe Ill just buy one. For more information, visit MotoGuzzi-US.com.
The Specs at a Glance: 2007 Moto Guzzi Norge
Displacement: 1151 cc V-twin
Seat Height: 31.5 inches
Fuel Capacity: 6 gallons
Dry Weight: 542 pounds
Colors: Red, Silver
Price: $14,990
WRN Recommendation
Moto Guzzis Norge 1200 is an ideal option for an experienced rider ready to trade up from a middleweight and take long trips. Great Italian styling, power, agility, comfort and side bags are among its plusses. The Norge is an alternative to German bikes in this category especially since the 2007s MSRP is more than $1,600 less than that its German counterparts. One caveat: Moto Guzzi is owned by Piaggio a larger player in Europe, not as prevalent in the U.S. so getting service and repair work done may be a hassle if you lack a local dealership.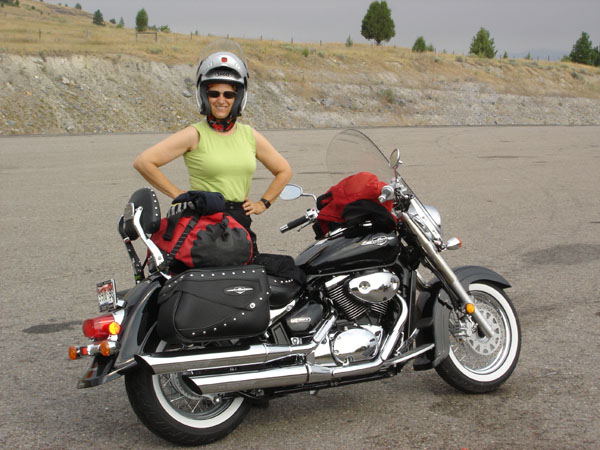 About the Author
Perri Capell is a veteran journalist, currently working as an editor and senior correspondent for Dow Jones and Co. Inc., publisher of The Wall Street Journal, for the past 18 years. Perri started riding at 49 buying her first two motorcycles via the Internet, including one through eBay. She and her husband, Lynn, own more than 20 motorcycles between them. Her favorites are her Yamaha TDM, Honda Transalp and Kawasaki KLR 650. The couple love adventure riding and travel worldwide on motorcycles. They have ridden in Oman, China and Vietnam, but Perri says nothing beats her home state of Idaho for great roads and scenery. You can reach her at capellf@cableone.net.