Bonhams amp; Butterfields, an auction house, will be offering for sale next month the personal leather flight jacket of Steve McQueen, and Peter Fondas personal 1998 Harley-Davidson FLHR Road King.
The King of Cool, as the legendary McQueen was crowned, was not only an accomplished motorcyclist and motorist, but also an avid aviator flying vintage bi-planes in his later years. As seen in the accompanying photo, courtesy of McQueens widow, Barbara, the jacket was an integral component of McQueens flight kit and accompanied him each time he flew.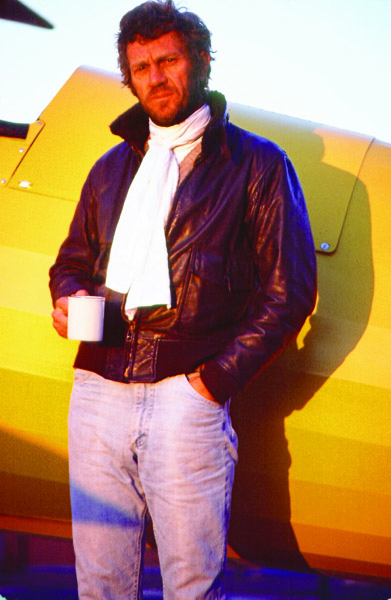 Captain America, as Peter Fonda is still lovingly called, has made more than 70 movies of varying subjects but has been and always will be inextricably linked to motorcycles. His well-used and well-maintained Harley Road King offers a rare opportunity to own a bike from the quintessential easy rider.
Other newsworthy highlights to be offered include:
-Clark Gables 1934 Harley-Davidson RL
-Steve McQueens 1926 Scott Standard Tourer, painted by Von Dutch
-Steve McQueens 1970 Kawasaki G31 Centurion custom painted by Von Dutch
-Dozens of Von Dutch (a.k.a. Kenneth Howard) items, including:
– Von Dutchs engraved crash helmet – his most prized possession
-Von Dutchs personal hand-tooled leather satchel
-Von Dutchs sign from his Tempe, Arizona shop
-Panels from Stan Betzs El Camino car hand-painted by Von Dutch
-Several black powder pistols and a buck knife scratch-built by Von Dutch
-A 1919 Cleveland Single painted by Von Dutch
This annual Bonhams amp; Butterfields auction offering a once-in-a-lifetime selection of items from some of popular cultures greatest icons will be held Saturday, November 10th at the Petersen Automotive Museum on Wilshire Boulevard in Los Angeles. The sale of memorabilia will commence at 11:00 a.m. and motorcycles and motorcars at 2:30 p.m.
To register to bid remotely or in person, to purchase illustrated catalogs, and for preview times, go to bonhams.com/us.