If youve never given any thought to riding a sportbike, then this just might be the motorcycle to change that. Kawasaki recently introduced the Ninja 650R, the companys latest two-wheeled fun-seeker. With a seat height of just 30 inches (thats low in the sportbike category), and a dry weight of 392 pounds (thats very light in any category), the Ninja 650R is sure to appeal to a variety of riders from beginner to expert.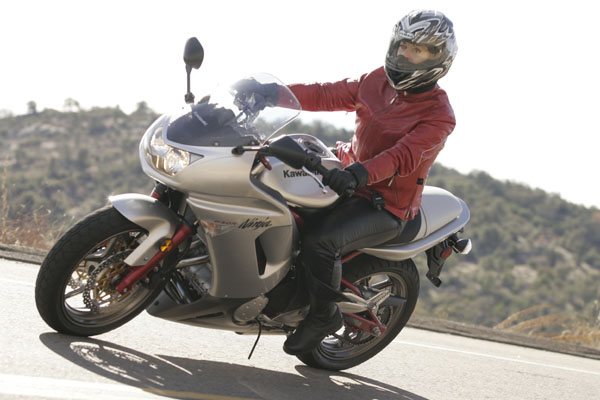 A lot of advanced engineering went into designing this new model by first starting with the rider – not the motorcycle. "Our development team studied various riding positions and chose the posture which inspired the most confidence," stated Kawasaki Product Manager Karl Edmundson. Building on the popular Ninja 500 with a 151cc increase in displacement, the 650R is not intended to be a replacement for the 500; instead it is a welcome addition to the family which includes the Ninja 250 as well.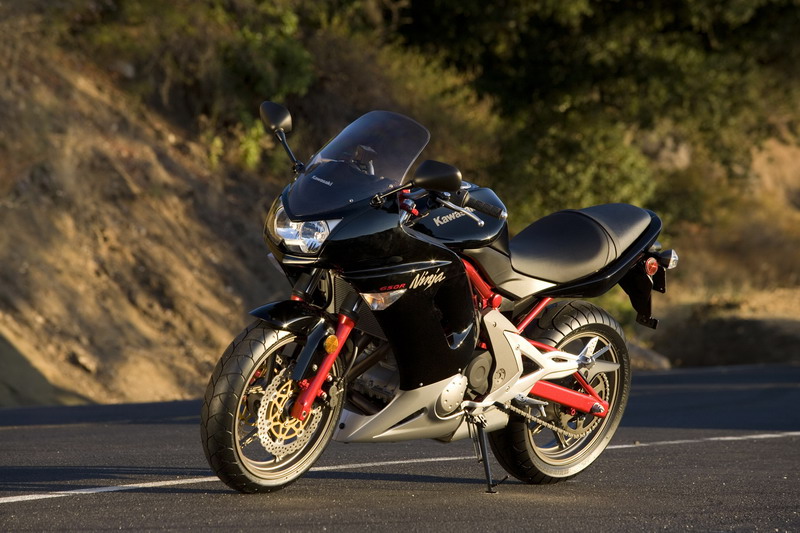 This new entry has the most compact liquid-cooled engine in Kawasakis lineup. The triangular shaft arrangement with cassette-type transmission makes the engine very short from front to back allowing for easier maintenance on the 6-speed transmission. A dual overhead cam (DOHC), 8-valve parallel twin with dual fuel injection provides a fine fuel mist to help keep the automatic fast-idle system alive for quick starting and easy warm-up nice for when youre in a hurry. The 650Rs high performance engine is tuned for mid-range performance making it a great choice for long commutes or an enjoyable day of riding on those long country roads.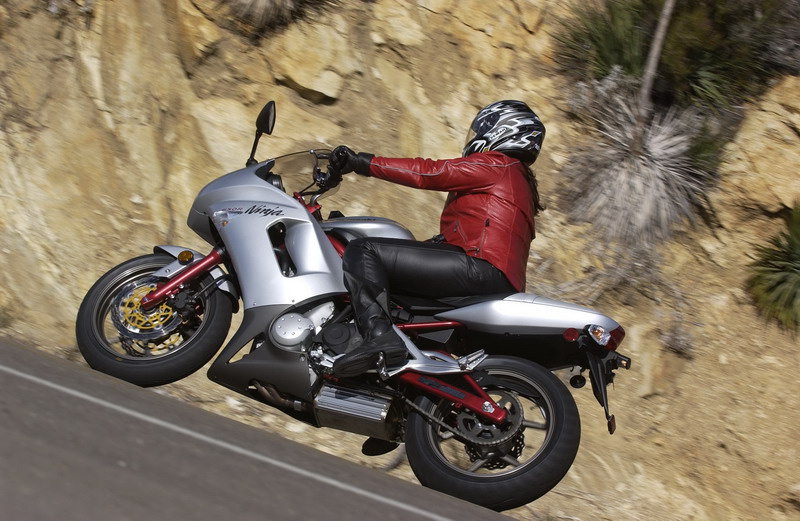 Its slim, minimalist trellis frame has a short wheelbase, which yields to quick, precise handling. A laydown single-shock rear suspension and a longer swing arm provides for greater stability and overall handling of the bike. The 30-inch seat height was perfect for me at 5 feet 7 inches allowing me to firmly plant my feet on the ground when coming to a stop.
The narrow seat provided good comfort, and I wasnt sliding around thanks to the textured seat cover. The added control gave me more confidence to flick the bike in and out of the turns, even along those tricky back roads.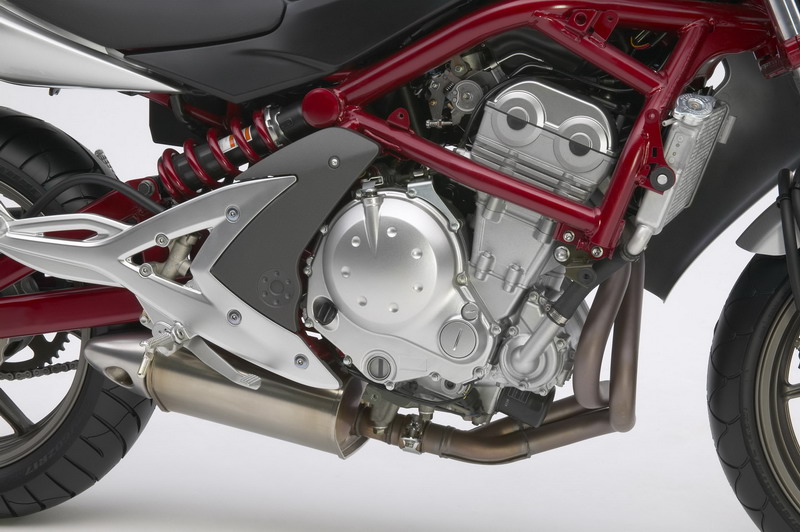 The bike has a very low center of gravity, something not commonly felt on a sportbike. This was due in part to the mounting of the exhaust pipe just below the frame. It has a 3-way catalyzer and uniquely shaped bullet-tip opening.
For stopping power, the 650R uses dual 300mm triple petal-style disc brakes with two-piston calipers in the front, and a single 220mm petal-style disc in the rear, similar to those found on Kawasakis racetrack-inspired ZX-6R and 10R. I found the 650R to be very responsive when coming to a quick stop.
Tight U-turns can be a bit of a challenge on sportbikes with a short wheelbase. They tend to have a wide turning radius. You can imagine how apprehensive I was executing a U-turn on a narrow two-lane road in order to be photographed riding back and forth. I was surprised to find the 650R had a nice, tight turning radius. I soon became an old hat at whipping the bike around managing the U-turn with ease.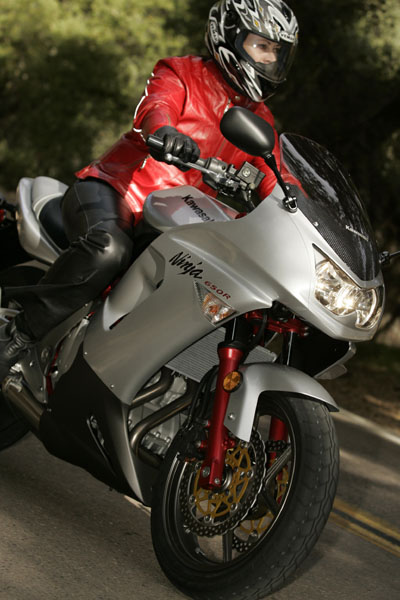 The 650R rides on 17-inch tires with 120/70-17 in the front and 160/60-17 in the rear. Staying true to the Kawasaki DNA, the aggressive headlight styling on the 650R is borrowed from the sporty Z1000, and the front turn signals are fully integrated into the fairing with clear lenses to further enhance the bikes frontal appearance. Another distinguishing characteristic on the 650R is the uniquely sculpted fuel tank, which holds 4.1 gallons of fuel.
I really appreciated the consistent output of horsepower on the 650R. When I found the need to twist the throttle for that extra rush of adrenaline and speed, the power was there and amazingly steady even at speeds of 100 mph out on the highway. (I hadnt planned to push it that hard, but I was catching up to some friends and before I knew it, the
speedo read 100. Yikes!)
The cockpit is easy to read on the fly and features an LCD display with digital readouts for the odometer, trip meter, and clock. The 650Rs lightweight, quick handling, low seat height, street savvy, agile design make this model an especially attractive choice for women motorcycle buyers looking for strong entry-level to middle-weight machine.
For more information, visit Kawasaki.com.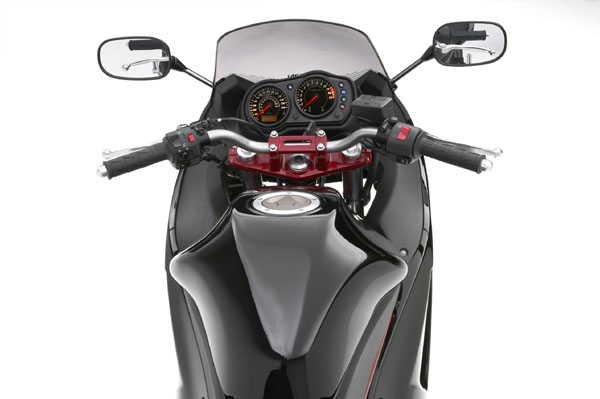 Specs at a Glance
Displacement: 649cc
Seat Height: 30 inches
Fuel Capacity: 4.1 gallons
Dry Weight: 392 pounds
Colors: Galaxy Silver/Metallic Graystone/Flame Persimmon Red, and Ebony/Galaxy Silver/Flame Persimmon Red
Price: $6,299
WRN Recommendation
This bike is suitable for confident beginners and expert riders alike. Dont let the 650 fool you. Its lightweight frame makes it ideal for flicking in and out of turns, and the horsepower is there when you need it. The seat provides enough comfort for a full day of riding. If youre looking for an economical way to get around, this model is ideal for commuting. And best of all, the price is right as a first, second or even third motorcycle in the garage.
About the Author
Teri Conrad is a freelance writer and photographer based in Southern California. Some of her publishing credits include: Iron Horse, Ride Texas, Women Riders Now, Biker Ally, Friction Zone, Adventure Sports Outdoors, Portrait of Achievement, and Accelerate magazines. She can be reached at celebritywriter@cox.net.