Kawasaki unveiled its all-new, completely redesigned-for-2009 Vulcan 1700 family in sunny Mill Valley, California, which includes the Classic and the Classic LT (for long touring). The routes were among Bay Area riders favorites: backroads through golden hills and the redwood groves to the Pacific Coast Highway. But the chaparral-lined twisties from Stinson Beach to the top of Mount Tamalpias provided a demonstration of the Vulcans surprising grace and maneuverability.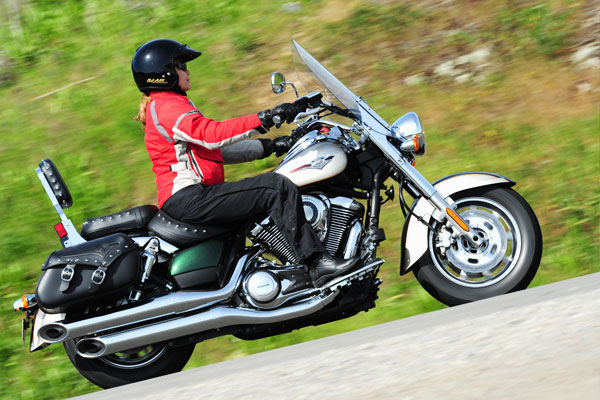 The redesign was in response to Vulcan 1600 owners who asked for a more compact bike with less weight and more power. I thought that it did indeed handle like a much smaller motorcycle and thats what most women riders want: an easy to handle motorcycle that doesnt act like a sissy but is powerful enough to play with the big boys.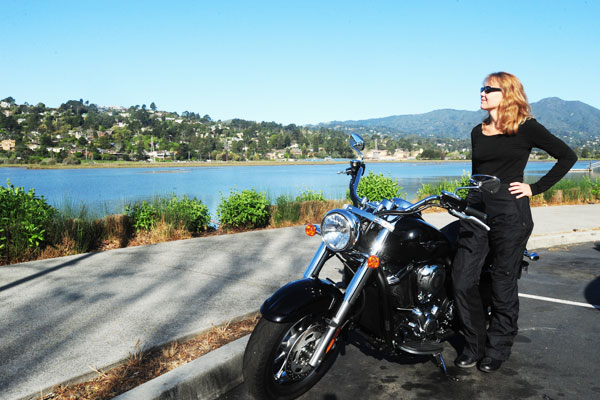 The four-stroke, liquid-cooled V-twin engine rumbles to life, but quietly, as if considerate of the neighbors. It shifts smoothly neither the Classic or the Classic LT I rode balked between gears even once. The heel/toe shifter takes some getting used to if youre not accustomed to using your heel to shift down (not usually up) into gears; and I liked Kawasakis exclusive "positive neutral finder" that means you dont have to play footsies with neutral. The clutch and brake handles are adjustable to accommodate even small hands, like mine.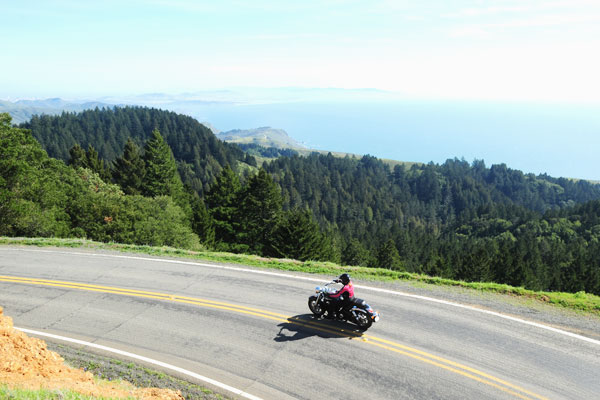 The Vulcan has more than plenty of power for quick acceleration, assisted by the electronic throttle actuation system that delivers instant satisfaction when you twist the grip. This and other next-generation features make for a super-high-tech machine hidden away behind the classic cruiser styling. Riders, male or female, who enjoy cutting edge technology, will appreciate what the Vulcan Classic has to offer.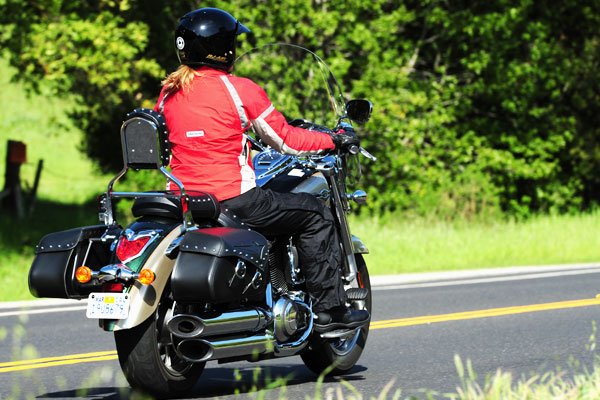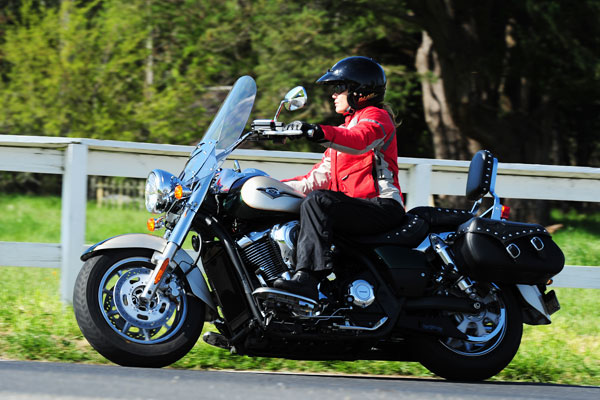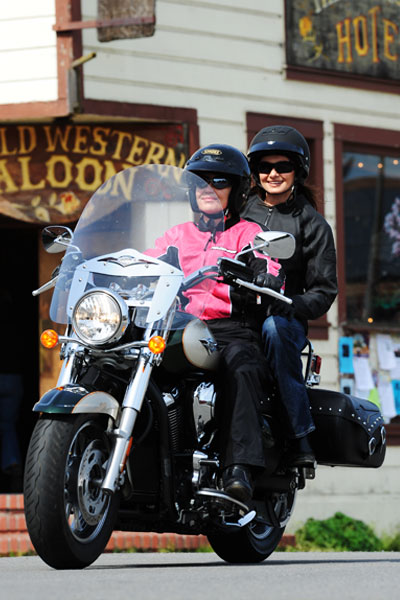 I was comfortable with the Vulcan because it responded to my whims without either lagging or trying to flip me off the back. I was able to relax and enjoy the scenery, which is exactly the point of cruising, no? I had to remind myself I was on a bike of this large an engine size.
On the two Classics, the instrument cluster is basic, providing only a fuel gauge and consumption metrics, an odometer with dual-trip meter, clock, and gear position.
The Classic LT adds two-tone paint, adjustable windshield, studded seats, studded leather saddlebags, and passenger backrest. Both of the Classics have twin-muffler styling thats sacrificed in the Nomad and Voyager in favor of saddlebag capacity.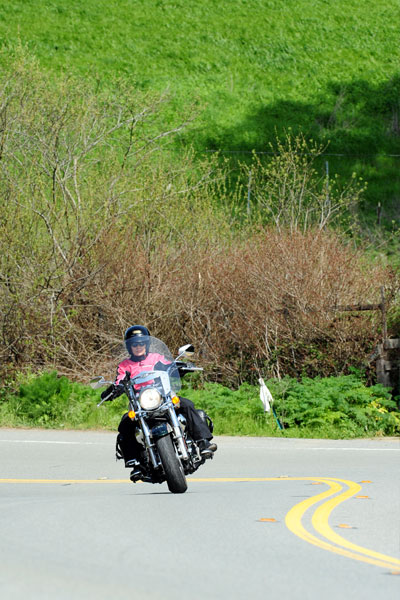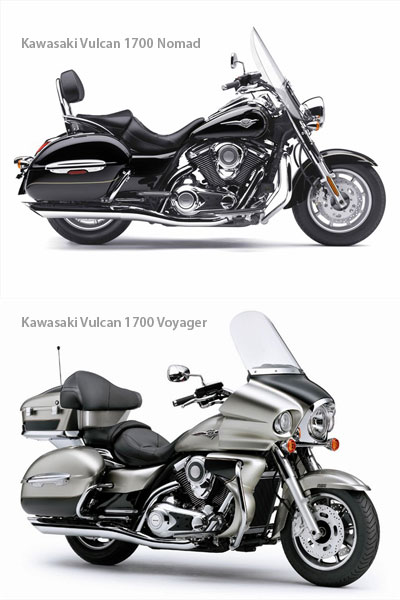 I think the Nomad is a great-looking bike. It retains a bit of the bad-ass attitude of the Classics but allows for long distance touring in plenty of comfort for folks who love motorcycle travel but arent ready to commit to a big "bagger."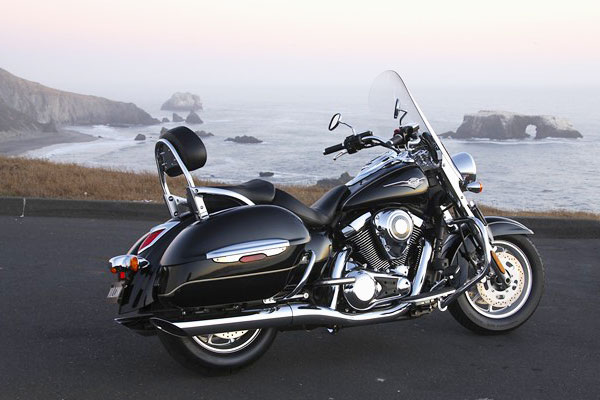 Now lets spend some time on the Voyager, because this is the bike that couples are going to want for long-distance touring with maximum comfort. First of all, its worth noting that the Voyager is the industrys first metric (Japanese-made) V-twin full-dress touring motorcycle and, as such, competes with Americas popular Harley-Davidson and Victory V-twin baggers.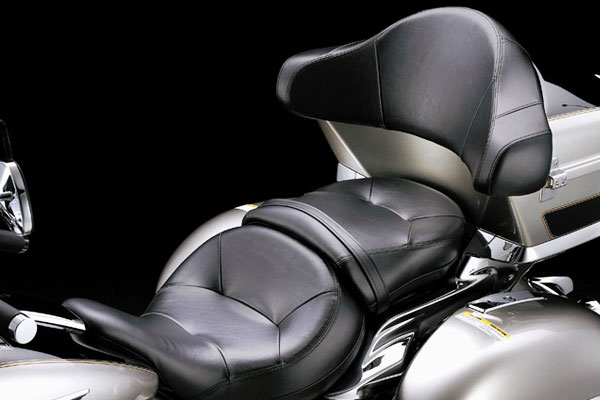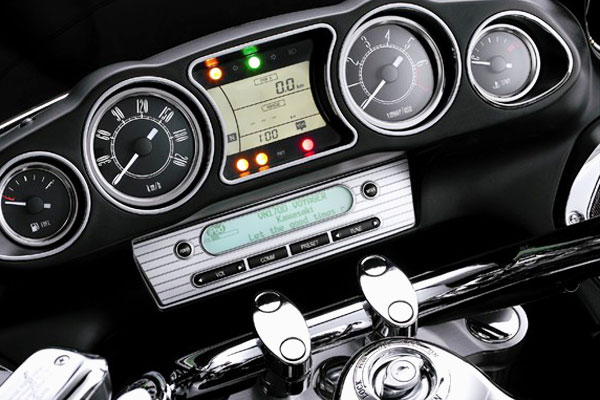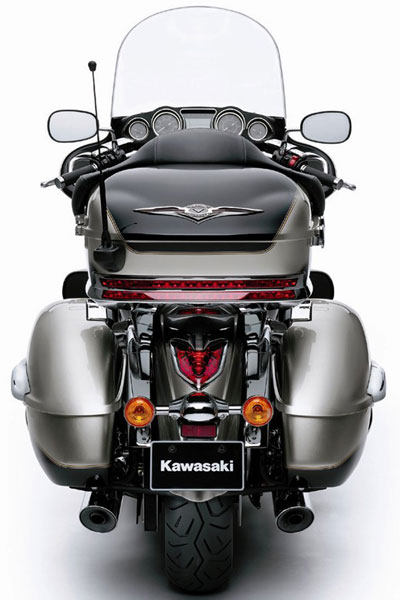 The only complaint in the list of features is that it doesnt include the tire pressure monitor that Kawasaki thoughtfully included in its Concours 14 sport touring motorcycle.
Available as an option for the Voyager is K-ACT ABS "smart" braking: "Kawasaki Advanced Co-Active Braking Technology," a confidence-inspiring feature for riders navigating unfamiliar terrain on the big bike.
Warranties range from 12 to 38 months with a protection plan available that can add up to 36 additional months.
WRN Recommendation
The Vulcan 1700 family offers ideal choices at, what we think, are ideal prices, for experienced riders who want to move up to a big V-twin cruiser. The Classic is great for short runs and day-tripping and additional features on the Classic LT make it suitable for multi-day trips or longer if you're riding solo. On the Nomad you could comfortably ride two-up for weeks, but the Voyager is the ultimate for leisurely two-up cross-country journeys.
Specs at a Glance: 2009 Kawasaki Vulcan 1700 Family
Displacement: 1700cc
Fuel Capacity: 5.3 gallons
Classic
Weight: 760.7 pounds
Seat Height: 28.3 inches
Price: starts at $12,299
Nomad
Weight: 833.5 pounds
Seat Height: 28.7 inches
Price: starts at $14,399
Classic LT
Weight: 798.2 pounds
Seat Height: 28.3 inches
Price: starts at $13,799
Voyager
Weight: 886.4 pounds
Seat Height: 28.7 inches
Price: starts at $16,799
Price with ABS $17,899
About the Author: Carla King is a long-distance touring motorcyclist who travels to exotic places and writes about it. Her Motorcycle Misadventures series includes stories about trips in America, China, India, Europe, and soon, Africa. You can buy her book (reviewed on WRN) and read her dispatches on the web at CarlaKing.com.