Looking cool, being seen, wearing the attitude we all know the types that cruise the boulevards on chopped, custom motorcycles that seem to wear more style than steel. Now Harley-Davidson has made entering that club of cool easy with one of its latest Sportster models, the XL1200X Forty-Eight.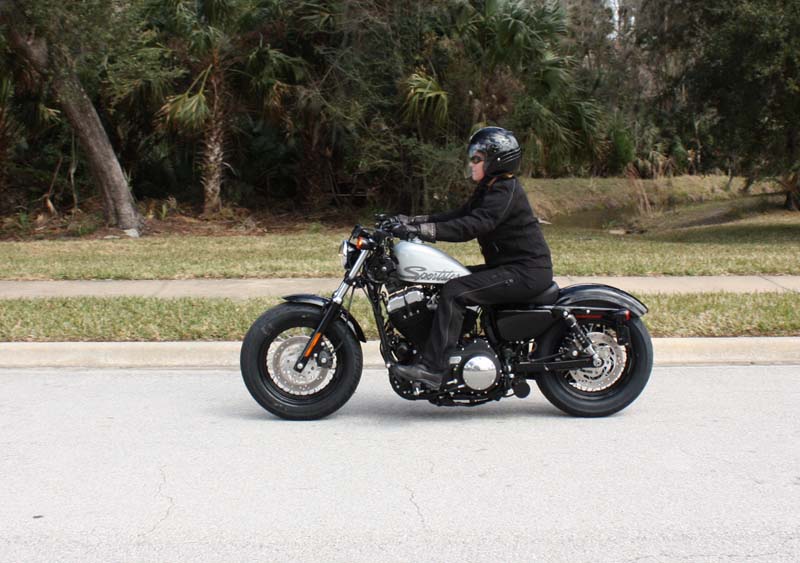 The Forty-Eight ranks as the newest member of Harley-Davidsons Dark Custom family, a line-up of motorcycles that eschews traditional shiny chrome and instead wears dark, matte finishes. The Forty-Eight offers its rider all the bad-ass attitude of a hard-riding, chopped custom but without the work (and extra dollars) usually involved to perform that two-wheeled transformation.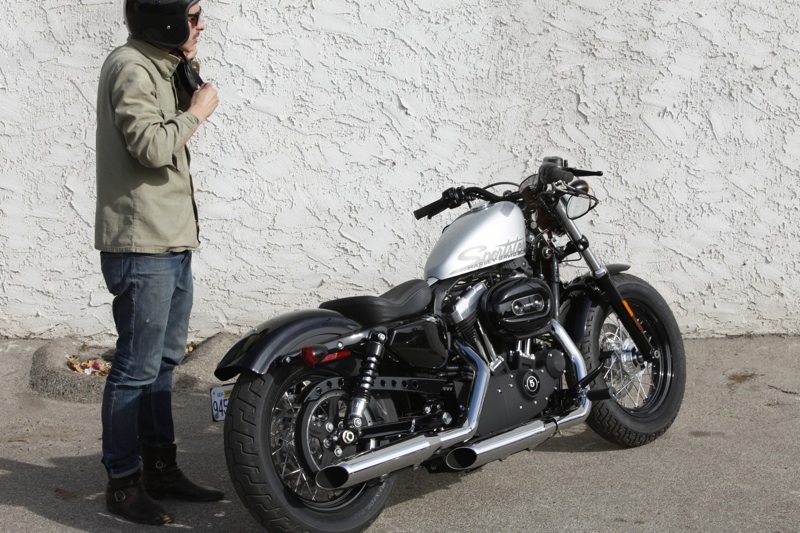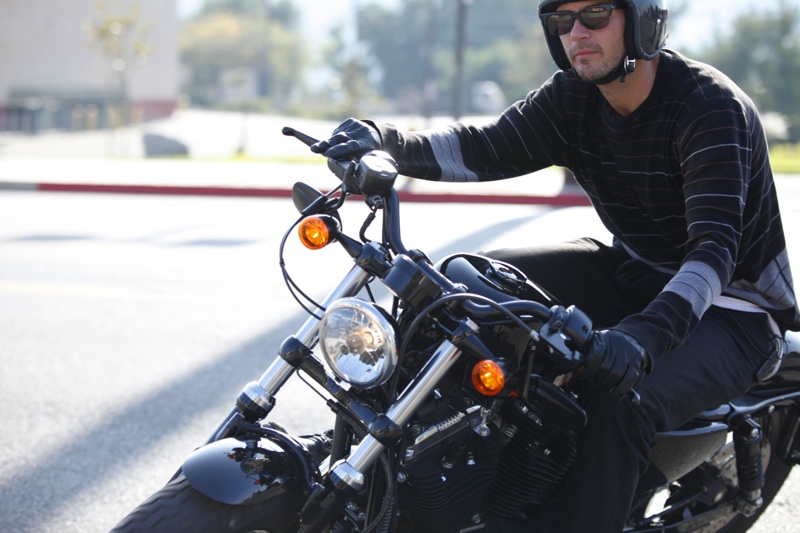 The Forty-Eight alters the typically slender, athletic body of a Sportster into what Harley-Davidson calls a "bull dog stance," broad shouldered at the handlebars and narrow and low at the rear. The bikes key feature is the return of the famous (or infamous, depending on whether you ever ran out of gas while riding one) peanut gas tank, a small 2.1-gallon fuel tank that many Sportsters still wore even until the last decade. This iconic attribute first appeared on a Harley-Davidson in 1948, hence this motorcycles name. The Sportster Iron, Nightster and 883 Low now have the larger peanut style tank that holds 3.3 gallons.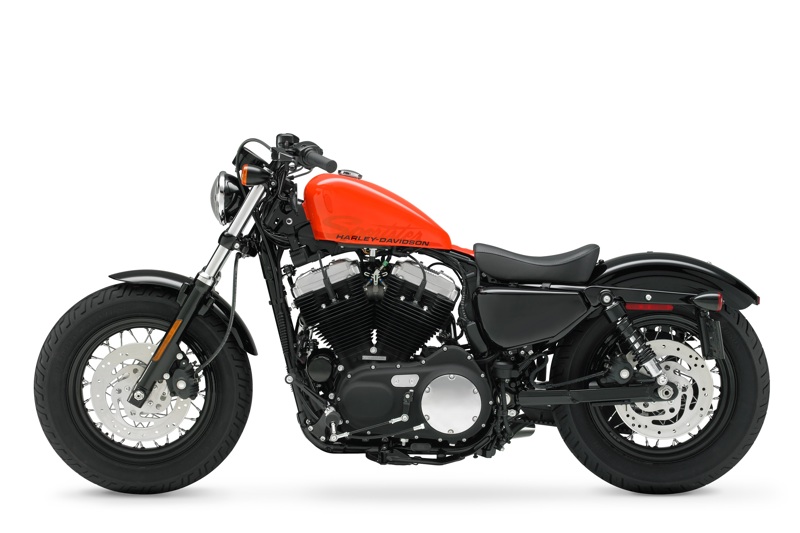 Additionally, the Forty-Eight wears a wardrobe of custom accessories. It uses a profile custom handlebar that sits low and wide in front of the rider, topping a newly designed front fork to accept a fatter front tire and wide triple clamps not found on the other Sportsters. A slammed suspension brings that rear-end even closer to the ground and makes for a seat height of just 26 inches. For comparison, the next lowest Sportsters are the Nightster (1200cc) at 25.3 inches, and the Sportster 883 Low at 25.3 inches.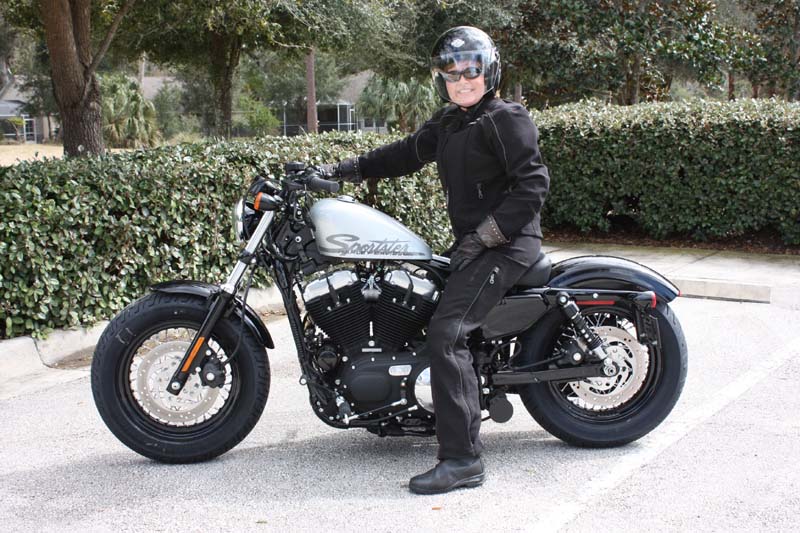 The 1200cc rubber-mounted Evolution V-Twin motor wears a blacked-out finish topped with polished engine covers. The chopped front and rear fenders let the eye more easily see the 16-inch black, laced steel wheels and tall, fat front 130mm tire and fattish 150mm rear rubber. The fat tire in the front is one the most noticeable features setting the Forty-Eight apart from its Sportster sisters. For comparison, the front tire size on the Sportster 883 Low is 100mm.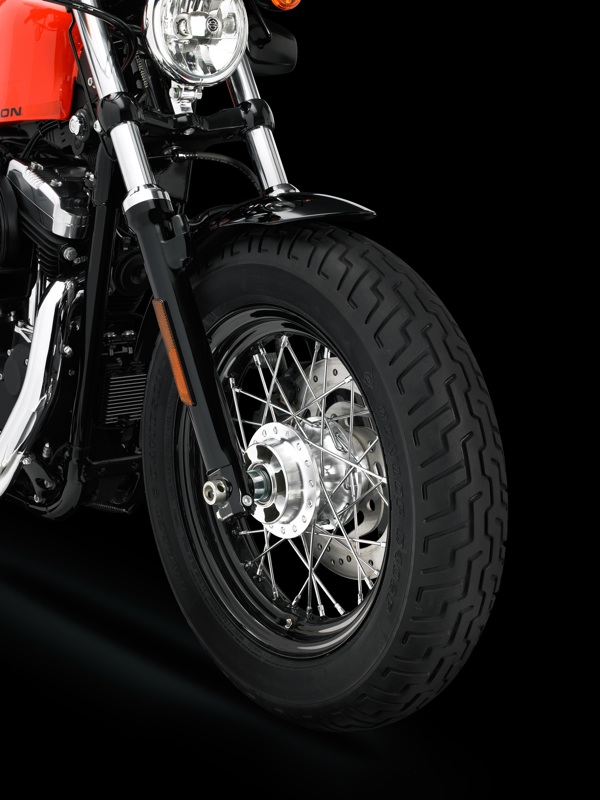 A closer look reveals further custom detailing. Black rearview mirrors mount under the handlebars, and a small solo saddle further enforces the attitude that these riders of the Forty-Eight prefer to go it alone. The license plate bracket is positioned on the bikes left side (rather than on the rear fender), and one rear light cleanly shares the tail light/turn signals/brake light duties.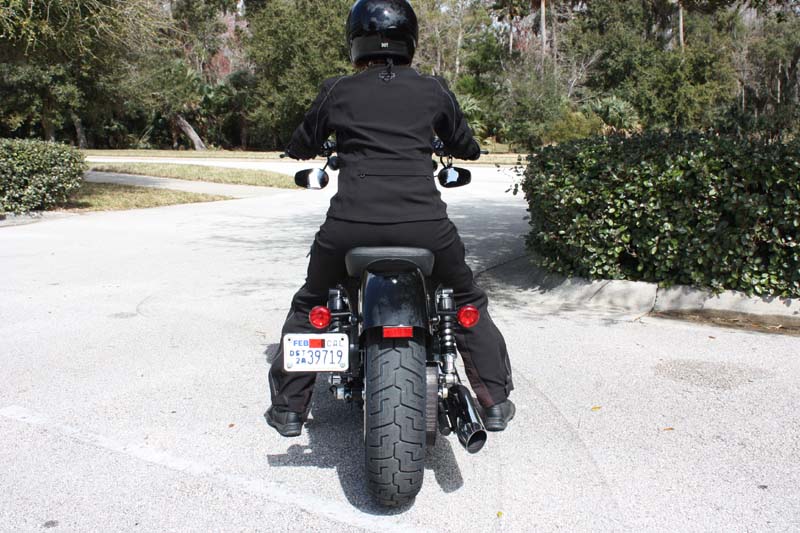 Harley-Davidson has created what it calls "lightening holes," circular holes punched out of the fork brace, fuel tank mounting bracket and belt drive guard that add a decorative, custom flourish. Black finishes dress the air cleaner cover, clutch and brake levers, and turn signals. Dark, menacing the Forty-Eight squats like a muscle-bound bully just waiting to pick his next fight.
| | |
| --- | --- |
| The signature lightning holes on the belt guard. | The lightning holes are also found in the fork brace above the fender. |
However, most of the menace disappears when you throw a leg over this bad boy and fire up his engine. Fuel injection makes for a quick response from the motor when you hit the start button and the bike settles into a relaxed rumble humming from its chrome, shorty dual exhaust with slash-cut mufflers. The Forty-Eight weighs 567 pounds fully fueled, but it wears its beef low to the ground, which, combined with that low 26-inch seat height, makes it easy to bring up off the kickstand.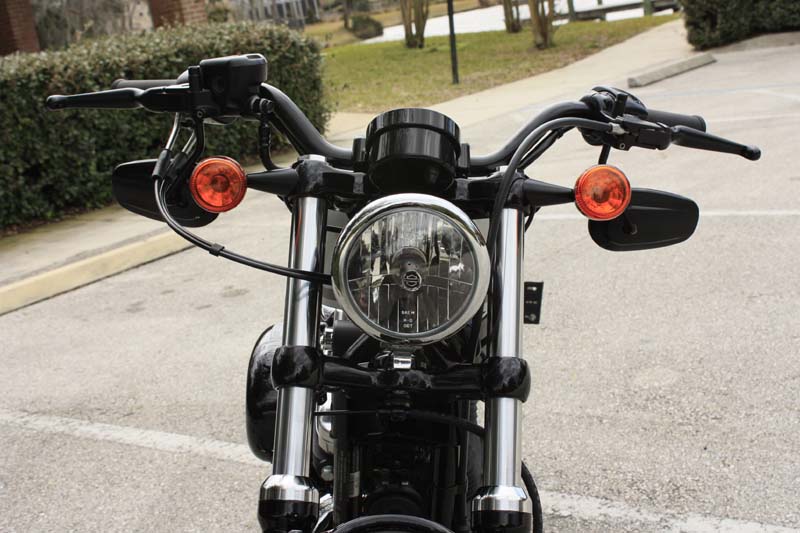 The forward foot controls and wide, low bars required me to lean toward the front of the bike a bit, resulting in a clamshell posture that though some think looks cool usually results, for me anyway, requiring a handful of Ibuprofen after a long day in the saddle. However, unlike many forward-control cruisers, the brakes and shifter were within a comfortable reach of my 29-inch inseam and the handlebars, though set forward, allowed me good control, especially in tight, slow turns.
Harley-Davidson claims the Forty-Eight produces 79 foot pounds of torque and you feel that in the seat of your leathers as you clunk the transmission through its five gears and squeeze its light-to-pull clutch.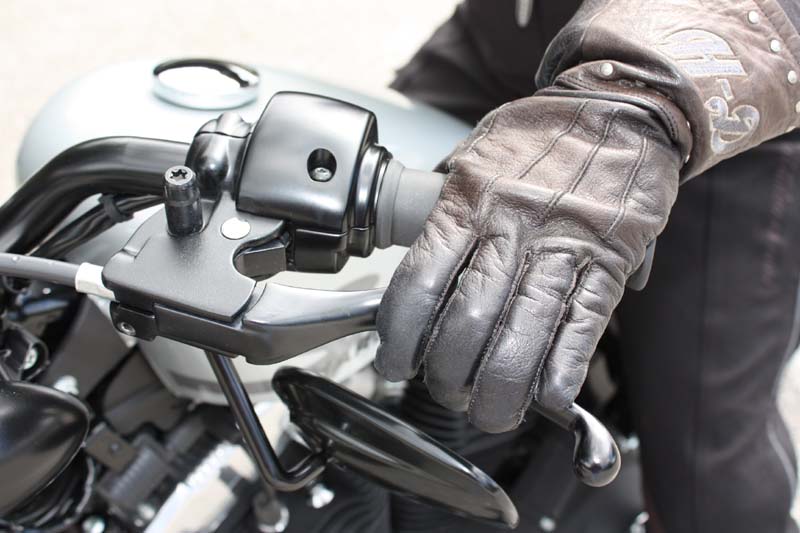 Though it looks brawny, the Forty-Eight performs more like a running back than a tackle, nimble, quick and responsive, sensitive to rider inputs, downright friendly to ride. Dual-piston front and single-piston rear brakes adequately slowed the bike from speed. The beneath-the-handlebar mounted rearview mirrors actually provided an excellent view of the road just traveled, once I quit panicking over not having mirrors and remembered they really were on the bike. I just needed to look for them in a different spot.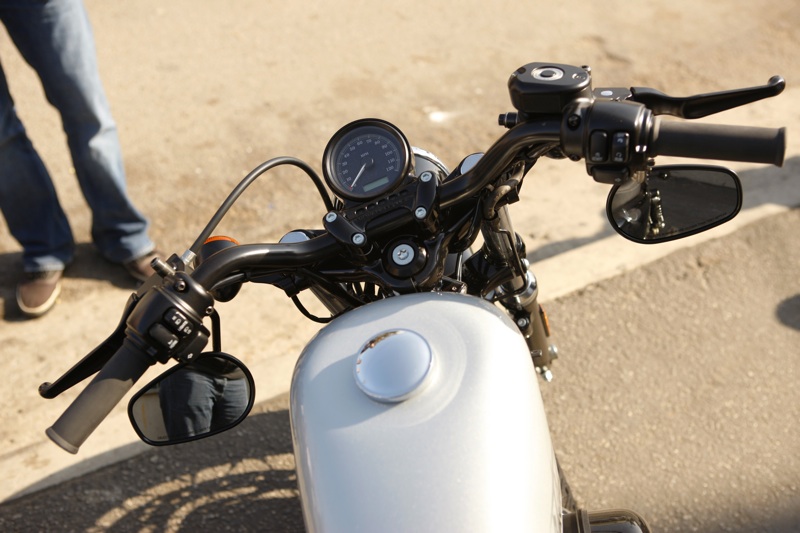 The only trace of menace the Forty-Eight exhibits comes when you hit the bump. The slammed suspension, which gives a mere 3.62 inches of front travel and a wimpy 1.63 inches rear travel, lets me know this bully is all muscle with no soft heart. That, coupled with a noticeable vibration while traveling highway speeds that renders the mirrors useless, means this bully behaves better cruising the boulevard or byways as opposed to highways.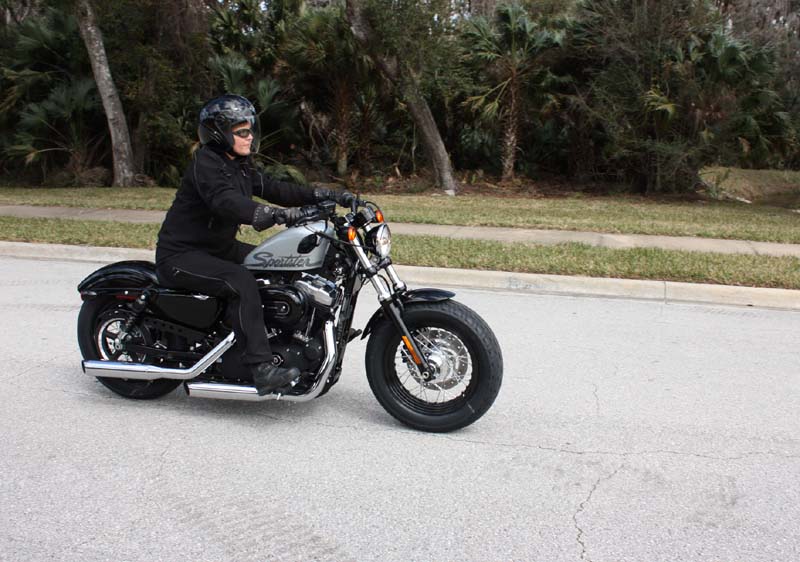 The 2.1 gallon peanut gas tank reinforces that notion that even with an estimated 57 mpg highway, the Forty-Eight will barely make 120 miles before getting thirsty. A long-haul ride this isnt, unless you dont mind frequent gas stops.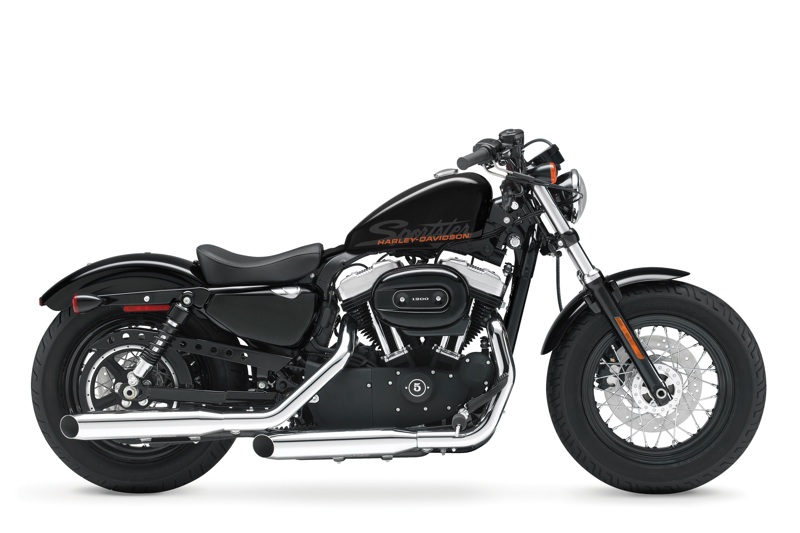 What price cool? The Harley-Davidson XL 1200X Sportster Forty-Eight isnt a bike bought for practicality. Its brawny persona is all about attitude, and that it delivers with a knockout punch. It retails for $10,499 in Vivid Black, and $10,789 for Brilliant Silver Pearl or Mirage Orange Pearl.
What price cool? The Harley-Davidson XL1200X Sportster Forty-Eight isnt a motorcycle bought for practicality. Its brawny persona is all about attitude, and that it delivers with a knockout punch. It retails for $10,499 in Vivid Black, and $10,789 for Brilliant Silver Pearl or Mirage Orange Pearl.
Specs At A Glance: 2010 Harley-Davidson XL Sportster Forty-Eight
Displacement: 1200cc
Seat Height: 26 inches
Fuel Capacity: 2.1 gallons
Weight: 567 pounds (running order)
Price: $10,499 black, $10,789 colors
WRN Recommendation:
The Sportster Forty-Eight is a fun, nimble, easy to ride motorcycle, not something you might consider because of its chopped, "bad" bike styling. But dont let looks fool you. With its low seat height and center of gravity, the Forty-Eight has appeal, especially for smaller riders. Top that with its truly custom looks and you have a package of performance and attitude not found in many other motorcycles at this price. However, consider the type of riding you want to do if looking to purchase the Forty-Eight. Its short suspension and small gas tank impose limits that might not be acceptable to some riders.
Related Articles
Reader Review: Sportster Iron
All Harley-Davidson Reviews on WRN