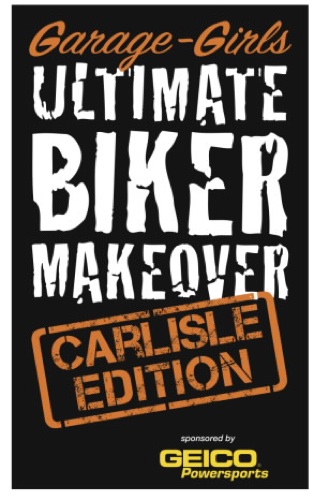 At the 2009 Carlisle Bike Fest, held July 17-19 at the Carlisle, Penn., Fairgrounds, two lucky motorcyclists will win biker makeovers from the Garage-Girls, Sara Liberte and Jody Perewitz. One lucky grand-prize winner will not only get a personal makeover but will also win a makeover for his or her motorcycle to boot. The concept is simple: take Extreme Home Makeover for a person, in this case a biker (male or female) combine it with Pimp My Ride (a custom car makeover show) and bring it to one of the largest motorcycle events in the country. Then have two experienced and well-known women in the custom motorcycle industry host, judge and conduct the makeovers and youve got yourself the Garage-Girls Ultimate Biker Makeover, Carlisle Edition.
Contestants must submit an essay of 200 words or less describing why they are most in need of a biker makeover. In addition, they must submit a photo to bikermakeover@garage-girls.com by May 15, 2009. Submissions will be narrowed down to a few finalists, and then narrowed down to the final three via on-line voting at Garage-Girls.com and CarlsileEvents.com. Two winners will be selected for the Rider Makeover, including all-new gear and accessories with one grand-prize winner, who will win the Ultimate Biker Makeover. Winners must be present at the Carlisle Bike Fest on Saturday, July 18th to collect their prizes. Winners will receive killer new riding gear from Icon including jacket, helmet and gloves, a new pair of riding boots from HD-Footwear, a case of Spectro motorcycle oil, Wizards Cleaning Products, Pink Partz Clothing, and a year subscription to IronWorks Magazine. And this is just the tip of the iceberg as a lot more prizes will be given away as well as way parts and accessories for the lucky winners motorcycle.
For more information, rules, eligibility and submission procedures, visit Garage-Girls.com or CarlisleEvents.com.