Get Involved With the Conga Ride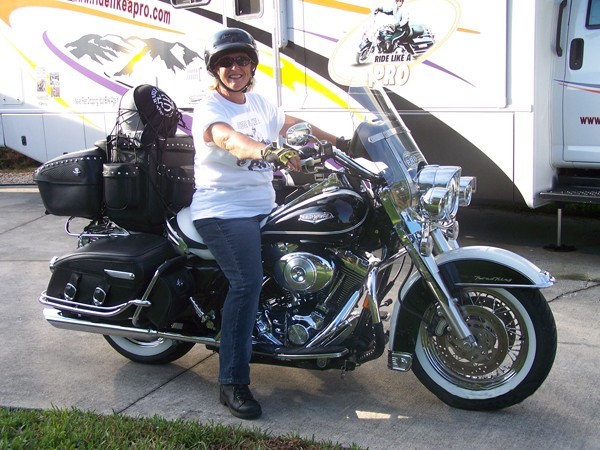 This May, Tannis Fuhr is leading the way in a unique ride that picks up riders along the way that shes dubbed the Conga Ride. Tannis, or Flo as shes known to her friends, will start her ride in Tampa, Florida, heading all the way to Vancouver, Canada, to raise money for breast cancer research. Flo is teaming up with Donna Palladino of Ride Like A Pro as well as the Vancouver Island lady Riders, and dozens more with a goal of raising more than $10,000 for the Breast Cancer Foundation. Flo and the rest of the Conga team are selling T-shirts and pink helmets to raise the money, in addition to pins, bracelets, and Shays Helmet Hair goodies.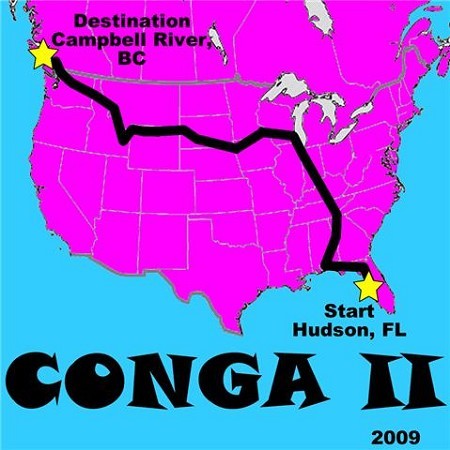 Flo started this Conga ride in 2008 when she traveled to Florida to buy a motorcycle from Donna Palladino. Through her online blog and forums, she communicated that she was riding her new bike back to Canada and asked if anyone wanted to join her along the way. Lots of people turned out to ride alongside her as traveled the 5,000 miles back to Canada. Hence the Conga ride was born. This year, shes doing it again but this time raising money for charity. Check out her blog, or the ride planning forum to find out more about "Go with the Flo." If you would like to donate to the Breast Cancer Foundation through the Women Who Ride Conga II Reunion, visit their First Giving page at FirstGiving.com/WWRConga.
An Incredible Arctic Motorcycle Journey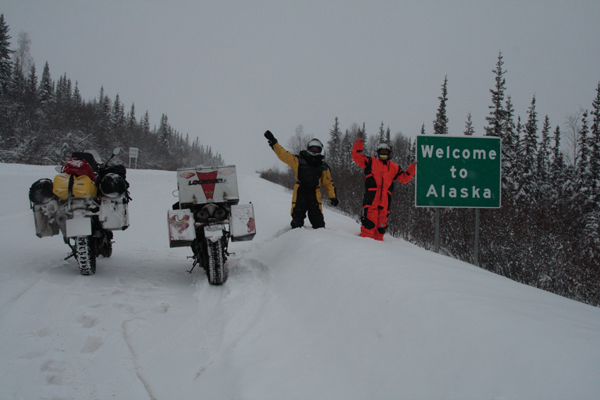 Congratulations to Doris Wiedemann who just accomplished a motorcycle trip we dont think any other woman has ever done. On March 2, she arrived in Deadhorse, Alaska, the northernmost point in the U.S. located at Prudhoe Bay on the coast of the Arctic Ocean in the middle of winter. This is as far north as one can travel in the North American continent. The Dalton Highway ends here.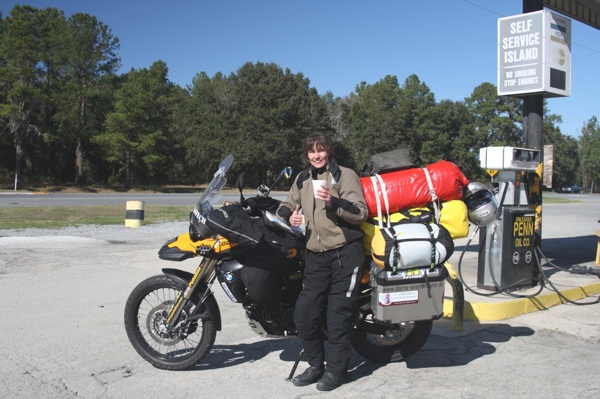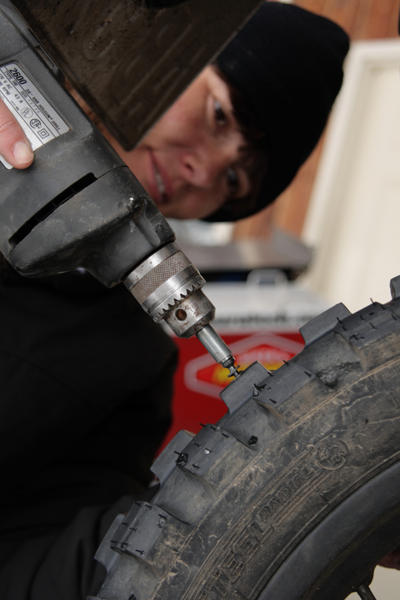 In January, Doris with her riding companion, Sjaak Lukassen, started in Key West, Florida, the southernmost point in the U.S. with a goal of reaching Prudhoe Bay,the northernmost point. She rode her BMW F 800 GS. When they started out, her dashboard read a pleasant 82 degrees. In Fairbanks, she fought snow and frigid temperatures at around minus 20 degrees Fahrenheit.
In order to brave the cold and snow, Doris had to get creative. Here she is outfitting her F 800 GS with self-drilling tire studs to make it through the deep snow and slick ice. She and Sjaak both wore full winter clothing designed to protect them from the coldest of temperatures.
Check out their incredible journey at Doris Web site, DorisWiedemann.com.
Winning Trophies for her Custom Motorcycle
Way to go to Margaret Nicastri of C and C Cycle for winning this years Upgrade Class in the Metzeler Custom Bike Show at the 2008 Sturgis Motorcycle Rally. Margaret and her partner, Roy, customized a 2004 Harley-Davidson Ultra Glide Classic Electra Glide with a 103c.i. Screamin Eagle engine, Metzeler 200mm tires, and a Fat Bagger lower fender, not to mention a great paint job. Visit candccycle.com to check out this bike and other customs.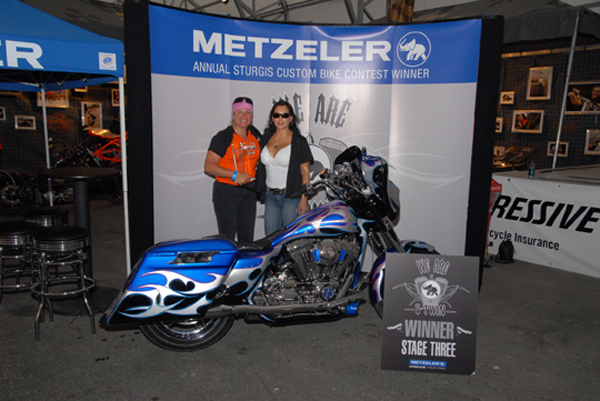 Margaret and Roy have been in business for 25 years as a Big Dog Motorcycles service center, custom bike shop, and Harley-Davidson retailer. Margaret has been riding for more than 25 years. Her custom bike also took second place at the Rats Hole Custom Bike Show at Daytona Bike Week 2009.
She Won Her Dream Bike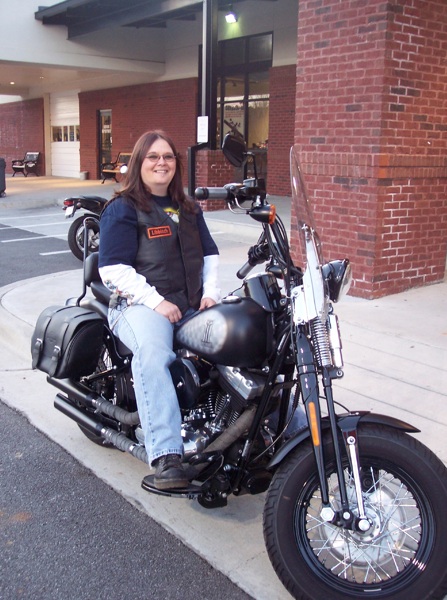 Congratulations to Libby Hitchcock of Dallas who won the Harley-Davidson "Build It and Win It" contest. After building her dream bike online at Harley-Davidson.com/customizer, Libbys name was drawn to win the grand prize which is the actual motorcycle she designed for herself on Harley-Davidsons customizer Web site a 2009 Softail Cross Bones installed with more $4,500 of custom options including Harley-Davidson exclusive paint, and numerous decorative and functional accessories. The local dealer, Cartersville Harley-Davidson, provided the delivery and installation of the prized motorcycle on Saturday, January 31.
"Ever since the Cross Bones came out, I have lusted after it," Libby said. On choosing the Chisel Custom Grind Collection paint set and other black accessories she said, "The bike looked old school and was crying-out for that black matte finish." She plans to put on as many miles as soon as possible, especially since riding has been a life-long passion of hers. She grew up riding with her grandfather and father who both worked at Harley-Davidson dealerships in Georgia. But after taking her Rider's Edge course she got her own official license in November of 2007.