Inspired by off-road bikes, Stelvio 1200 4V, Moto Guzzi#8217;s maxi-enduro, breaks the traditional look of models in this market segment with a unique new design. Slender and streamlined below highlighted by aluminium spoke wheels, and compact up top with care taken to obtain ergonomic comfort for the rider and passenger.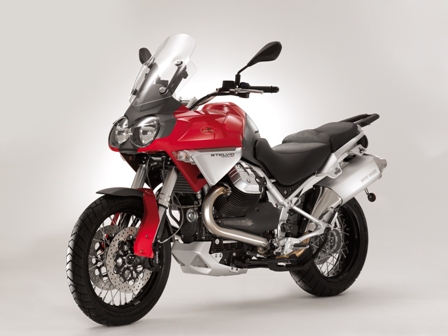 Features include a double front headlight assembly, adjustable windshield and adjustable seat, an aluminium exhaust silencer, a glove-box with unlocking control on the handlebar, and 18 liter fuel capacity. This new design is built around the #8220;quattrovalvole#8221; (four-valves) version of Moto Guzzi#8217;s 90 degree transversal V-twin engine
The Moto Guzzi Stelvio is scheduled to reach U.S. dealerships in August of 2008, and will be available in red and black. MSRP will be $14,990.