Yesterday while watering my yard, I found a baby bird that had fallen from his nest, struggling for his life. I live on more than an acre of land, and there are at least a dozen bird nests hiding in the corners of my Spanish-tile rooftop. Every spring there are several casualties. I find little splattered eggs and little dead babies ranging in all sizes. But when I find one still alive and struggling for his life, I feel like I have to try to help him with his struggle.
So I spent the better part of yesterday putting together a birdhouse, and scooping him into it. I put it up on a ledge near the hole his parents go in and out of, and left the top open so they could see him, and get in easily without being intimidated. I gave him drops of water every couple of hours so that he wouldnt dehydrate. I put him next to my bed during the night, so he wouldnt be cold. And I covered him up with a little Indian blanket, because he only had a few feathers, and was mostly bald. He just looked so fragile and cold.
I made 18 phone calls to shelters that really didnt care much about my little sparrow. Finally, with one of them, I was directed to a man named Tristin, who in his retirement, rescues and rehabilitates birds and wildlife. This kind man took the time to counsel me on what to do, and if it failed, I could bring him the baby bird. He said I was giving him too much water; that it could actually drown him.
Well, I am sorry to report that my baby bird just went to heaven. And here I am, Betsy, the badass biker chick, burying my dead baby bird with a heavy heart. But I have learned how to better care for the wild creatures I find in the future, and will save Tristins number who actually cares, and just called back to see how me and the little guy were doing. How sweet is he?
So what does my bird story have to do with motorcycles? Well, this past weekend I was part of the "Broc Glovers Easy Breathe Ride Against Cystic Fibrosis," which if you have not read my previous article leading up to the ride, was organized and put on by my childhood friend Bryan Wagstaff. Bryan and his wife, Ari, began the Trinity Nation Motorcycle Ministry, and collaborated with Broc, an AMA motocross champion just three short months ago to create and hold this first time fundraising event.
Broc has a 6-year-old son named Dayne, who was recently diagnosed with Cystic Fibrosis. Dayne was our ride ambassador. The ride was created to bring a heightened awareness about the disease, and raise funds to help those families living with it, and contribute to the hope of one day finding a cure. Unlike my baby bird struggling for his life on the ground, a child afflicted with Cystic Fibrosis can look like a healthy and normal child to the outside world. Yet each and every day of his or her short life is a struggle.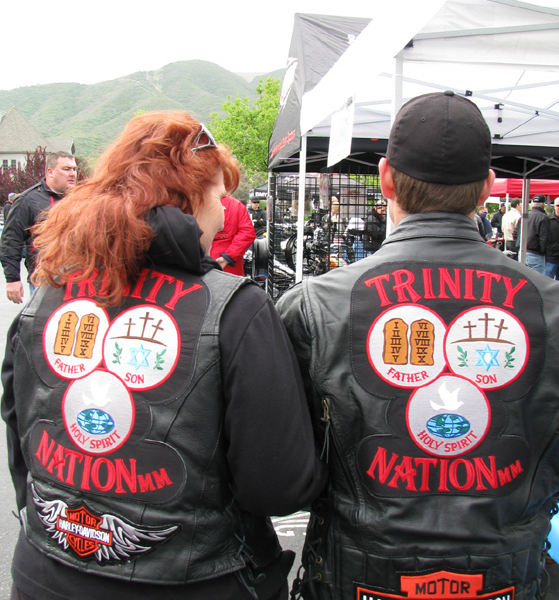 Cystic Fibrosis attacks the lungs and causes difficulty in breathing. It also affects the childs ability to adequately process nutrition, causes poor growth, and makes weight gain difficult. Ultimately, the childs life is very fragile, and is in constant danger of becoming deathly ill, and losing his life at a very early age.
I had the heart-breaking pleasure to meet several beautiful children with CF at the event. But I cannot quite encompass the pain a parent must experience watching his or her beautiful child being run down by the suffocating effects of this torturous disease. I was lucky enough to ride most of the day next to the rides co-ambassador Landon Skeoch, a 15-year-old afflicted with CF. He was riding shotgun on Bryans trike leading nearly 400 riders who came out to show their support on Sunday despite the chilly temperatures and the heavy marine layer. Every time I looked over at Landon he was smiling back at me checking out my bike, and the beauty of the mountains.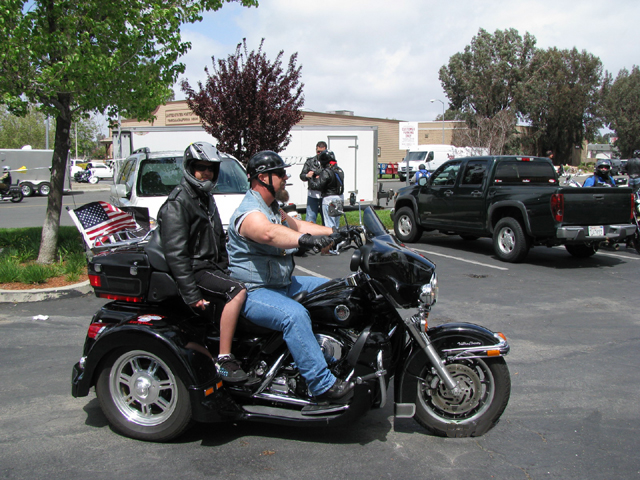 Cystic Fibrosis literally takes their breath away, but the strength and courage of these beautiful kids took my breath away. Every one of these beautiful children helped create a day of heartfelt magic. They were there with their families enjoying the music, food, motorcycles of every make, and the great energy of the crowd. It was a small but meaningful gathering of family, friends, and people who really cared.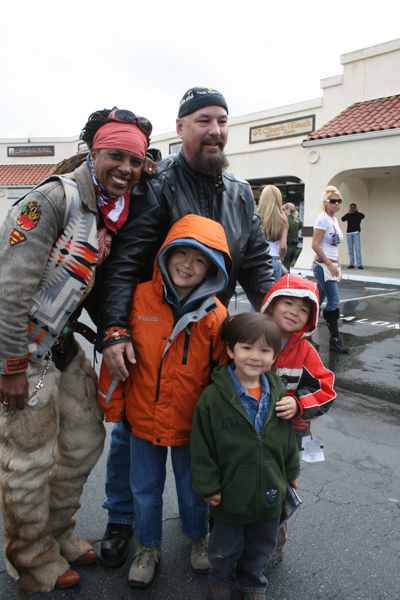 There were children running around everywhere, laughing, and playing although children afflicted with CF cannot play with other children who have the disease. They are at a high risk of putting each other in danger, as they can contaminate one another with germs that dont affect you or I. So, something as simple as breathing, which most of us never give a second thought to, is the number one daily concern of the entire family of a CF child. But that didnt stop these families from coming out and enjoying the day.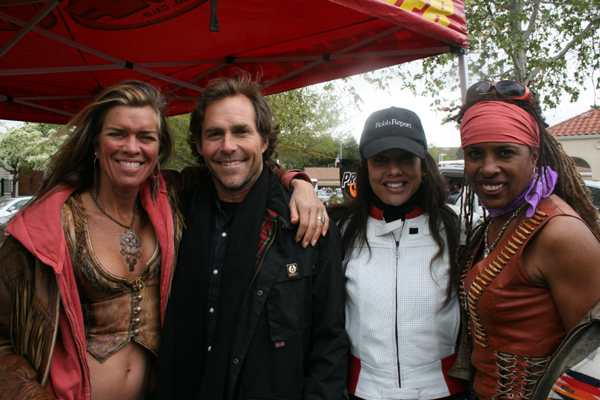 There were as many sportbikes as there were Harleys, and some serious riders to go with them. The crowd was filled with guys who have won world championship races in all categories. In all my years of riding, I have never had the honor of sharing the mountain roads with the likes of Broc Glover, Jeremy McGrath, Danny LaPorte, Micky Dymond, Brad Lackey, Mike Bell, Roger DeCoster, Rick Johnson, and Eddie Lawson – all champion riders. And they let a couple of girls on Harleys lead the ride! A more handsome gathering of humble men I have never known!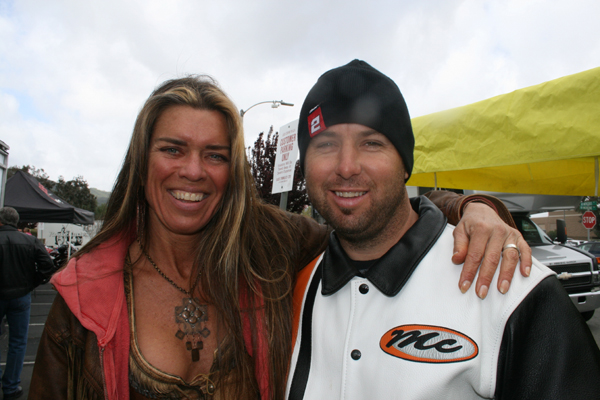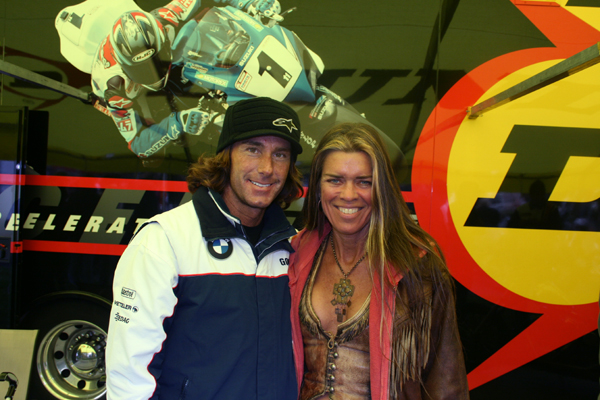 The day began with fruit and bagels, as people straggled in through the dark, cold clouds. The temperature peaked at 58 in the sunny afternoon, but bit us hard on the top of the mountain dipping down to 38! I dont remember being that cold on Mt. Everest! We all gathered at the parking lot of the "Slap n Leather" shop in old town Temecula. I had never even been to this little old town with sidewalks made of railroad ties, lots of charm, old antique shops, trading posts, and Indian casinos.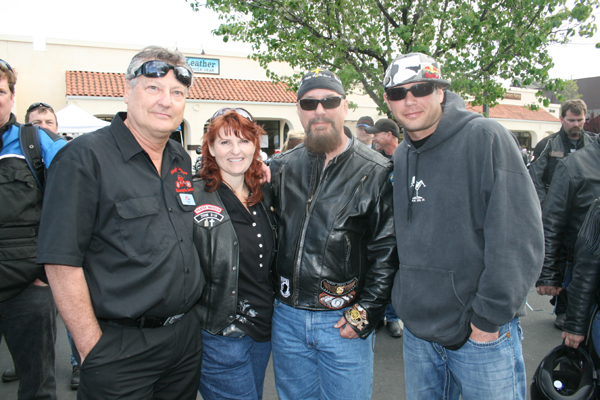 My friend Gevin Fax and I had stayed overnight at my friend Bryans mountaintop compound, which actually looked down at the thick marine layer as if from Heaven. But as we wound our way down the mountain and into town, the clouds began dissipate. By noon, the weather was looking promising, and a pretty good number of bikes turned out for a first year event, with only three months of planning under its belt. With its success, the hope is to make it an annual, national event and a success it was.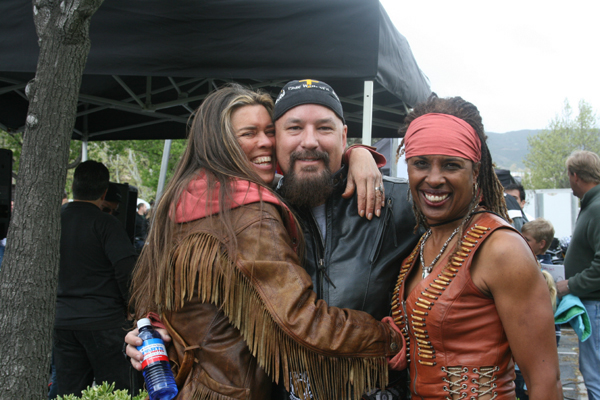 The whole beautiful Glover family was there on stage talking with the emcee, Larry Huffman, the legendary "mouth of motorcycling." Larry continued on to bring up the many celebrity racers, who talked about their days of racing motocross.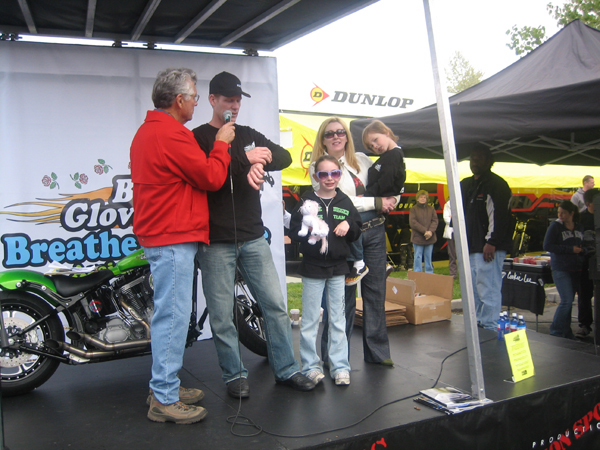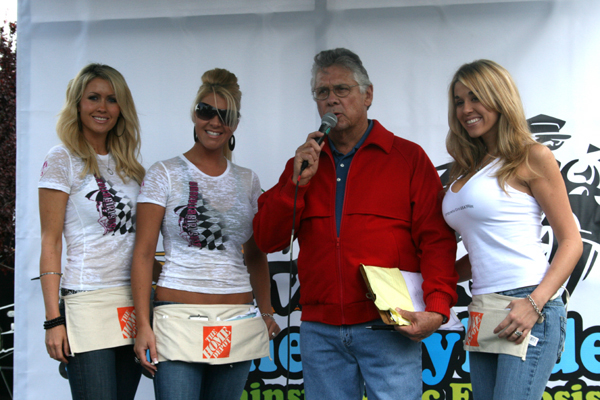 In addition, they brought out the Harley-Davidson that was donated by Justyn Amstutz for auction, and that Jesse Rooke had customized with contributions by Roland Sands. Roland also brought one of his custom bikes for my friend, writer and stuntwoman, Brenda Fox to ride. And my friend Kiwi Mike rode in on the old Indian he built for Jesse James. Gevin took the stage and mesmerized the crowd by singing her soulful rendition of the national anthem then we were off!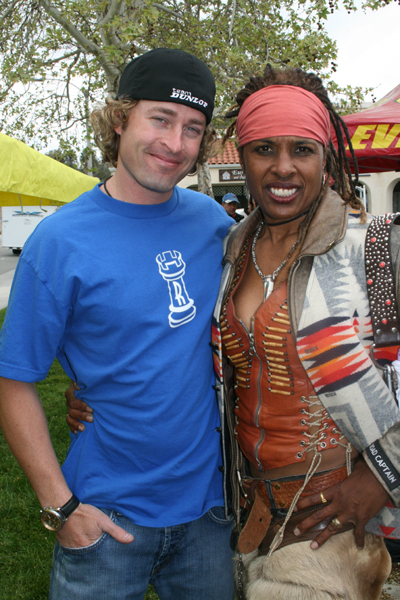 Unlike the bigger motorcycle fundraisers that stick to freeway riding because they have to worry about crowd control, we hit 100 miles of serious winding mountain roads. The ride offered two different routes which if I had I paid attention, I might have chosen the direction of lower elevation, and warmer temperatures. But because I did NOT pay attention, and was just following a lead vehicle with an insane racecar driver at the helm, I blasted forward on the hairpin turn mountain road that, on a sunny and 70-degree day must be outstanding! However, at 38 degrees, my teeth were clamoring, and my ape hangers were actually vibrating from my inability to stop shivering. But I went boldly forward with a crazy grin that went from one ear to another.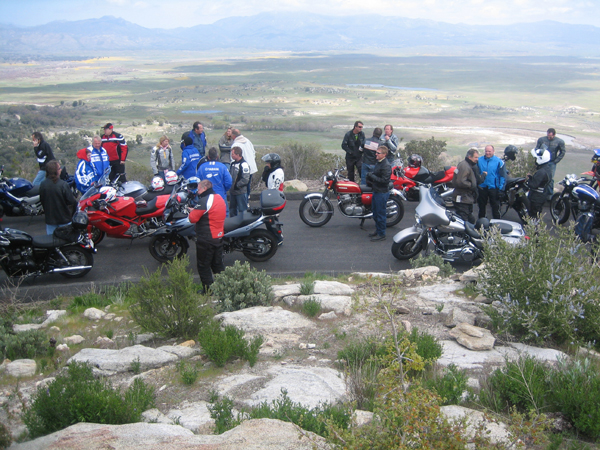 Finally halfway through the mountains, we pulled over at a vista to take in the view, and everybody pulled out every article of clothing they had for the rest of the ride. It really was a breathtaking beautiful day, inside and out. When Bryan took the stage to talk about CF and the development of the ride, and the numbers of people coming in, his voice started to crack, and the tears started rolling down his cheeks. He said that for as cold as it was on the top of that mountain, the temperature in his heart was superheated. And it didn't seem odd to anyone in the crowd that this burly, biker dude would shed a tear. It was an emotional event.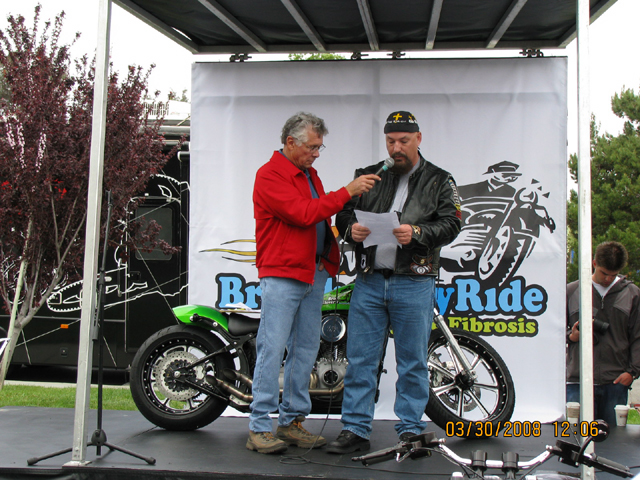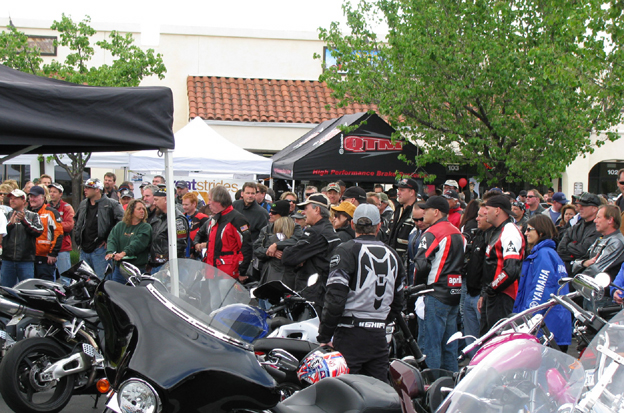 I've always believed that bikers have huge hearts, but it was especially apparent on this day. Both Bryan and Broc were happy with the turnout. They had around 550 people participate, 400 riding, raising nearly $70,000 for the Cystic Fibrosis Foundation. For a first year event, put on by a group of people that had never done anything like this before, it was amazing! There were no accidents, incidents or arrests, so the cute medic and his handsome family were able to just kick back and enjoy the day. After the ride we all enjoyed pizza and salad while the many raffle prizes and awards for the bike contests were given out. The winner of the Harley customized by Jesse Rooke was a tall, stunning blonde who had one raffle ticket, and has never ridden a motorcycle herself. But she will soon, and she looked pretty great posing with Broc and Dayne on her new machine.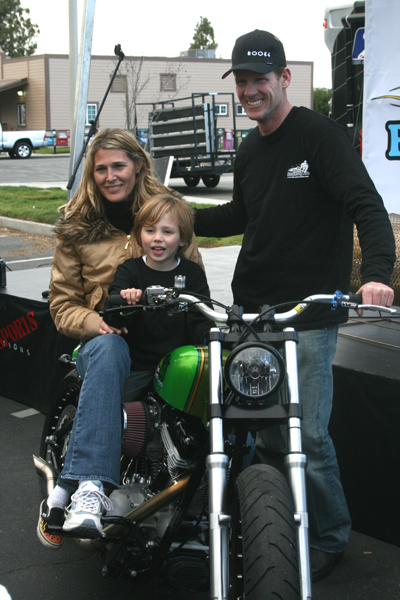 It was a special day. Every person who participated made a difference. Every dollar makes a difference for a foundation like CFF that relies solely on donations for finding a cure for this disease. I know the event will grow into something bigger and better in the years to come. I know that in a world gone seemingly mad, we've become desensitized even watching the evening news. And we start to think that we just can't save the world. But if the Lord drops something directly in your path, like a baby bird, or a Bryan Wagstaff, I believe he is sending an opportunity for personal growth. And I can always use that! I thank the Lord for bringing Bryan and his family back into my life. I thank Broc and his family for sharing their story, and opening our eyes to this cause. There were so many solid values surrounding me that day, that I was really honored and proud to be a part of it all.
Check out the official ride site at BreathEasyRide.com. And you can donate or learn more about CFF at CFF.org.